A West Coast road trip in the USA was an adventure that I've always dreamt of – driving with a group of best friends through cities and national parks, enjoying our meals by a lake, stopping in mountain valleys to admire the breathtaking views. Because of my study abroad programme in America, I was granted the opportunity to make this trip of a lifetime. With six other good friends, we rented a Dodge Minivan and this was our 14-day journey:
San Francisco > Yosemite NP > Death Valley NP > Grand Canyon NP > Las Vegas > Los Angeles
San Francisco
First stop: San Francisco. This city is renowned for the bridge that always gets destroyed in movies – The Golden Gate Bridge. It is certainly convenient to drive around San Francisco, especially if you are with a group of people, but do note that the roads are generally hilly. Driving is not recommended unless you are comfortable with stopping or parking on slopes.
I recommend staying at the HI San Francisco Fisherman's Wharf at Fort Mason. Conveniently located in between most of San Francisco's attractions and affordably priced, it proved to be an ideal accommodation to make new friends and have a good night's rest.
Fisherman's Wharf
Fisherman's Wharf is a waterfront that encompasses the ultimate San Francisco experience – seafood, souvenir shops and… seagulls. Though bustling with tourists, the carnival vibes will surely draw you in. Besides visiting the usual Ripley's Believe it or Not and Madame Tussauds Wax Museum, you can also just sit down and munch on a tray of fried seafood in your hands while you people-watch. You can expect to pay at least US$10.75 for fish and chips from a food stall.
Also Read: From San Francisco to Los Angeles: The Ultimate Road Trip for that Californian State of Mind  
Musee Mecanique
Prepare your quarters and get ready to relive your childhood days when you drop by the Musee Mecanique. It houses vintage arcade games and toys, and possesses an interior vibe that resembles that of The Greatest Showman movie. From creepy fortune-telling machines to lifelike puppet dolls, there is no lack of entertainment here.
Pop in a quarter to play puppet boxing with your friend, or pit your strength at the arm-wrestling machine. When you finally run out of coins, simply change your note for more quarters at the available machines and start playing again!
Pier 39
What's the fuss over Pier 39? Well, the pier is packed. Packed like sardines… or rather, with sea lions. These sea mammals have become the city's favourite animals, as throngs of tourists and locals crowd around the dock to watch them.
Plant yourself in a good spot to watch the sea lions laze and bask in the sun as they boast their big chests and bellies for all to see. You can also discover the origins of these sea lions and be fascinated by interesting exhibits at the Sea Lions Center just up the stairs at the dock!
Ferry Building Marketplace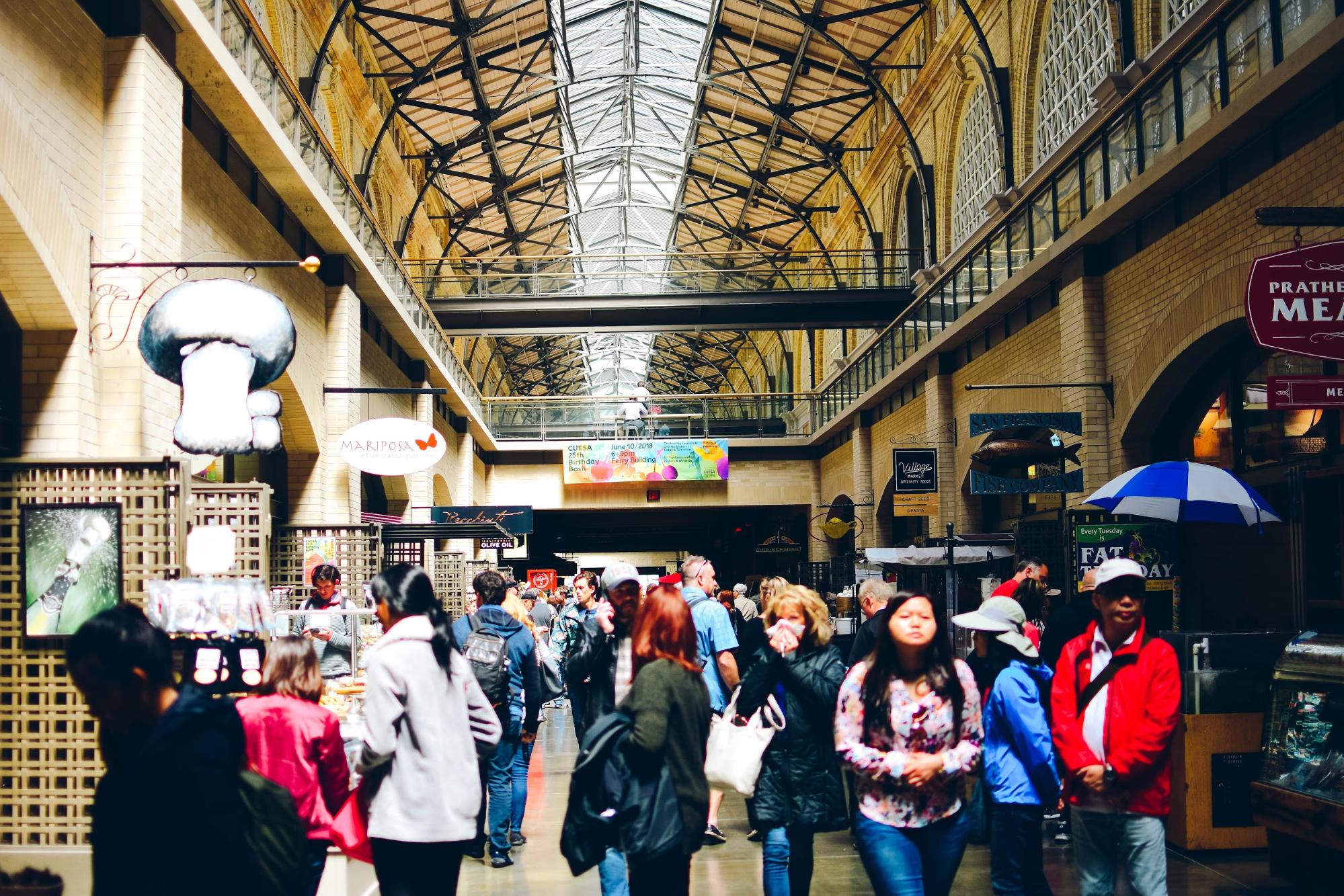 This is a hotspot for food connoisseurs as shops in the marketplace sell a variety of local cuisines. Expect prices to be at least US$6.90 for a sandwich from Acme Bread Company which uses the cheese produced by their next-door neighbour, Cowgirl Creamery's Artisan Cheese Shop. Oyster-lovers can get their fix from Hog Island Oyster Company, with the Oyster Bar Mix priced at US$30 for a dozen. If you have a sweet tooth, I highly recommend the US$2 macarons at Miette Patisserie, or dare yourself to try the Secret Breakfast Menu ice cream from Humphry Slocombe! (Spoiler alert: do note that it contains brandy)
However, the best of Ferry Building Marketplace is not inside the building, but outside! Get your food and head outside for an unobstructed breathtaking view of the San Francisco–Oakland Bay Bridge. With a feast for the eyes and stomach, you will be satisfied for sure.
Bay to Breakers
Exploring a new city doesn't just mean visiting the attractions and eating the local food. To fully immerse in the local experience, perhaps try participating in a local event! If you are planning a visit to San Francisco in May, keep a lookout for the Bay to Breakers event! An annual local tradition since 1912, it is a 12km race that spans from the bay in the east, straight through to the breakwaters in the west. More than just a competitive race for runners, Bay to Breakers is mainly for everyone else to parade in their most creative and quirky costumes along the route.
The festive atmosphere will be palpable in the air as some residents even opened up their homes for house parties! Towards the end of the race, enjoy fanciful celebrations with food and entertainment along with swarms of festival-goers at the famous Golden Gate Park.
Wave Organ
Thoroughly underrated, the Wave Organ remains unknown to most people mainly because it is located on a jetty at the northernmost tip of the San Francisco Bay, hidden away from plain sight.
Don't be surprised to walk a long distance from the Yacht Harbour, only to see that there is nothing ahead. Continue your stroll and be greeted with a mini flight of stairs down to the unique acoustic sculptures that the place is named after!

You can enjoy the songs of the ocean as the sounds of waves reverberate through the acoustic pipes. The spot is also wonderful for picturesque sights of the yachts that line up at the harbour. Revel in its serenity as you sit by the tranquil harbour and reflect on your time in San Francisco.  
Pro Tip: Map out your route on Google Maps, and select the toll-free option under "Options". It might take slightly longer, but at least you don't have to worry about paying road fees!
Yosemite National Park
Your journey to Yosemite National Park may take longer than the stipulated time by Google Maps because of the occasional rest stops for toilet breaks and petrol top-up. Also, accommodation around the national park is scarce, and might be some distance away from the park. Our accommodation in Oakhurst was about 1.5h away from the park itself, so start your search early.
El Capitan
Welcome to the land of Macbook wallpapers! Admission into the Yosemite National Park costs US$30 per vehicle, and it's valid for seven days, so make sure you keep your receipt intact for the duration that you're there. As you enter, be greeted first by the magnificent, undaunting front of the famous El Capitan.
You may stop by the roadside to snap some pictures, but there is so much more to explore inside the park. Pay a visit to the Visitor's Centre to obtain a park map and a list of recommendations on where to go. This applies to every national park that you will be visiting. While it is impossible to cover every single attraction, the park guide will cater to your needs and advise you on the various routes that you can take to maximise your time there.
Pro Tip: Pack some snacks and water with you as food outlets are extremely scarce in the park. A regular muffin at Degnan's Kitchen, Yosemite Village, costs about US$3.
Lower Yosemite Fall Trail
From the Valley Visitor Center, you can embark on one of the simplest trails, the Yosemite Falls Trail. It is just a 1.6km, 30-minute hike on paved ground to the base of the lower Yosemite Fall, where you can see the waterfall up close.
Mirror Lake
From there, head towards the Mirror Lake that lies just in the foreground of Mt. Watkins. Be rewarded with beautiful reflections of the mountain in the water body, as you immerse yourself in the serenity of Mother Nature.
Bridalveil Fall
Legend has it that the water from the Bridalveil Fall can bless you in your pursuit for love and romance. But be warned that it's not just a sprinkle of water! You will be thoroughly drenched as you walk to the base of the fall. So hide your electronics and wear your hoodie. Love is important, but your camera is too!
Tunnel View
The photographer and environmentalist, Ansel Adams, made this view famous and for good reason too. The Tunnel View is a vista point that allows you to see the highlights of Yosemite in one frame, from left to right – El Capitan, Horsetail Fall, Clouds Rest, Half Dome, Sentinel Rock, Cathedral Rocks, and Bridalveil Fall. This is a must-stop vista point for all first-time visitors of the park. There is no hiking involved, so drive and arrive earlier to get a parking lot and avoid the crowds of tourists.
Pro Tip: Thousands of people have captured this exact same view, even Macbook. Make yours special by being part of the picture.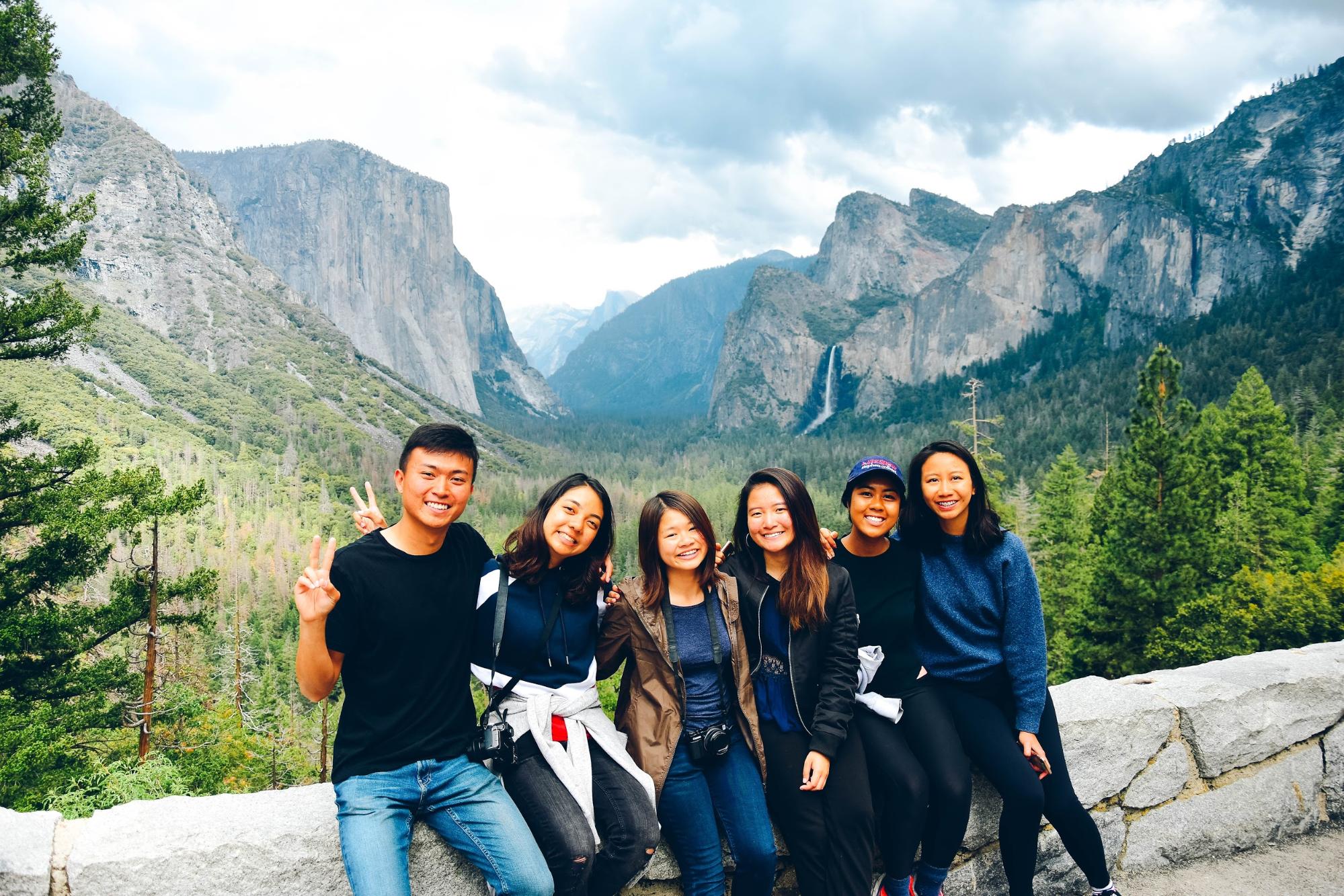 Tenaya Lake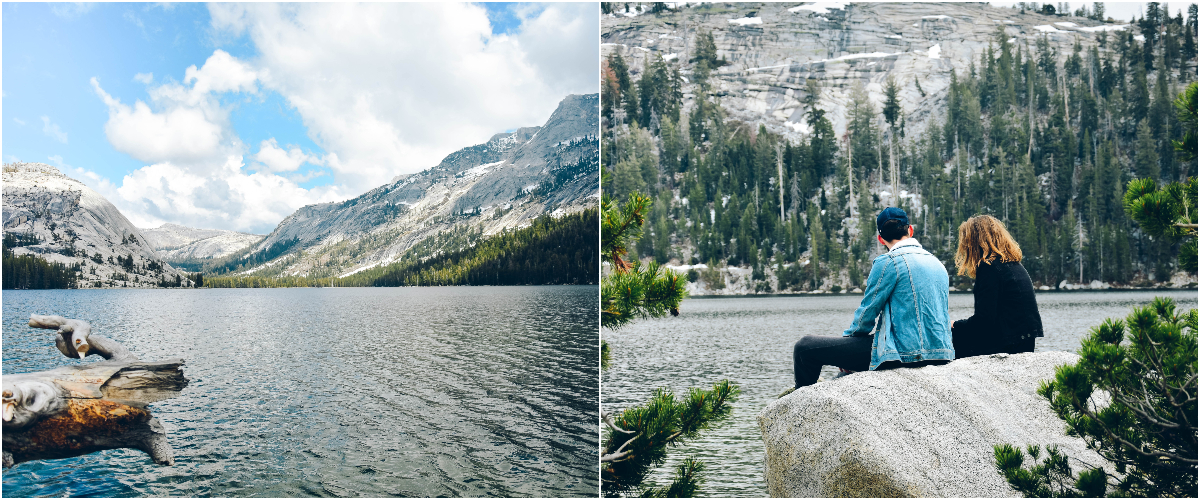 Just along Tioga Road on the way out of the park is an alpine lake that has more than 2,400m of surface elevation. With its pristine calm waters, surrounded by pine forests and large stoic granites, it is little wonder that Tenaya Lake is a favourite among visitors of the park. Simply stop by the road to enjoy the breathtaking scenery. Pack some lunch and picnic by the lake, or take a revitalising dip if the conditions permit. This is also a conducive place for you and your friends to have a heart-to-heart talk, or do some travel reflections on your own.
Yosemite National Park definitely yields more than just a few vista points. My two days at the park just wasn't enough. If time permits, try staying at a campground. Embark on one of those tougher hikes up the mountains. Ignite your senses by smelling, listening and feeling the beauty of this protected place. And hopefully, you get to see an American black bear too.
Death Valley National Park
After exiting the rather chilly conditions high up the Sierra mountains, drive down towards the lowest, hottest and driest point in America – The Death Valley. Comprising mainly of vast deserts and barren landscapes, you may wonder what the national park has to offer. Unbeknownst to most, barring the heat, Death Valley National Park is home to some of nature's most marvellous wonders.
Yes, you didn't see that wrongly. 108 degrees Fahrenheit, which equals to 42 degrees Celsius. It's going to be scorching hot, so ensure that you have sufficient bottles of water in your vehicle. The heat is what turns most people away from this unique destination, but if you visit prepared armed with sunscreen and ample water, this could be a memorable expedition for you!  
Pro Tip: Get a full tank before heading to the Death Valley. There is limited internet service out in the desert, so you might want to download offline maps too.
Mesquite Flat Sand Dunes
Coming down from Yosemite, the first attraction to pull over for is the Mesquite Flat Sand Dunes. A vast desert with practically no end in sight, one can walk for miles and miles here… Winds are strong here so it's advisable to wear sunglasses to prevent sand from getting into your eyes. Then, grab a piece of cardboard and slide down the steepest sand dune you can find!
Devil's Golf Course
This is a paradise for geologists and geographers. Be amazed at the incredible natural formation in front of you. Depending on the season, the large salt land on the floor of the Death Valley can vary from intricate pinnacle sculptures to angular blocks of salt. Be mindful to drive carefully as the road to this attraction is rocky. You wouldn't want a burst tyre in the middle of nowhere.
Artist Palette
To the north of Devil's Golf Course and off Badwater Road is the Artists Drive. In a series of twists and turns and occasional dips amidst the mountains, the drive leads you to the main attraction here, that is the Artist Palette.
Produced by the oxidation of metals found in the composition of these rocks, the Artist Palette is a prominent feature amongst the other dull-coloured rocks. Multiple colours of green, pink and blue serve as a wonderful backdrop for your Instagram photo!
The common perception of Death Valley is that it is extremely hot, stripped bare of everything else, and that it would be insane to drive out there. No doubt, compared to other national parks like Yosemite which has pine forests and majestic mountains, Death Valley might pale in comparison. But it is a unique experience, much like how I would imagine Mars to be like. And the solitude, the serenity, the scenery? It makes the trip worth it.
Grand Canyon National Park
A long six-hour drive from Death Valley will take you to the Grand Canyon. From one of the lowest points in America, head to an elevated level that rises above all. Be overwhelmed by its sheer size, and be astounded by millions of years of geological history that lie before you. This is a national park that you need to check off your bucket list!
Park Orientation Film
As usual, your first stop is the Grand Canyon Visitor Center. Besides a range of souvenirs and exhibitions for you to see, there's also a film screening about the Grand Canyon! But who comes to a national park to watch a film instead of heading outside to see the actual thing? The 22-minute-long Grand Canyon: A Journey of Wonder is a film that brings visitors to places that they might otherwise not have a chance to explore. Taking the audience through time and space deep within the canyon, this is a highly recommended gateway to your Grand Canyon visit as it provides you with insights to better understand the history of this protected park.  
Canyon Rim Trail
For first time-travellers, the Rim Trail is a good starting activity at the park. It is a well-defined, paved trail that offers stunning views of the canyon while circling the rim. Touching multiple vista points, this is an easy trail to embark on for people of all ages! You can hop onto shuttle buses along the way to customise your hike to your needs.
Yavapai Geology Museum
Even if you don't fancy museums, the Yavapai Geology Museum is one that you must visit. It showcases exhibits that explain the entire formation process of the Grand Canyon, and a topographic model details the entire area of the park to give us a perspective of how minute we are. After which, head outside for the intriguing Ranger Program. Listen in rapt attention to the charismatic Park Ranger as he weaves the story of the Grand Canyon through time and space. Thoroughly enjoyable, absolutely engaging, and highly recommended!
Hopi Point
One of the best experiences that you can have in Grand Canyon is watching the sunset at one of the viewpoints. The shuttle bus brings passengers to several viewpoints, but we were told that Hopi Point remains one of the best because it is less crowded. Check the sunset time for the day and be sure to park yourself early to witness the golden rays of the sun blanketing over the magnificent Canyon. Take a time-lapse, or simply capture the moment with your eyes.
Horseshoe Bend
Fun fact: The world-famous Horseshoe Bend is not part of the Grand Canyon, but the Glen Canyon. Though situated about 1.5h outside of the Grand Canyon National Park, the Horseshoe Bend is actually an incised meander of the great Colorado River which runs through the canyon. From the parking lot, it seems like the viewpoint is just a short uphill walk. But in reality, there's a long downslope before you reach the edge of the cliff for the view. Bring along a bottle of water and relief yourself at the toilet cubicles in the car park before making your way there.
I didn't have any prior expectations of the Horseshoe Bend. I walked up to the edge and lo and behold – it was grandiose! It certainly puts things into perspective, how small and insignificant we are compared to the sheer strength and power of the Colorado River that erodes the rocks. The astonishing view is worth the walk up and down.
The Grand Canyon is one of the most majestic spectacles I've ever seen. But two days in the park can only take you around the rim of the canyon. How about spending a couple more days to do hikes INTO the canyon instead? Or embark on river trips along the great Colorado River amidst the monumental columns of the canyon? You can even do an overnight hike and spend the night under a million stars. Enquire about the permits required for these and create your awesome Grand Canyon experience!
Las Vegas
After a grand experience at the magnificent canyon, head back in the west direction with a 4.5-hour drive to Las Vegas! Dubbed the "Sin City", the city is a place of extravagance and luxury! Expect bright lights all night, huge billboards everywhere, and loud music reverberating down the streets.
Casinos
Kickstart your Vegas experience by opening a double Ace at the Blackjack table in some of the most famous casinos around! Littered with rows of slot machines, columns of card tables and huge roulette playing areas, the casinos in Vegas are unlike any that you've ever experienced. With posh carpeted floors, high ceilings and quality service, it doesn't matter what time of the day it is outside. Try your hand in the Caesar's Palace Casino, or the ones in MGM Resorts. You might walk away loaded with even more cash!
Vegas Strip
Once you've won enough money at the casinos, step outside to take in the mesmerising lights of the Las Vegas Strip. It stretches about 5km down the south of Las Vegas Boulevard with a conglomeration of retail stores, casinos, hotels and food outlets. Be part of the bustling crowds of people partying, shopping, and admiring the best sights of Vegas. You can also stop by the famous Bellagio Hotel for a short watershow called "Fountains of Bellagio". Going off every 15 minutes from 8pm till midnight, this spectacular performance of water fountains dancing like elegant ballerinas will keep you captivated.
Las Vegas, a city that never sleeps, is definitely a place everyone should visit once in their lives. With its exuberant shows that feature winners of America's Got Talent shows, captivating acrobatic performances and concerts by top celebrities like Mariah Carey, be prepared to have a memorable time in the Sin City.
After nights of partying and staying up late, you may want to part ways with your car in Las Vegas. Opt to take an overnight Megabus instead that brings you to your final destination, Los Angeles. The best part? It's can be as low as US$15.
Los Angeles
After an overnight bus ride, you've finally arrived in Los Angeles! For basketball fans, the city has been graced by world-known NBA superstars like Magic Johnson, Shaquille O'Neal, Kobe Bryant, and most recently, LeBron James. To movie fanatics, the city is a conglomeration of Hollywood celebrities like Jennifer Lawrence and Ben Affleck. Beyond the glitz and glamour of this star-studded city, discover the real beauties in Los Angeles at these attractions!
Griffith Observatory
You might have seen the Griffith Observatory in the Oscar-winning La La Land, where Ryan Gosling and Emma Stone danced amongst the stars in a sophisticated theatre. The number one thing to do at the observatory is watching "Centered in the Universe" or any of the shows at the Samuel Oschin Planetarium. For only US$7, be transported deep into the cosmos of our universe and galaxy, with the accompaniment of a live story-teller. Did I mention that the planetarium is a dome-shaped, all surround curved screen that allows for a totally immersive experience? It really feels as if you are floating amongst the stars. And if you're complaining about the US$7 price tag, you better not buy that In-&-Out Burger for lunch.
Admission into the Griffith Observatory is absolutely free, and so are the daily Leonard Nimoy Event Horizon Theatre Programs! You can also engage in the mind-blowing exhibits, look through the gigantic telescopes, or simply head outside for a view that overlooks the city of Los Angeles. This is an ideal place for families and couples.
Santa Monica Pier
The significance of Santa Monica Pier is that it is the end of the historic Route 66 that spans from Chicago in the east, through Missouri, Kansas, Oklahoma, Texas, New Mexico and Arizona. Besides being the final destination of this iconic route, the Santa Monica Pier is also a theme park that features roller-coasters, ferris wheels, carnival game booths and food!
For only US$29.65, you can have unlimited rides at the Pacific Park amusement park! Dare yourself to hop onto the roller-coaster and ride on your adrenaline rush as you step from one thrilling ride to another! Besides the theme park, the pier is also a nice spot to watch baskers performing, or even people fishing. And if these are still not enough, you can always take a stroll down the beach or jump into the sea for a refreshing swim!
Take your time to soak in the carnival vibes at the Santa Monica Pier, as this is a place that is worth spending the entire day at!
Staples Center
Home to the second most accomplished basketball team in the NBA, the Staples Center is decorated with multiple championship banners hanging high up in the rafters. Even if you're not a basketball fan, it's still an amazing experience catching a game in this world-renowned stadium! Cheer with thousands of fans in the spectators' stand, immerse yourself in the revitatising atmosphere and enjoy a good game of basketball played by some of the highest-paid athletes in the world.
Residing outside of the Staples Center which seats 21,000 people are revered statues of legendary basketball players who had brought the LA Lakers glory – Kareem Abdul Jabbar doing the famous skyhook, Magic Johnson dribbling the ball and Shaquille O'Neal dunking a ball, amongst others! Get an LA Lakers merchandise from the NBA store in the stadium and pose with one of these life-sized figures!
Pro Tip: Book your tickets in advance to get a better price. Arrive earlier to take photographs and catch the players warming up up-close.
Grand Central Market
Deep in Downtown LA lies a gourmet heaven called the Grand Central Market. Serving a wide array of international cuisines like Thai Sticky Rice to Japanese Ramen, the dynamic line-up of food vendors promises a gastronomic experience for you!
Join the snaking queue for the popular McConnell's Fine Ice Cream. You will be spoilt for choices looking at the variety of unique flavours that are available like the churros con leche and the Boysenberry rose milk jam. But don't panic! Simply ask the crew politely for recommendations and they would offer you a teaspoon for tasting! The Seafood Paella at Prawn Coastal is also another mouth-watering dish to get at the market. For only US$14, you can expect a rather large plate of paella consisting a mix of shrimps, mussels and clams that is sure to satisfy your palette.
While this itinerary might have excluded many other national parks and cities, it can serve as a basic guide for first-time travellers seeking for an adventure in the West Coast. This was a life-changing trip for me, and I hope that it would be memorable for you too. Open your eyes to the world beyond your comfort zone, get some friends, rent a car, and seek the adventure that you've always wanted!