Temperatures are soaring this summer, and tis' the perfect season to take some days off to experience Asia's best water parks.
Also read: 13 Most Extreme Water Park Rides in the World
1. Yas Waterworld, Abu Dhabi, UAE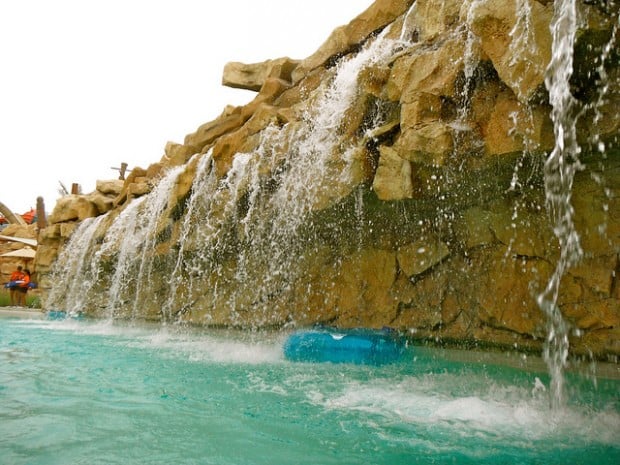 Image credit: Yas Waterworld – Abu Dhabi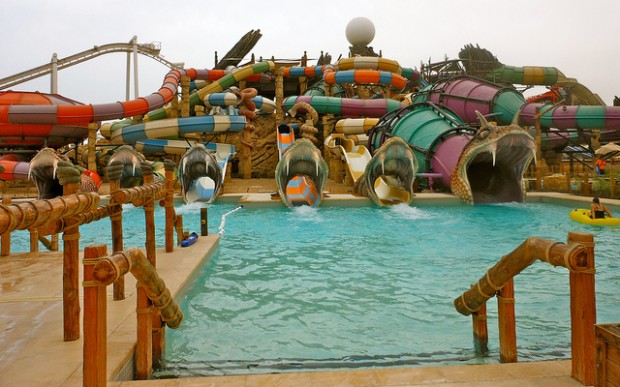 Image credit: Yas Waterworld – Abu Dhabi
Yas Waterworld is one of the major attractions of Abu Dhabi, with plenty of slides spread over 15 hectares. It is UAE's first mega water park and it offers as many as 43 rides and other attractions, each unique and fun-filled. Another feature that stands out is the pearl diving experience, which showcases the traditional Emirati Pearl diving culture. Various other games and rides like the Treasure-hunt, Dawwama, Liwa Loop and Bandit Bomber will leave you craving for more.
2. Ice Land, Ras Al Khaiman, UAE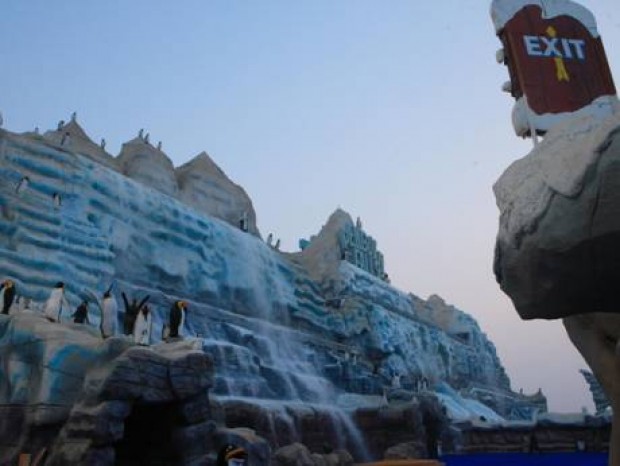 Image credit: WAM via gulfnews.com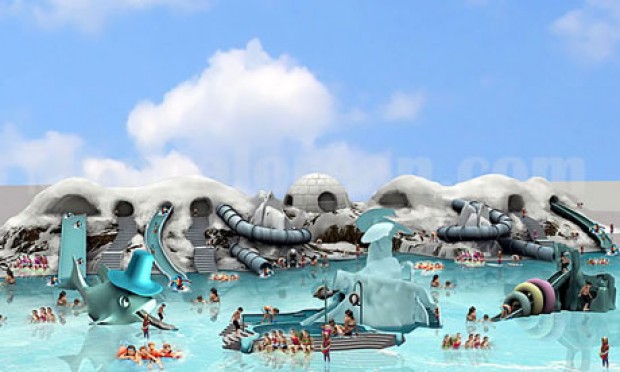 Image credit: theguardian.com
Ice Land Water Park is a one-of-its-kind water park with a unique sight of frozen tundra and snow. It is beautifully decorated and despite being opened only in 2010, it has gained immense popularity due to its amazing slides and rides.
The most unique ride in the park is the "Aqua-Shute" that will have you bounce across the water surface like a little stone all the way to the end of the long splash pool. It has a full-size swimming pool, a massive waterfall, a large water soccer field and many other attractions. Several hundred plastic penguins are a welcome sight in this area of barren desert.
3. Waterbom, Bali, Indonesia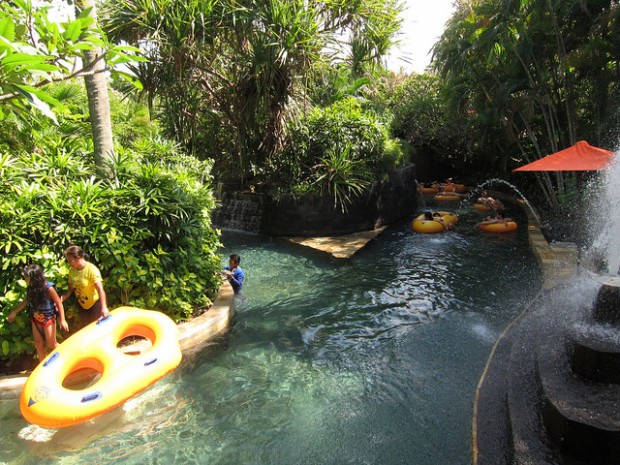 Image credit: Aiko Konishi
This family entertainment water park is spread over an area of 3.8 hectares of tropical land in Bali. Relax in the shades, enjoy the rides and water or have good food and tropical drinks – everything is possible when you are in Waterbom. The rides available include Constrictor, Green Viper, Python, Lazy River, Boomerang, Climax, Funtastic, Super Bowl and more. The world class facilities of Waterbom are sure to make it one among the best water parks of Asia.
4. Water Kingdom, Mumbai, India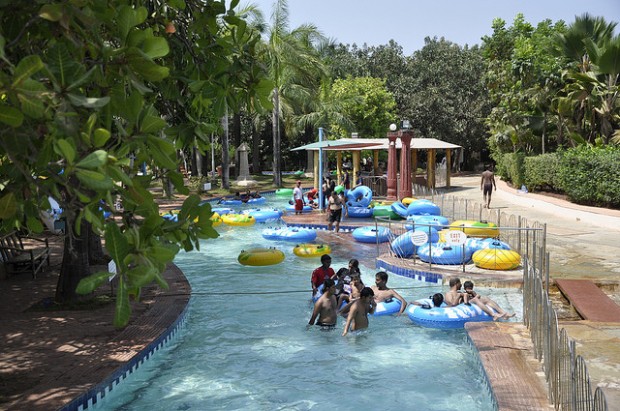 Image credit: rajkumar1220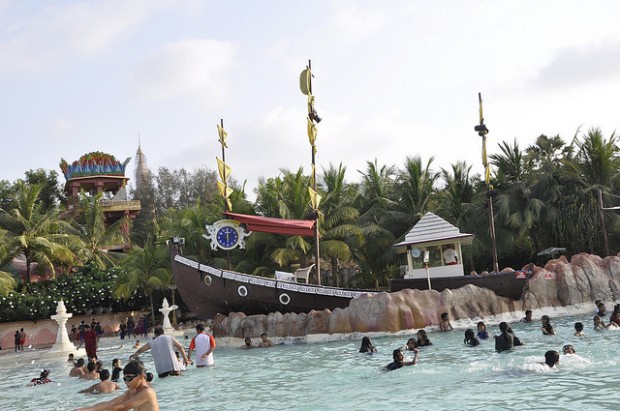 Image credit: rajkumar1220
The largest water park of India and one of the largest in Asia, Water Kingdom in Mumbai is an ultimate entertainment package for all groups of visitors. There are several attractions in the park that attracts tourists from all over the world. There are features such as 'Aquadrome', 'Misphisly Hill' with 12 adrenaline-charged rides, drifting river, Adventure Amazonia, Juicy Jammer, Turbo Terminator, Black Demon, Lemon Drops, etc.
Water Kingdom is spread over 22 acres of land in the bustling city of Mumbai. Apart from water rides and entertainment, the park also offers various shops and several food outlets for the visitors.
5. Happy Magic Cube, Beijing, China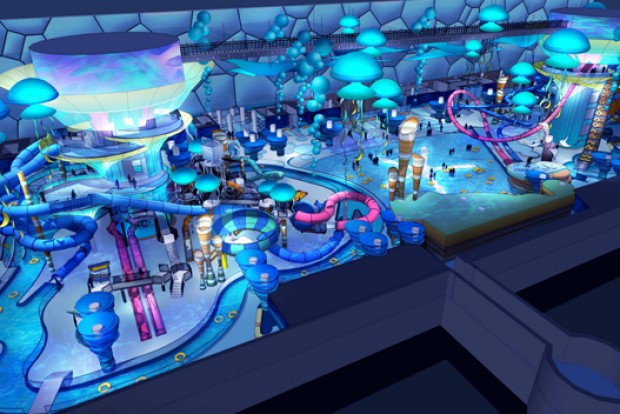 Image credit: ChinaMojoPosts
Occupying a vast area of 33 hectares, this water park is one of the largest in Asia. Being an indoor water park, Happy Magic Cube can be enjoyed all year round.
The park claims to be the largest park in the world, with a maximum capacity of 30,000 people. It has more than fifty amazing slides and rides and houses eighteen more attractions of different kinds. Different rides like 'The Tornado', 'The Octopus Racer', 'The AquaTube', etc. The park is a mixture of traditional Chinese Architecture, modern American water entertainment and European Spa Concept.
6. Caribbean Bay, Seoul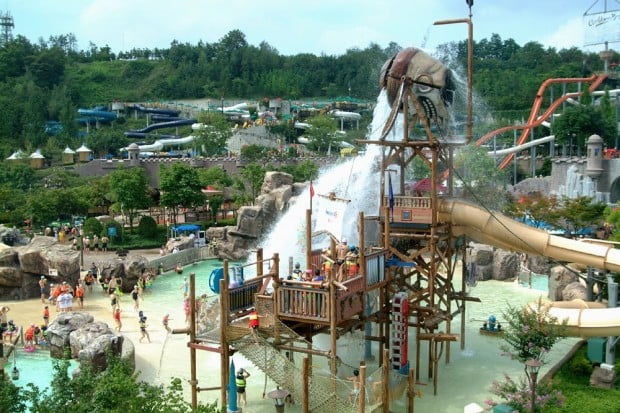 Image credit: spicyinformation.com
Image credit: climbingframesgroup.com
Caribbean Bay is among the most favorite family destinations of Seoul. It is one of the largest water park in the world and has been designed with a Caribbean theme.
There are various water rides and attractions like Aqualoop, Wild Blaster, Tower Raft, Adventure Pool, Wave Pool, River Way, Bade Pool, etc. Apart from these, Caribbean Bay also has an added feature of Spa zone, which contains hot springs and sauna facilities. There are also Kid's pool where kids can relax without worry. Sleeping room and relaxing room, with "Relax capsules" and message machines are other added attractions of the place.
7. Black Mountain Water Park, Hua Hin, Thailand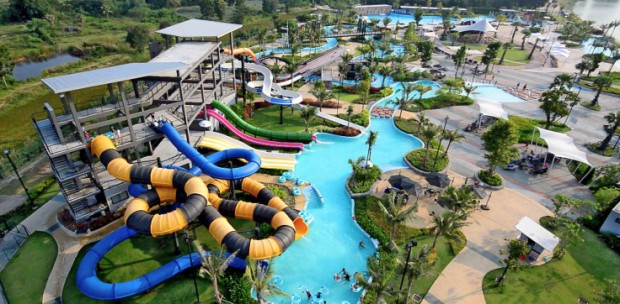 Image credit: blackmountainwaterpark.com
Black Mountain Water Park is one of the very notable and up-to date water parks in Asia. With an area of about 55,000 square meters, this water park can hold up to 1000 people. It has a water park and a wakeboarding area together inside.
The main attraction of the park is a 17-meter high tower with nine different types of slides which empty the riders into a series of pool. Other attractions of this water park, located just 15mins from town are a wave pool, a lazy river, infinity/beach pool, kid's pool, etc. The wakeboarding area next door is also one of a kind experience, where boarders are pulled by a cable system around a lagoon of 880-meterand it can accommodate several riders on the water at a time.
8. Sunway Lagoon, Malaysia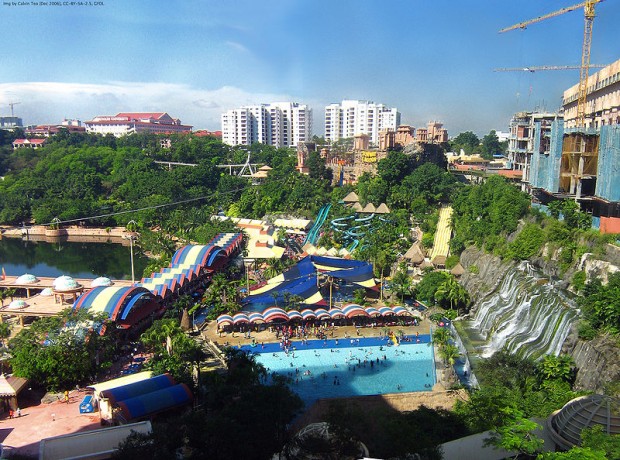 Image credit: Calvin Teo
Sunway Lagoon is situated in Subang Jaya, Selangor, Malaysia. This park is 88 acres in area and provides around eighty various kinds of attractions.
Many amazing rides like Waters of Africa, Surf Beach, Vuvuzela, FlowRider, etc. attract throngs of visitors each day. The most special feature is the World's first Waterplexx 5D, which gives a multi-sensory journey. Sunway Lagoon also has an amusement park, a wildlife park, Extreme Park and a Scream Park.
9. Adventure Cove, Singapore
Image credit: Haopee G
An aquatic adventure park, Adventure Cove in Singapore has something for everyone. It has many thrilling water slides like hydro-magnetic coaster, Bluwater Bay wave pool, Adventure River, etc. Snorkeling over a colorful coral reef with thousands of fishes and dozens of Rays with their velvety wings. Enjoy a day under the sun in Adventure Cove in Singapore.
10. Chimelong Water Park, China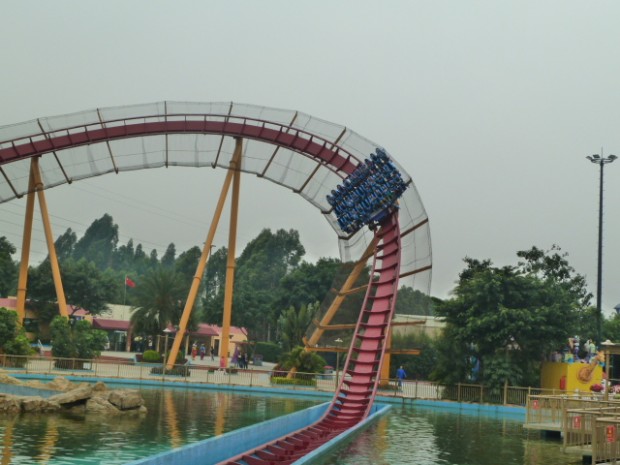 Image credit: Stdragon04
Chimelong Waterpark in China is one of the largest waterpark in Asia. It has drawn worldwide attention because of its good service and environment. It provides a very unique experience to its visitors with its world class attractions like Lazy River, Wave Pool, Rain Fortress, Family Ride and Inner Tube.
There are also Tornado, Boomerango, Racing Slides, High Speed Slides, Master Blaster and Behemoth Bowl for thrill seekers and Kids' Aqua Plaza, Children's Play Land, Mini Tornado and Glacier Tunnel for children. Two new rides 'Extreme River' and 'Python' are two important attractions of the park.
11. Flow House, Bangkok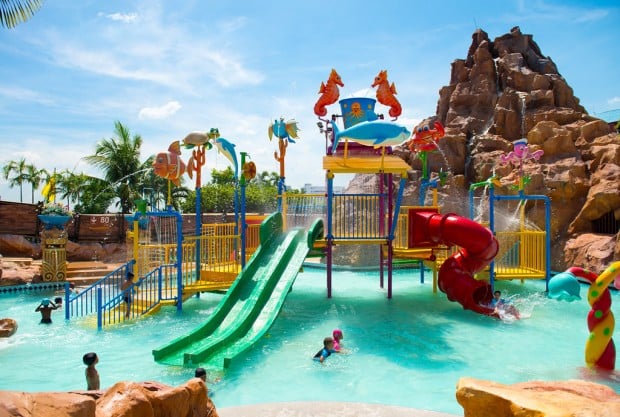 Image credit: bangkok.com
Flow House of Bangkok provides huge fun and entertainment for whole family. This summer, cool-off with a visit to the Flow House with your friends and family. The innovative FlowRider is a prime attraction of the place, which is a good amalgamation of surfing and wakeboarding on an inflatable ramp, which has a thin sheet of water over it. A kids' pool, sun-loungers, viewing deck, surf shop and a Flow Bar serving beers, cocktails and milkshakes, as well as a simple menu consisting of burgers and hotdogs are the other attractions of the place.
12. Wonderla Amusement Park, Bangalore, India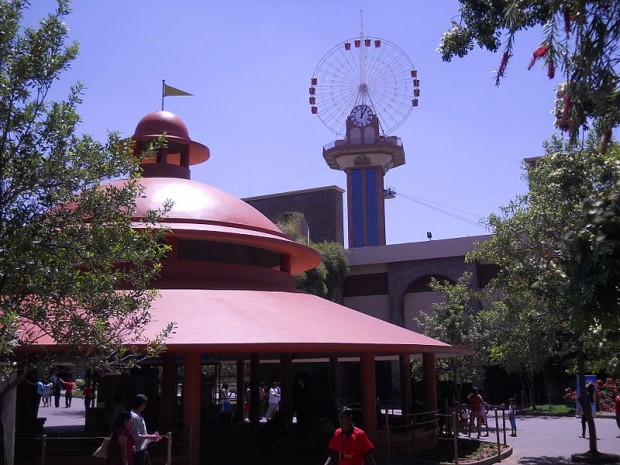 Image credit: Mail2arunjith
Wonderla Amusement Park in Bangalore is truly a great experience for people of every age. Water coasters and fun pools and wave pools make it a wonderful experience for the visitors.
This water park can also be visited in winters as solar heating technology is used in winter season to keep the water warm. Rides such as Jungle Lagoon, Lazy River, Boomerang, Harakiri, Uphill Racers, Twisters and Kraits, Pendulum, Rain Disco, etc. make this park a super cool place to hang out in this summer.