As much as we love travelling, there is one particular harrowing question we dread: what should I get for my friends back home? Other than fridge magnets and postcards of course! 
In some destinations, the souvenir of choice can be pretty clear cut. Seoul? Kpop merchandise and cartoon socks. Kyoto? Matcha products and tea leaves. But what about destinations that boast so many different types of souvenirs that it becomes impossible to choose just ONE? Malaysia is one such destination. 
Steeped in traditional heritage but also at the forefront of modernity in Southeast Asia, Malaysia is one of those countries that offer a wide, diverse array of awesome souvenirs and keepsakes to travellers. Don't sweat the details though because I have a list of the very best souvenirs in Malaysia to help you find the one that's perfect for your loved ones back home! 
Also read: Eight Reasons Why Malaysia is One of The Most Affordable Destinations to Travel to
Souvenirs you can eat
Snacks are often the best (and easiest) souvenirs to bring home. After all, who in their right mind says no to food? And since Malaysia is famous for its delectable cuisine, it's not surprising that there's a wealth of Malaysian-made snacks that double up as perfect gifts for loved ones. 
1. Durian-flavoured tidbits
I know, I know, not everyone is a fan of "the king of fruits". But in Malaysia, durian is arguably the most popular fruit when it's in season. It's so popular in fact that Malaysians have found ingenious ways to incorporate this infamous fruit into various dishes and snacks. 
From local classics like durian ice cream and durian cheesecake to the utterly bizarre like durian-infused butter (yes, it's a thing, and even I, a Malaysian, don't know why) and durian burgers. But of course those might be a little bit tricky to bring home. Thankfully, Malaysia also has plenty of neatly-packed durian snacks that you can simply nick off the counter. 
My top recommendations are durian-flavoured chocolate, durian popcorn, chips — and if you're a real fan of it — freeze-dried durian, which is actual durian fruit that's preserved using advanced freeze drying techniques. If you drop it into a glass of water, you will see the dry chip turn into actual durian. But don't do that, just eat it! 
2. Dodol
Before I explain what "dodol" is for the uninitiated, let's learn how to pronounce it in Malaysia. It's not that hard, it sounds like it looks, "dohdohl", like saying the word doll twice. It's mainly made of coconut milk, jaggery, and rice flour, resulting in a sweet toffee-like candy that's sticky, thick and sweet. 
Apart from traditional dodol, there are also various different flavours to choose from. The most popular are pandan dodol (really fragrant), banana dodol (very sweet), and, of course, durian dodol! Unlike the durian snacks mentioned earlier, durian dodol pretty much retains most of the pungent aroma of durian so if you're not a fan of the fruit in general, you might want to stay away.  
While dodol is readily available throughout Malaysia, the easiest place to find this decadent confection is in Melaka. 
3. Sarawak layer cake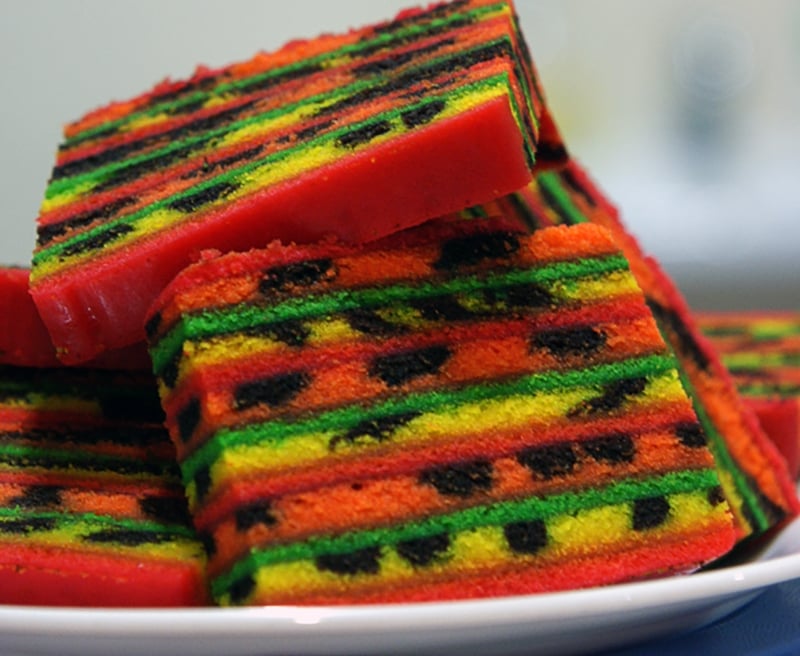 Another wonderful Malaysian snack to bring home to friends and family is Sarawak layer cake. And unlike the previous two souvenirs on the list, Sarawak layer cake isn't just a yummy souvenir, it's often a sight to behold as well! Sweet, savoury, and oh so pretty, kek lapis Sarawak (as it is known in Malay) is usually flavoured with fragrant pandan and comes in bedazzling colours and designs. 
There are also different cake flavours like mocha, chocolate, and more! Most cakes come in a little box that is easy to store so you won't have to worry about transportation. The real challenge is not eating it all before you go home! You can find a small handful of retailers selling Sarawak layer cakes in Kuala Lumpur but the best places to buy these sweet delicacies is still Sarawak. 
Did you know: Since 2010, it's been illegal for any individual or company to label a layer cake as "kek lapis Sarawak" if it's not actually manufactured in Sarawak! 
4. Traditional Chinese pastries
Penang and Perak (Ipoh) are the most famous destinations to buy these edible souvenirs in Malaysia. Most traditional Chinese pastries are baked in traditional ovens that retain the rustic flavours of yesteryear. In Penang especially, some of the bakeries have been operating for over a century and still peddle their wares in old shophouses along the island's bustling roads. 
As a Penangite, I highly recommend tau sar pneah. This heavenly pastry is made with mung bean paste filling that's encased in flaky pastry and shaped into bite-sized balls. It is savoury with a sweet aftertaste and easily one of the most popular biscuits among the Chinese community in Malaysia. However, take note that sometimes, in order to enhance the texture of the pastry, lard is often incorporated into the flour. 
5. Packeted drinks
Just like our food, Malaysia also offers a wide range of different beverages to sample. These range from fizzy fruit sodas to local canned herbal drinks. While these may be a little impractical to bring home, you can always opt to buy some of Malaysia's famous packeted instant coffees and tea instead! 
Malaysia is famous for instant white coffee (especially the ones from Ipoh), and these have even been exported extensively to China in the past and sold at ridiculous prices. In Malaysia, they are much cheaper and promise the same fragrant cup of coffee every time. 
If you're not a fan of coffee, look out for BOH tea instead. BOH is basically a brand which harvests its tea leaves from the verdant hills of Cameron Highlands. The favourable conditions there lead to tea leaves that can be used to brew exceptionally fine teas. They even have these beautiful boxed tea set souvenirs in Malaysia that make for the most elegant gifts. 
Souvenirs you can wear
Apart from being a food haven, Malaysia is also famous for its multicultural society. As such, in Malaysia, you will be able to find a plethora of different textiles and accessories influenced by traditional heritage. 
6. Batik Malaysia
Batik is a traditional cloth dyeing technique that uses wax as a way to selectively dye certain parts of a piece of cloth. As a result, this technique often produces stunning floral patterns that are near impossible to replicate with any other kind of textile technique. 
While batik is also popular in Indonesia, batik Malaysia often differs in terms of design motifs and colour. In Malaysia, you can choose to buy batik cloth on its own and use it as soft furnishing or decor and even turn it into clothing. Or, you can simply buy batik-inspired shirts which are super popular even among Malaysians. 
In fact, when famous K-Pop girl group Twice visited Malaysia for a concert (that was eventually cancelled due to venue safety concerns), fans of the group gifted them with batik which they proudly wore to the airport. And yes, I was there but no, I'm not over it. 
7. Songket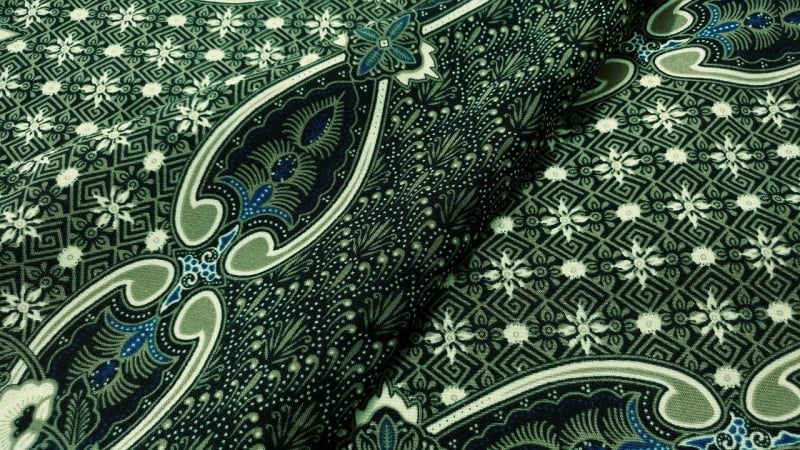 Another piece of traditional fashion that you can bring home from Malaysia is the songket. Simply put, a songket is a handwoven fabric (usually silk or cotton) that's lined with silver or gold threads. They often feature bedazzling patterns, just like batik! Because of the silver and gold threads, the songket stands out against any background and will sometimes also appear to be shimmering when light hits it at the right angle. 
But it's not just a lovely-looking fabric. As a Malaysian, I can tell you that it's pretty comfortable too! The easiest way to use it is to wrap it around your waist or weave it into clothing of your choosing. You can even turn it into a one-of-a-kind handwoven bag! 
8. Traditional Nyonya slippers
If you're ever in the state of Melaka, you'll be able to experience Peranakan (or Baba Nyonya) culture in its fullest. The Baba Nyonya are a unique ethnic heritage that is the result of intermarriage between Chinese settlers and the local Malay community that date as far back as the 15th century. 
Most people stop at visiting a few museums and sampling their traditional cuisine, which in my humble opinion, is one of THE BEST culinary experiences in Malaysia. But if you've fallen in love with Peranakan culture and want to bring a piece of it home with you, you can certainly do so. Nyonya slippers are intricately hand beaded footwear that boasts a range of alluring colours and designs. While I don't recommend wearing them for a long day of walking, these fancy sleepers are certainly attention-grabbing fashion statements. 
9. Traditional jewellery
Speaking of eye-grabbing accessories, one of the most elegant traditional souvenirs in Malaysia is the cucuk sanggul. It is a traditional hairpin made out of gold or silver and adorned with precious stones. What makes it stand out is that the broader end of the hairpin often features the face of a mythical creature. This lends an air of enigma to the overall design. 
Another elegant piece of traditional jewellery is the kerongsang, which is an elegant brooch with an intricate design. Malay women often wear this as part of their traditional attire. 
Traditional handicraft
Moving away from traditional things you can wear, let's take a look at some unique (and quirky) handicraft you can bring home from Malaysia! 
10. Wau
Primarily found along the east coast of Peninsular Malaysia, waus are traditional Malay kites that will (forgive the pun) make you go "wow". These nimble kites are usually painted with extravagant colours and resemble the shape of a moon-like crescent. 
In the past, men along the coastal areas of Kelantan would hold wau competitions to see which was the prettiest. While it may not be the easiest souvenir to bring home, it certainly beats any plain old kite with its unique design. Maybe it's time for a bigger bag?
Also read: Top 29 Destinations in Malaysia to Visit [Updated 2020]
11. Pewter goods
Pewter is a metal alloy made primarily of tin mixed with copper and, sometimes, silver. The mix of metals creates a unique tint that, when shaped into various goods, exude a rustic, antique ambiance. And since Malaysia was at one point the largest exporter of tin, pewter goods are naturally found abundantly too. 
The best place to buy pewter goods is from Royal Selangor based in Kuala Lumpur. There, you can find almost anything ranging from jewellery to practical tools, all handcrafted to perfection with masterful precision and craftsmanship. 
12. Half-boiled egg maker
A what? No, I totally understand that reaction. Growing up, I never knew that this was a  Malaysian invention that was only used in my country. As the name suggests, this ingenious tool is used to make perfectly-cooked half-boiled eggs. 
The way it works is you pour hot water into the top half of the container just up to the line or enough to cover your eggs. As time passes, the water will drip down into the bottom half through tiny holes. Once it is completely drained, the eggs will be perfectly cooked. And it works every time! 
For a practical and useful souvenir in Malaysia that you probably can't get anywhere else, this is it. Your foodie friends will absolutely love it! 
Bring a piece of Malaysia home with you
And there you have it. A list of the most unique souvenirs in Malaysia you can bring home with you! Of course, there are also more tried-and-tested souvenirs like chocolates and t-shirts but come on, you can find those anywhere in the world. For souvenirs in Malaysia that truly stand out, make sure to include the items above in your future shopping list!