Just thinking about the diversity of good food in Shanghai makes me want to book a ticket right away. Some people may have the impression that food in Shanghai consists only of Shanghainese cuisine which tend to be on the sweet side. Xiaolongbao (steamed dumplings) also come to mind as we are familiar with them in Shanghainese restaurants. However, Shanghai, being the metropolitan that attracts foreigners from all over the world, has quite the international spread — Chinese, Thai, Vietnamese, Japanese, Malaysian, Singaporean, Indian, Spanish, Mexican, German, French, Italian… you get the idea. There's even a great Montreal-style smoked meat restaurant downtown that makes Montrealites feel right at home. Many restaurants serving up cuisines from other parts of China can be found throughout the city as well. Sichuan food is a local favourite, so you are bound to smell peppercorns and chili oil at every popular street with restaurants.
There's so much good food to be had in Shanghai, we can spend days talking about them. But to start off, here are some of the food I personally enjoy in Shanghai and can't wait to be back for more. They are mainly Chinese food with the exception of one Japanese establishment. And they're all found in the downtown area of Shanghai. This list will have to be much longer if I were to include other cuisines.
A word of caution: don't read if you're hungry late at night!
1. Xiaolongxia (Baby lobsters) and Shaokao (BBQ food on skewers)
Image credit: Shanghai Halfpat
Baby lobsters, or Xiaolongxia, can be found and savoured in many greasy spoons in Shanghai. A one-stop greasy spoon to indulge in Xiaolongxia and make your meal complete with other selected seafood and Shaokao would be on Shouning Road. Although this food street gets more crowded during the colder months, any time of the year is good to have some Xiaolongxia and Shaokao.
Shouning Road is bustling with an entire street of Xiaolongxia, oysters, scallops, hairy crab (during season), Shaokao (mutton, beef, fish, chicken mid-joints, etc.), "longevity noodles", HK desserts, so on and so forth. There's the street food smell that lingers in the air, a "Shouning Road smell" that comprises of fish, baby lobsters, chilli oil, garlic, charcoal smoke, and dirtiness that stems only from sinfully yummy street food.
Take in the bright lights and hawker sounds, and walk carefully as the ground is almost always wet with all the washing of grime and dirt from shucking oysters. Shop staff are always on the streets trying to pull business in, and you can choose to walk into any shop you think looks good, or you can head to my all-time favorite Xiaolongxia place —Shanghai's First Xiang Ba Dao Xiao Long Xia. Enjoy a wide array of dishes you can order, from baby lobsters, hairy crabs, BBQ catfish, snails, garlic roasted oysters, garlic roasted scallops, to BBQ skewer delights like mutton (yangrouchuan) and chicken heart (jixin). Since the garlic roasted oysters and scallops are always generously layered with garlic bits and juice, try ordering BBQ buns (mantou) from the Shaokao menu and dip it with your leftover garlic bits and juice from your oysters. Yummylicious!
How to Shell a Xiaolongxia
Since baby lobsters look very much like prawns (just with humongous heads), the way to shell them is somewhat similar.
Step One: With one hand's fingers on the head and the other hand's fingers just below the head, twist the head so that it gets detached.
Step Two: Pinch the two sides of the body to crack most part of the shell, then peel off the hard shell from left to right.
Step Three: Lift the top thin layer to reveal the intestine of the baby lobster. It's a thin strip with some black stuff. You should be able to remove this just like you would in a prawn.
Step Four: Dip the body in some vinegar provided and enjoy!
Note: Best enjoyed with ice cold Tsingtao Beer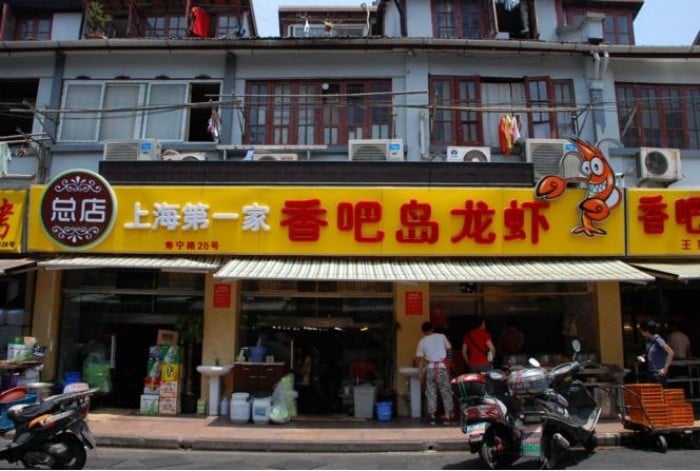 Image credit: Shanghai Halfpat
Address:
Shanghai First Xiang Ba Dao Xiao Long Xia
No. 20-24 Shouning Road, near Xizang South Road
Also read: Where to Go for the Best Halal Food in Shanghai
2. Dry Pot Bullfrog (Ganguo Niuwa)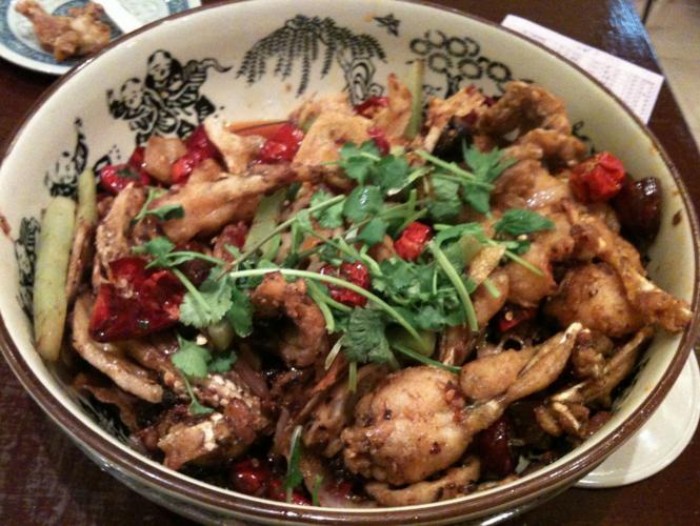 Bullfrog with lotus roots and potato crisps, fried together with sichuan chillies and peppercorn.
In Singapore, we're more familiar with frog leg that is usually in a claypot served with porridge. Which is good, of course. But dry pot bullfrog? It's amazing. I dream about it sometimes.
Address:
Jing Yue Rong
818 Nanjing West Road, B1-05, close to Shimen Yilu (Shimen No. 1 Road)
3. Ah Niang Noodles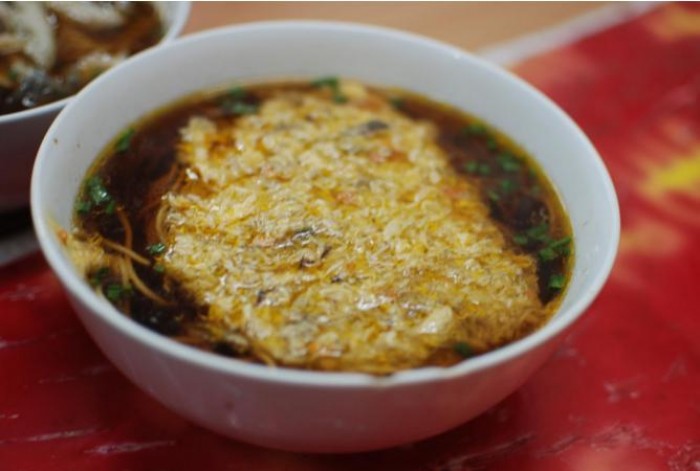 There's something about a long line of customers outside a restaurant that always spikes interest.
The Ah Niang Noodles Shop at Sinan Road is only open during meal times for about two hours each time, and the snaking queue outside it every single day is testament to how popular it is. The process of queuing, getting your order taken, finding a seat, and finally getting your bowl of noodles would take about half an hour to an hour, depending on the time you arrive. Going near the end of the mealtime seems to be a better bet.
Popular choices are the yellow croaker fish (or Huangyu Mian) for 22RMB a bowl, and noodles with crabmeat and roe (Xiefen Mian) for 39RMB a bowl. Try mixing in the preserved vegetables and shredded pork side dish for added flavour (only 4RMB).
Address:
Ah Niang Mian
36 Sinan Road, by Nanchang Road
4. Pig Intestine Noodles (Dachang Mian)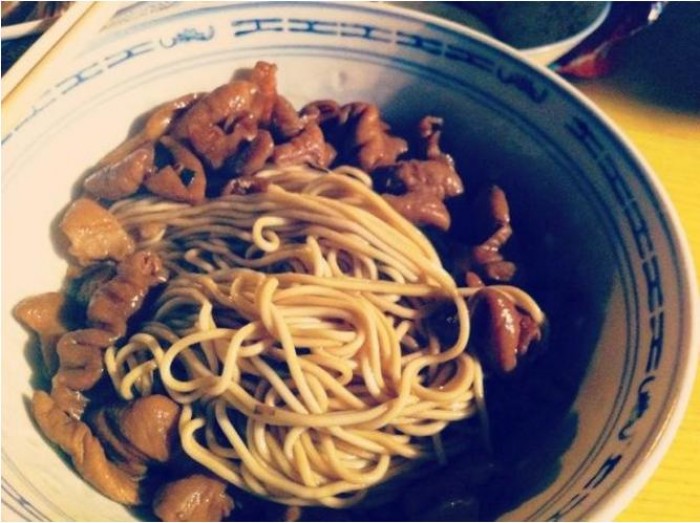 There's an old, locally-renowned greasy spoon a couple of blocks from Xintiandi that reeks of pig innards and grime that awaits your humble patronage. Although the stench from the noodle place is far from inviting, the well-cleaned tender pork intestines accompanied by the shop's specialty sauce and springy noodles makes for a delectable RMB19 meal.
Just be prepared to wait a bit for a seat (table sharing with others) and have an open mind. Outside seats tend to be more comfortable, even during winter, as the stench inside the tiny greasy spoon can be too much to bear.
Address:
Da Chang Mian
No. 59 Fuxing Middle Road, in between Ji An Road and Dongtai Road
5. Taiwanese cuisine at Bellagio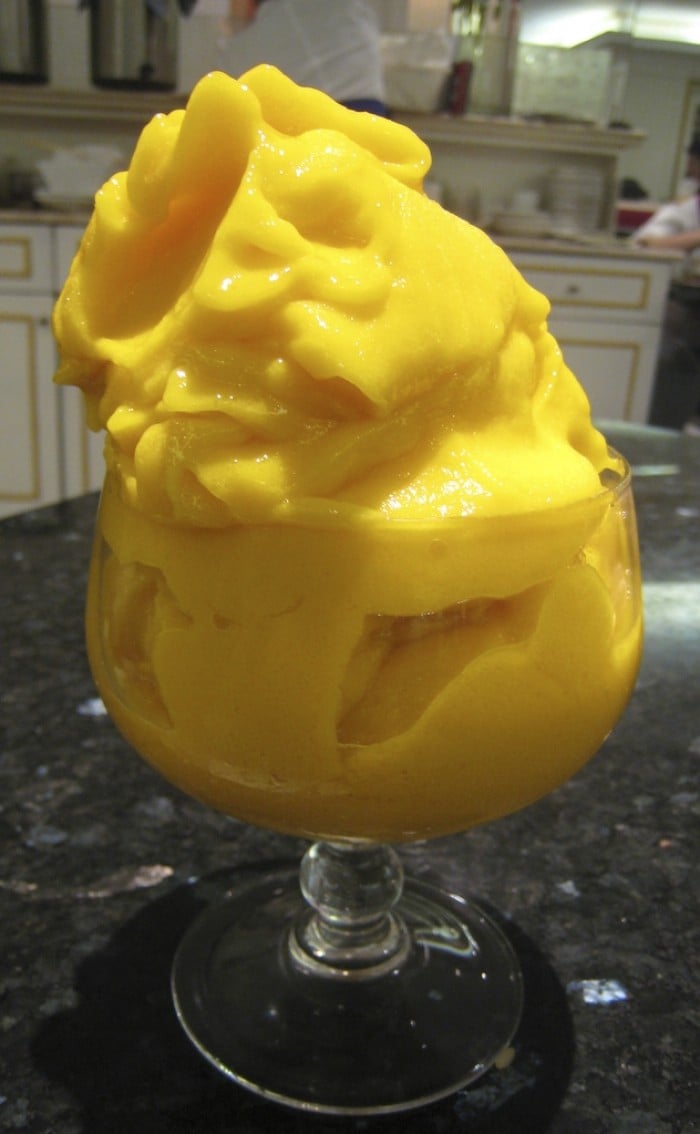 Image credit: The MacKay Way
It's hard to go wrong at this sleek-yet-affordable Taiwanese restaurant. Short-haired servers are well-mannered and maneuver swiftly through the sunlit dining room, doling out authentic Taiwanese favorites like shrimp with cruellers or mountains of shaved ice topped with sweet beans and mango. Bellagio's peanut ice shavings is also a popular choice.
Address:
Bellagio
68 Taicang Lu,
near Songshan Lu
6. Haidilao Hotpot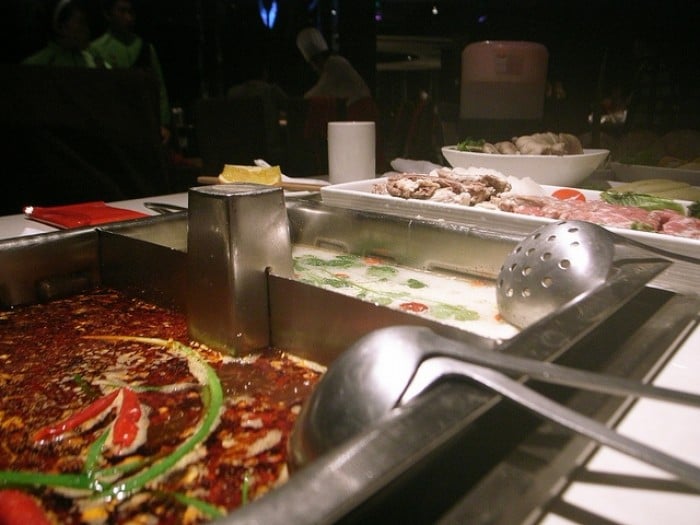 Image credit: Chen Zhao
Forever packed, Haidilao hotpot is a great place for big groups to have a night of hotpot and laughter together. There's an extensive sauce bar where you can select anything from sesame oil, minced garlic, and mushroom sauce to chilies, and spicy sauce to create a wonderfully personalized dipping sauce. While waiting for your table, you can have your shoes signed, nails done, and surf the web on their computer terminals. Or you can munch on popcorn and other snacks while playing board games with your friends. They pioneered this entertaining waiting area, and then try to wow you with their twirling skills in your face if you order gongfu noodles to add to your hotpot. Ingredients are fresh, and the soups are also good. The fact that their wait staff are well-trained in their service makes a meal at Haidilao a very pleasant one.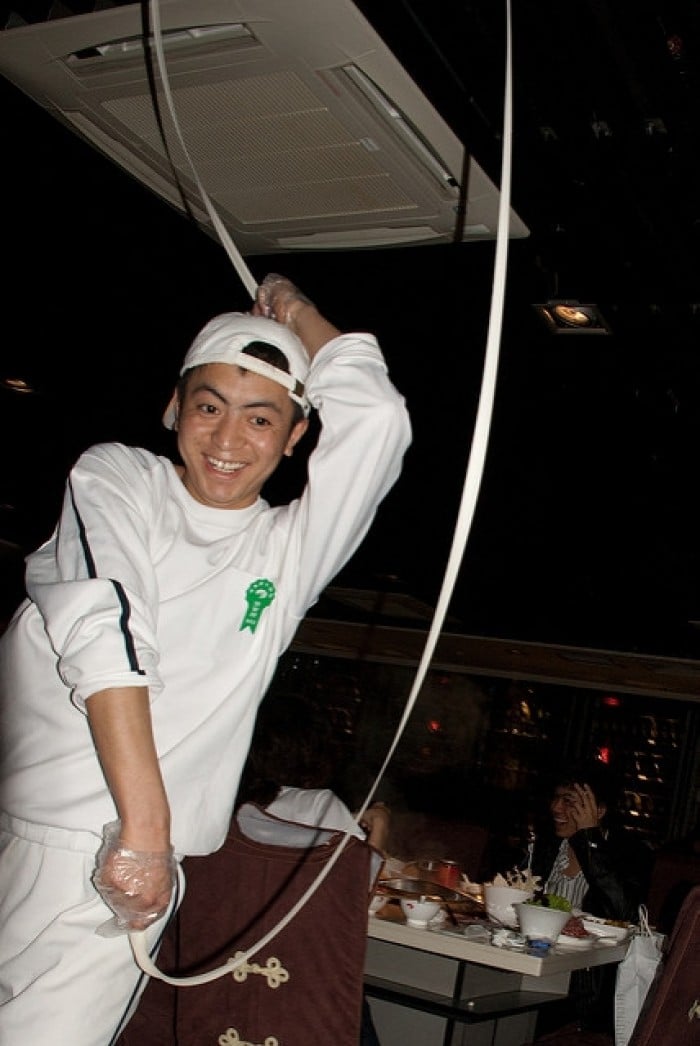 Image credit: Ran Zxzzy
Address:
Haidilao Hotpot Restaurant
3/F, 1068 Beijing Lu, 
near Jiangning Lu
7. Shanghainese Cuisine at Old Jesse Restaurant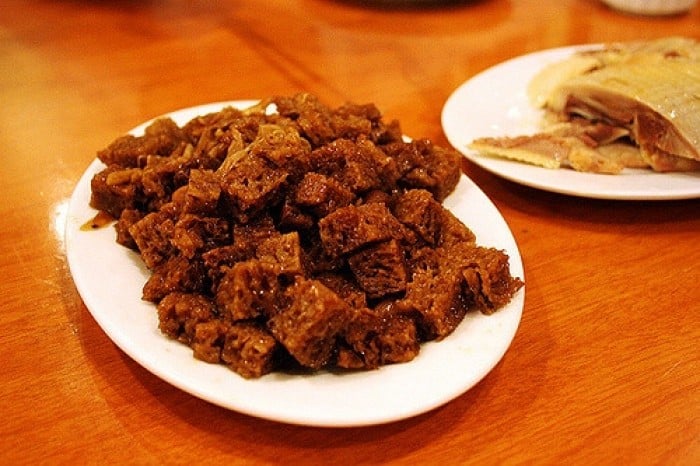 Image credit: Ana Campos
A very old and cramp place, but this is the original Jesse restaurant and the best by far, serving authentic Shanghainese staples. Reservations are a must.
I would order the following:
(Cold dish) Drunken chicken (Zuiji)

(Cold dish) Smoked fish (Xunyu)

(Cold dish) Wheat gluten (Kaofu)

Red-braised pork (Hongshao rou)

Crab and Crab roe powder tofu (Xiefen Doufu)

(Dessert) Dumplings in fermented glutinous rice wine (Jiuniang Yuanzi)
Address:
Old Jesse Restaurant
41 Tianping Lu,
near Huaihai Xi Lu
8. Cantonese Cuisine at Cha's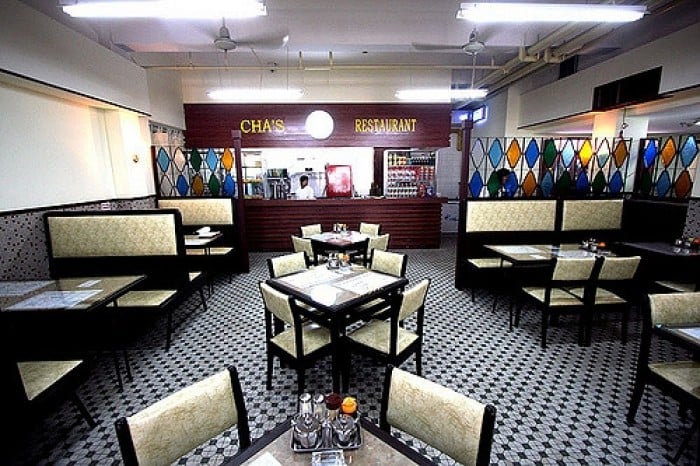 Image credit: Santo Chino
This Hong Kong restaurant has a retro cha canting vibe. With minimal décor and crowds in a tight space, the food is very good even late at night. My favourite dishes include their rose chicken, fried chicken wings, and chiken cutlet with instant noodles.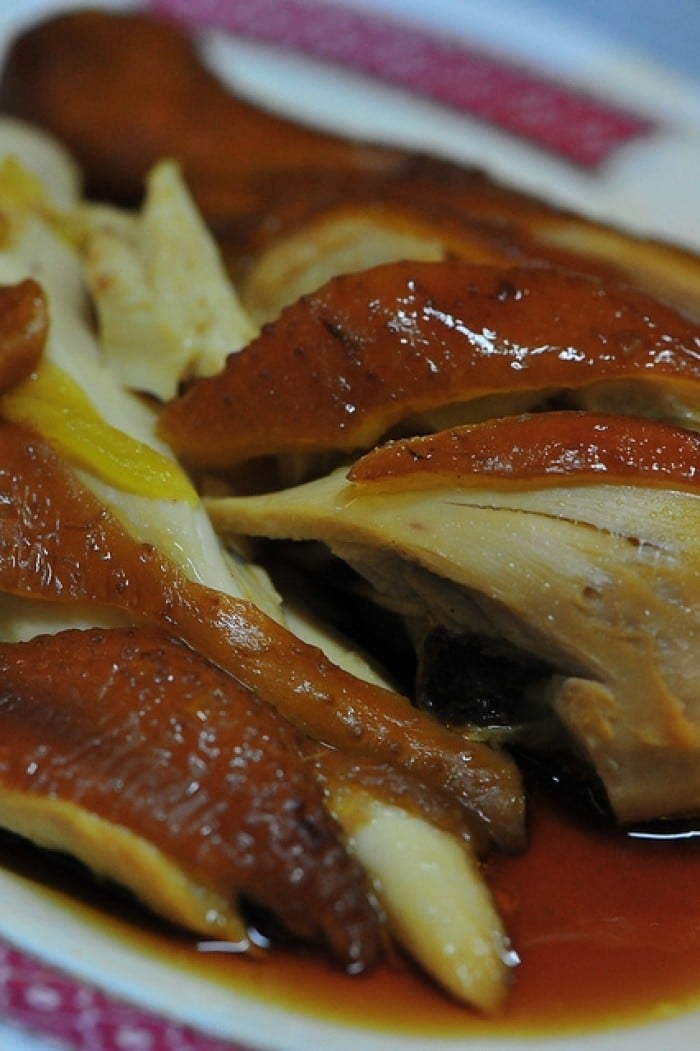 Image credit: Simon Q
Address:
Cha's Restaurant
30-32 Sinan Lu, Unit 2, South Building, near Huaihai Zhong Lu, Luwan district
9. Sichuan Grilled Fish (Kaoyu)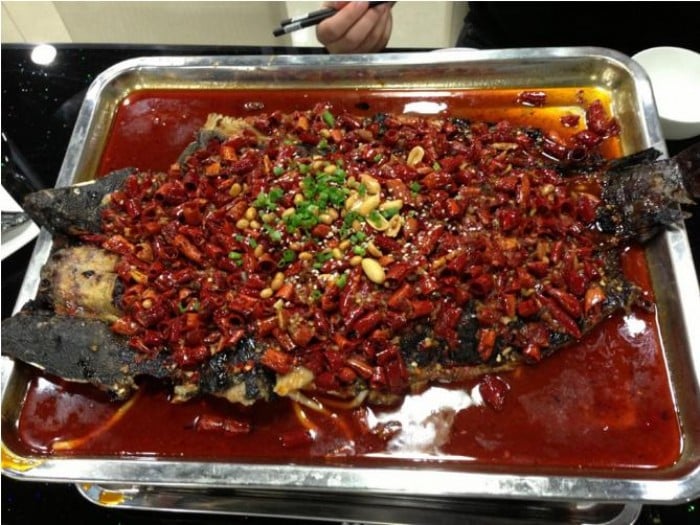 Another Sichuan favourite of mine is the grilled fish. I usually choose the "fragrant spicy" (xiangla) flavour to go with catfish (nianyu), as the meat of the catfish is tender and it has the least bones.  Although grilled with an abundance of sichuan chillies, it's usually less spicy than it looks!
Address:
Wushan Kaoquanyu
160 Wanping Nanlu, Near Xingeng Road
10. Japanese all-you-can-eat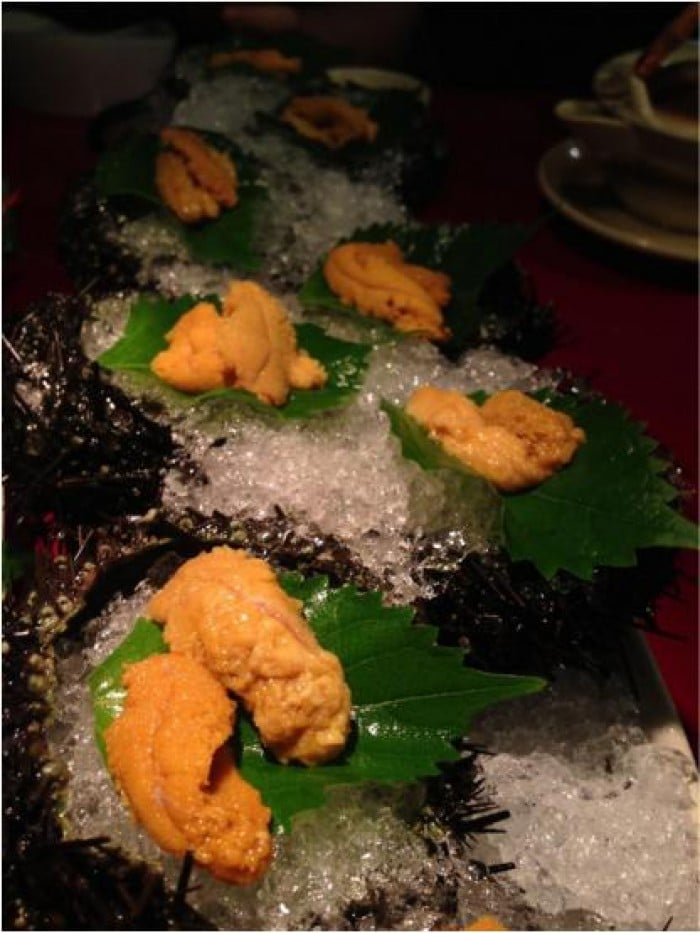 I just had to add this to the list even though it veers off the Chinese food list.
There are way too many good Japanese all-you-can-eat restaurants in Shanghai that threaten to burst all your shirt buttons. But after trying a dozen of them or so, I find the best quality of sashimi and a good variety of grilled delights at Wandao.
Many dishes aren't even available at your average all-you-can-eat, which explains the premium price of 350RMB per person.
Also read: Where To Go for A Taste of Traditional Japanese Cuisines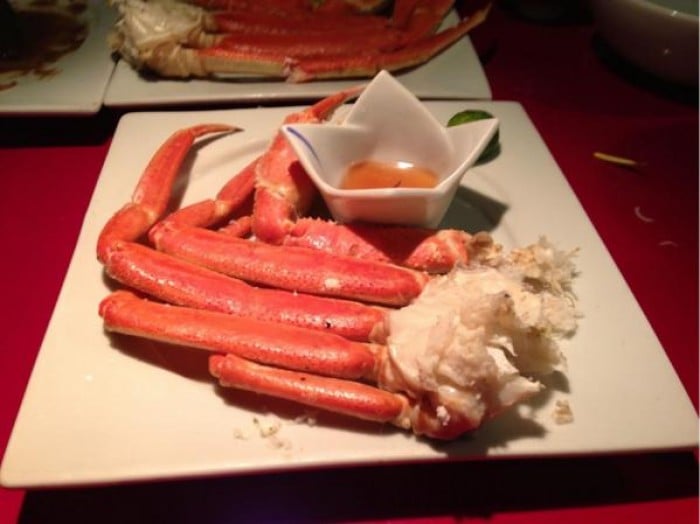 My list of must-orders include:
Salmon sashimi

Assorted sashimi

Sea urchin

Sweet prawns

Snow crab legs
Address:
Wandao Japanese Restaurant
1/F 33 Sichuan Lu, Huangpu District
Also read: 10 Places Around the World that Foodies Will Absolutely Love