It's weird when Singaporeans lament that they don't know where to go for their next weekend getaway. There is a plethora of options available, and especially so if you love beach and island holidays. And no, we're not just talking about Tioman or Bintan.
For your next trip, consider these 8 drop-dead gorgeous islands easily reached from Singapore.
Watch the video here:
1. Karimun Island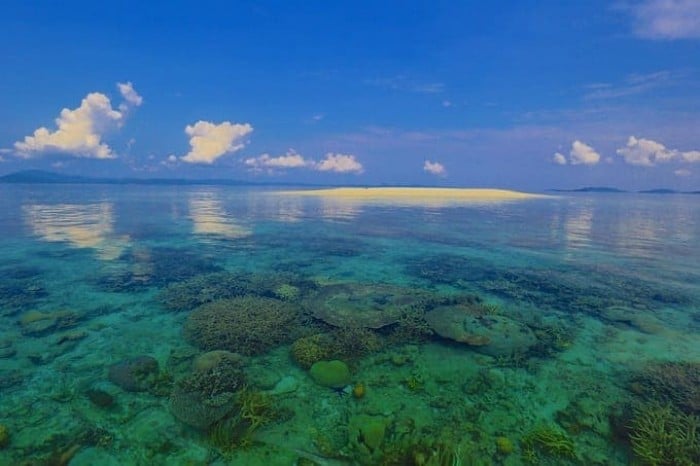 Image credit: Wonderful Indonesia
West of the Riau Islands, Karimun Island is a little island that boasts beautiful clear water that is prime for snorkelling. There is also Air Terjun, a waterfall not far from the Palawan Beach, which has man-made pools built to capture the water flowing from the mountain. Get around by mikrolet, small minibuses that run on standard routes and drop passengers anywhere along the way.
Getting there: Karimun Island can be reached by ferry (under 2 hours) from Singapore Cruise Centre at Harbourfront. Sindo Ferry and Indofalcon both operate ferries to Karimun Island, and operate four services between them each day.
2. Dayang Island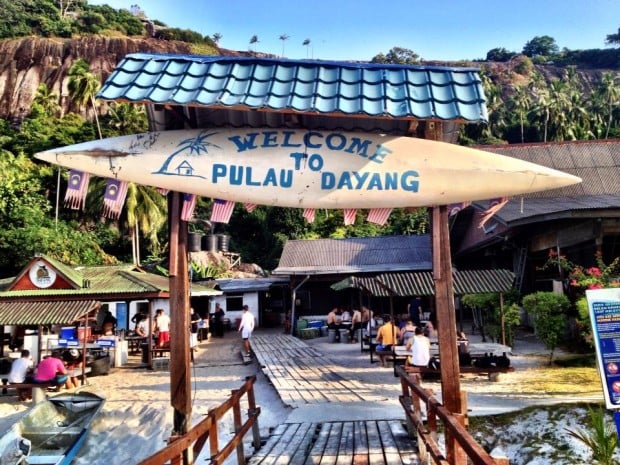 Image credit: Sandra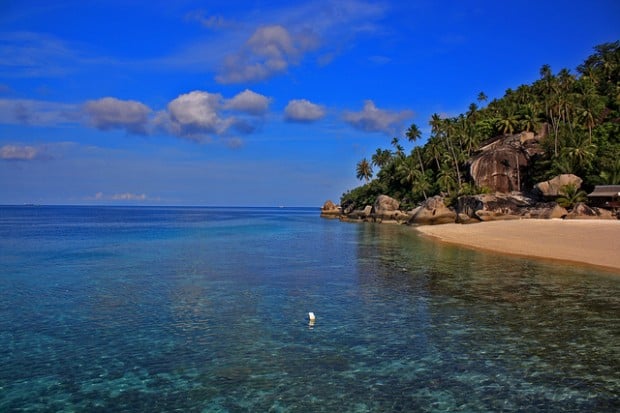 Image credit: Hasrul Nizam
Pulau Dayang is a lesser known island in the south east of Malaysia. Scuba diving is the major attraction here, which isn't hard to understand when you see the amazing array of coral and fish through the clear sea water. The dive sites have a visibility of over 15 metres! There is a huge boulder called Reyners rock sitting on the seabed, and this is where there have been sightings of whale sharks.
Getting there: If you're interested in diving, many diving establishments organise trips to Pulau Dayang, of which transport is included. Pulau Dayang can be reached via boat from Mersing Jetty (3–4 hours). From Singapore, get to Mersing via coach (3-4 hours).
3. Nikoi Island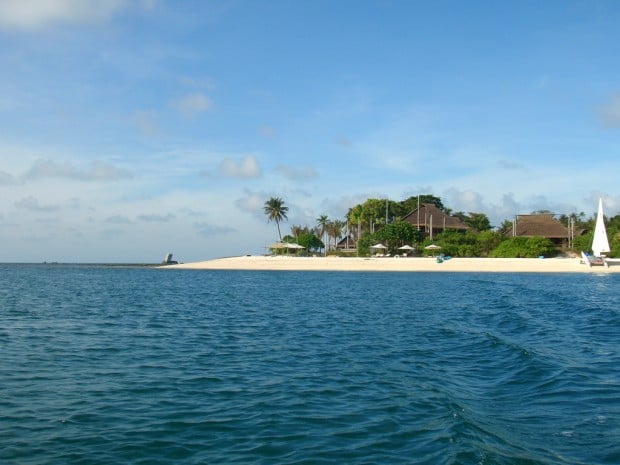 Image credit: Butterbeeee
Image credit: Wikimedia
Looking for a private island retreat?
Nikoi Island, located off the coast of Bintan, is the perfect place for a weekend getaway. Think isolation and privacy amid clear blue waters and soft white sand while you sip a drink in hand as the wind softly caresses your hair. The island also has a rainforest for some trekking adventures. Don't worry about straining your body too hard there, once you lay back on your beach chair, all your pains and worries will surely fade away.
Getting there: Reaching Nikoi Island from Singapore will take you less than 2.5 hours. Take a ferry from Tanah Merah ferry terminal to Bintan (1 hour) and grab a taxi across Bintan (1 hour) to the jetty close to Nikoi Island. Nikoi Island is a short ferry ride away.
Also read: 12 Places Near Singapore to Explore the Great Outdoors
4. Pangkil Island
Image credit: jrwebbe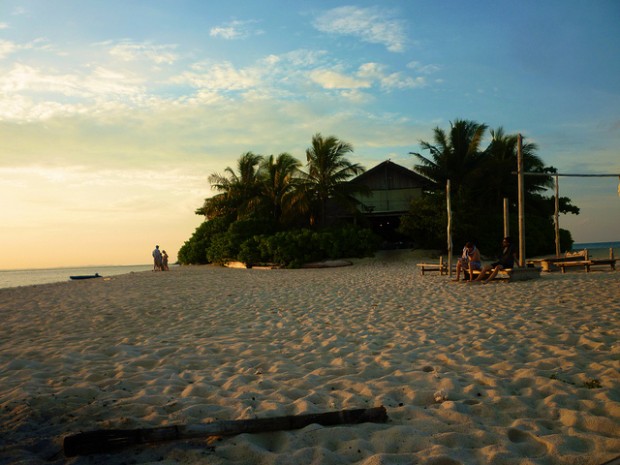 Image credit: Corsiworld
Another option near Bintan is Pulau Pangkil, which is a great island to rent for some weekend fun. Yes, I mean rent out the whole island. A 3D2N weekend rental for 1–10 person costs around SGD 6900, and this is inclusive of accommodation and food. The resort on the island is well staffed and the workers are very generous and more than willing to help with everything. Chill and party on the beach, play some volleyball or take a dip in the sea. There are hammocks littered everywhere on the island for you to relax and fall asleep in. True paradise.
Also Read: You Can Rent an Entire Island Near Singapore for Just SGD 6900
Getting there: From Singapore, take a ferry (2 hours) to Tanjung Pinang terminal in Bintan. Ride a bus (1 hour) to Pama jetty and take the boat ride to Pangkil island (15 to 30 minutes).
5. Perhentian Islands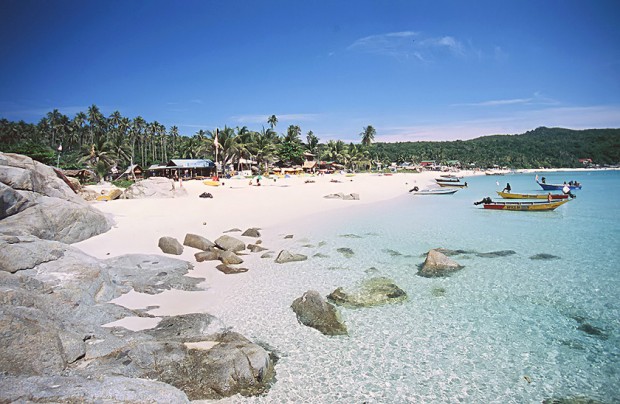 Image credit: elmar bajora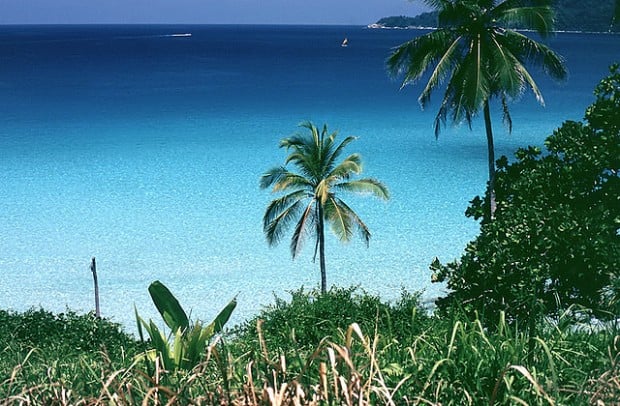 Image credit: elmar bajora
The Perhentian Islands are a group of small beautiful islands off northeastern Malaysia, filled with coral life in their waters. The best time to go is from the beginning of June until late October, because outside this period, waters will be choppy and the currents make swimming slightly more dangerous.
Getting there: Take an overnight bus (Transnasional Express) to Kuala Terengganu Tanjung bus terminal. Alternatively, you can fly to Kota Bahru Airport, but this usually requires a transit in Kuala Lumpur. After that, get to Kuala Besut jetty by taxi and take either a speedboat (30 to 45 minutes) or a slow boat (1.5 hours) to Perhentian Islands.
6. Rawa Island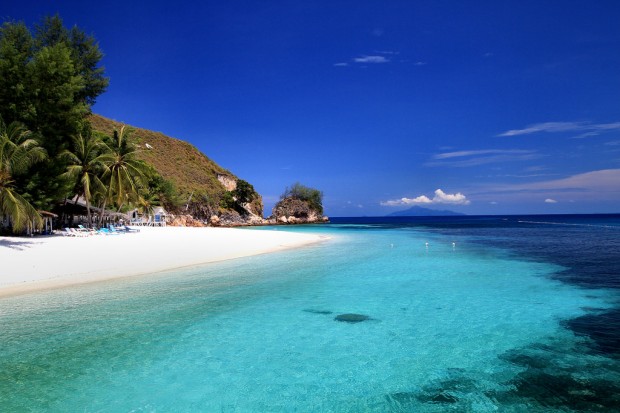 Image credit: Phalinn Ooi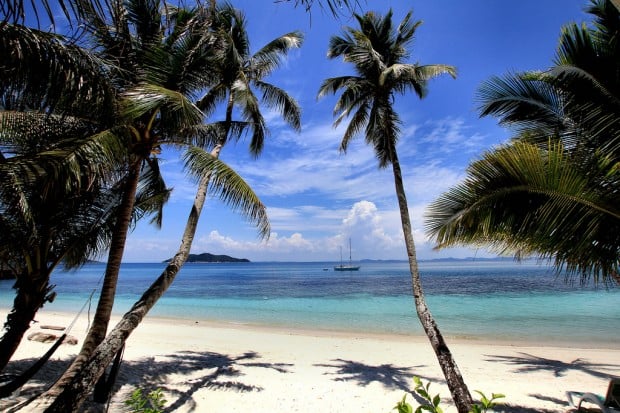 Image credit: Phalinn Ooi
Rawa Island is owned by family members of the Sultanate of Johor. A very comfortable bar and restaurant greet you as you step off the ferry onto the island. Be ready to eat like a king because they provide an extensive buffet. Here, you can snorkel, windsurf, kayak, dive, fish, go on a cruise around the island, and basically live in the lap of luxury.
Getting there:  Rawa Island is just 4 hours away from Singapore. Get to Mersing first, and transfer to the island via boat (1 hour by regular boat, 30 minutes speedboat). Your resort will help with your transport arrangements. To get to Mersing from Singapore, it takes 3-4 hours by coach.
7. Layang Layang Island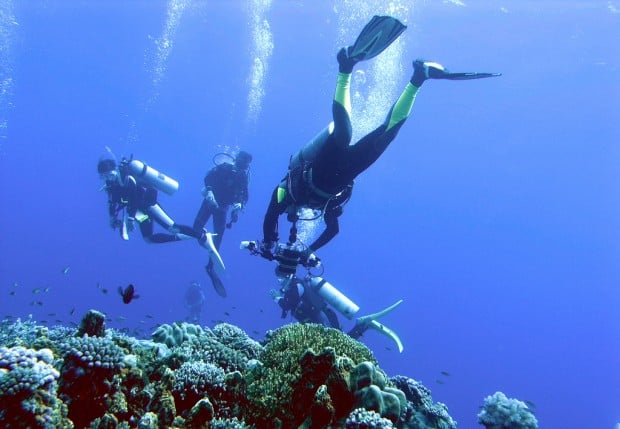 Image credit: Matthew Lee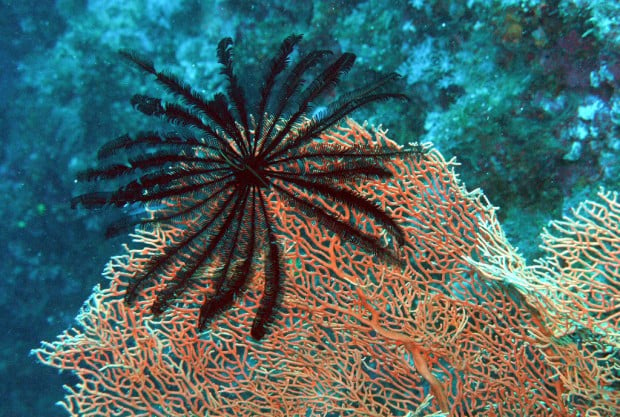 Image credit: Matthew Lee
Layang Layang Island is the diving destination to go to from Singapore. With unpolluted waters, this island sits out in the middle of nowhere, which is a great thing for avid divers. It is also called Swallow Reef, which is a top-ranked dive site that will allow one to spot a large variety of marine life. Even if you are not a diver, perhaps it's time to pick up the sport so that you can explore the clear waters surrounding this little spot of paradise. There is only one resort on the island, Layang Layang Island Resort.
Getting there: Take a flight from Singapore to Kota Kinabalu (2.5 hours), and another flight from Kota Kinabalu to Layang Layang Island (1 hour, 3x weekly).
Also read: Staycations in Singapore: 12 Hotels With Infinity Pools You Will Love
8. Pulau Tengah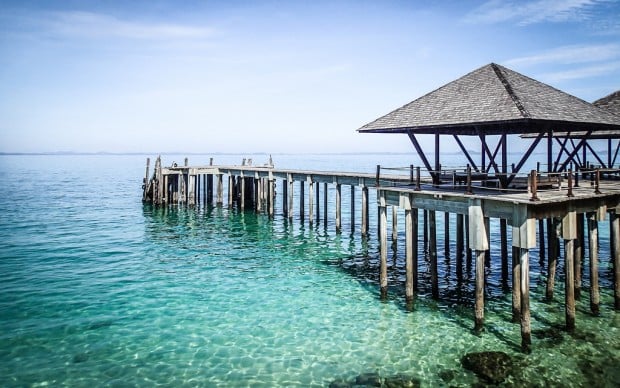 Image credit: Tomtom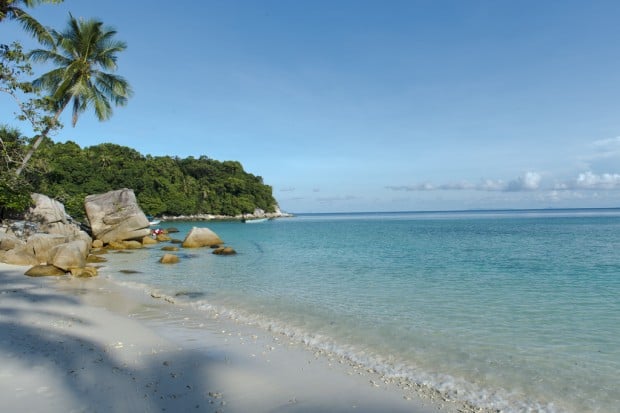 Image credit: Merlijn Hoek
Ever wanted to watch turtles hatch on the beach? Pulau Tengah is the place to do it. It has one resort called Batu Batu on the island, which spearheads conservation projects for marine life, including taking care and monitoring turtle hatchings. Private dive instructors will take you to explore the deep waters even if you are a beginner. Perfect place to chill out and breathe in the salty fresh air.
Getting there: Pulau Tengah is accessible via speedboat (20 minutes) from Mersing jetty. From Singapore, get to Mersing via coach (3-4 hours).
Any more islands near Singapore perfect for a weekend getaway? Share it in the comment box below!