There is no place like Bangkok when it comes to pampering your soul. In fact, no trip to Bangkok is complete without indulging in some much-needed rejuvenation, especially after a shopping escapade.
From cheap massages in the heart of Pratunam to slightly pricier ones with cosy ambience and excellent service to boot, there are countless of options out there for you. Have difficulty narrowing it down? We've rounded up our list of top 10 massage parlours in the city.
Time to get a Thai massage and soothe those aching muscles!
For our non-Singaporean readers, "shiok" is a word used to convey pleasure. These Thai massage places are really, really good!
1. Health Land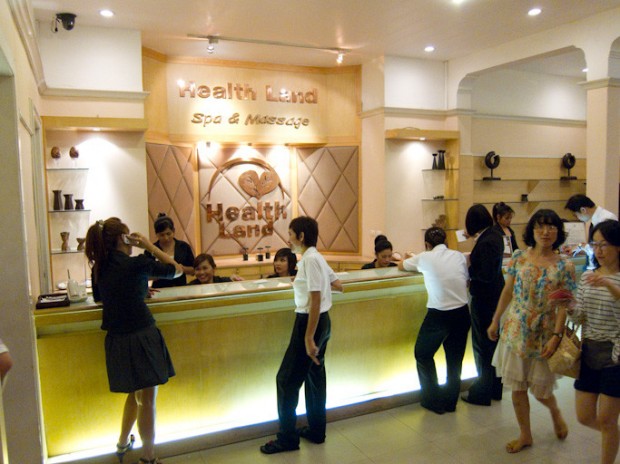 Image credit: Charles Haynes
Touted the most popular massage parlour amongst Thai locals, Health Land truly lives up to its name. With impressive facilities and impeccable service, this establishment feels like an upscale spa than a typical massage parlour. Best part of it all? Their massages are reasonably priced at only THB 250 (SGD 10) an hour, similar to those in any other roadside parlour. One thing to note though: Health Land can get really crowded on most days despite having multiple branches, so it's best to reserve a spot before heading down.
Address: 55/5 Sukhumvit 21 Road, Asoke (Other branches in Ekamai and Silom)
Tel: +66 2 2611110
2. Asia Herb Association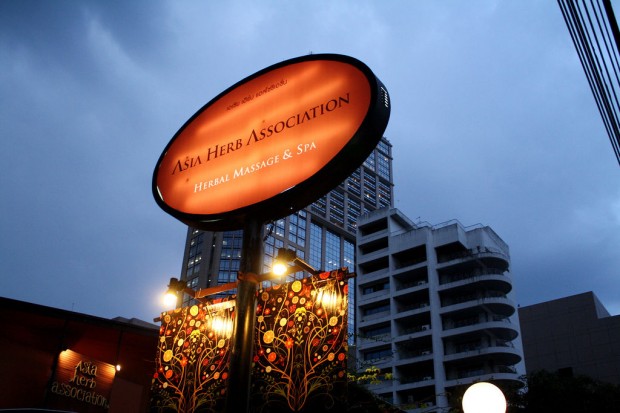 Image credit: Nakatani YOshifumi
If you don't mind a little splurge, Asia Herb's your best bet for a wholesome experience, with its stunning interiors, pleasant service and wide range of herbal body treatments and heavenly massages available. You can even customise your sessions so your therapist will be aware of where your preferences lie.
Needless to say, this experience comes with a pretty hefty price tag of a whopping THB 900 (SGD 36) per hour, but members do get to enjoy 5% discount off all ala-carte treatments. All you have to do is sign up on the spot for free!
Address: Sukhumvit Soi 24 (Nearest BTS: Phromphong)
Tel: +66 2 6174013
3. Perception Blind Massage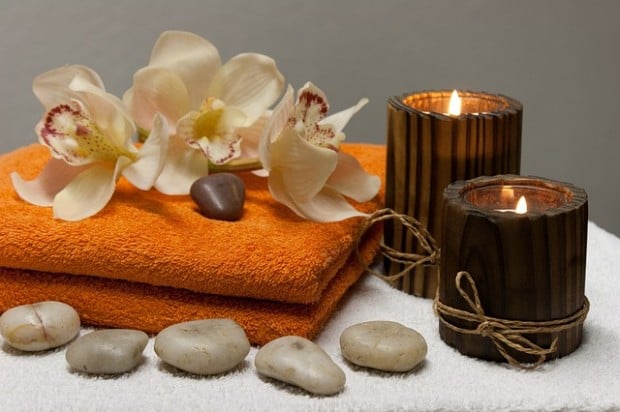 Fancy an unconventional body treatment to loosen up those joints? Then nothing beats spending a day at Perception Blind Massage.
Launched only this year, the modern design and clever concept at this parlour certainly makes one feel at ease. Although therapists here lack their sense of sight, relying on their touch just means that they are more in tune with their techniques, which could result in a more effective treatment for you.
Plus, the visually impaired get to earn an income for themselves and put their skills to great use too. While its location is quite secluded, taking a taxi down could save you the hassle of google-mapping your way around. After all with cheap rates at only THB 300 (S$12) per hour, how could you not give it a go?
Address: Sathorn 8 (Nearest BTS: Chong Nonsi, next to Dexter Cafe)
Tel: +66 82 2225936
Also read: Craziest Things I Found Myself Doing While Backpacking Asia
4. Chang Foot Massage & Spa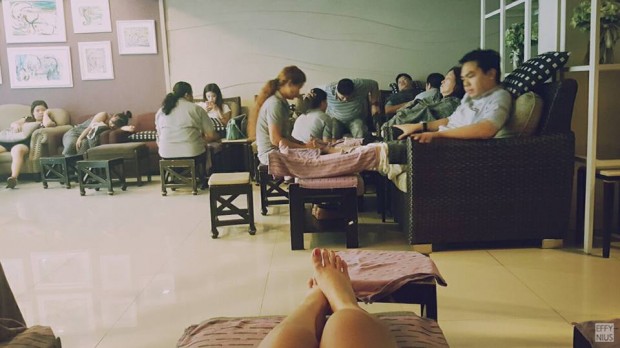 Image Credit: Vikki Effynius
With reasonable prices at only THB250 (SGD 10) per hour and late opening hours, this spot is worth a visit for travellers on a shoestring budget.
It is true that the standard of massages usually depend on the therapist you are assigned to, but Chang has always been known to be consistently good. They have several outlets around Bangkok (how convenient!) as well, but if this is your first time, we suggest you pop by the one nearest to Siam Square before relishing in the city's exuberant nightlife.
Address: Siam Soi Square 6  (Nearest BTS: Siam)
Tel: +66 2 654 6339
5. Arunda Oriental Massage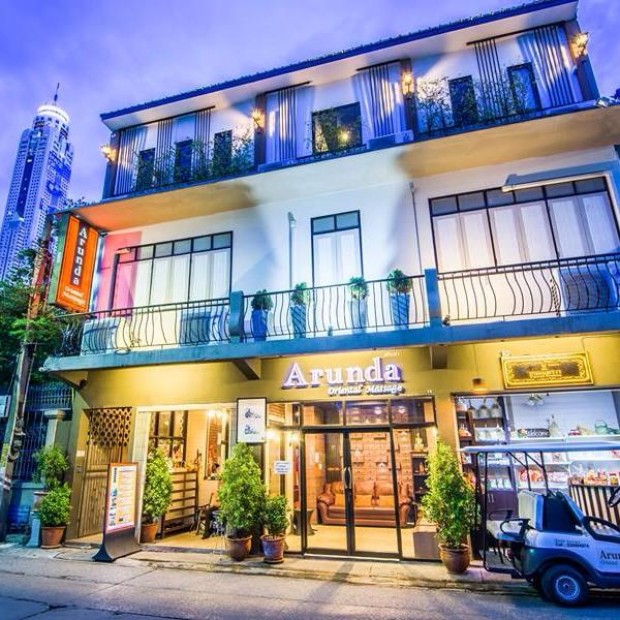 Image credit: Arunda Oriental Massage
Opened daily from 10am–1am, this particular massage parlour might be new to the scene, but already it is a hit with both locals and tourists. Their homely vibe and incredibly vast space will make you want to stay here forever. There is also a free shuttle service for those staying around the Soi 15 area.
Address: 14 Soi Phetburi, 15 Phayathai
Tel: +66 2 0004974
6. WatPo Thai Traditional Massage School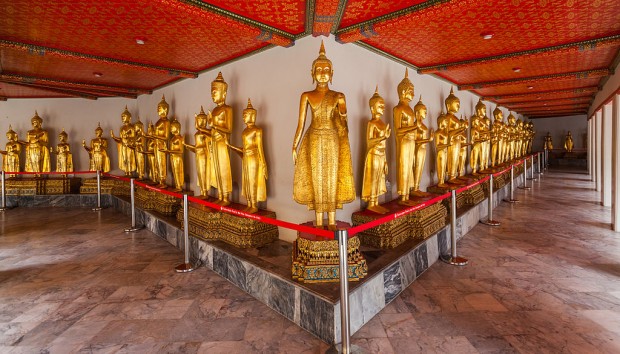 Image credit: Diego Delso
WatPo Thai Traditional Massage School is housed within Wat Pho, also known as the Temple of Reclining Buddha. Authentic to say the least, massage skills here have been honed and cultivated for over centuries, so rest assured that you are in good hands. If you're keen to get yourself enlightened on the art of Thai massage, you can even sign up for a 5-day beginner's course.
Prices may be on the slightly steeper side at THB 420 (SGD 17) for 60 minutes, but basking in magnificent views of glittering temple landscapes and taking in a slice of history definitely make it all worthwhile.
Address: Maharat Road (about half a mile south of Grand Palace)
7. Number One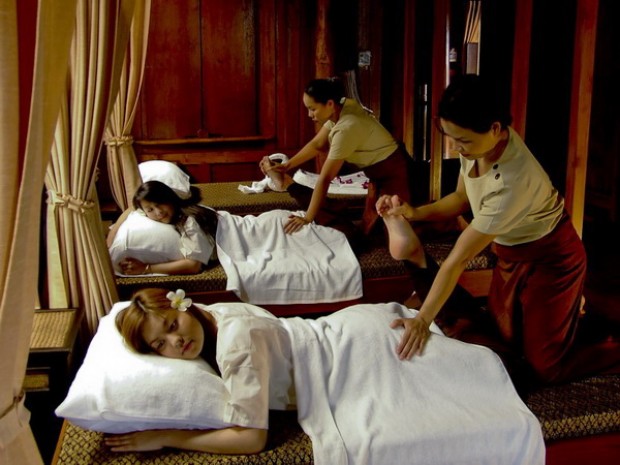 Image credit: Pai Spa
Nestled along the lanes of Petchburi Soi 15, Number One is perhaps the most convenient massage parlour to get to once you're done with intensive shopping at the streets of Pratunam or Platinum Fashion Mall.
There may be a couple of other massage places on the same stretch that share similar signboards, but Number One is easily considered the best, thanks to their amiable staff and great treatment deals that range from THB 250–400 (SGD 10–16) per hour.
Address: Petchburi Soi 15 (Nearest BTS: Chit Lom)
Tel: +66  2 653 9967
8. Lek Massage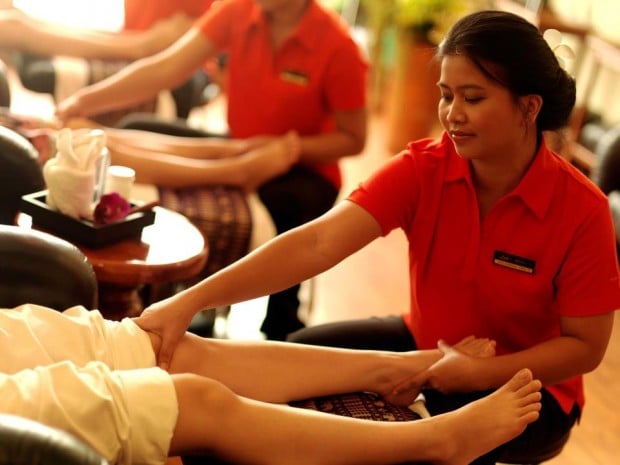 Image credit: Lek Massage House
Located directly opposite Novotel Siam Square and Siam Paragon, Lek Massage is another parlour that is raved amongst tourists, and their Thai Massage with Hot Compress (THB 300 / SGD 12 per hour) is notable for effectively relieving aching joints.
Strategic location and price-friendly traditional massages aside, it has one of the earliest daily operating hours at 8am. You can even head down for a foot rub before breakfast.
Address: 412/3 Siam Square Soi 6 (Nearest BTS: Siam)
Tel: + 66 2 6583930
Also read: 23 Reasons Why Singaporeans Never Get Sick of Bangkok
9. Urban Retreat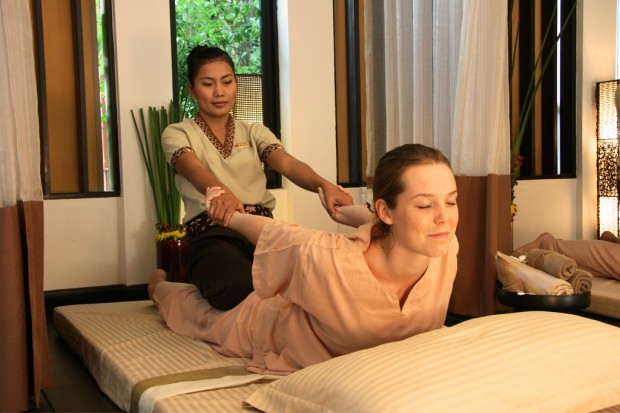 Image credit: Tara Angkor Hotel
Offering a myriad of quality body massages from the traditional head and shoulder massages to aroma oil and even hot stone ones at affordable prices (THB 500 / SGD 20 per hour), it's no surprise that Urban Retreat is fast becoming one of the more well-known parlours in the city.
Emphasising on freshness, their herbal products are stocked in small supplies and are never reused. It is really convenient and accessible as well, with its Asoke outlet situated just right beside the BTS.
Address: 412 Siam Square Soi 6 (Nearest BTS: Asoke)
Tel: +66 2 6583930
10. Ruen Nuad Massage Studio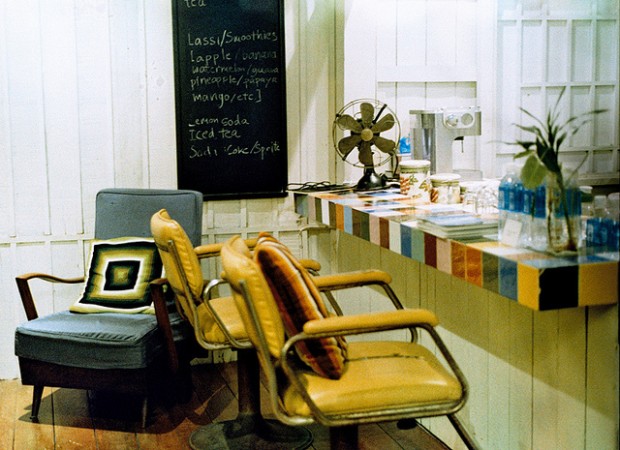 mage credit: 嚇
Set in a quaint wooden two-storey Thai home, Ruen Nuad exudes tranquility and charm even from its exterior, with good old traditional massage taking centre stage. The no-frills essence of the studio even translates to its menu, offering only three types of massages – traditional, foot and aromatic oil.
Prices are pretty reasonable too, at an average of THB 300 (SGD 12) per hour with a THB 100 (SGD 4) surcharge if you opt for a private room. As soon as you're done letting the masseuse release all that unwanted tension in your shoulders, you can head to the juice bar on the first floor to chill and quench your thirst.
Address: 42 Convent Road, Silom
Tel: +66 2 6322662
Also Read: The Bangkok Bucket List: 20 Challenges for Your Next Trip
Any other massage places in Bangkok that deserve to be on this list? Let us know in the comments section below!
For a chance to win a trip to Bangkok or other parts of Thailand, take part in the "Thousand Ways to Smile" contest! Share a picture that makes you smile, and stand a chance to win attractive prizes sponsored by Bangkok Airways and Thai Airways. Upload your picture to Facebook or Instagram, and don't forget to use the hashtag: #1000smilesthailand. The winners for January and February haven't been chosen yet, so what are you waiting for? Check out this website for more information and details!