In February, I went on a trip to the town of Manali, a resort town in India's state of Himachal Pradesh. It's located north of Kullu Valley, also known as the "Valley of the Gods", a mountainous region that is famous amongst locals for its winter activities such as snowboarding and skiing. With high cliffs and optimal wind conditions, it's common to spot paragliders in the clear blue skies.
Getting to Manali
Getting to Manali might be the best – or the worst – journey of your life. Mine started off from the capital of India, New Delhi, on a cheap public bus without air conditioning.
Over the course of the next eight hours to Shimla, the bus made its way up north to an elevation of 2,050 metres. With the gradual drop in temperature, cold air crept into the poorly-insulated bus, causing me shiver. To make it worse, the bus runs through an uneven and rocky terrain, making the ride inevitably bumpy and unconducive for naps. On my journey, the driver manoeuvred over boulders and rocks next to roadworks, nerve-wracking cliff edges, and narrow lanes. I had nothing but respect for the driver and his mad skills; he gave me a memorable bus ride on one of the most dangerous roads in the world.
It took me a total of 18 hours to get to Manali. Although a direct ride from New Delhi to Manali would have taken only 12 hours, I couldn't miss stopping by the Queen of Hills, Shimla. Here's an overview of my journey: New Delhi to Chandigarh (4 hours), Chandigarh to Shimla (6 hours), Shimla to Manali (8 hours).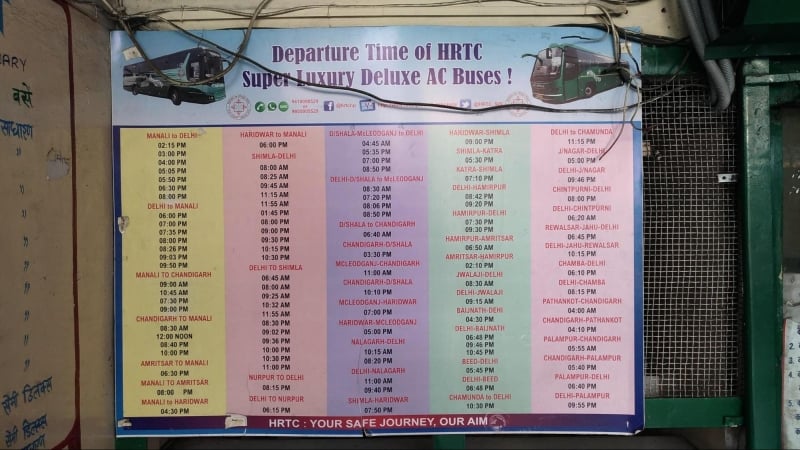 There are, of course, other options to get to Manali. Taking a flight to Kullu-Manali airport would be your fastest and most convenient option. The airport is located in Bhuntar, just 50km from Manali, and fights run daily from New Delhi. Buses, such as the one I took, run directly to Manali at multiple time slots daily. There are two choices for the bus: the standard bus or the premium Volvo bus. I suggest going for the latter so your journey will be more comfortable.
Unfortunately, you can't witness the majestic Manali landscape by train as there are no rail networks running in town. The nearest train station would be almost 250km away in Shimla.
Why is it a rider's paradise?
While mountainous regions are usually associated with being in the wilderness, hiking, and climbing, the connectivity of Manali with its roads and highways mean that you can enjoy the outstanding scenery from a vehicle. A famous route for bikers goes along the Manali-Leh Highway. This journey takes around two to four days to complete and passes through multiple attractions such as the Rohtang Pass and Tanglang La.
While taxis and buses are available, riding a bike is a great way to get around and experience Manali. After all, it's not every day that you'll get a chance to tour the roads of the Himalayan mountains on a motorbike while inhaling crisp mountain air.
Renting a motorbike
I didn't have to look around for a rental centre as the hostel I stayed in during my time in Manali had their own bike rental service. That said, bike rental shops are scattered throughout the town and finding one would be the least of your worries.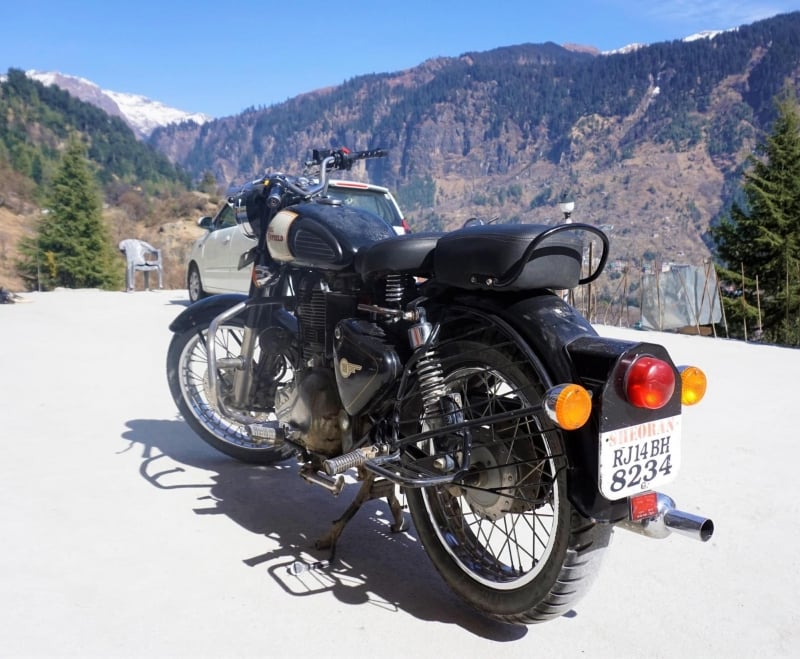 Motorcycles that were offered run from automatic scooters all the way to the big boys, 800cc touring bikes. Prices don't differ according to bike sizes and the base rate for any bike is around $20 a day. The clear choice goes to the Royal Enfield Classic 350cc. You won't go a day in Manali without having Royal Enfields zooming pass you around town.
Routes
The trouble with riding in this region is that you'd definitely come to a stop frequently as gorgeous landscapes greet you at every turn. I was there for a week and it wasn't enough – there's just so much to see and so little time. Several routes are available in the region and these are the ones I took:
Manali – Solang Valley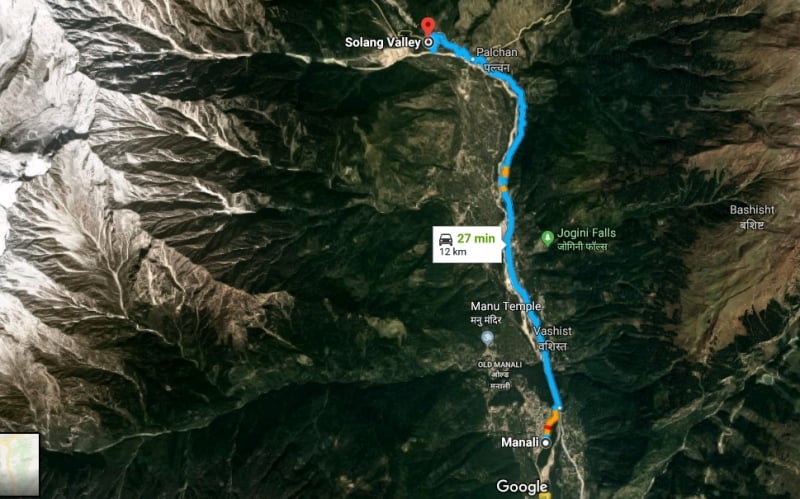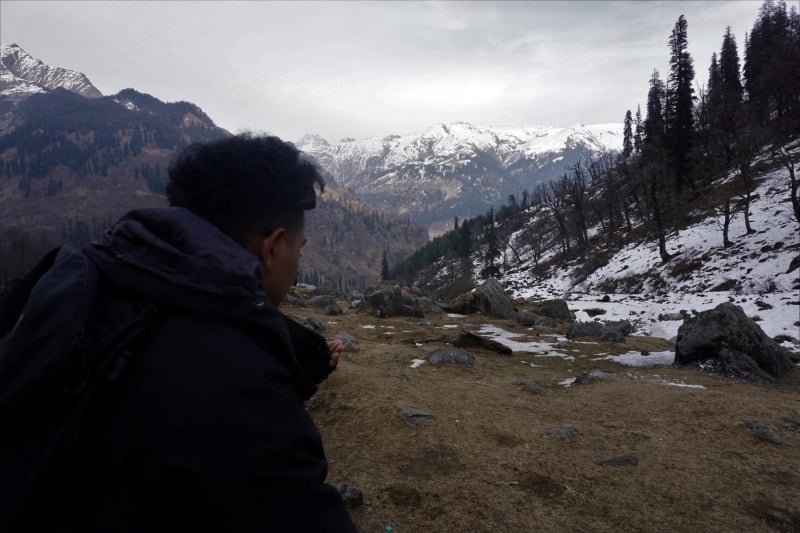 This easy ride brings you to Solang Valley which has steep hills that are perfect for skiing and snowboarding. The environment changes dramatically in the summer, which is when extreme sports like parachuting and paragliding take over.
Manali – Gulaba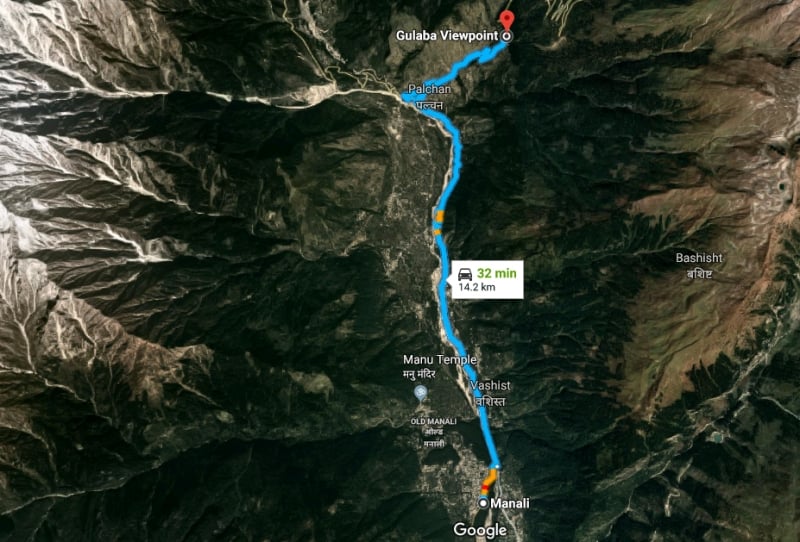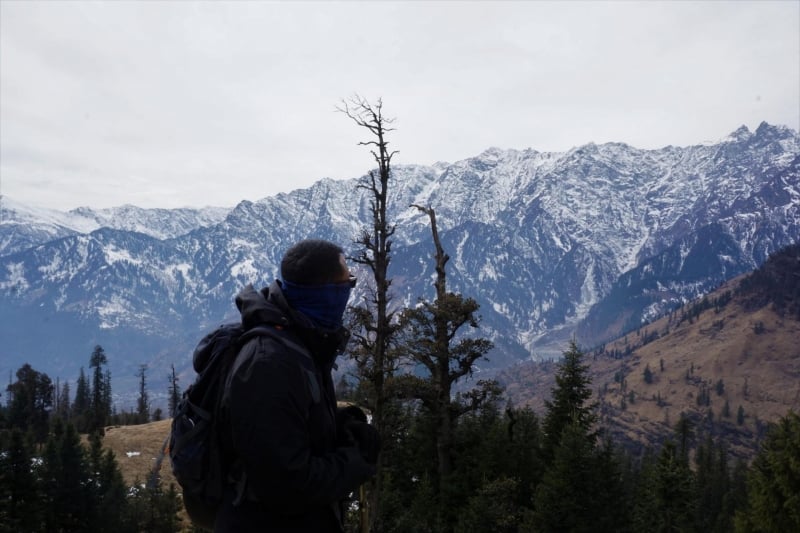 This route goes the same way as the previous one, but towards the end, you should make a right turn instead of a left one. Once you've reached the top, you can find families all decked in their snowsuits having a picnic or playing in the snow. This route is part of the Leh-Manali Highway; if you go on, you'll hit the winding roads towards the iconic Rohtang Pass.
Manali – Kasol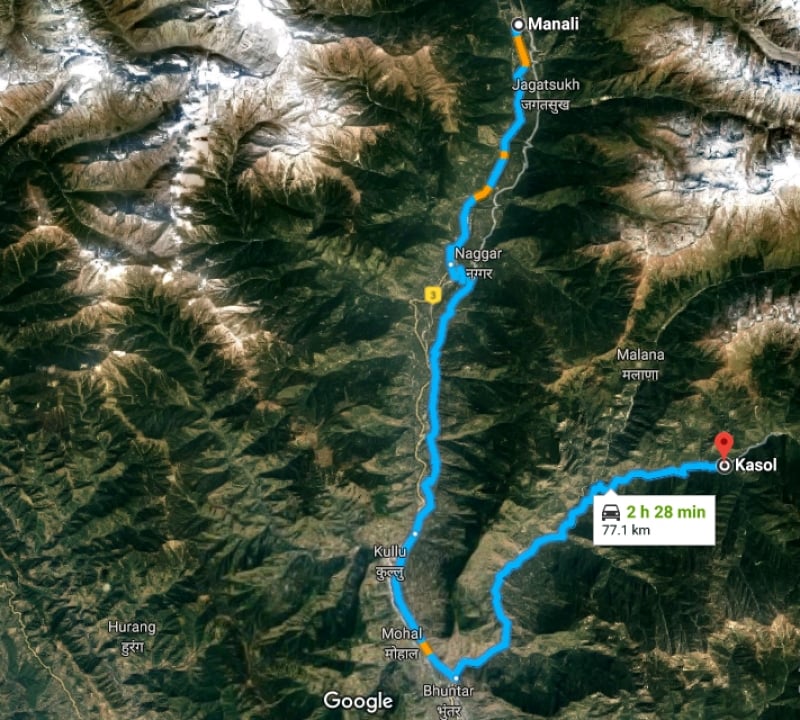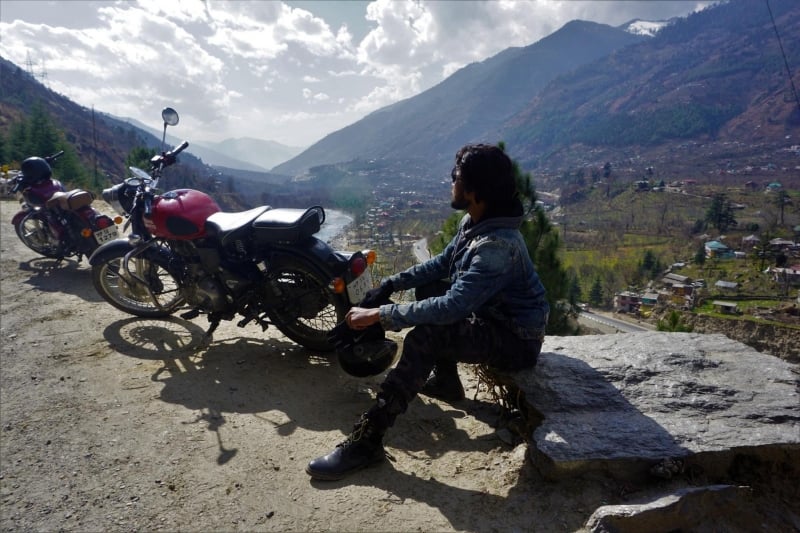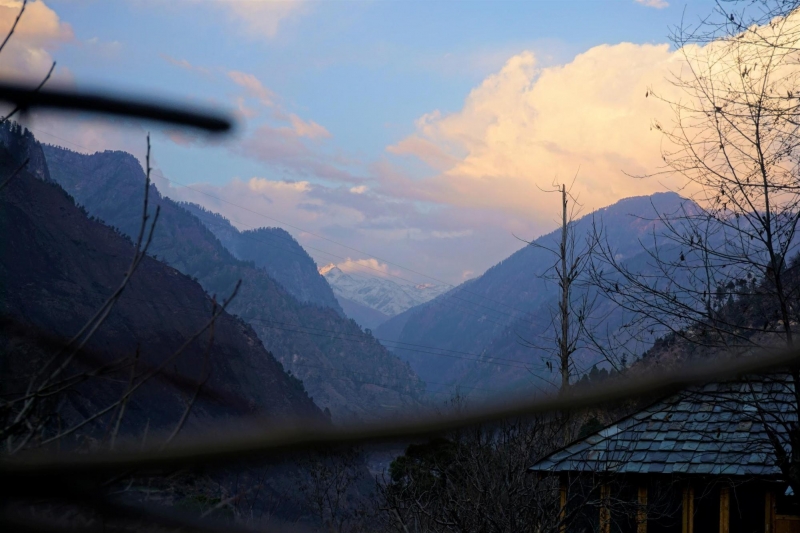 The route to Kasol is one that I particularly enjoyed. I found myself stopping more than usual, thanks to the divine mountain views along the valleys en route to Kullu. A non-stop journey would have taken slightly more than two hours.
Old Manali Road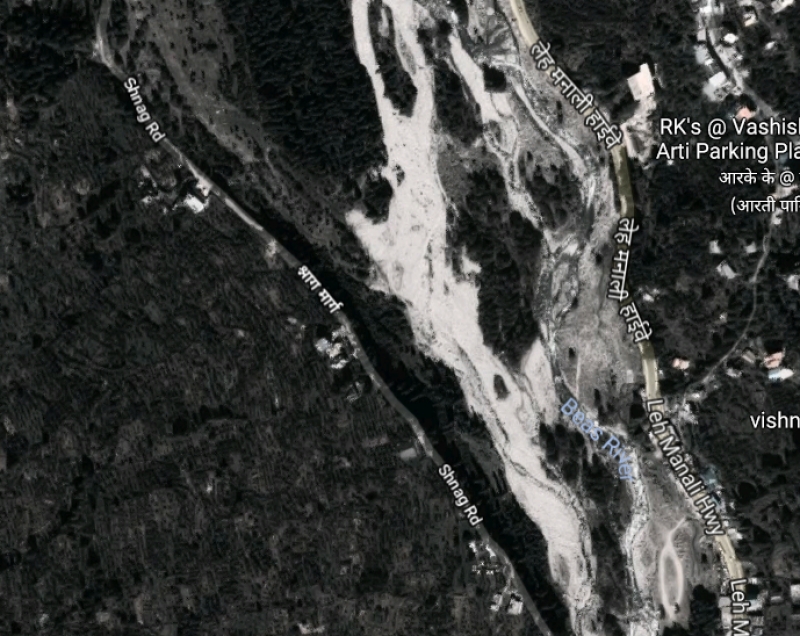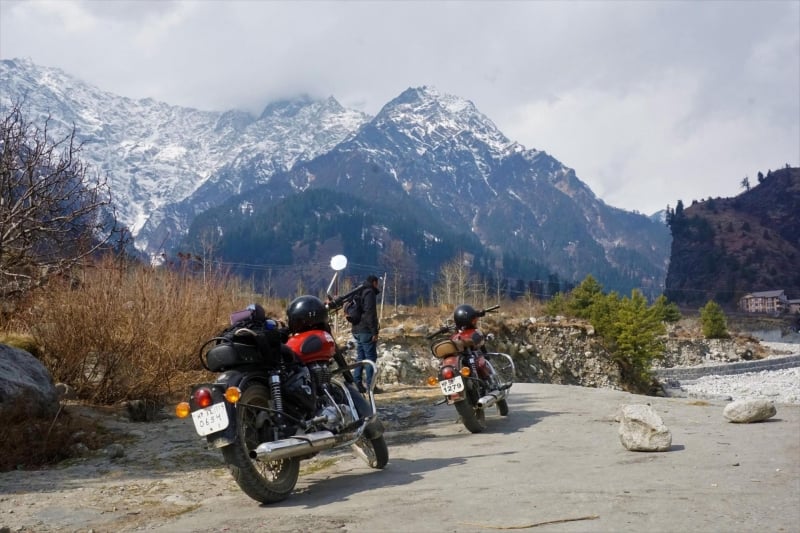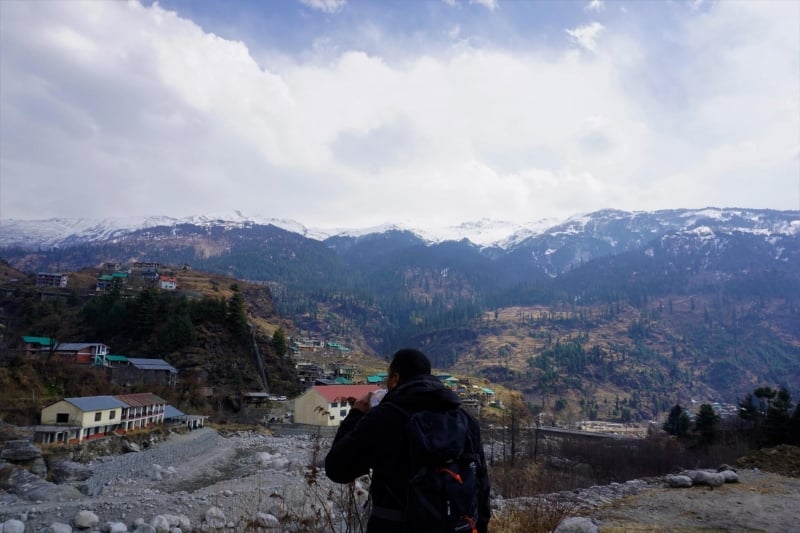 The three routes mentioned above runs along the highway. This route, on the other hand, is on Shnag Road, opposite the highway on the other side of the river. As it's tucked away from the busy highway, it's quieter and more peaceful. This less-travelled road also features a rockier terrain, but the chance to escape traffic and enjoy a scenic ride makes it more than worth the while
When to visit Manali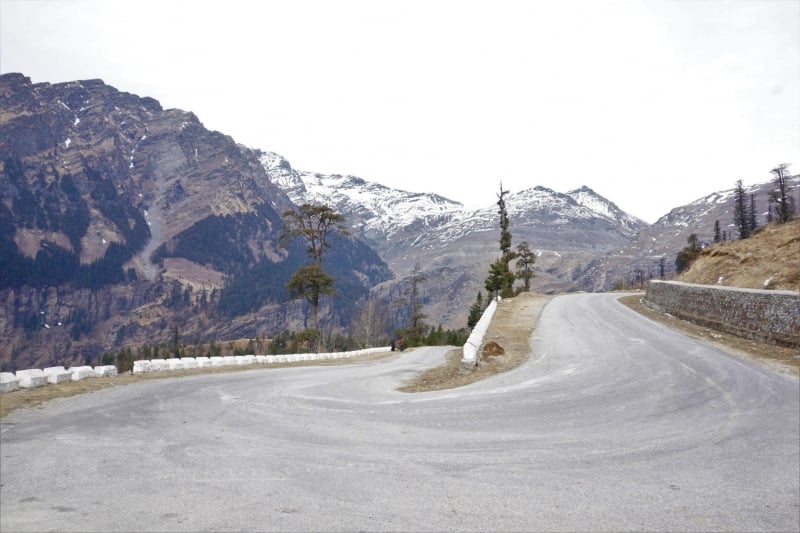 The low season in Manali is from December to February, where the days are chilly and the nights are freezing. Temperatures could drop as low as -10° in February, which is when I visited, and hence it's important to be dressed in winter wear. The downside of visiting during this season is that the Leh-Manali Highway will be closed due to high snowfall and intense temperatures which aren't suitable for riding. When you hit the Gubala Viewpoint, the road further up will also be closed for the same reason. The upside? Roads are mostly clear of traffic and it's easier for riders to navigate. Also, it's easy to get discounts at guesthouses because they're all competing for business.

The high season from March to June is when Manali becomes plagued with tourists and bikers. As the snow melts and sunshine warms the ground, many vacationers come visit to roam freely without the trouble of layering up. The weather is perfect and you don't have to be bundled up for a ride. But this just means the number of vehicles on the road will be massive – bikers go in big groups as they make their way for Leh.
Dangers and safety precautions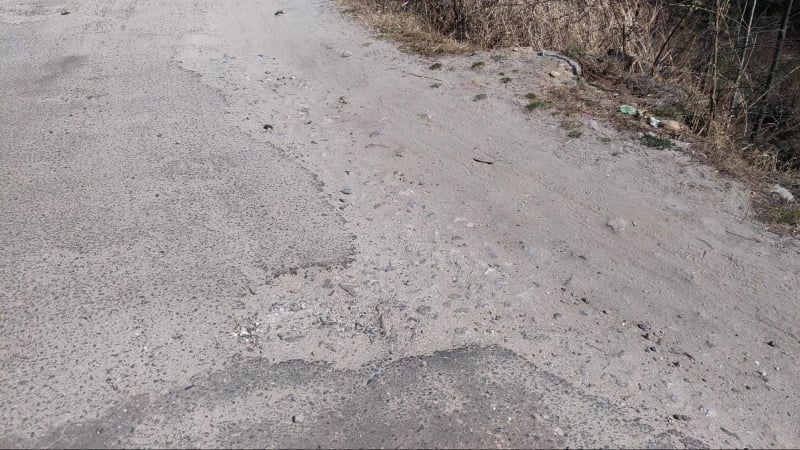 Caution should always be exercised while riding in Manali. Roads are not in the best condition so do not expect your journey to be smooth sailing. Uneven terrains, potholes, and cliffs are some of the potential hazards to look out for. The lane size might also be a shock to you; a standard two-way street can be cramped into a one and a half lane, with car mirrors almost rubbing shoulder to shoulder. The good news is that everyone seems to be going at a slow and steady pace in Manali, so you don't have to rush too.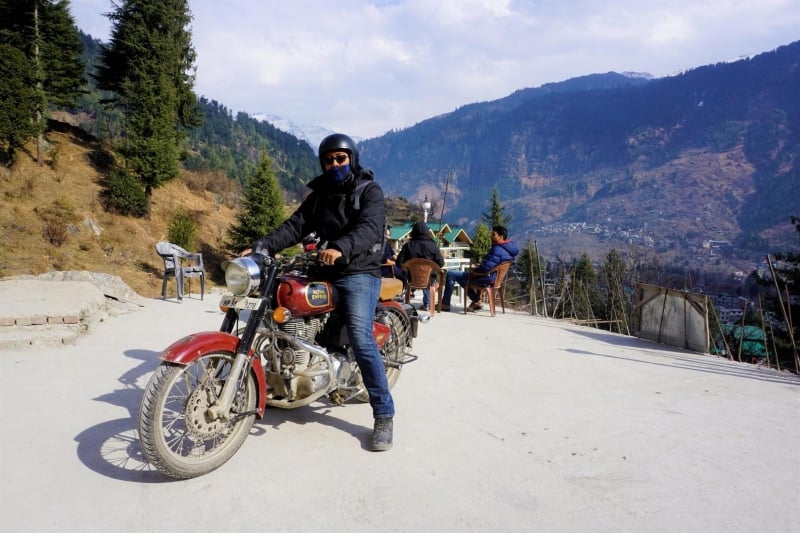 During my trip, I fell off the bike once due to a little pothole. Thankfully, I escaped with only mud on my jacket.
As with any motorcycle ride, proper riding gear is essential for a safe experience. Put on gloves, long sleeved top, pants, shoes, and helmet, and don't neglect what they taught you in driving school. The standard safety measures should be taken and it's important to handle the motorbike confidently. As the roads are foreign, take a day to familiarise yourself with the signs and understand what to avoid. Above all else, always be on alert.
Ride away in Manali!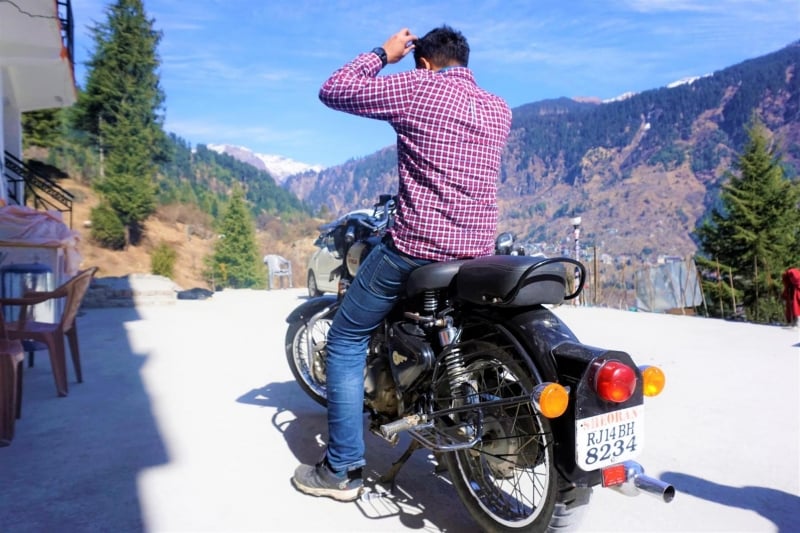 Manali proves to be an exciting destination for a biker – a biker's paradise, as I would say. The roads are simply meant to be occupied by bikers who will ride freely through the fresh mountain air, living their café racer dreams. If mountainside riding is one of your dreams, this is where you can realise it.