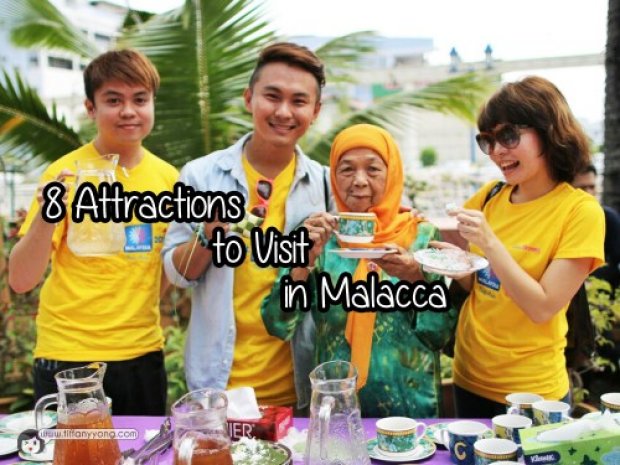 Many Singaporeans are willing to sit through a 3 hour car-ride to visit Malacca over the weekend for their amazing food. We know all about Malacca's delicious Cendol and Chicken Rice Balls. But how many of you are familiar with Malacca's heritage and history?

Can't wait to explore this beautiful country? Here's your chance to go on an amazing getaway to Malacca with a friend or a loved one. Click here to win now! Contest ends on 1st May.
Here are 8 Heritage and Tourist Attractions you can visit the next time you visit Malacca.
1. Taman Mini Malaysia Cultural Park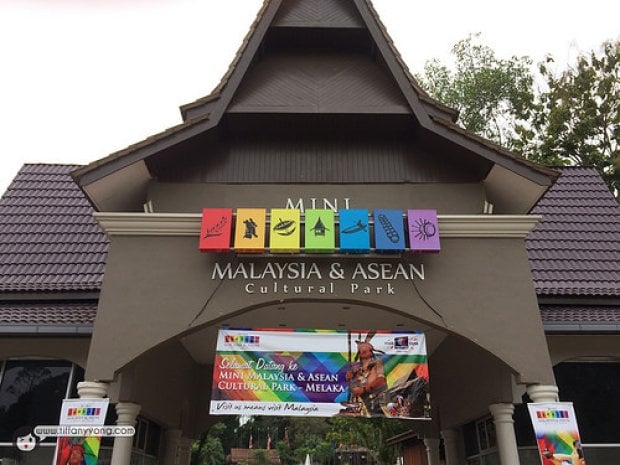 The Taman Mini Malaysia cultural park is located a few kilometres outside of Melaka, near the town of Ayer Keroh. It is called "Mini" Malaysia as the cultural park features different traditional architecture and ways of life, each representing the architectural style of the 13 states in Malaysia.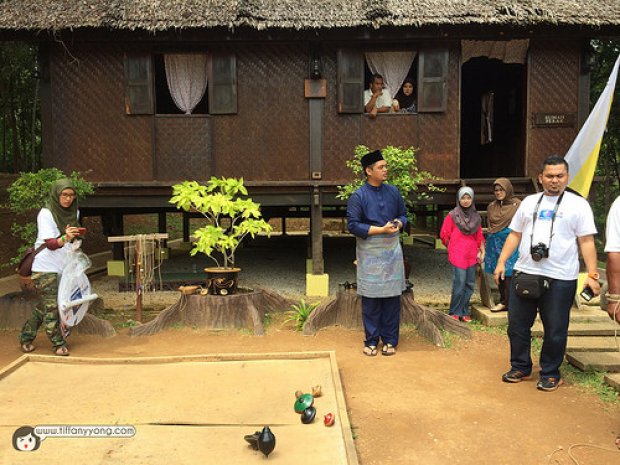 Although this "Mini" Malaysia doesn't display any miniature versions of Malaysia's iconic architectures, the homes are furnished with various items, arts and crafts which depict the culture of each state. They put up weekly cultural shows and traditional game performances where you can get your hands on some traditional gasing (wooden spinning top) and try to get them spinning.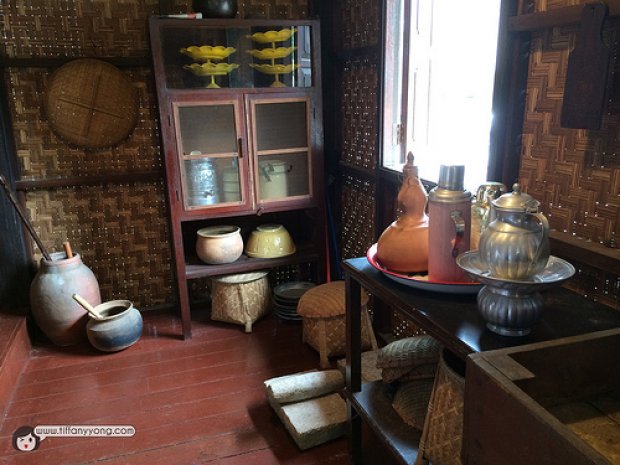 Inside each house, you will find a range of genuine handicrafts originating from each state.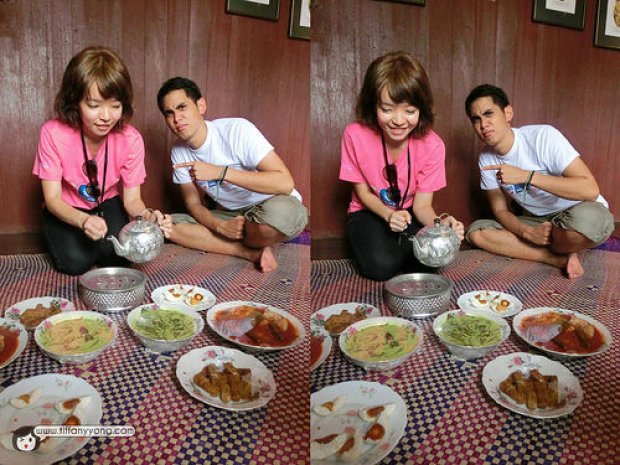 We had a "Malay-style" lunch in one of the homes. Dishes were placed on a straw mat, and there was a ketor (jug, filled with water, and a big bowl) for us to dip the tip of all our right fingers for cleansing. That was my first time eating with my hands!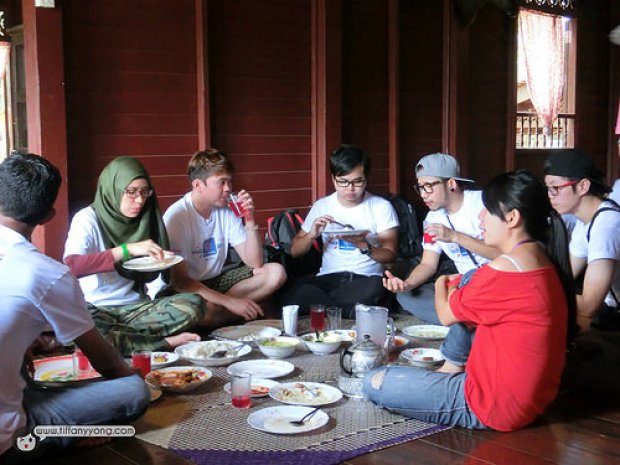 We sampled a wide array of dishes such as assam pedas ikan tenggiri (Spanish mackerel sour and spicy stew), tempeh (soybean cake), kacang botol (winged bean), salted egg, and fresh fruit. We had to eat with our right hand. Left hands should never be used to handle food here!
Taman Mini Malaysia & Mini ASEAN
Opening Hours: 9am – 5pm
Entrance Fee:
Non-Mycard holder:
Adult (RM20 / SGD8) Student (RM15 / SGD6) Child below 12 years(RM12 / SGD4.8)
Mycard holder:
Adult (RM15 / SGD6) Student (RM10 / SGD4) Child below 12 years (RM8 / SGD3)
Address: Lebuh Ayer Keroh, 75450, Melaka
Tel: +606-2349988
Photo-worthy Spot: *** | Heritage/Historical Value: *** | Recommended.
2. Chitty Village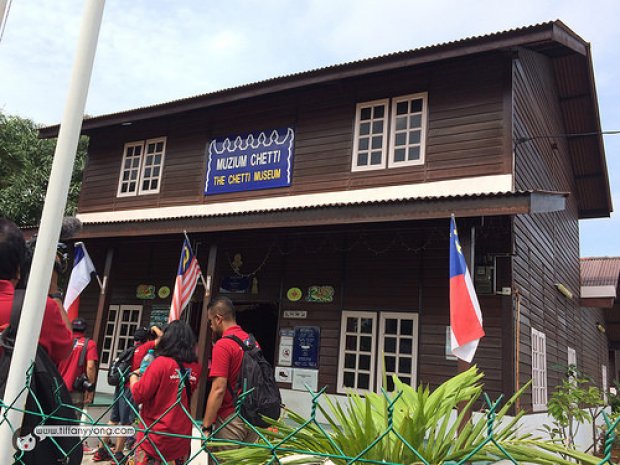 The Chitty (or Chetti) Village in Jalan Gajah Berang is home to a small group of Hindu Peranakans. The village has been around for over 500 years since the 1400s, thus the Chitty (Traders in Tamil) are actually regarded as older than the Chinese-Malay Peranakan community.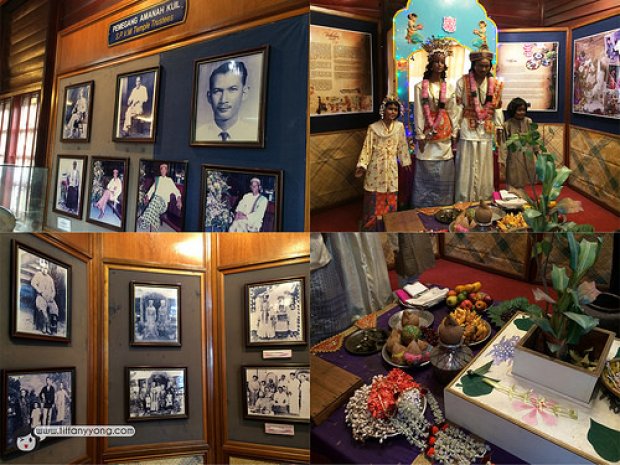 In the small Chitty heritage museum (Muzium Chetti), besides costumes and photographs, you will get to see colourful artefacts such as traditional water-pots, multi-tiered brass oil lamps, serving trays, sculptures, handicrafts and photographs.
I was surprised to find out that besides Malacca, the Chitty are also found in Singapore. However, the Chitty cultural identity is on the brink of extinction due to the cultural assimilation into mainstream ethnic communities. It is estimated that there are around 50,000 Chitty in the whole of Malaysia and another 5,000 in Singapore.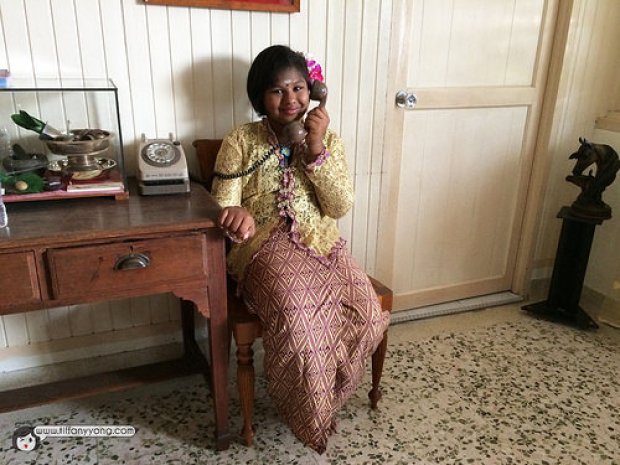 The Chitty women dress in kebaya with sarongs similar to the Baba and Nyonya costumes. Their diet is also influenced by that of the Malay, Indian, and Nonya. They eat fish and meat, but not pork or beef, and are vegetarian on Fridays and in the lead up to some religious festivals.
Although the Chitty still have Hindu names and adhere to Hinduism as their religion, some also practise ancestor worship, which is a cultural influence from the Chinese. Instead of speaking Tamil, the Chitty speak a Malay dialect with loan words from Tamil. They are truly a fascinating blend of cultures.
Chitty Museum
Opening Hours: 9am – 5pm (Wednesdays- Sundays)
Entrance Fee: Adult (RM2 / SGD.80) Child (RM0.50 / SGD.20)
Address: Kampung Chetti, Jalan Gajah Berang, Melaka
Tel: +606 281 1289
Photo-worthy Spot: ** | Heritage/Historical Value: **** | Recommended.
3. Menara Taming Sari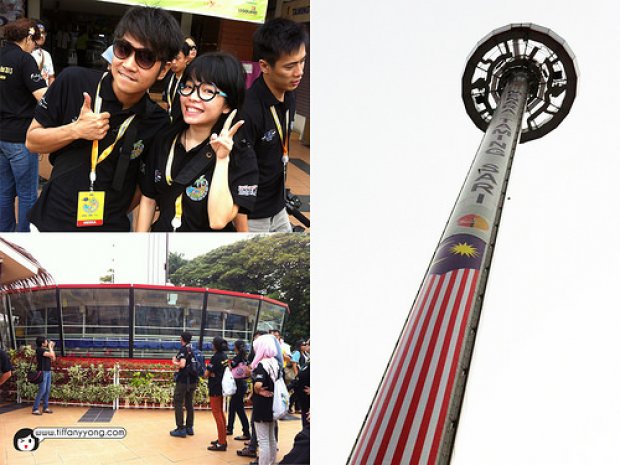 Similar to the Taipei 101 Skyscraper and Singapore Flyer, Malacca's 80-metre tall Menara Taming Sari provides visitors with a panoramic view of the Malacca UNESCO World Heritage City. Opened on 18th April 2008, this is the first tower in Malaysia to have a fully revolving structure.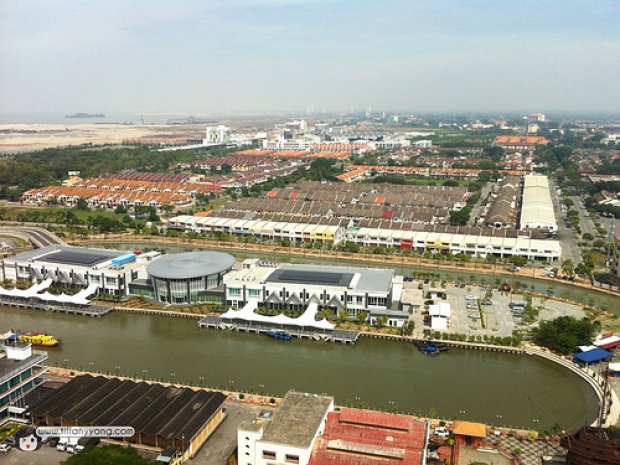 In the air-conditioned viewing cabin, I was able to see many historical sites, such as St.Paul's Hill, Independence Memorial Building, Samudra Museum, the Flor De La Mar ship, and the Straits of Melaka. I had a memorable and fun experience enjoying the panoramic view while trying to spot the colourful houses and famous mosques.
Opening Hours: 10am – 10pm
Entrance Fee:
Non-Mycard holder:
Adult (RM20 / SGD8) Student (RM16 / SGD6) Child below 12 years(RM10 / SGD4)
Mycard holder:
Adult (RM10 / SGD4) Student (RM8 / SGD3) Child below 12 years (RM5 / SGD2)
Address: Jalan Merdeka Banda Hilir, 75000 Melaka, Malaysia.
Tel: +606-288 1100
Photo-worthy Spot: **** | Heritage/Historical Value: *** | Visit if You are Free.
4. Melaka river cruise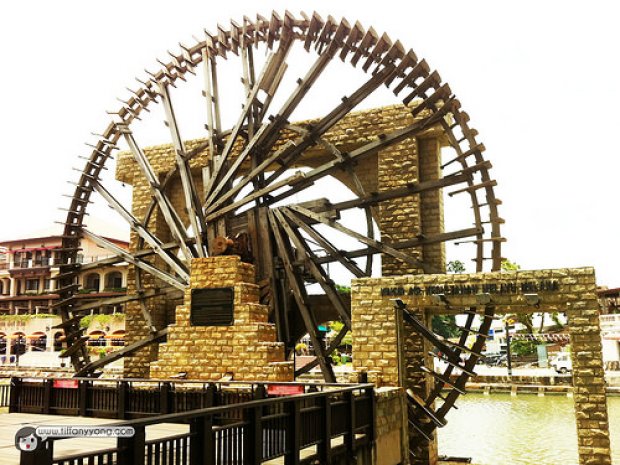 The Malacca River cuts across Malacca town and separates the civic district clustered at the foot of St Paul's Hill from the residential and commercial district. Back in the olden days, the river would be filled with traders from all around the world.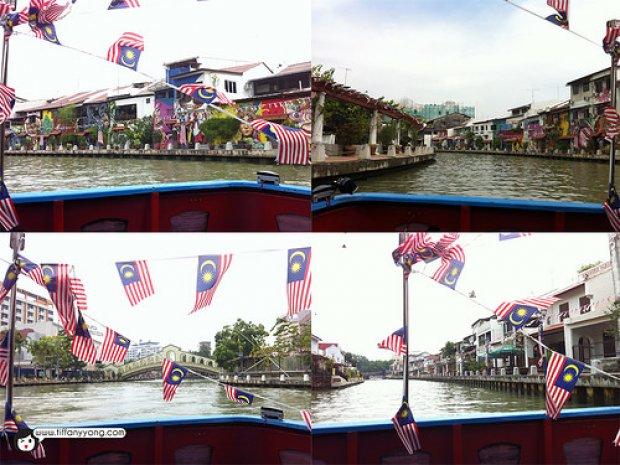 You can go on a river cruise where you will get to see some of the historical buildings by the river, together with a refreshing mixture of old villages, warehouse, mangroves and modern day houses.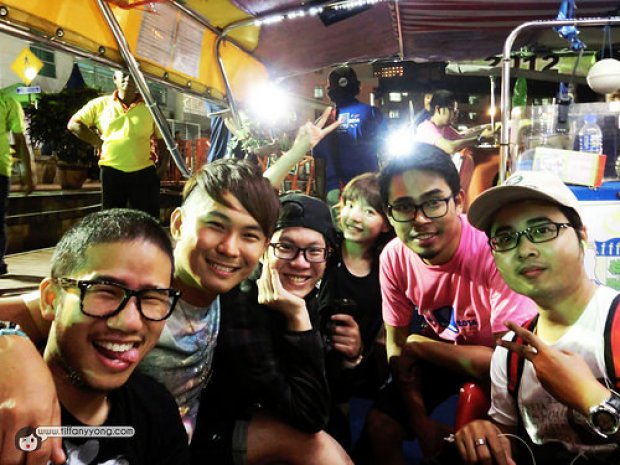 Again, the Malacca River cruise reminded me of the Singapore river cruise. In the day, you will get a good view of the buildings, churches and murals. At night, the river will be lit up with colourful lights, giving the historical city a lively, touristy feel (like Singapore's Clarke Quay!).
Opening Hours: 9:00 a.m – 11:30 p.m
Entrance Fee:
Non-Mycard holder: Adult (RM15 / SGD6) Child (RM7 / SGD2.7)
Mycard holder: Adult (RM10 / SGD4) Child (RM5 / SGD2)
Address: Jalan Laksamana, 75000 Malacca
Tel: +606-281 4322/ 23
Photo-worthy Spot: *** | Heritage/Historical Value: ** | Visit if You are Free
5. Kristang heritage – Portuguese settlement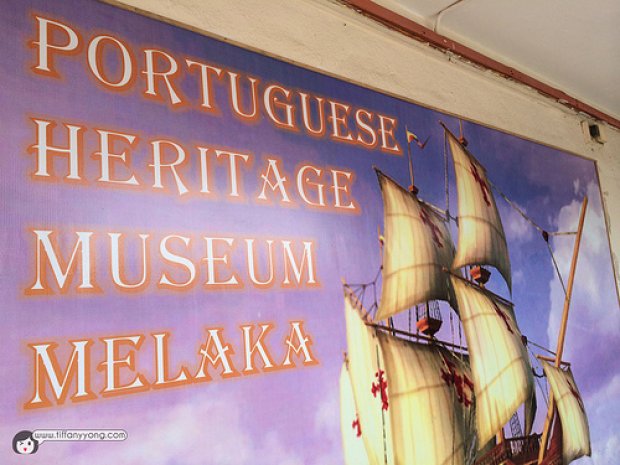 Five kilometres from the city, there is a small community in Ujong Pasir called Mini Lisbon. This Portuguese Settlement is a popular place where tourists go to enjoy seafood at night.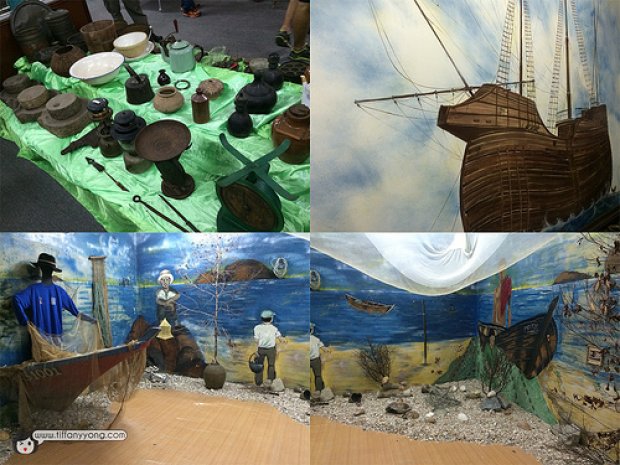 During the Portuguese colonial rule, it was common for inter-marriages between the Portuguese and the native Malay, Dutch, British, Chinese and Indian settlers. Like the Chitty, these marriages created changes in their culture and the mini Portuguese Heritage Museum exhibits the traces and remnants of Portuguese history, arts, culture and customs in Malacca.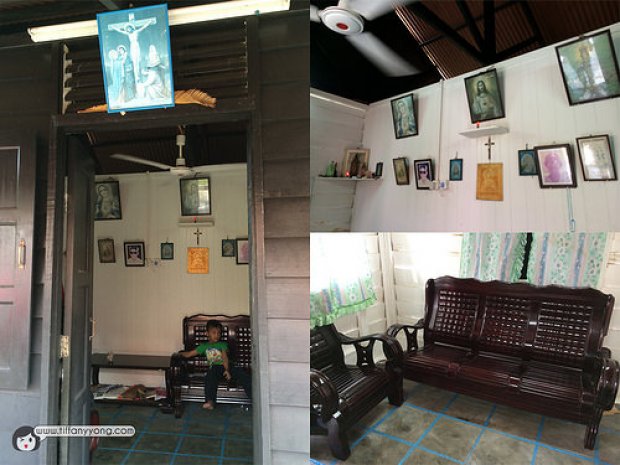 Just a few steps away is one of the last few traditional Kristang (Portuguese Eurasian) houses left in Malacca. The wooden bungalow at 10 Jalan D' Aranjo was inherited by Nicholas Loboo in the 1940s and is now looked after by his nephew.
Opening Hours: Tue – Sun: 10:00 – 12:00, 14:00 – 17:00
Entrance Fee: N/A
Address: C-18 Portuguese Square, Portuguese Settlement, 75050 Malacca
Tel: +60 12-607 3754
Photo-worthy Spot: * | Heritage/Historical Value: ** | Visit if You are Free
6. Morten Village (Kampung Morten)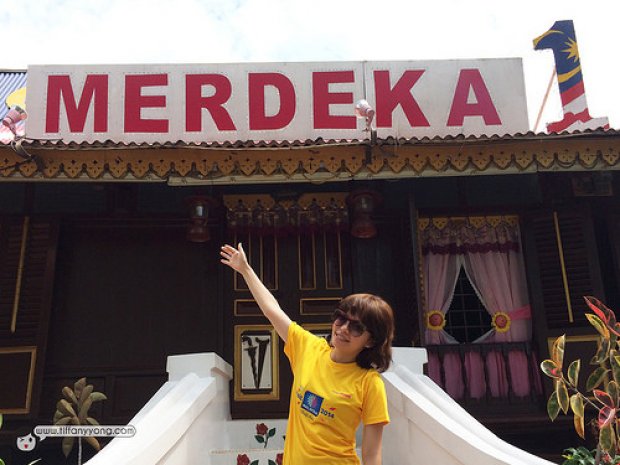 The Morten Village is actually the only Malay village in Malacca! It is named after Frederick Joseph Mortal, the British Land Commissioner of Malacca during the British colonial era in 1920.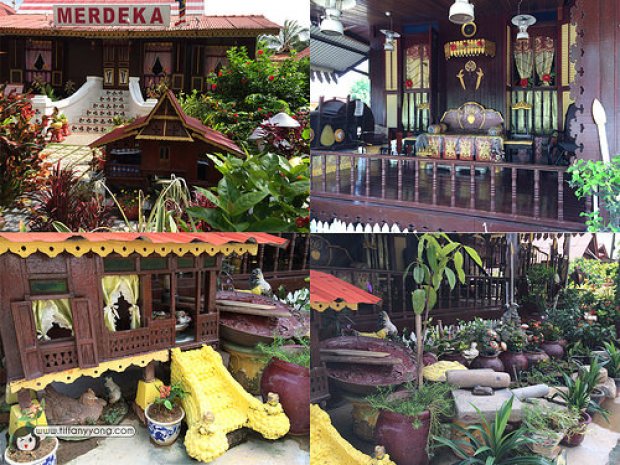 Walking through the Village felt like walking through a "living museum" as the residents at this heritage site have been living a similar lifestyle as that of their forefathers, maintaining their traditional customs.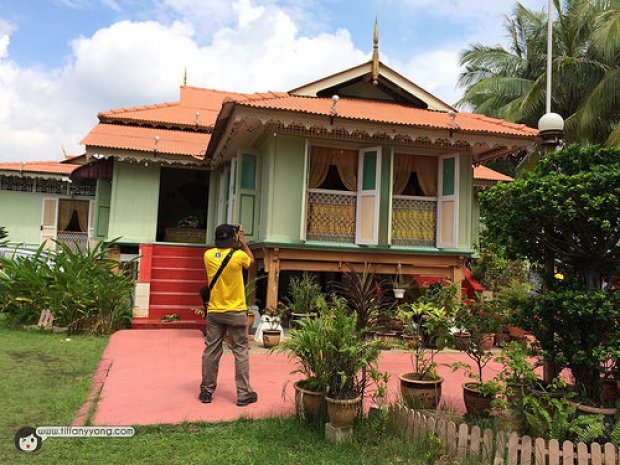 The real "living museum" is this house called "Villa Sentosa", the oldest and best preserved house in the village. It exhibits the typical lifestyle of a rich Malay family in the early 20th century.
First built by village headman Datuk Othman Muhammad Noh in 1921, Villa Sentosa has had nine generations of Othman's descendants living in it. Now, the villa is run by 58-year-old Encik Abdul Rahim bin Hj Hashim who provides visitors guided tours around the house.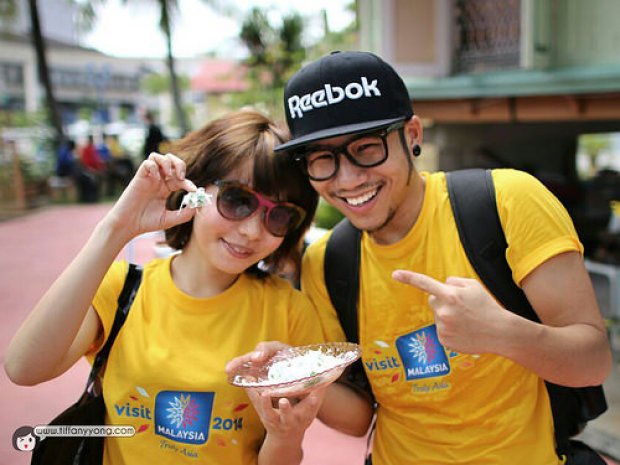 We were given some time to wander around and I learnt to make the traditional kueh "Ondeh-ondeh", which are glutinous rice balls with palm sugar (gula melaka) filling and coated with shaved coconut.
Lovers of antiques will be happy to know that this museum displays a collection of "treasures", such as a 100-year-old copy of the Quran, antique cameras, ceramics from the Ming Dynasty, ancient crockery from around the world, and a 200-year-old "gong".
This gong is believed to be able to help fulfill wishes. According to the owner, a couple wished for a son and the wish came true after after the wife hit the "gong" thrice. Do ask the owner for permission if you want to give it a try!
Villa Sentosa
Opening Hours: Daily from 9am- 5pm; Fridays (2pm – 5pm)
Entrance Fee: Free. Donation at Will.
Address: Jalan Kampung Morten, Kampung Morten, 75300 Melaka, Malaysia
Tel: +606-282 3988
Photo-worthy Spot: *** | Heritage/Historical Value: *** | Visit if You are Free.
7. Hang Tuah Center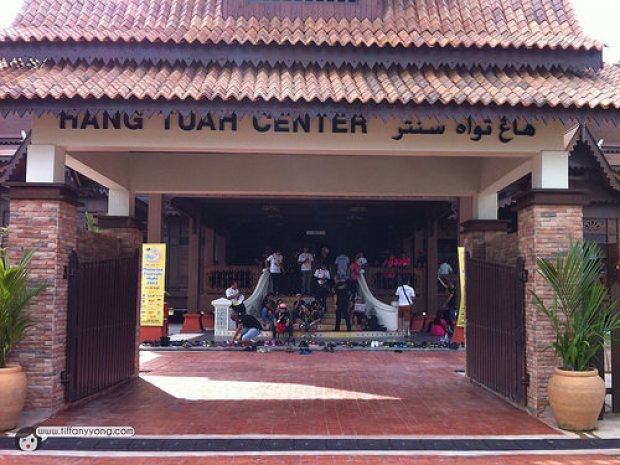 The Hang Tuah Center is the latest tourist attraction having opened on 9 August 2013. This complex is made of up five classic Malay wooden houses. Each house represents a famous warrior during Sultan Mansur Shah era – Hang Tuah, Hang Jebat, Hang Kasturi, Hang Lekir and Hang Lekiu.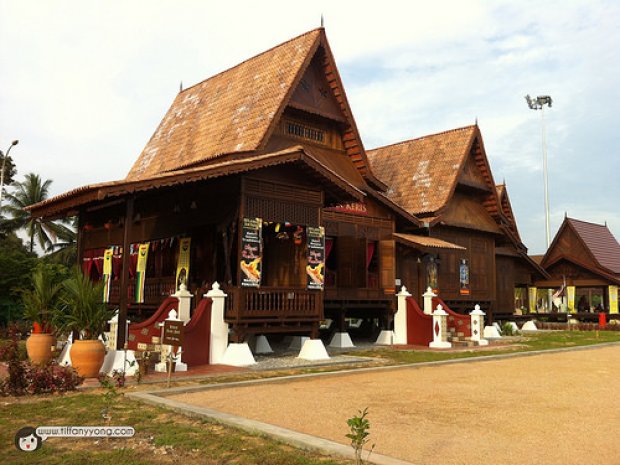 The 10-hectare wide Hang Tuah Village cost approximately RM 34 million to build. Each house has a silat court where cultural activities are conducted.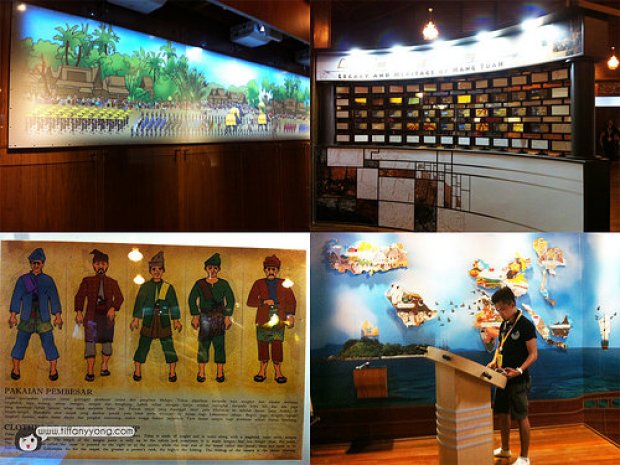 Inside the wooden houses, the place is transformed to a modern and highly interactive gallery, completely different from its' traditional exterior. There are two galleries – the Hang Mahmud Gallery and Dang Merdu Gallery.
One gallery showcases the heroic achievements of Hang Tuah, such as his epic battle with Hang Jebat, by using an illusion technique called 'Pepper's ghost'. Curious about this illusion? You have to go to find out!
Opening Hours: Daily from 9am – 5pm
Entrance Fee: Adult – RM5 / SGD2 ; Child (5 – 12 years old) – RM3 / SGD1
Address: Kampung Duyong, Melaka, Malaysia
Tel: +606-2826 526/ +606-2811 289/ +606-2818 289
Photo-worthy Spot: *** | Heritage/Historical Value: *** | Recommended.
8. Jonker Street
Malacca is famous for their Jonker Street, especially amongst the Chinese. Located at the centre street of Chinatown, this is a place where many people set up their stalls on Friday and Saturday evenings to sell their crafts, keepsakes and tasty treats.
Jonker Street may look like a deserted old town in the morning but you will be amazed by the difference when night falls. At night, it looked almost like Taiwan's famous Night Market!
As Jonker Street is at the centre of many historical sites, you can just walk or take a trishaw ride down to visit the iconic Dutch Square, A Famosa, the Portuguese fortress and Porta de Santiago. The prices of the trishaw ride vary depending on the distance, but if you want, try negotiating and comparing the prices with a few trishaw uncles before taking up the offer. A short walk up the hill to get another ride could save you RM 5 (approx. SGD 2)!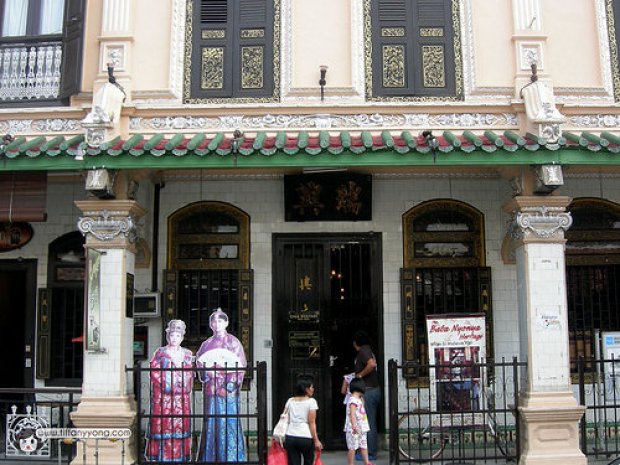 If you visit Jonker Walk in the day, you won't miss the heritage houses that date back to the 17th century. These houses served as houses and business establishments of the rich Peranakans. I did not have the time to visit the museum on both trips but managed to stay in Hotel Puri, a Peranakan themed hotel along the Jonker Street.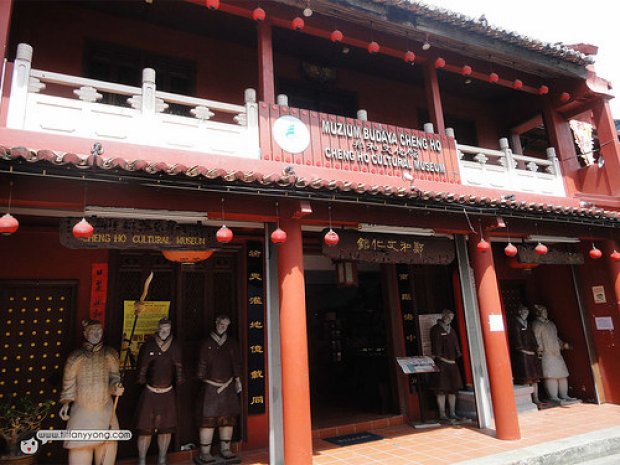 If you want to know how the Chinese came to Malacca in the first place, you may want to visit the Cheng Ho Cultural Museum just few steps away.
600 years ago, Ming Dynasty's Admiral Cheng Ho (Zheng He) visited Malacca at least five times during his seven famous voyages to the Western Ocean. He brought people with him on those voyages and they later became Malacca's Chinese settlers.
Must-try: Chicken Rice Balls and Cendol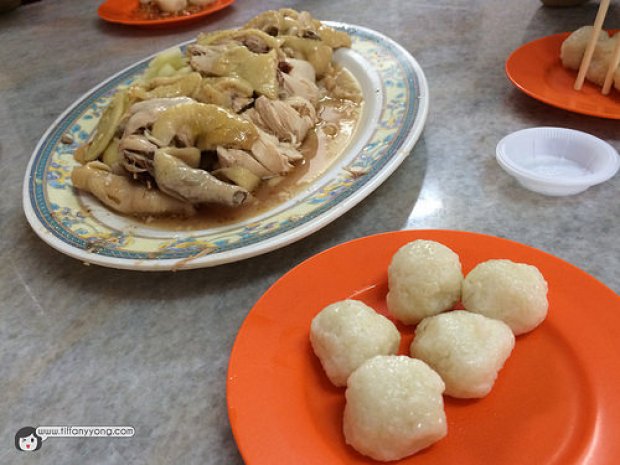 One of the top must-try dishes in Malacca is this famous chicken rice ball dish. I passed by "Kedai Kopi Chung Hwa", and the long queue (under the scorching sun ) was quite a deterrent.
The main difference from the usual chicken rice dish is the rice. Here, rice is rolled into balls instead of being served on a plate. Well, I won't say that they are fantastic nor are they bad. The chicken was fresh and tender – worth a try if you manage to catch them at off-peak times.
The other dish is Cendol, a local dessert made of shaved ice, green jelly noodles (Cendol), red bean, coconut milk and palm sugar. Although this dish is often found in local dessert stalls in Singapore and other parts of Malaysia, what made the Cendol here uniquely Malacca is its Gula Melaka (coconut palm sugar).
If you've tasted regular Cendol before, the taste of the Cendol will be distinctive in Jonker Street. There are actually many different shops selling Cendol. The highly recommended one would be from the stall Jonker88. However, I tried the one from Bibik House Cendol and I found the taste simple and original. The Cendol and sugar was served separately for people to customise the sweetness according to their preferences.
Also read: FOOD WAR! Singapore vs Malaysia – Who's Better?
Jonker Street Night Market
Opening Hours: Friday, 6-10pm; Saturday & Sunday, 11am-10pm
Entrance Fee: Free
Address: Jalan Hang Jebat, 75200 Melaka, Malaysia
Tel: NIL
Baba Nyonya Heritage Museum
Opening Hours: Daily from 10am -12.30pm and 2pm -4.30pm
Entrance Fee: Adult  RM15 / SGD6 | Child (5 – 12 years old) RM10 / SGD4
Address: 48/50 Jalan Tun Tan Cheng Lock, 75200 Melaka
Tel: +606-283 1273
*Cameras and video cameras are prohibited in the museum.
Cheng Ho Cultural Museum
Opening Hours: Daily 9am-6pm
Entrance Fee: Adult RM20 / SGD8 | Child/Student RM10 / SGD4
Address:51, Jalan Hang Jebat, 75200 Melaka, Malaysia
Tel: +606-283 1135/6
Photo-worthy Spot: **** | Heritage/Historical Value: *** | Highly Recommended!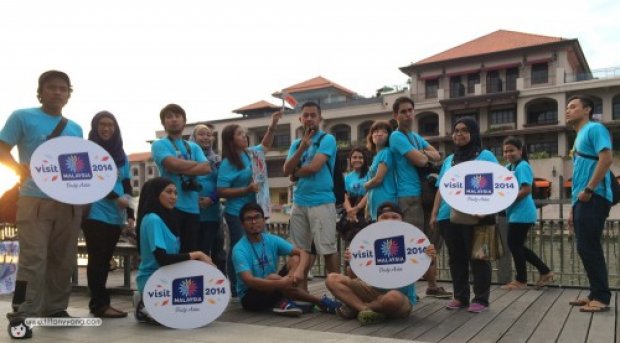 Also read: Which Parts of Malaysia You Won't Regret Visiting
Contributed by Tiffany's Blog.