Gear up for the coming weekends as well as the upcoming holidays. Instead of the usual road trip and shopping malls, embark on a food hunt in Johor Bahru. From French and Chinese food to local and Korean cuisines, Johor Bahru is a gastronomic paradise. Continue reading this article to find out the unique and mouth-watering food stops to stake out during your visit.
1. K Fry Urban Korean Holiday Villa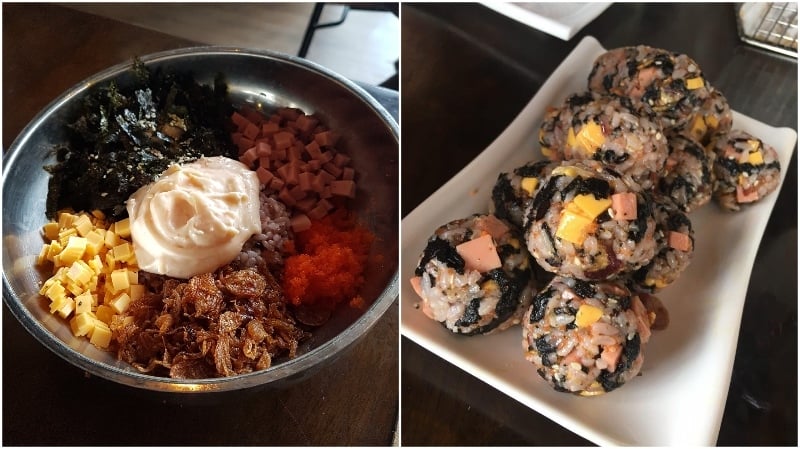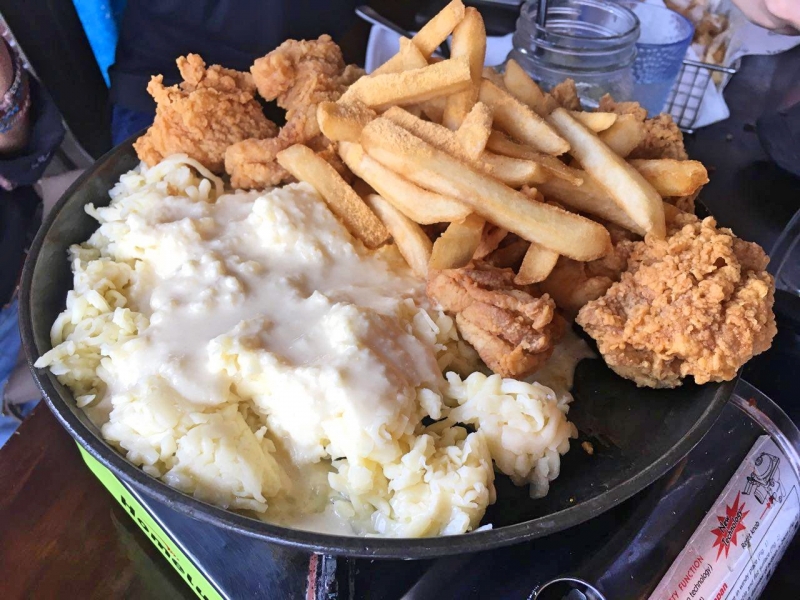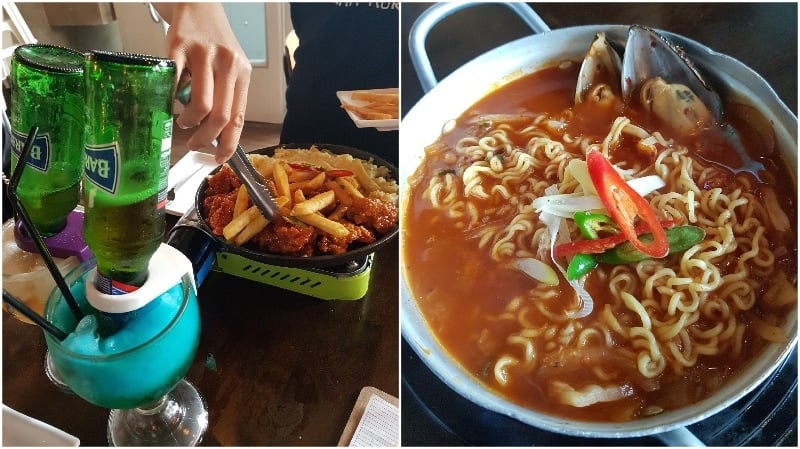 For K-pop, K-drama and K-culture fans, head over to K Fry Urban Korean Holiday Villa. The Cheesy Fried Chicken Bumbuk is the signature dish of K Fry and it comes in three flavours: original, spicy and honey Mustard. The cheese will be melted on your table so you can enjoy the preparation of the cheesy chicken dish right in front of your eyes. Other dishes you need to try are the Ju Meok Bap (rice balls) with ham and cheese, Budae Jigae (army stew), the spicy Yangnyeon chicken as well as the Melon Bingsoo. Wash it down with a huge cup of  X'tra Virgin K'ocktail. Come as early as possible or make prior reservations because there's usually a need to queue up just to get your seats. K Fry Urban Korean Holiday Villa is located inside the Holiday Villa hotel.
Address: 260, Jalan Dato Sulaiman, Taman Abad, 80250 Johor Bahru, Johor, Malaysia
Opening Hours: Monday to Sunday (12pm-12am)
2. Image Cooker
For both a visual feast and tummy treat, head off to Image Cooker. With an inspiring and creative photography concept, picturesque nooks, and even more Instagram-worthy food, it is more than just a restaurant. The food at Image Cooker don't only look amazing, but they're mouth-watering, too. The lamb curry with rice is definitely worth a try. Other recommendations include the cheeseburger and hashbrown. For dessert, you should try the ice cream for a cool treat.
Address: 19B&C, Jalan Harmonium 33/1, Taman Desa Tebrau, 81100 Johor Bahru, Johor, Malaysia
Opening Hours: Tuesday to Sunday (12pm-10pm), Closed on Monday
3. Chakra Restaurant
The first restaurant you should check out is Chakra Restaurant. It's hard to miss this landmark; it has its own big complex, drawing in a regular crowd of happy diners. Opened in 2004, this restaurant is one of the most popular Indian restaurants in the city. If you are looking for authentic Indian cuisines, Chakra Restaurant is the perfect place to savour such dishes. Among the dishes you should order are Kothamalli sizzling prawns, vegetarian specialities, and the biryani. The chefs at this restaurant are mostly from India, so you will get to experience authentic mouth-watering, spicy, and flavourful food.
Address: 10a, Jalan Yusof Taha, Kampung Bahru, 80100 Johor Bahru, Johor, Malaysia
Opening Hours: Monday to Sunday (11am-3pm, 6pm-10.30pm)
4. Almizan Satay House
Itching to get your fill of satay? Satisfy your cravings at Almizan Satay House, a restaurant that's highly recommended by the locals. Enjoy the various satays as this restaurant serves the best ones in town. Choose from the options of mutton, chicken, and beef. Then, order the mango ice jelly or ice kacang to cool down after your spicy satay feast. Although it is a satay restaurant, you can try other food, like nasi goreng kampong, soto ayam, and mee bandung.
Address: 1, Jalan Kenangan, Kampung Melayu Majidee, 81100 Johor Bahru, Johor, Malaysia
Opening Hours: Monday to Wednesday, Friday to Sunday (11am-3pm, 4pm-12am), Closed on Thursday
5. New Zealand Unlimited
You do not need to travel all the way to New Zealand to enjoy its food. For a taste of authentic cuisine from New Zealand, this restaurant will hit the spot. You will get to enjoy a world-class dining experience right in the heart of the city. Choose from the various light bites, steaks, and burgers from their expansive menu. You'll definitely enjoy a good family dinner or lunch at this restaurant, what with food fare for everyone to enjoy. Aside from favourites like fish and chips, the homemade bread and green salad are among the food recommended by regular diners. Then, complete your sumptuous meal with a glass of wine or beer. Choose between their outdoor or indoor seating areas for your choice of ambience.
Address: 2, Persiaran Puteri Selatan, Kota Iskandar, 79100 Nusajaya, Johor, Malaysia
Opening Hours: Monday to Sunday (12pm-1am)
6. JJ VIP Café & Bistro
This café is a cosy place to escape to in order to enjoy a chillout meal. At JJ VIP Café & Bistro you won't only get to enjoy amazing comfort cuisine, but you can even kick back and let loose while playing a game of darts.
Among the food to try are their mushroom chicken chop, cheese baked pasta, and spaghetti. Then, top off those savoury choices with your own gourmet drink. Get a cup of coffee, and you'll find that it's not the usual coffee you drink. Their coffee is perfectly brewed, and it's wonderfully creamy, too. On top of that, it is creatively decorated with unique shapes, like a snowman coffee art, dog design, etc. The fruit juices are also not to be missed.
Address: 50, Jln Austin Heights 8/2, Taman Mount Austin, 81100 Johor Bahru, Johor, Malaysia
Opening Hours: Monday to Sunday (3pm-2am)

7. Chua Kee Restaurant
Next up is Chua Kee Restaurant. If you're craving for seafood or want your dose of great Chinese food, this just might be the restaurant you are looking for. Chua Kee has impeccable service plus dishes at very reasonable prices. It is one of the most highly-recommended seafood restaurants in Johor Bahru, and you need to book your seats in advance as it usually gets packed. While eating at Chua Kee Restaurant, order their chicken wings. It is among the top favourite dishes among diners. Other dishes you need to try are black pepper crabs, salted egg bitter gourd, and braised tofu.
Address: Jalan Kacang Panjang, Gelang Patah, 81550 Gelang Patah, Johor, Malaysia
Opening Hours: Monday to Sunday (11.30am-11pm)
8. Vilaggio Restaurant
Want to get your fill of Italian food? With the authentic Italian finds at Vilaggio, you'll get your cravings satisfied and more. Indulge in the yummy pasta and pizza selections at this Italian joint. The fish and chips, as well as roasted black pepper chicken, are also among the popular dishes. You can easily imagine yourself in a romantic Italian countryside while dining at this resto.  
Address: No 48, Jalan Hang Tuah 4, Taman Skudai Baru, Johor, 81300 Skudai, Malaysia
Opening Hours: Monday to Sunday (12pm-12am)
9. Kage Sushi
Looking for a Japanese restaurant in Johor Bahru is relatively easy as there are numerous Japanese restaurants in town. However, one that comes highly recommended is Kage Sushi. Come with your buddies, family, and colleagues to try the famous buffet. The ramen noodles, shabu shabu, and sushi are freshly prepared and cooked. If you prefer to go a la carte, they also have a menu of amazing Japanese dishes to choose from.
Address: 133, Jalan Sutera Tanjung 8/2, Taman Sutera Utama, 81300 Skudai, Johor, Malaysia
Opening Hours: Monday to Sunday (12pm-4pm, 6pm-11pm)
10. Sangkaya Jalan Dhoby
Since the weather is almost perpetually warm in Malaysia, especially when you are in the city of Johor Bahru, cool off at Sangkaya Jalan Dhoby. Enjoy the coconut ice cream when you visit. For more authentic feels, you can also order the cendol and coconut water to totally cool down your body temperature and quench your thirst. This place is well-known among locals, so it is definitely a must-visit. 
Address: 14, Jalan Dhoby, Bandar Johor Bahru, 80000 Johor Bahru, Johor, Malaysia
Opening Hours: Sunday to Thursday (12 noon-11pm), Friday to Saturday (12pm-12am)
11. Spice Villa
Want to go to the extreme with spicy Indian dishes? Then Spice Villa is the spot for you. They have a wide range Northern Indian cuisines for you to try. And true to its name, if you're particularly fond of spicy food, this is just the place to "spice things up". The food here is not the same as those you usually have at mamak stalls or restaurants. Order the biryani rice which goes well with butter chicken masala as well as other dishes. Apart from that, the garlic naan and Fish Tikka are also delicious. Then, finish off with a cup of Ginger Masala Tea.
Address: 260, Jalan Dato Sulaiman, Taman Abad, 80250 Johor Bahru, Johor, Malaysia
Opening Hours: Monday to Sunday (11am-11pm)
12. Chez Papa French Bistro and Wine Bar
Chez Papa French Bistro & Wine Bar is a great bistro where you can enjoy excellent service and superb food. Their extensive array of authentic French cuisine and wines make it a favourite date spot. The tomato soup, sirloin steaks, escargots, and prawn spaghetti are top dishes recommended by diners.
Address: 38; 40, Jalan Jaya, Taman Maju Jaya, 80400 Johor Bahru, Johor, Malaysia
Opening Hours: Monday to Saturday (6pm-10.30pm), Sunday (Closed)
Whenever you are exploring or visiting Johor Bahru, you can surely find your choice of restaurant among these favourites in the city. Get ready for an authentic food trip, and allow the mix of flavours and choices in Johor Bahru to make your trip extremely memorable.