This guide's for the cultural enthusiasts and the relaxation-starved. If you're looking to kill two birds with one stone, Villa Escudero is the place for you. Not only can you experience authentic Filipino culture and history away from the hustle and bustle of city life, you also get a one-of-a-kind dining experience – all in one place.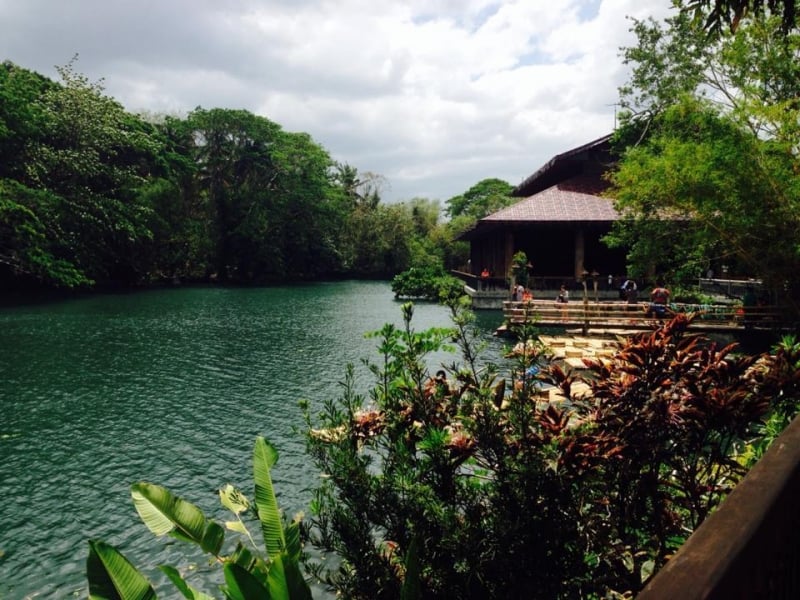 Villa Escudero was founded in the 1880s by Don Placido Escudero and Dona Claudia Marasigan, his wife. Today, it welcomes guests from all across the globe and still functions as a self-contained coconut plantation. The hacienda boasts a sprawling plantation, a flowing waterfall and a peaceful river, as well as comfortable accommodation for guests who wish to fully immerse themselves in the alluring Philippine country life.
Carabao cart ride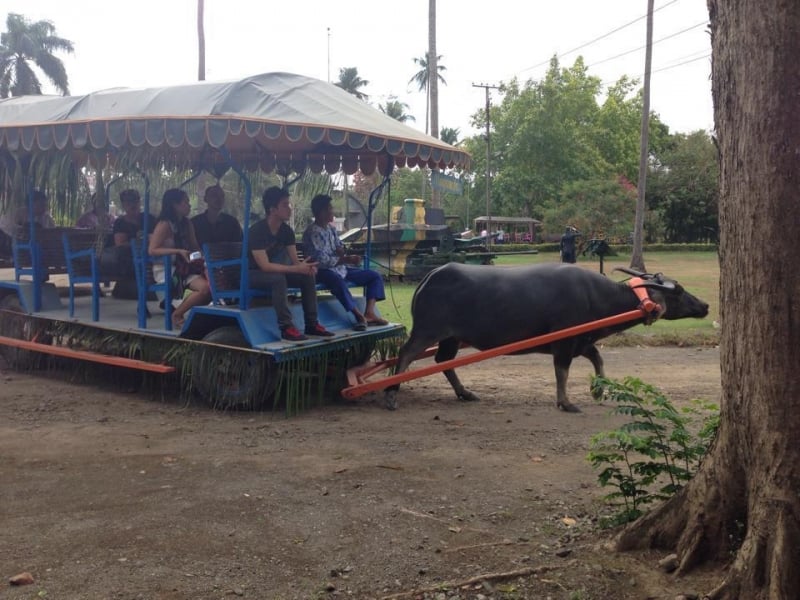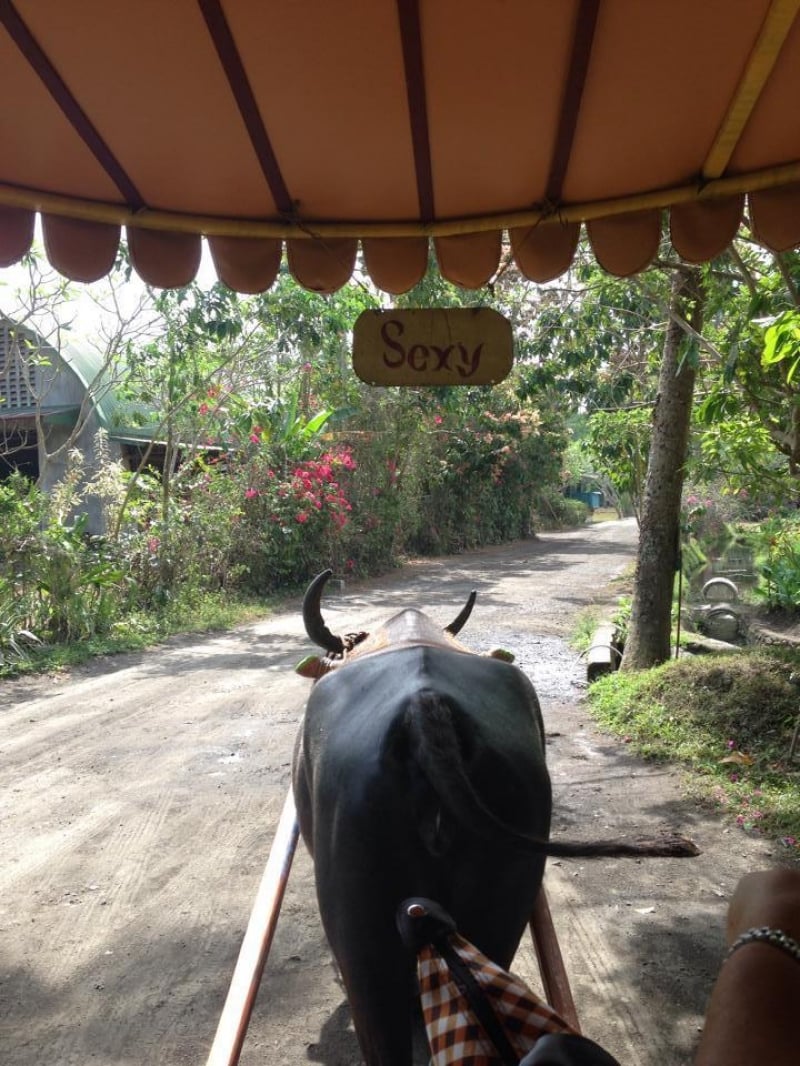 Did I mention our carabao's name was 'sexy'?
When first entering the hacienda, visitors are taken on a carabao ride to the activity Villa Escudero is most commonly known for – lunch by the waterfall. Carabaos pull carriages with singers seated all the way at the back of the carriage. These songbirds serenade guests with classic Filipino songs from the 80s, transporting them back to the good old days. In their traditional Filipino costumes, these singers provide a soothing soundtrack to the peaceful carabao ride across the plantation. Coconut trees sway from side to side as the harana summons a soft, calm breeze, truly invoking peace and serenity within visitors at first ride.
Dining by the waterfall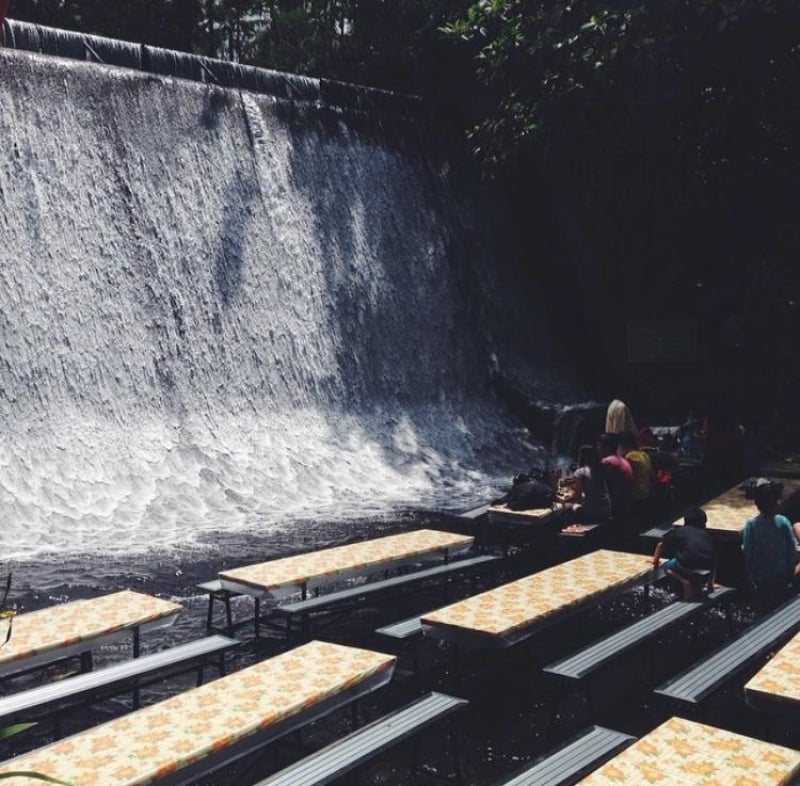 Hopping off their carabao carriage, visitors arrive at the renowned Labasin Waterfalls, where Villa Escudero provides their guests with a dining experience like no other. Imagine this: authentic Filipino dishes, kamayan style, the sound of rushing water, feet submerged in cool water – perfect, especially in the Philippine heat.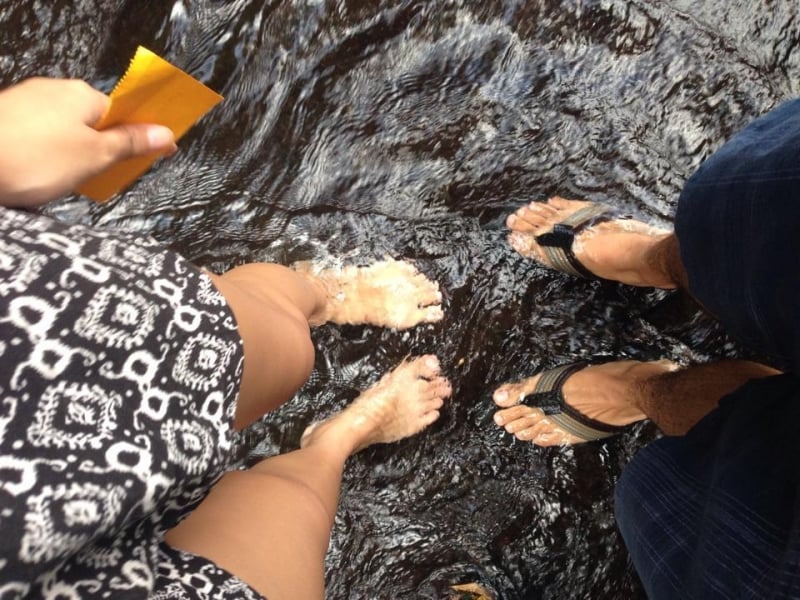 If you opt to walk barefoot to your table, you'll notice the soft massage the bed of the waterfall gives. An array of dishes are laid out on the buffet table and visitors are invited to take as much as they can devour. Plates are covered with a banana leaf to mimic the boodle fights and kamayans Filipinos enjoy. Classic Filipino dishes like adobo, ensalada (a mango salad paired with local shrimp paste), bagoong, and all things inihaw (grilled) are also served. One thing to note is that these unique buffet lunches are weather-dependent, so keep your fingers crossed for sunshine during your visit!
Cultural show
If your visit happens to fall on a Thursday, Friday, Saturday or Sunday, you can head over to catch the Philippine Experience show after lunch. The show takes place at 2pm on these days, and showcases the Philippines' rich culture. It shows the growth of the Philippines, from its colonial roots to its ethnic diversity. Culture and history are told through dance and storytelling – a must-see, especially if you have kids with you.
Bamboo rafting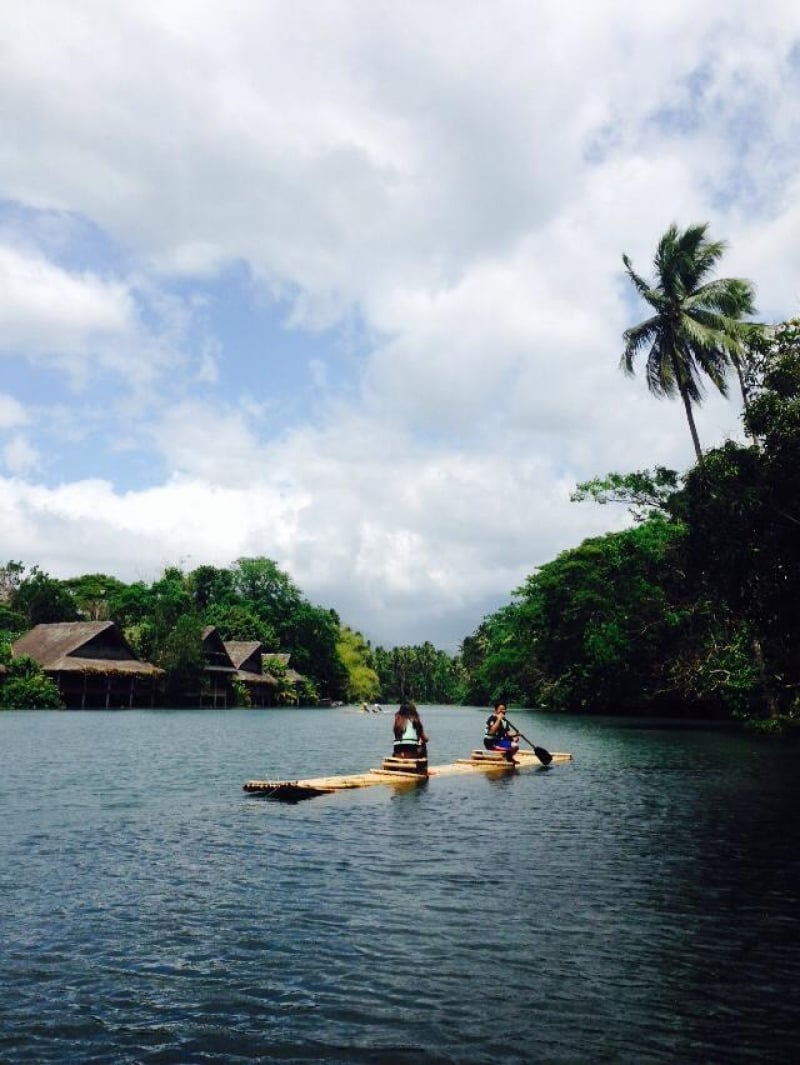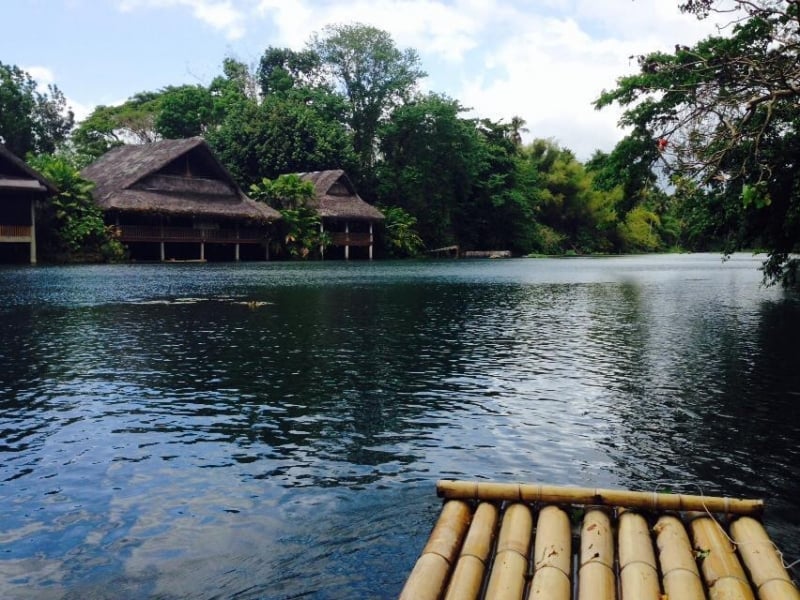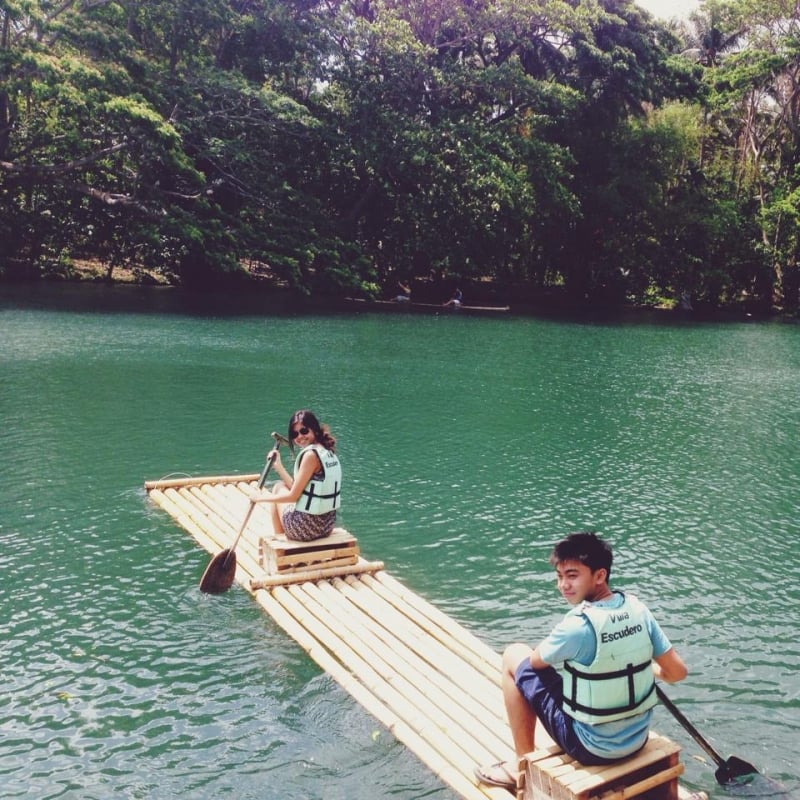 For most visitors, lunch by the waterfall would be a favourite. However, for me, I most enjoyed burning off all the calories during the post-feast bamboo rafting. After eating to your heart's content, it's always nice to keep moving. One of the activities available at Villa Escudero is bamboo rafting across their personal river. Here, you can row your troubles away. For those who can't swim, fret not – these bamboo rafts come with life jackets to ensure you have a safe ride. For those who fear open water, Villa Escudero also has swimming pools open within the compound for guests.
Merienda by the River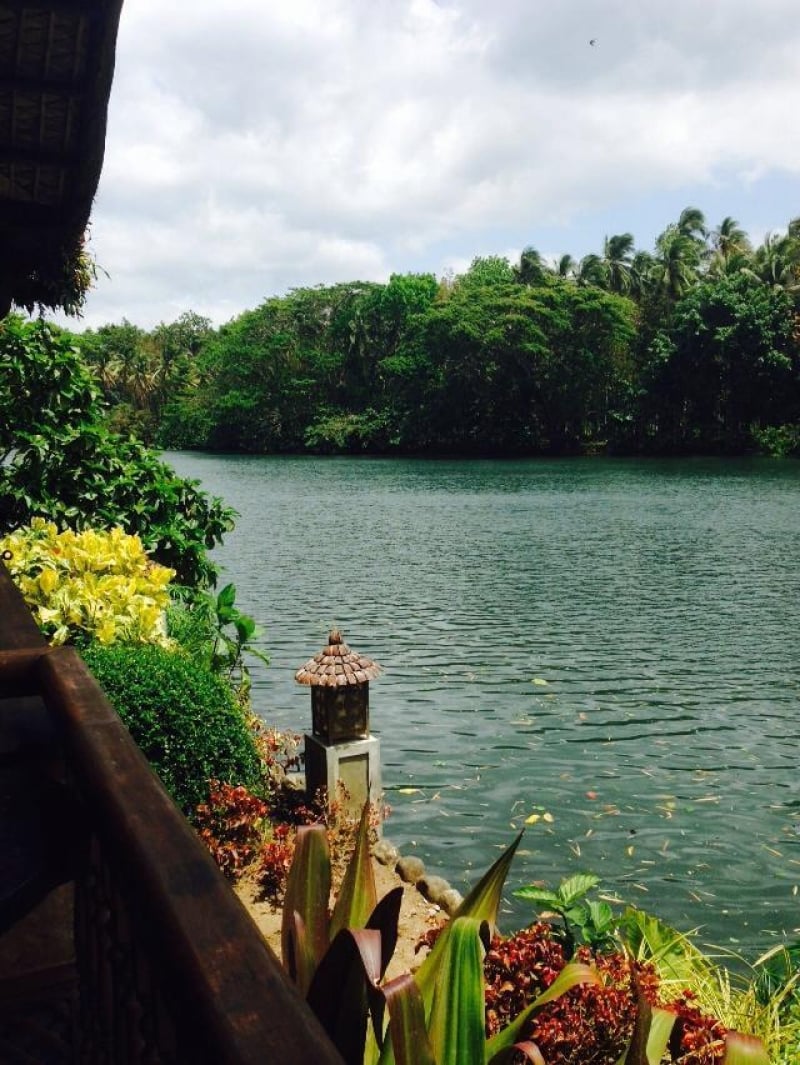 Once you're all rowed-out for the day, head over to the restaurant by the river for an afternoon snack. Here, you can cool off with a fruit shake or halo halo while taking in views of the still river. If you're looking for more activities after your snack break, bicycles are available on location, allowing for guests to explore the compound on two wheels.
A noteworthy location to drop by is the museum – one of the largest in the nation. The museum features numerous artefacts collected from various corners around the world.
Where to stay
Accommodation is available for guests who wish to immerse themselves in the Philippine country life longer. There are different options for accommodation, ranging from non-airconditioned apartment-style units for a maximum of six occupants to luxurious presidential suites for four.  Prices for these differ depending on the season in which you visit.
Those who are coming on a day trip can opt for the day tour packages which include a welcome drink, museum tour, carabao cart ride, the use of outdoor recreational facilities and buffet lunch by the waterfalls.
Enjoy Villa Escudero
Villa Escudero gives guests a taste of the external and inherent beauty of the Philippines. Guests can immerse themselves in Filipino culture and history, as well as the natural beauty that the Philippines is often known for. The journey starts from the very moment guests step foot onto the compound.