Located just a 25-minute ferry ride from Port Denarau in Nadi, Malamala Beach Club makes for the perfect day trip in Fiji. Fiji is made out of a total of 333 islands and yes, Malamala Beach Club actually occupies an entire island of its own!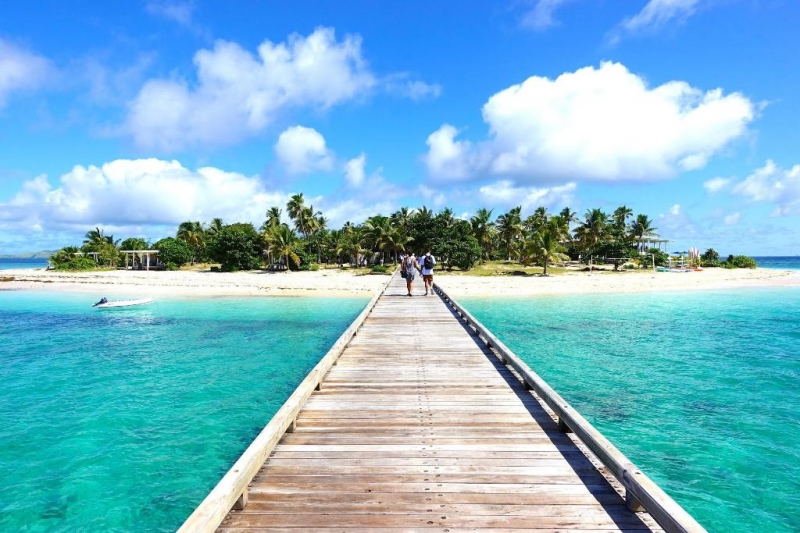 Comprising Fiji's only beach club, it only takes five to ten minutes to walk around the island's circumference. It's almost as if you've just gained access to your very own private island paradise! Malamala Beach Club only recently opened its doors in August 2017, making it one of Fiji's hottest new attractions!
Here's a quick map of the island to give you a better idea:
Wondering what's in store for you at MalaMala Beach Club? Here you can…
Try a variety of water sports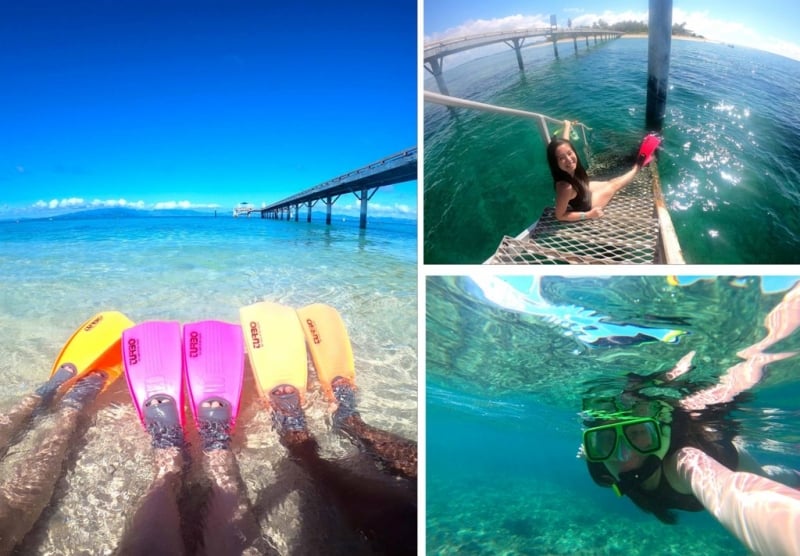 Your day pass will grant you unlimited access to a variety of non-motorised water sports! Arm yourself with a pair of fins and a snorkelling set (these are all provided on-site) and go snorkelling among corals and rainbow-coloured fishes. The waves are relatively calm here, so you won't have to worry about going too far adrift. There are life jackets available as well for those that aren't 100% water-confident.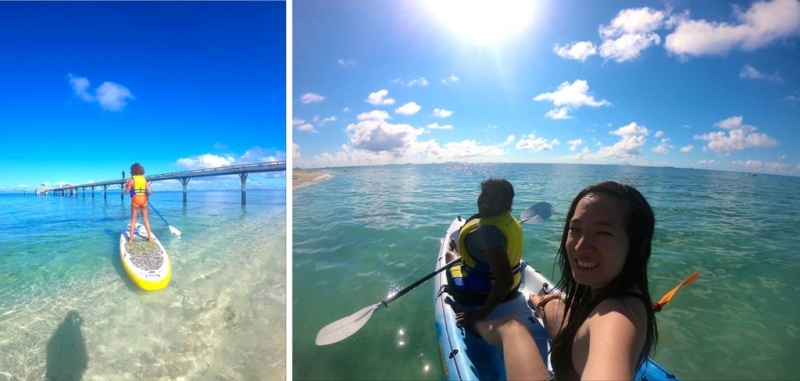 Alternatively, you can choose to try stand-up paddle boarding or kayaking. There are solo and tandem kayaks available, so take your pick! Circumnavigate your way around the island at your own pace and enjoy the scenic views along the way.
Lounge at the beach cabanas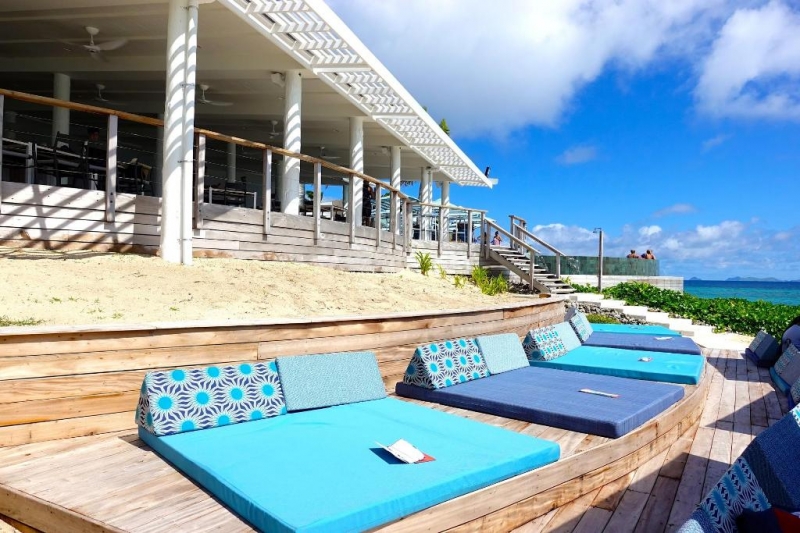 If you prefer to take a chill pill and relax, head to one of the beach cabanas to work on getting that sun-kissed tan you've always wanted. There are a few dotted around the island, with each overlooking a spectacular view of the ocean. Towels will be provided but don't forget to bring your own sunscreen!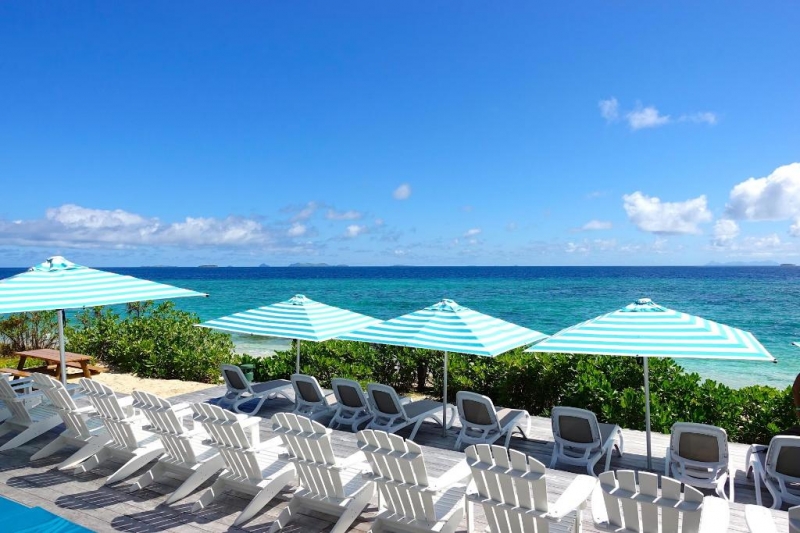 If you desire more privacy, book yourself a private cabana for the day. Priced at an additional FJD75 (~SGD49) for two, a private cabana comes with complimentary butler service and bar bites.
Build sandcastles on the beach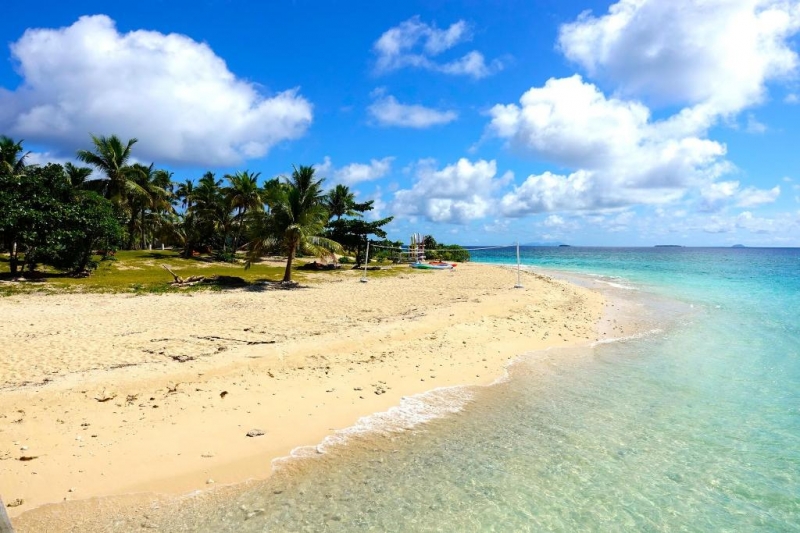 The beaches here boast fine powdery white sand. Take a long walk, build sandcastles or write words in the sand – the choice is yours.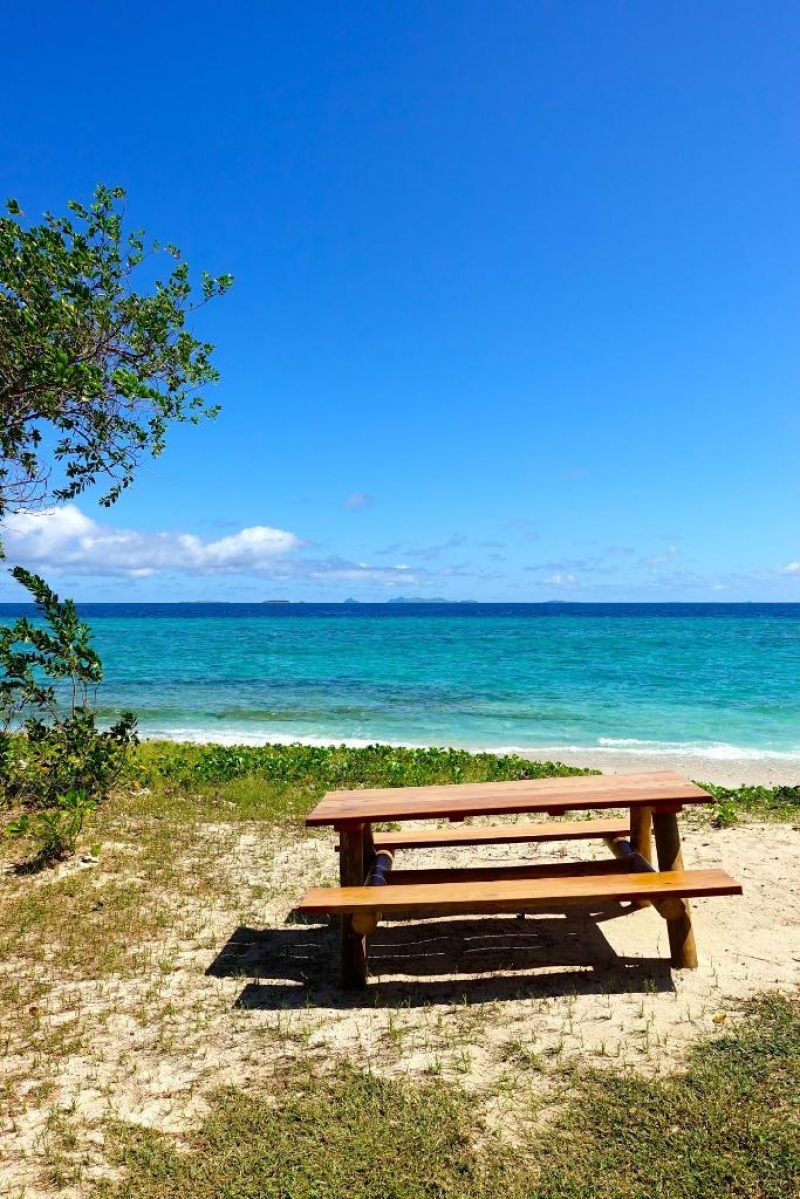 Or, how does a picnic at a secluded corner sound?
Swim at an infinity pool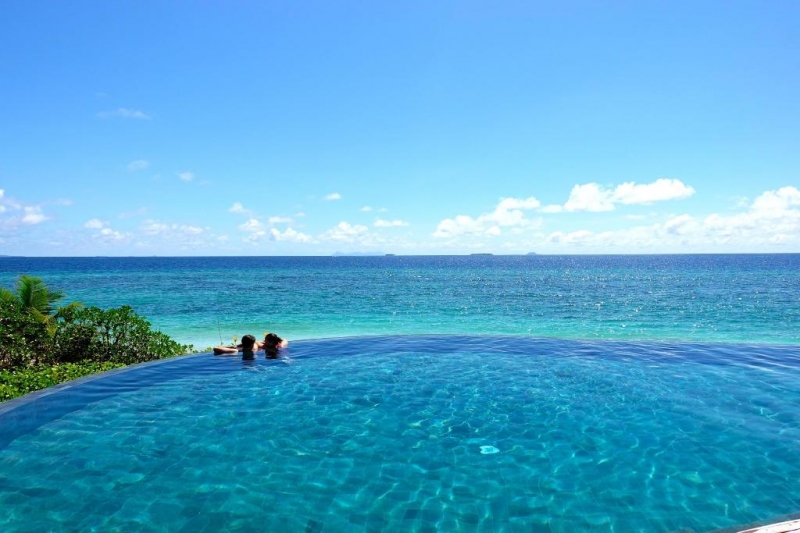 Located right in front of the restaurant and bar is the beach club's infinity pool, where visitors congregate and clamour for an Insta-worthy shot. And get that shot they will, for the infinity pool is simply spectacular.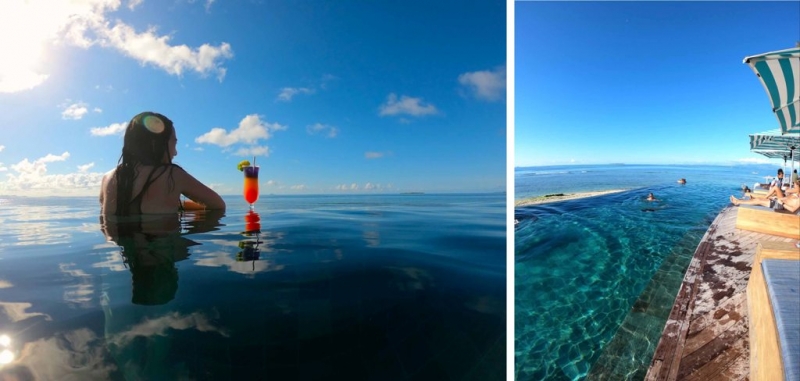 Bring a cocktail into the pool for added enjoyment or bask in the sun on a poolside daybed. Seamlessly blending into the neighbouring ocean and horizon, the infinity pool offers the ideal respite from the dry summer heat.
Indulge in a celebrity chef's masterpieces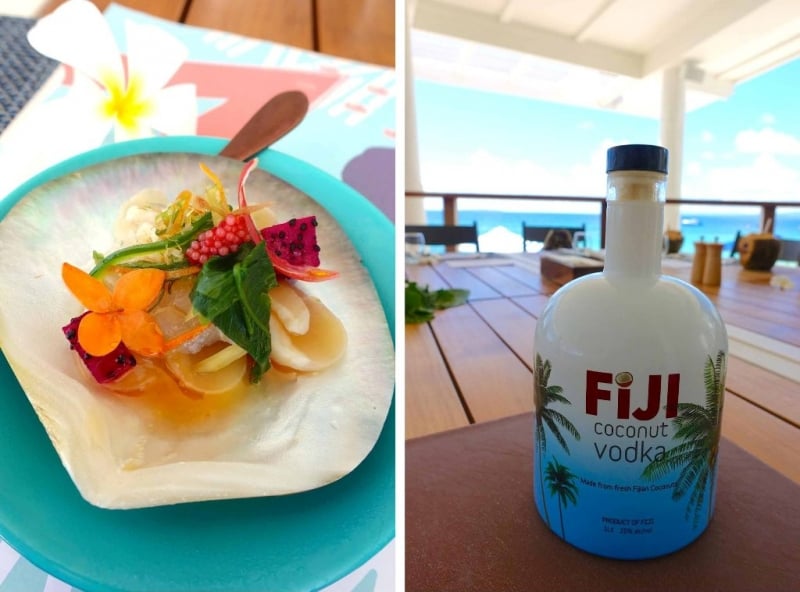 Lance Seeto, Fiji's first celebrity chef, has come onboard to curate a delectable menu that tastes just as good as it sounds. Our top pick was the Coconut Vodka-cured Pearl Meat, comprising pearl meat, pickled fiddle ferns, dragonfruit and seaweed ponzu served in a beautiful pearl shell.
For something a little more savoury, dig into the Spiced Goat Pie or Slow-Smoked Octopus.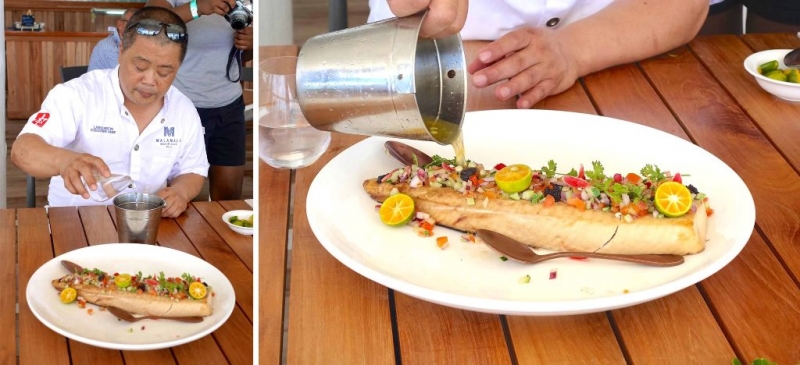 An interesting dish to try would be the Charred Longnose Emperor with Citrus Seawater dressing. Seawater is taken directly from the sea and added to the dressing. This is known as 'Wai ToniToni' (Fijian for 'dip in water'), where the brine sea liquid is balanced with the acidity from the citrus dressing. Fijian waters are incredibly clean and clear, making this method of food preparation possible!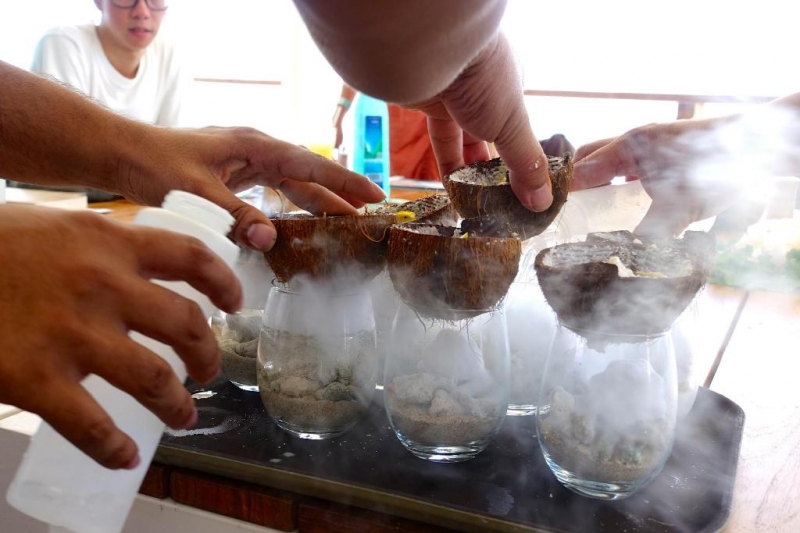 A more dramatic dish comes in the form of the Cumquat-cured Lobster Kokoda. Kokoda refers to a special technique of curing, where raw fish (or lobster, in this case) is 'cooked' by marinating in lime juice and coconut milk. The coconut milk is further smoked via the addition of dry ice, which is made on the island too! The Kokoda comes topped with avocado, lumpfish caviar and tomato salsa.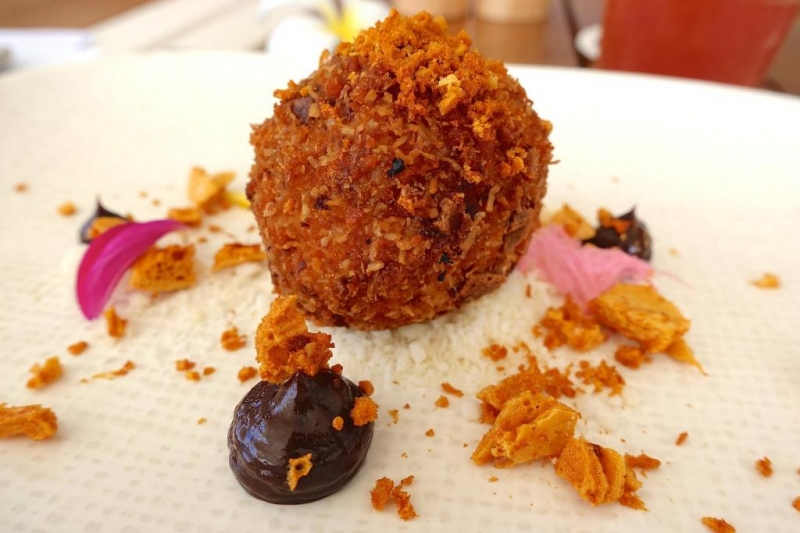 End off your meal with the Golden Orb, which is deep-fried caramel ice cream coated in madeira and coconut, then topped with fresh honeycomb and cardamom chocolate sauce. This dessert indeed lives up to its very apt nickname of a 'happy ending'.
Have as many fresh coconuts as you like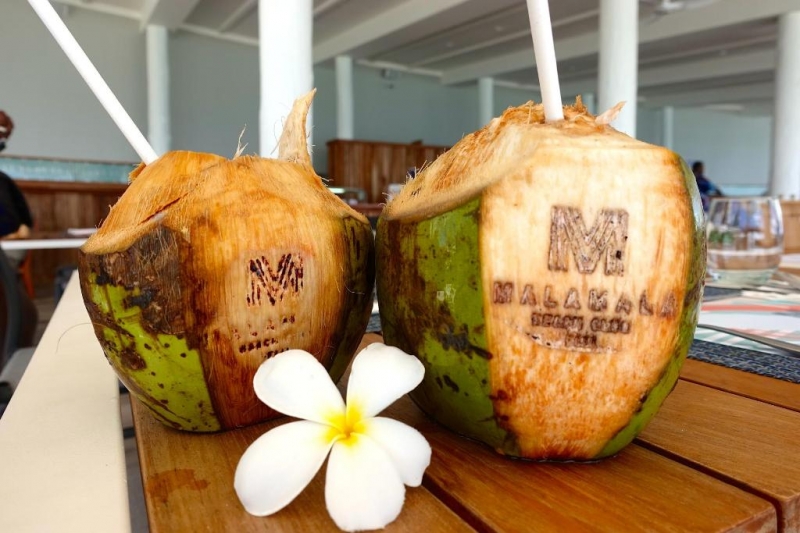 And of course, what's a beach club experience without indulging in a few fresh coconuts? Malamala Beach Club grows their own coconuts on the island, ensuring that you'll get nothing but the freshest quality.
How to get there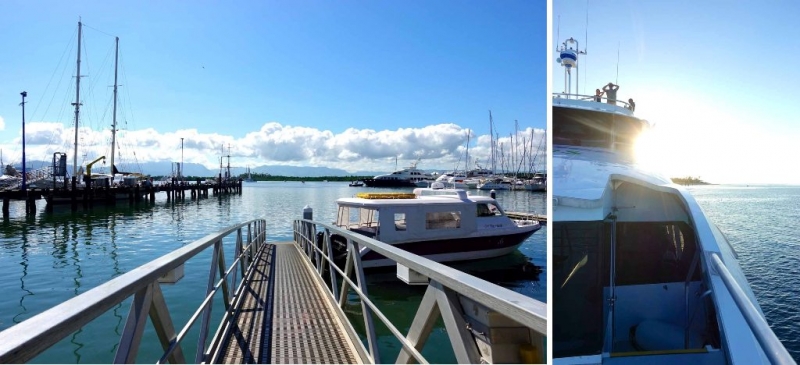 A day pass includes return land and ferry transfers (for your first visit), access to the beach club, complimentary Wi-Fi as well as various non-motorised sea sports. A day pass costs FJD169 (~SGD109) for pickups from the Nadi and Denarau area, and FJD199 (~SGD129) for pickups from Coral Coast, Natadola, Momi Bay or the Sonaisali area.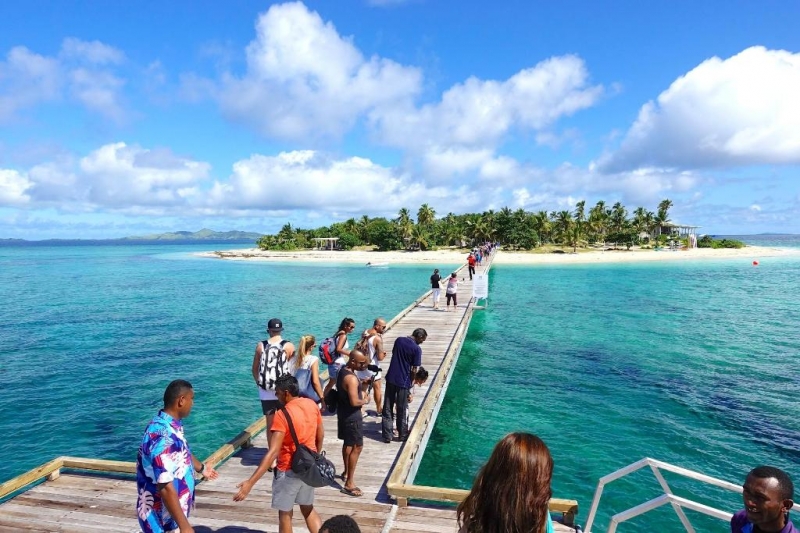 The good news? Your day pass will be valid for a consecutive 7 days, which means you can make multiple trips if you just can't get enough! All you'll need to do is to top up an additional fee for the return land and ferry transfers on whichever day you wish to return.
Overnight accommodation isn't available; the island is meant for day-trippers only. The last ferry departs the island every day at 5pm, so you'll have the whole day to enjoy the island to its fullest.
Ready to live the island life at Malamala Beach Club? Join us in saying Bula (Fijian for 'hello'), paradise!
Special thanks to Tourism Fiji for making this trip possible and showing me the wonders of Fiji.