Hot chicks. I love them. Those of the edible variety, of course.
Fried chicken can easily be considered a culinary tabula rasa because it goes so well with a wide range of flavours. There is no single right way of making fried chicken. As much as the fried chicken is universally known, it is also diverse in reflecting the range of flavours found in cuisines around the world.
This crispy yet juicy dish is a global phenomenon where people all over the world fry it in distinctive ways. This is the best thing you can eat. So come with me now on a fried chicken tour around Asia.
1. Korean Fried Chicken (양념 치킨 "Yangnyeom Chikin")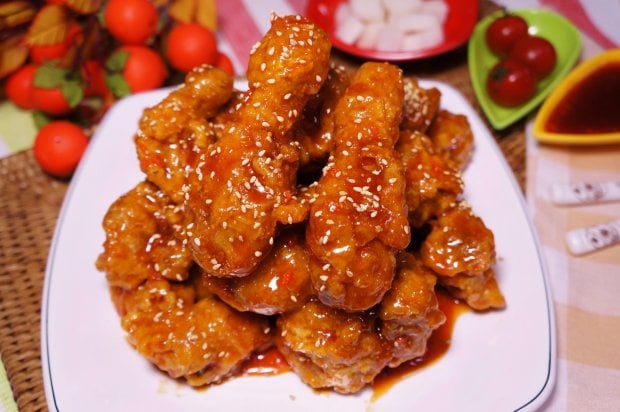 Image credits: http://bit.ly/1nVE5TY
Korean fried chicken is double fried, giving us chicken skin that is surprisingly crunchy and not too greasy. The chickens used tend to be smaller and thus the meat is tender and juicy. Seasonings used in this dish include spices, salt and sugar. Pair it with beer and you get 치맥 ("chimek"), a beer and chicken craze sparked by the famous K-drama My Love from the Star.
2. Taiwan Fried Chicken Cutlet (雞排 "Ji Pai")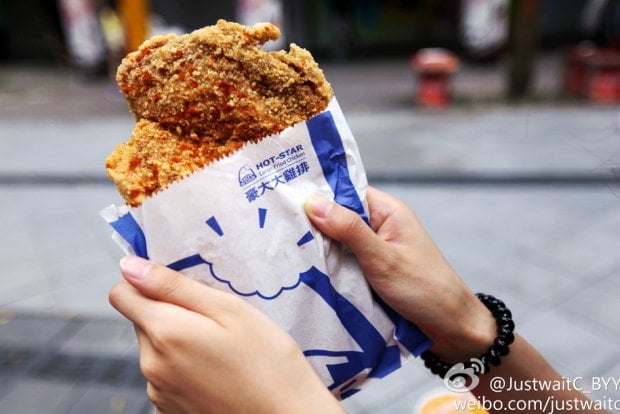 Image credits: http://bit.ly/1rMbZlq
This fried chicken snack is ubiquitous to the night markets of Taipei. The chicken breast is marinated in soy sauce, five-spice powder and other spices, then dipped in beaten egg and coated with flour. The chicken is then fried until the colour on its surface turns soft yellow. Add extra pepper before eating if you desire a spicier kick.
3. Taiwan Salted Crispy Chicken (盐酥鸡 "Yan Su Ji")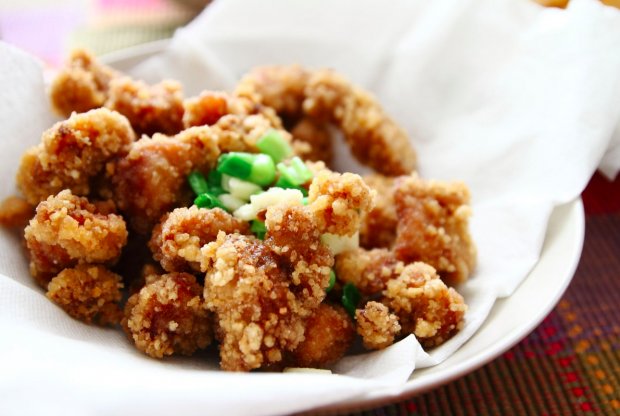 Image credits: http://bit.ly/1vMrjiF
Boneless and bite-sized, this deep-fried snack is another staple of night markets in Taiwan. Small chunks of chicken are dipped in the flour batter and then deep-fried, and finally lashings of pepper and salt are added. Basil can be added at the end for an added depth to the flavours. The end result is crispy and aromatic bite sized chicken pieces. Simply irresistible!
4. India's Chicken 65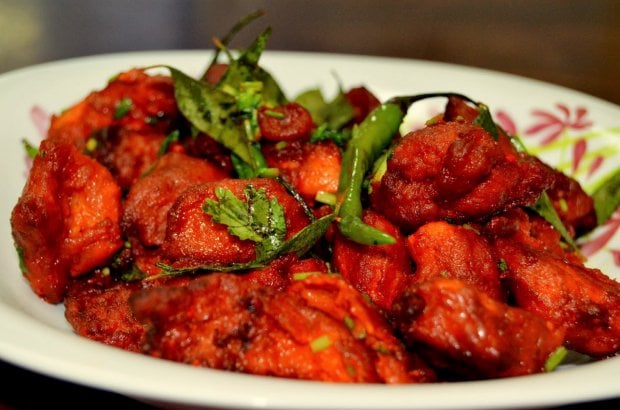 Image credits: http://bit.ly/1qy5oaF
This spicy deep-fried chicken dish hails from Chennai, South India, and is usually eaten as an entrée or quick snack. It is served spicy and hot with crisp chicken skin and tender, juicy meat. There are several explanations for its unique name such as the chicken being cut into 65 pieces, a chef adding 65 chillies to make the dish extra spicy, and more likely, that it was invented in 1965. The chicken is fried in oil with garlic, ginger and chillies, and then cooked in a yogurt sauce with Kashmiri chilli powder.
5. Japanese Chicken Karaage (から揚げ  "Kara-Age")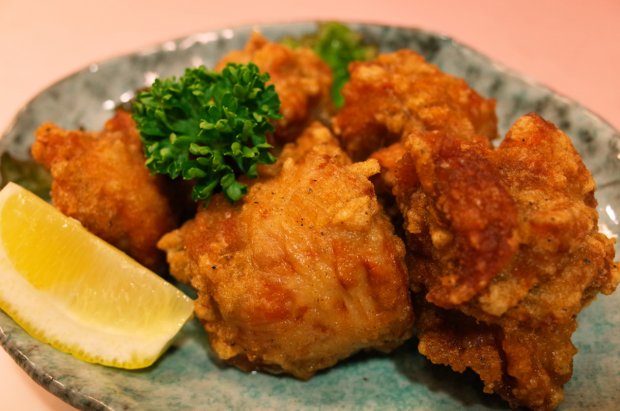 Image credits: http://bit.ly/1qaHza6
Karaage is actually a Japanese cooking technique where various foods, including chicken, are deep-fried. In this classic dish, small pieces of chicken are marinated in soy sauce, ginger, and garlic, then lightly coated with flour before being deep-fried. A squeeze of lemon juice over the fried chicken completes the dish. You can get this dish almost everywhere in Japan and these juicy, bite-size pieces are a bento box favourite and choice bar snack.
6. Japanese Chicken Katsu (チキンカツ "C
hikin-Katsu"

)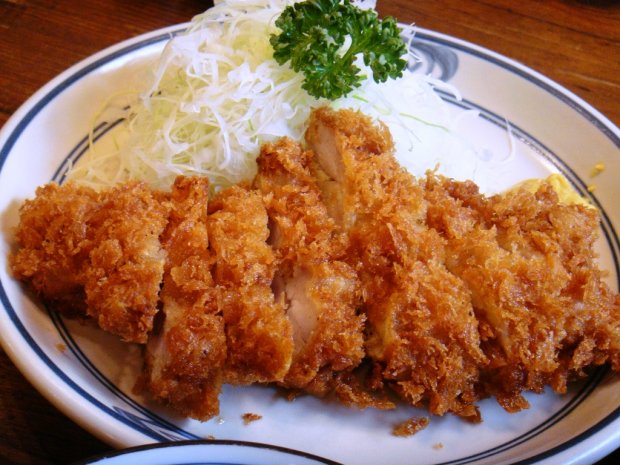 Image credits: http://bit.ly/1Bb4Egm
This deep-fried chicken cutlet can be served as a dish, with curry, or in a sandwich. The chicken is coated in panko, the Japanese-style breadcrumb, before it is deep-fried. Unlike regular breadcrumbs, panko is made from bread without their cruists and is ground into large airy flakes. The end results is a light and crunchy coating for the chicken Katsu that stays crispy for longer!
7. Thai Fried Chicken (ไก่ทอด "Gai Tod")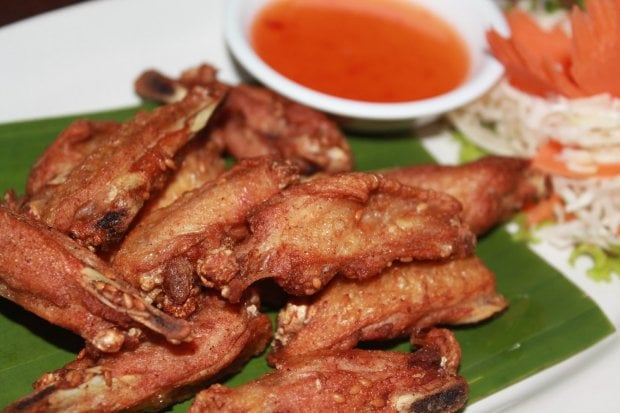 Image credits: http://bit.ly/1rmdhRM
This is the perfect combination of sweet, salty and spicy. The marinade coating the chicken wings is a combination of fish sauce, garlic, ciltantro, red peppers and sugar. The perfect Thai wings will be light, crispy and full of flavour. Kaffir lime leaves and lemongrass added will give the chicken wings a distinct Thai fragrance. The dish can be served with Thai sweet chilli sauce as an appetiser or with sticky rice.
8. Singapore's Shrimp Paste Chicken (虾酱鸡 "Har Cheong Gai")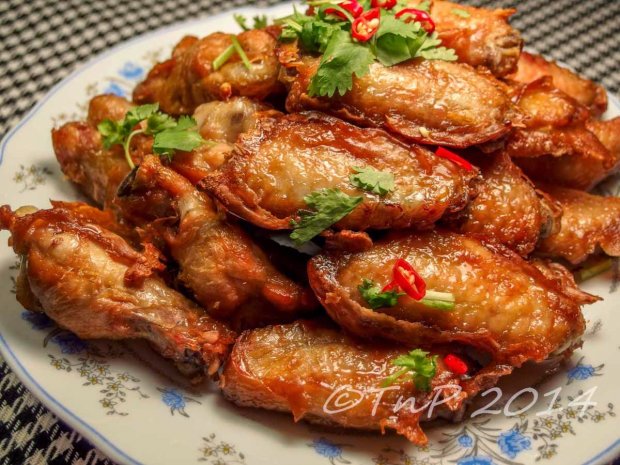 Image credits: http://bit.ly/1qnTOQD
This dish will have your chicken marinated in shrimp paste made from fermented ground shrimp. It is a local favourite in Singapore and the star ingredient – the shrimp paste marinade – is pungent and strong smelling. Do not be put off because this dish is absolutely delicious. Encased in a crisp crust, the meat is plump and juicy with a savoury kick given by the shrimp paste.
9. Cantonese Crispy Fried Chicken (炸子鸡 "Zaa Zi Gai")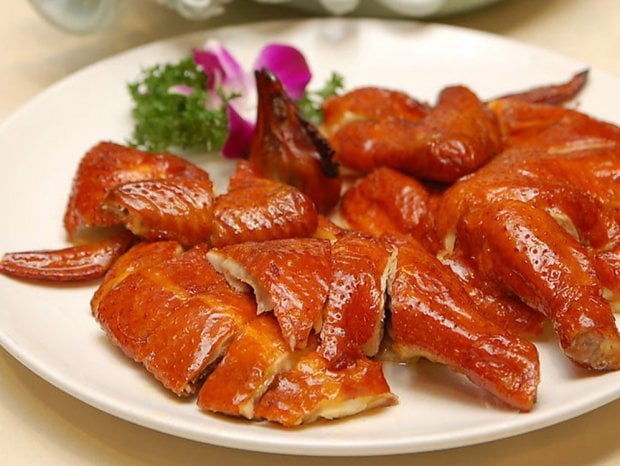 Image credits: http://bit.ly/1nVT93W
This dish is commonly found in southern China, Hong Kong and most other places serving Chinese cuisine. The meat of the chicken is soft but the skin is crunchy. The softness comes from boiling the chicken in water with spices, and then coating it with vinegar and sugar before letting it dry, and finally deep frying it. The crispy fried chicken dish can be served with pepper salt and prawn crackers.
10. Javanese Smashed Fried Chicken (Ayam Penyet)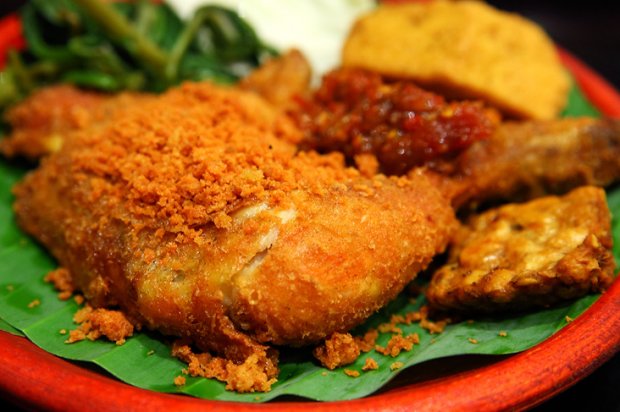 Image credits: http://bit.ly/1uz2gvG
This Indonesian dish is popular amongst people in Indonesia, Malaysia and Singapore. 'Smashed' derives from its preparation – the chicken is smashed using a pestle and mortar. The result? Soft and tender chicken meat. The fried chicken dish is served with sambal, fried tofu, cucumbers and tempeh. The sambal used is spicy, made of a mixture of chilli, anchovies, garlic, shrimp paste, tamarind, lime juice and tomatoes. Similarly, the sambal mixture is also smashed into a paste!
What's your favourite kind of fried chicken? Know of any other fried chicken dishes found in Asia? Because I can always eat more of it, let me know in the comments below.
P.S. Also share your fried chicken recipes with me so I'll never lose the power to fry!! 😉