Contributed by For The Twenties
1. EL NIDO is synonymous with PARADISE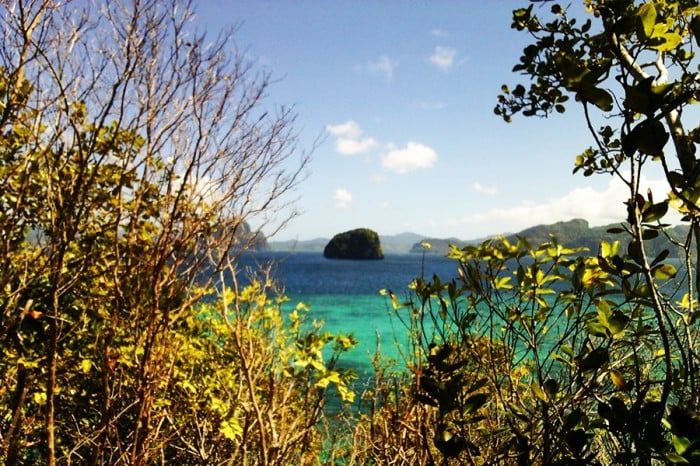 El Nido is a popular tourist destination at the northern tip of Palawan. With overall 45 islands located in Bacuit Bay, it gained a massive worldwide attention for its pristine white beaches, towering limestone cliffs, scenic mountains, mysterious caves, startling wildlife, enchanting lagoons and rich coral garden. From aerial to panorama and under the sea, El Nido has an exquisite biodiversity.
2. It is not really that expensive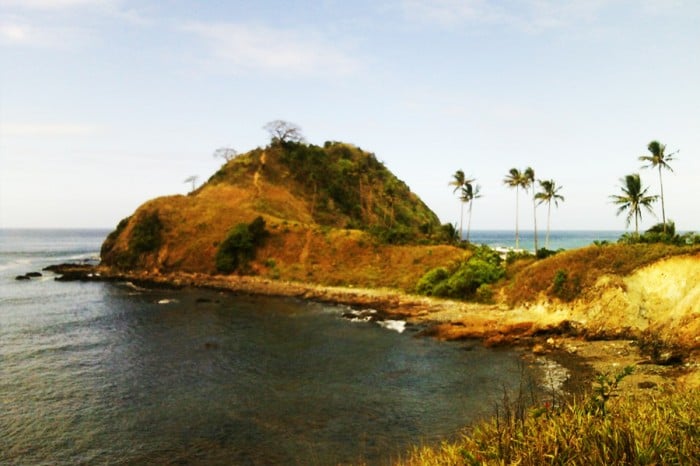 El Nido is NOT expensive if you are a smart traveller. To get there, your fastest option is via El Nido airport, but it is too costly. A cheaper way to this is to fly from Manila or Cebu to Puerto Princesa, the capital of Palawan. From Puerto Princesa, you can hop on the bus or van at the San Jose terminal for a five to six hours ride to El Nido. Shuttle vans will usually cost you PHP 500 to PHP 600 (USD 10.59 to USD 12.70) while bus trip can cost you from PHP 380 to PHP 480 (USD 8.05 to USD 10.16).
As for your accommodation, there are luxurious to budget friendly lodgings that you can choose from. Hostels facing the gorgeous Bacuit bay may vary from PHP 1,000 to PHP 1,200 (USD 21.17 to USD 25.41) per night while inns near the town proper can range from PHP 500 to PHP 800 (USD 10.59 to USD 16.94) per night. I strongly suggest staying in hostels near the beach so you can spend your night in the hammock listening to the soothing waves while gazing at a starry night sky. This experience is very therapeutic and you will surely not regret it.
Also read: How We Travelled 5 Days in El Nido for Only PHP 6,730.66 (All-in)
There are a wide variety of cuisines available in the town that can be as cheap as PHP 50 to PHP 300 (USD 1.06 to USD 6.35) a meal. Island hopping tours usually include buffet lunch on the beach so you can save your money for a free lunch.
It is also cheaper to buy souvenir items in town than in souvenir shops at the airport. Palawan is also known for cashew nuts so don't forget to buy some. You can have it for PHP 120 (USD 2.54) per pack.
Your El Nido trip can be as luxurious and as affordable depending on your itinerary and skills. If you're superb in haggling and terrific in planning, your El Nido tour cannot hurt your pocket.
3. The locals are very kind and helpful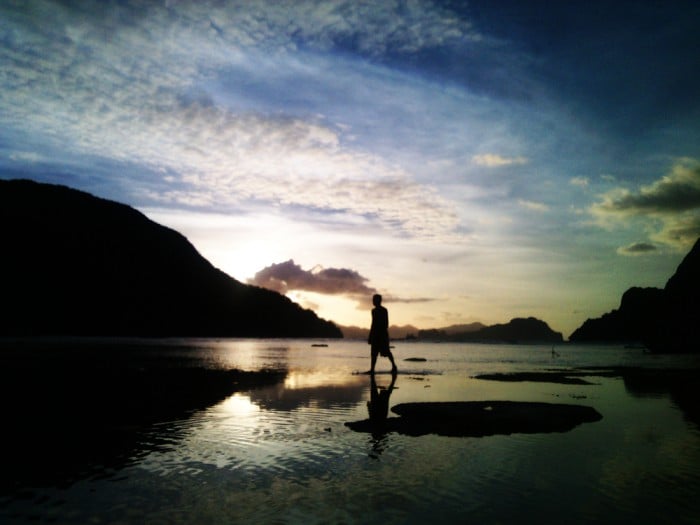 Everyone is smiling at El Nido. From the locals, tour guides, tricycle drivers, tourists and even the kids playing on the seashore, people are speaking the language of joy. Maybe this is because El Nido is laid-back, peaceful and gorgeous.  You can easily approach locals to help you find affordable tours and eatery.
On our first night in El Nido, we bought some rice from a neighbour. They don't usually sell cooked rice, but they are generous enough to spare some for us because it's already late in the evening for us to go to the town. Also, on our inland tour of Nacpan beach, the tricycle driver who accompanied us kindly guided us in climbing a hill to witness the breathtaking panorama of the unspoiled twin beaches.
One of the finest things I noticed is that the locals are proud and love their town. When you talk to them, they will always bring up praises on their island, which is really beautiful, and tell stories and legends about where the names of the islands and caves are derived from.
4. There are no hospitals in El Nido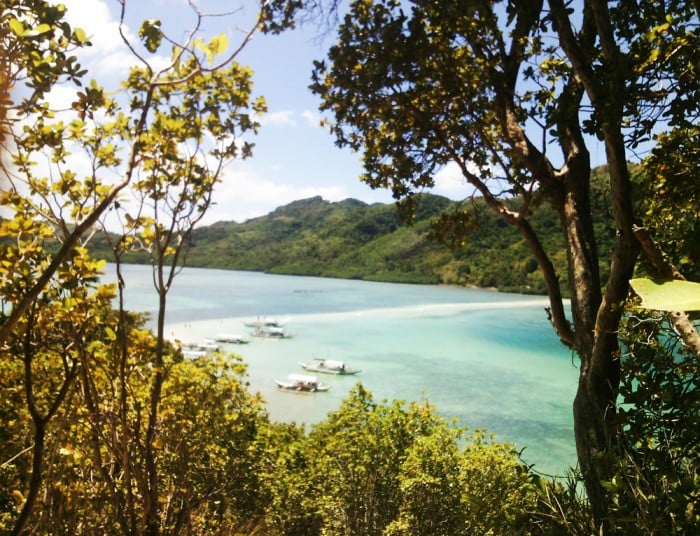 As of 2016, there are no hospitals in El Nido. There are few drug stores where you can buy basic pharmaceutical products, and according to our tour guide, there is only a small clinic for immediate medical concerns. That is why it's advisable to buy your medicines before travelling.
One of the locals that I was able to chat with also said that there are already plans and potential investors that will capitalize in building a hospital in the town soon. Hopefully, it's true.
5. Bring extra cash because there are no ATM machines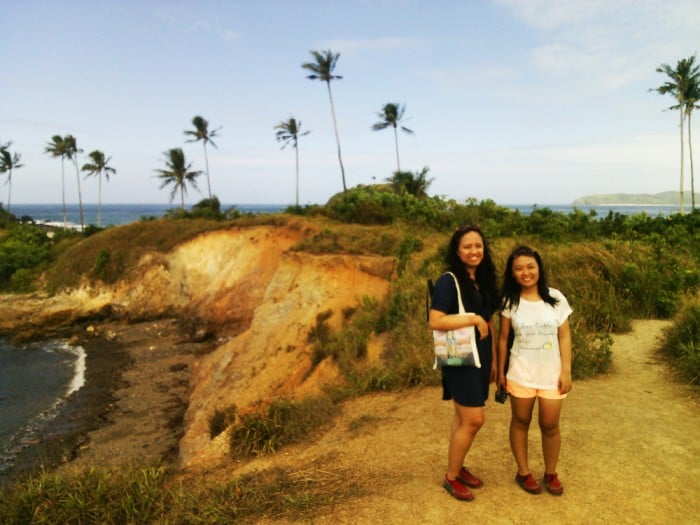 Make sure that you have enough cash when travelling to El Nido because currently, there are no ATM machines there. You can withdraw at the Puerto Princesa airport before heading to El Nido and there are also few banks there. Keep a budget for your trip and always have an extra for side trips and spur-of-the-moment activities.
Also read: 10 Places in Southeast Asia to Get Away From It All
6. It's a pretty busy town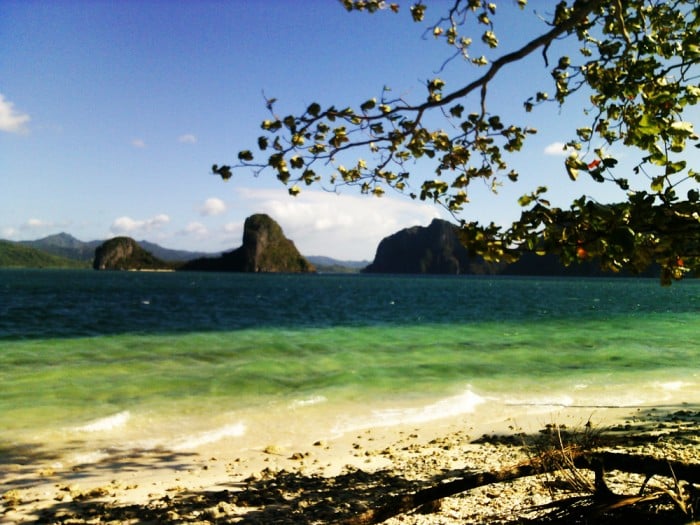 You will never get bored in El Nido, Palawan for there are lots of islands waiting to be explored and activities to be experienced. Whether you are the typical romantic beach bum or the adventure junkie, El Nido always has something to bring out the naturist in you.
There are 4 tours you can choose from if you want to go island hopping and 1 inland tour. El Nido is packed with islands where you can enjoy kayaking, scuba diving, surfing, snorkelling or  you can just simply enjoy the beauty of Mother Nature. From sunrise to sunset Bacuit bay can keep your eyes busy wondering what a beautiful world we live in.
7. Island hopping will make you fall in love with El Nido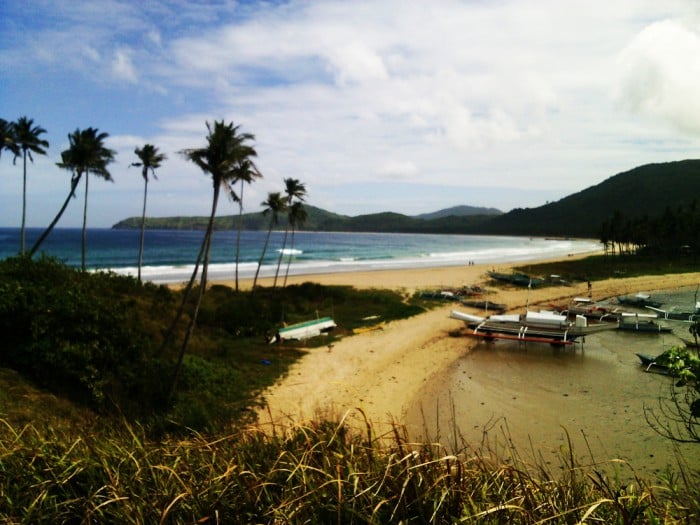 There are lots of tour agencies in the town of El Nido and the prices are standard for PHP 1,200 to 1,400 pax per day (USD 25.41 to USD 29.65) which is still negotiable depending on your haggling skills. Some hotels also offer packages for their guests. It is advisable to book a month or two earlier so you can avail of some promos. Tours usually start from 9 am to 5 pm, and it usually includes buffet lunch in the beach.
Also read: Travel Tips for Island Hopping In El Nido, Palawan
Below are different tours with corresponding destinations:
Tour A: Lagoons and Beaches
Destinations: Small lagoon, big lagoon, Miniloc Island, Simizu Island and Seven Commandos.
Tour B: Caves and Beaches
Destinations: Entulala Island, Pinagbuyutan Island, Snake Island Cudugnon Cave and Cathedral Cave, Pangulasian Island
Tour C: Shrines and Hidden Beaches
Destinations: Star beach, Helicopter Island, Secret Beach, Hidden Beach and Tapuitan Island
Tour D: Beaches and Caves
Destinations: Cadlao Island, Pasandigan Beach, Ubugon Cave and Bukal Beach
Tour E: Inland Tour
Destinations: Nacpan, Calitang and Duli
Tour E can cost you from PHP 1000 to PHP 1200 (USD 21.18 to USD 25.41) good for 3 to 4 person. There is also an entrance fee of PHP 50 when you reach Nacpan via tricycle or motorcycle.
Take note that as of the end of February 2016, half of the road to going to Nacpan is still under construction so prepare for 20 minutes of rough road, but it is still worth it when you reach your splendid destination.
For Tour A, B, C, and D, there is an environmental fee amounting to PHP 200 (USD 4.24).
8. There are lots of foreigners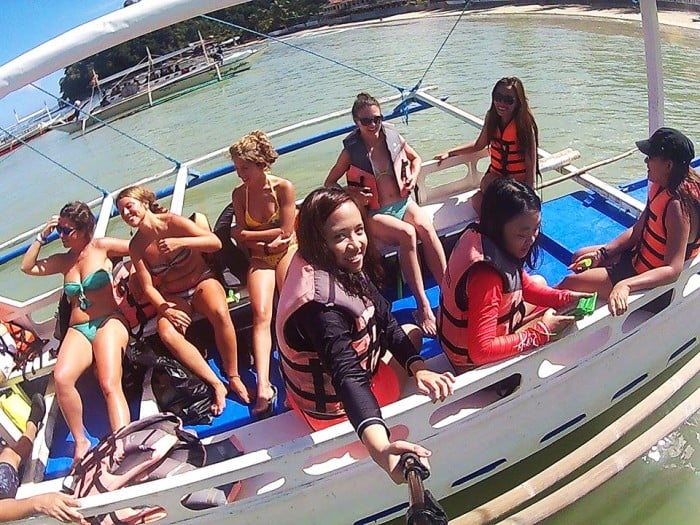 El Nido is an international tourist destination. You can spot lots of backpackers from different countries and the locals are fluent in English, making backpacking in El Nido easier. Group and joined tours in El Nido are normal, so expect to meet some new friends after every day tour.
Most of restaurants and grills in El Nido offer American, Italian, Japanese, Korean and Filipino cuisine, so that it's not only your eyes that will be enchanted, but also your taste buds.
Also read: An Open Letter to Filipinos: Travel the Philippines First
9. Power interruption is normal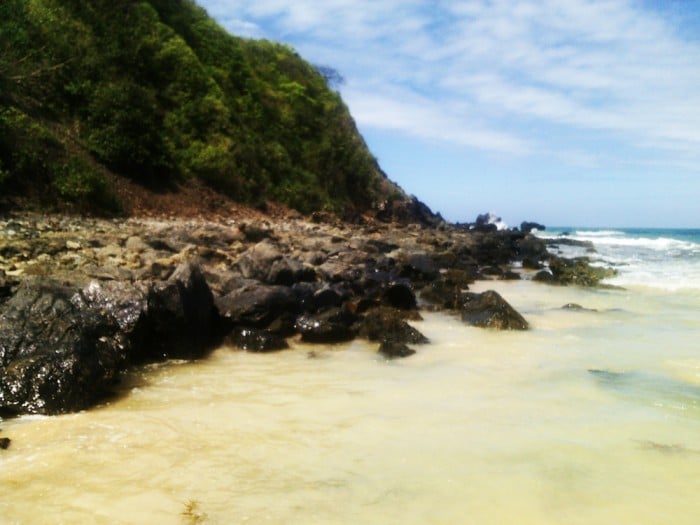 Rotating power interruption in El Nido is a thing. In our first night in El Nido, the power was on and off. Some of hotels have generators, but just to be safe and sure, always bring a power bank while in El Nido. Locals said that the situation of electricity in El Nido is so much better now compared to the previous years where electricity is only available from 6pm to 4am. During our stay, we just experienced power interruption for 1 night, and thankfully, it never happened again.
10. It is one of the best islands and beaches in the world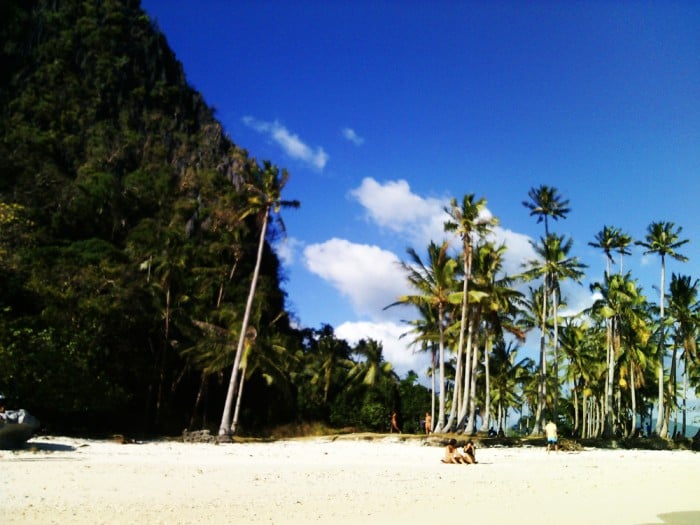 Before I visited El Nido last month, I read a lot of blogs and saved tons of pictures of it. Palawan has been voted as the world's best island two years in a row by the Conde Nast Traveler. On the other hand, Nacpan beach is named as one of the best beaches in the world by TripAdvisor. With the hype, reviews and nominations that they gave El Nido, I can't help but keep my expectations high.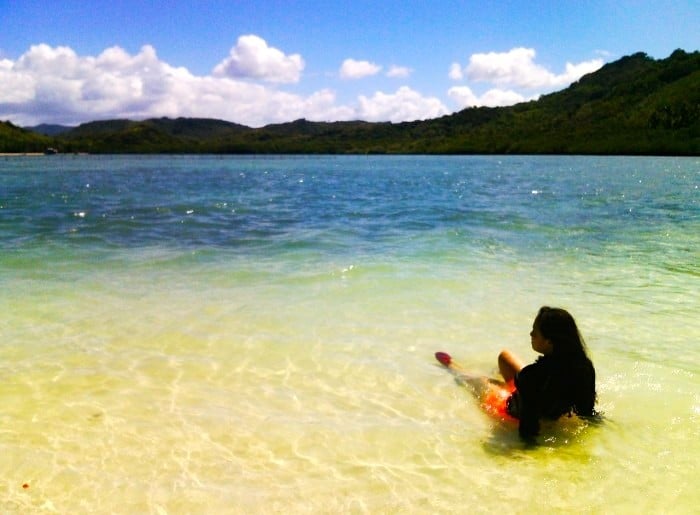 Gladly, El Nido, Palawan didn't fail to amaze me. I fell in love with it. Our camera must be so shy because it can't perfectly capture how blessed and majestic this paradise is!
Also read: 15 Secret Beaches in the Philippines You Probably Didn't Know About