Japan – the land of good food, gracious people and squeaky clean streets. From Tokyo's buzzing metropolis to the breathtaking natural landscapes found in Mount Fuji, there's just so much to see and do here.

Amongst the many attractions, Japan's onsens (hot springs), which are natural hot baths that help to cleanse one's system, are high on the to-do list of many visitors. As Japan is home to many active volcanoes, this country has seen the birth of many natural hot springs with various health properties. Visiting onsens has become a way of life for the Japanese, and is a practice that dates back to the eighth century.
A soak in the onsen feels especially good on a cold day or when you're exhausted from all the shopping. If you're not too sure which onsen to visit on your trip to Japan, then read on! We've listed the 10 best hot springs in Japan, which guarantees you a memorable and enjoyable time!
1. Kusatsu Onsen
Situated on the mountains of Gunma prefecture, Kusatsu Onsen may be one of the most impressive onsens in Japan yet. At 1,200m above sea level, its hot spring waters supplied by Mount Kusatsu-Shirane, has both high volume and excellent quality.
Kusatsu Onsen is known for its amazing healing properties and skyrocketed to fame after a famous German doctor recommended it in the 1800s. Fun Fact: Many Japanese have actually labelled Kusatsu Onsen as the hot spring that can cure all ailments except for lovesickness! Come and see for yourself if Kusatsu Onsen is really that effective and spectacular. Other than Kusatsu Onsen, this resort also offers opportunities for skiing and hiking for visitors.
2. Shibu Onsen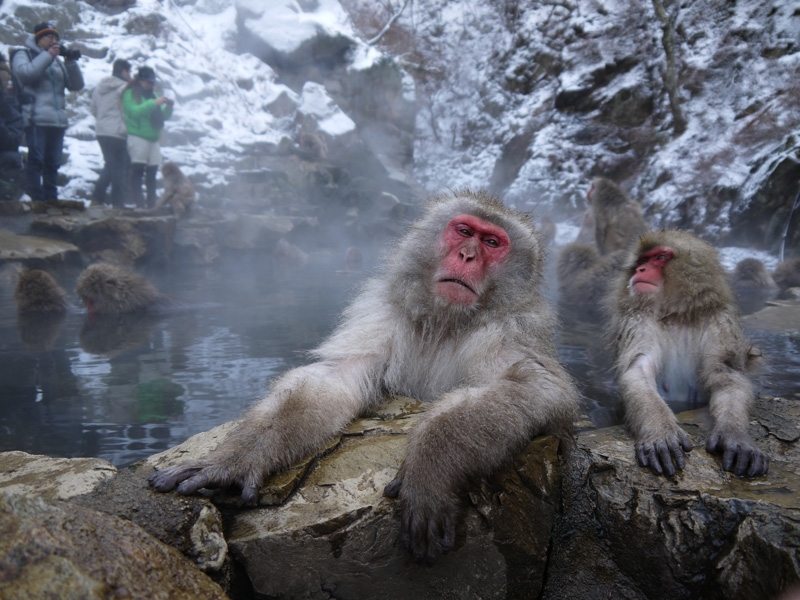 Approximately two and a half hours away from Tokyo, Shibu Onsen in Yamanouchi proves to be one of the most special onsen towns in this country, since it attracts not only humans but our primate friends as well! Many visit Shibu's monkey park just to catch snow monkeys soaking themselves in the hot and therapeutic waters.
Other than the monkey park, Shibu Onsen is also well-known for its many bathhouses, each serving to cure a different illness. Visitors are encouraged to do a bathhouse tour, by visiting all nine bathhouses in the town and collecting stamps on bath towels. It is said that those who do this will be blessed with good luck!
3. Lake Kawaguchiko
This onsen location boasts a jaw-dropping and picturesque view of Japan's very own Mt Fuji! Lake Kawaguchiko is the second largest out of the Fuji Five Lakes. Just a short one and a half hour bus ride from Tokyo, Lake Kawaguchiko is truly a location with so much to see and do, including visiting beautiful flower gardens and tucking into the delicious food offered.
The best onsens in the area lie at the northeastern shore of Lake Kawaguchiko since it is the ideal spot for a view of the mountain. Among the many available onsen places, Hotel Mifujien is a great onsen location worth visiting. It may be an old hotel, but their bathhouses are open to non-staying guests and promise the landscape of Mount Fuji!
4. Beppu
Can't make a decision as to what kind of hot spring you would like to experience? Well if that's the case, then Beppu is certainly the place you should go to! Located at the Oita prefecture, this resort promises you an abundance of options and high standard hot springs.
Beppu is famous for housing the largest number of hot springs in Japan, which offer treatments that deviate from the typical hot water baths. Here, visitors can explore steam baths, sand baths and even mud baths, all of which have their positive healing properties! It's time to broaden your onsen experience at this resort as you try the myriad of treatments available here.
5. Yufuin Onsen
Yufuin is an old provincial town 10km away from Beppu, with plenty of cafes, boutiques and art museums ideal for day-trippers. This place provides a stunning view of Mount Yufu and is certainly the area to snap your most Instagram-worthy shots. Most importantly, this is the location to enjoy traditional onsens that are spread out across the town.
Among the many onsens available, Tsuka no Ma's onsen is most popular among visitors for its milky blue waters and large steamy clouds. Here, you get to enjoy a quiet bath with a great view of the town below. If you're looking for a more local feel, visit Shitanyu Public Bath: a simple old-fashioned bath house with no gender segregation!
6. Gero
Nestled between Nagoya and Takayama, Gero is a town that was especially popular for its hot springs in the Edo period. Although this town is no longer as developed as it once was, it is still very much loved for its large hot spring pools and the countless free foot baths dotted all around the town for the weary to enjoy at any point of time.
In Gero, you can purchase their Yumeguri Tegata(spa pass) at 1,300 yen (~S$16). This pass entitles you to enter three out of the thirty participating bathhouses and lasts for six months. Not only is this experience out of the ordinary and exhilarating, you also get to keep this wooden pass as a pretty souvenir.
7. Noboribetsu
For those visiting Hokkaido in the near future, why not spend a night at Noboribetsu resort? This resort is filled with numerous large-sized ryokan (Japanese inns) and hotels with onsens. In Hokkaido's cold climate, there is no better way to warm up than to submerge yourself into a nice and piping hot onsen! What's more, Noboribetsu offers up to eleven different types of thermal waters that are known to be very good for your body.
Even if you're not staying the night at the resort, there are several hotels and ryokan who open their baths during the day for you to enjoy. This is the place ideal for you to simply sit back, relax and enjoy your time!
8. Kinosaki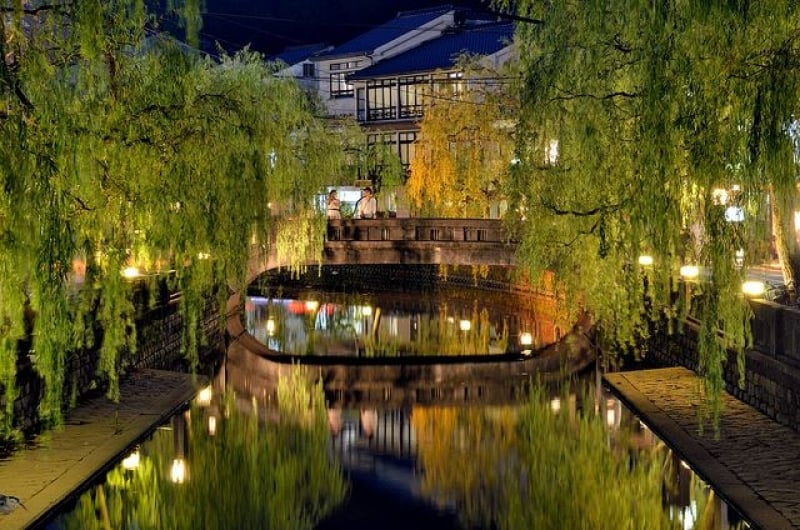 Kinosaki has long been known as the onsen town of Japan, with its seven public hot springs that are exceptional and very well-maintained. All seven hot springs have their varying facilities and interiors, making each experience distinct from the rest. From traditional to modern to Romanesque, Kinosaki has got them all! These public bath houses are also very affordable. Simply purchase a pass at 1,200 yen (~S$15) to access all seven hot springs.
As you walk from one bathhouse to the next, take time to admire and appreciate this tranquil town and its scenic landscape. Stroll by the willow-lined river and if you want to make your experience even more authentic, rent a yukata complete with Japanese clogs!  
9. Dogo Onsen
Welcome to the oldest onsen in Japan, based in the city of Matsuyama. Dogo Onsen dates back to over 1,000 years ago and is even rumoured to have served royals in the past. This is the ultimate place to immerse yourselves in Japan's history and traditions.
Don't miss out the Dogo Onsen public bathhouse as well. This bathhouse is also said to have inspired the popular film Spirited Away; so for fans out there, time to check out this cosy bathhouse and see for yourself if it resembles the film's setting!
10. Hakone
To end of this list with a bang, here's one of Japan's favourite onsen locations – Hakone. Just two hours away from Tokyo by train, Hakone is close to the stunning Lake Ashi. This place offers a number of hot springs for visitors, and each truly has its own charm.
Among the hundreds of hotels and ryokan to choose from, Tenzan and Yunessan Onsen are the most recommended to visit. Not only do they provide excellent services, the hot springs in these two places are extremely unique and unconventional. Tenzan Onsen has a bath that is supremely hot and another that is situated in a cave! On the other hand, Yunessan Onsen offers coffee, tea and wine baths, and even permit swimwear for those who are more self-conscious.
Hakone is truly a great place to experience different onsen types. Not only that, this town is beautiful enough to capture your heart.
This wraps up the list of Japan's best hot springs; with the variety of onsens available, you'd be spoilt for choice. Itching to try out Japan's impressive hot springs now? You definitely won't be disappointed! If you're planning a fishing trip instead, you may want to check out some of these modern cases to conveniently bring your own gear on for these adventures.