What's the first thing that comes to mind when someone mentions "Sentosa"? No doubt that it is most likely the exhilarating rides in Universal Studios Singapore, or Adventure Cove's high-speed water slides.
These tourist spots are so popular with the mainstream crowd that they're often associated with the tiny island. We might even forget that there are other exciting, underrated attractions on Sentosa. 
So, why not venture deeper inland? Find out what else awaits you at Sentosa! Whether you're looking for a change from the usual sights, or feeling adventurous, there's definitely something for everyone.
Also read: Exploring Sentosa Cove: 10 Things to Do in and Around the Area
1. Fort Siloso Skywalk
After your overdose of history lessons in Fort Siloso, enjoy a walk in the clouds! The Fort Siloso Skywalk, which recently opened just last year, offers visitors a refreshing change of scenery with an aerial tour of the surrounding forest and wildlife.
Standing at 11-storeys high, the Skywalk is definitely not for those with a fear for heights! The lift ride (or the stairs if you're a fitness junkie) allows you to gaze at the beauty of western Sentosa as you slowly ascend. Once you reach the skywalk trek, take a deep breath of fresh air and peer over the edge for a moment to enjoy the view. It's definitely worth it!
Admission into Fort Siloso Skywalk is FREE
Opening Hours: 9am to 7pm (lift operating hours; guests can still access the SkyWalk via stairs)
2. Tanjong Rimau
Want to experience marine life in its natural habitat, instead of behind artificial glass panels? Then consider taking a trip to Sentosa's hidden ecological gem. Located on the western region of Sentosa, near the edge of Shangri-La's Rasa Sentosa Resort & Spa, Tanjong Rimau Coast can be accessed by scaling down the rocky slope to the beach.
Witness natural coral reefs, starfish and crabs as you walk along the coastline. Keep an eye out for the uncommon octopus or eel, and head for the distinctive green beacon. From there, you can put your eyes to the test by trying to spot Labrador Nature Reserve across the sea. If you're feeling a little more adventurous, delve into one of the natural cave formations!
However, with the dangers of high tide and venomous stonefish, it's advisable to sign up with a tour group if you're inexperienced with nature exploration. Always better to be safe than sorry!
Tour group scheduling can be done by contacting [email protected]
3. 4D Adventureland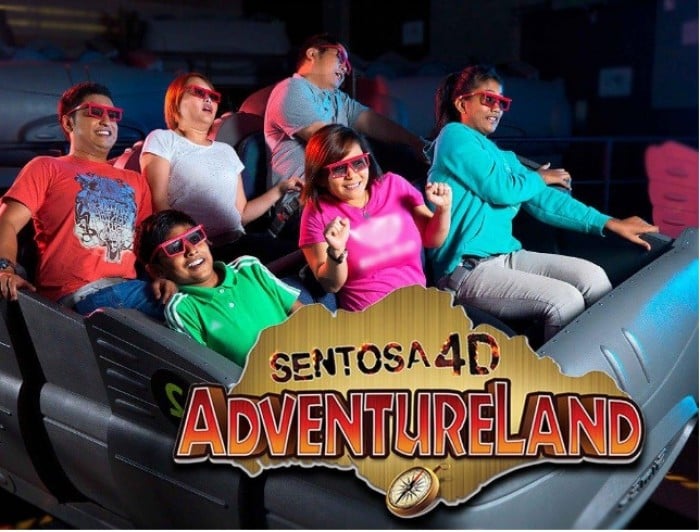 One of the pioneers of 4D film in Asia, 4D Adventureland offers viewers a revolutionary way to experience theatre. Combining realistic surrounding sensations with visual effects, 4D Adventureland will make you will feel as though you're inside the movie itself!
A variety of shows are available for your preference. Casual folks would enjoy a thrilling 4D adventure of the Journey 2: The Mysterious Island (2012). The adrenaline junkies will find the Extreme Log Ride more to their liking, bringing viewers on a heart-stopping ride across narrow ravines and gorges. Young children would have a blast with Desperados: Wanted Dead or Alive, where they wield motion sensor pistols to take down as many bad guys as they can, while riding on saddle seat.
If you're tired with the Transformers ride from Universal Studios Singapore, 4D Adventureland will be the refreshing change you need!
Opening Hours: 10am to 9pm daily (last entry: 8.15pm)
4. Sentosa Boardwalk
The boardwalk that connects VivoCity to Resorts World Sentosa has its own little niche attraction as well! If you're keen on enjoying the sights and sounds of the waterfront at your own pace, do consider taking a walk along the Sentosa Boardwalk.
Entry is free until the end of this year, making it the cheapest way to reach Sentosa. You won't need to worry about queues either! You can choose to take a brisk walk, or ride the moving walkways while enjoying the garden-themed scenery.
The boardwalk also plays host to a bazaar on weekends, which will showcase a variety of hand-crafted products and vintage pre-loved apparels. Drop by and take a look. Who knows? You might find a great deal or two!
Admission into the Sentosa Boardwalk is FREE till 31 December 2020
5. Mega Adventure
If you're a fan of heights, then do drop by Mega Adventure to test your mettle in their various zip wires, rope courses and other attractions. Their signature MegaZip spans over 450 metres long at 72 metres above sea level. Those brave enough to take the leap are awarded memorable scenes of the lush jungle canopy and a bird's eye view of Siloso Beach.
For a more hands-on encounter, take a shot at MegaClimb, an aerial obstacle course that is nestled in the treetops. Navigate through wobbly bridges, swaying tightropes and cargo nets, as you try not to look down and think about falling!
If you're looking for something more grounded, the MegaBounce trampoline is perfect for your needs! Bounce to your heart's content while being secured with elasticated ropes. Sounds fun? 
Opening Hours: 11am to 7pm daily
6. Butterfly Park & Insect Kingdom
Outdoor enthusiasts would enjoy a visit to the Butterfly Park & Insect Kingdom! Displaying a grand collection of colourful butterflies and rare insects from all around the world, this attraction is where visitors can learn about nature through the eyes of little creatures.
Visitors will be treated to a multi-sensory experience from the start to the finish, with scents, sights and sounds of a tropical rainforest. It will feel as if you were dropped right in the middle of the Amazon, without the fear of being pounced upon by a tiger or a lion!
Opening Hours: 9am to 7pm daily (last entry: 6:30pm)
7. Wings of Time
If you're looking for a memorable way to end the day at Sentosa, look no further than the Wings of Time! Set outdoors by the open sea, this award-winning night show features a combination of spectacular laser and firework effects which will leave you awestruck and mesmerised.
The story follows a group of friends and their magical journey through time and mysterious wonders. Accompanied by majestic music, the tale will be a treat to the senses and it will set your imagination in overdrive long after it has ended!
Opening Hours: 7.40pm & 8.40pm daily, the show lasts for about 30 minutes.
Also read: 2D1N in Sentosa: How to Make the Most Out of Your Staycation
So have you decided which places you will be visiting soon? Grab your friends now!