With its amalgamation of old-world charm, natural wonders, cultural gems, and pleasant weather to boot, Lisbon is peculiar in a way that's never to be forgotten. Next time you're traversing Europe, add Portugal's capital to your itinerary for off-the-beaten-path experiences. Complete your stay by holing up at one of the following Airbnb homes and vacation rentals in Lisbon, where you can soak up the eclectic nuances that give the city its unique identity.
Also read: 10 Best Airbnb Homes in Spain, From Barcelona to Ibiza
There's nowhere quite like Lisbon in all of Europe. You have to see it for yourself when you stay at any of these Airbnb homes and vacation rentals!
Best Airbnb homes and vacation rentals in Lisbon, Portugal
1. This chic hideaway with natural sunlight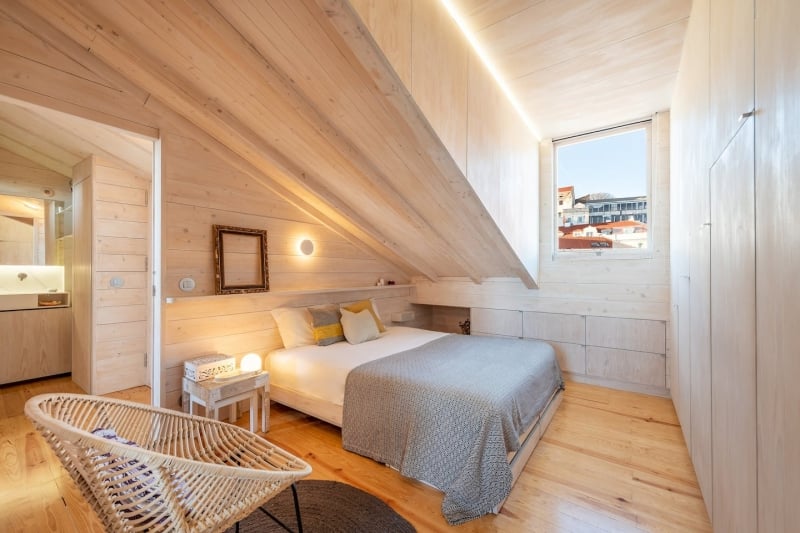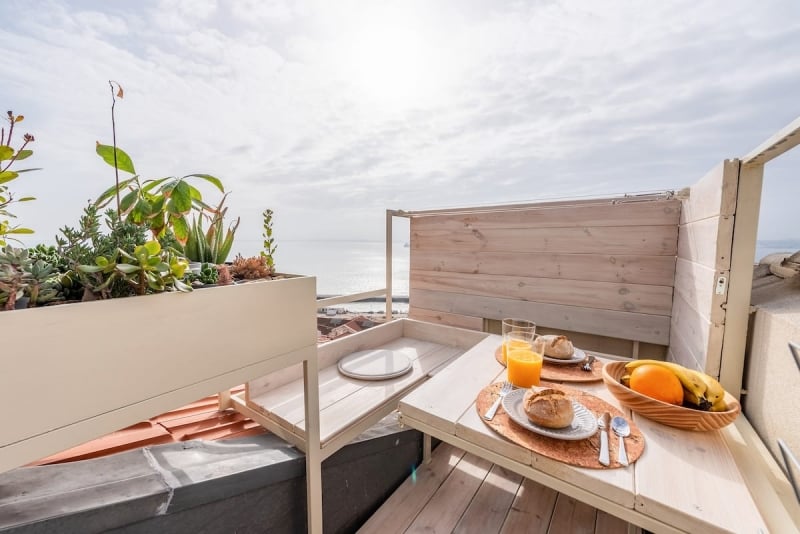 Listing name: Barão Viewpoint
Listing type: Entire home 
Max. no. of guests: 3
No. of bedrooms: 1
This chic hideaway tucked away in one of Lisbon's oldest neighbourhoods, Alfama, is the stuff dreams are made of. Homely vibes — check. Ample natural lighting — check. Well-appointed amenities — check. The highlight: A rooftop terrace where you can admire a maze of cobblestoned alleys and the glistening river on the horizon as you sip on a glass of vino. To top it all off, it is located in a peaceful area lined with a series of quaint shops and restaurants. 
2. This immaculately stylish studio located in a 400-year old building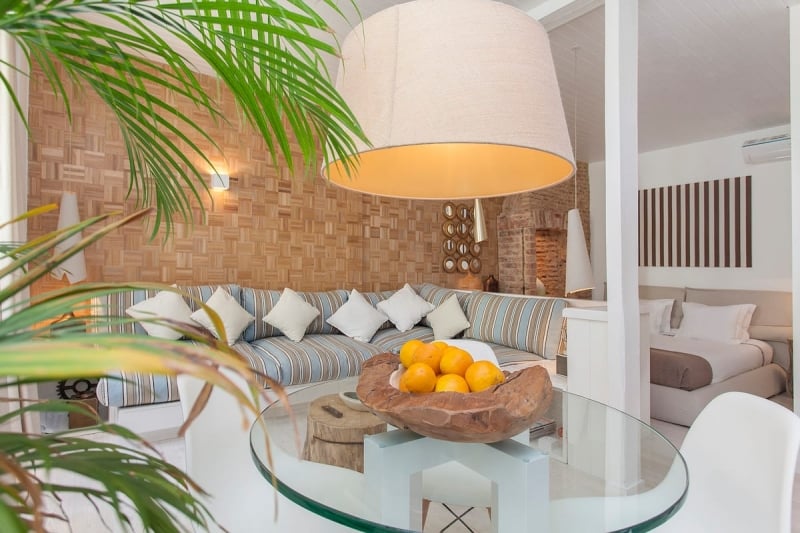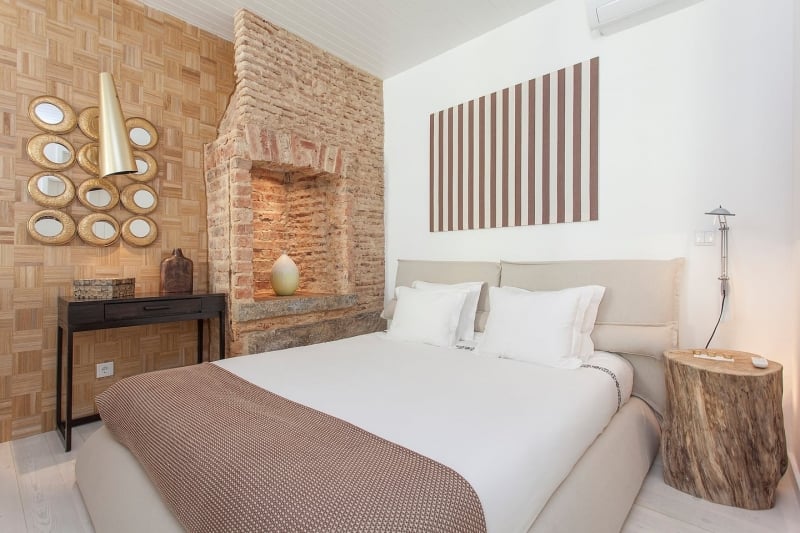 Listing name: Chiado "Loft" 5 "THE STUDIO"
Listing type: Entire home 
Max. no. of guests: 3
No. of bedrooms: 1
It will take you by surprise that this Airbnb in Lisbon is actually housed within a building that has been around for almost four centuries. Thanks to its modern furnishings and tasteful interiors that form a stunning juxtaposition against the storied walls of Chiado, you can have the best of both worlds at this stylish studio. Plus, its prime location will place you within an earshot of dining and entertainment options. So, if you're wondering where to stay in Lisbon, you can't go wrong with this nice-looking property! 
3. This bohemian-inspired abode in the heart of the city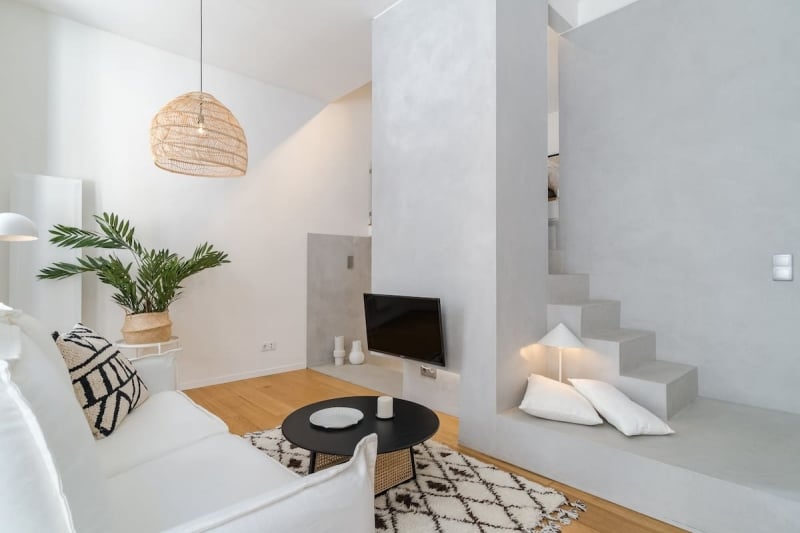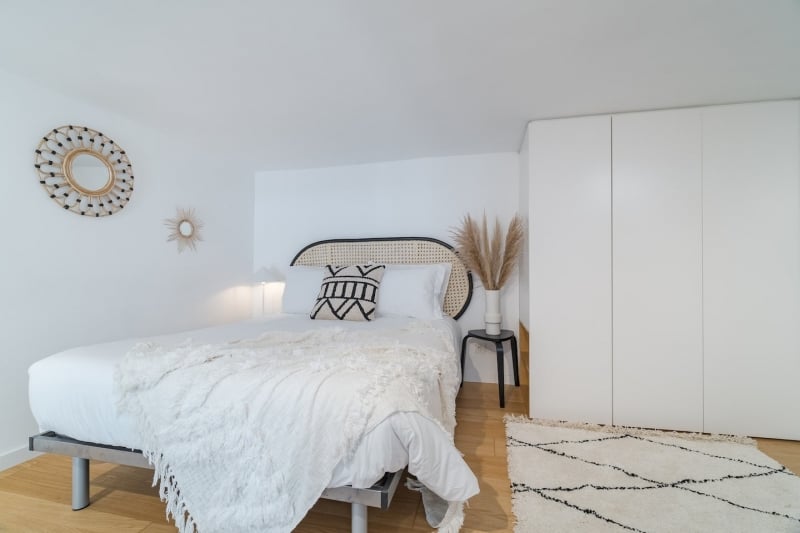 Listing name: CB LISBOA-DUPLEX APARTMENT IN THE HEART OF LISBON
Listing type: Entire home 
Max. no. of guests: 4
No. of bedrooms: 1
Decked out in white with splashes of green and wooden brown, this spacious dwelling makes for a quintessential home away from home. As you can find everything you need here including a fully-equipped kitchen, a convertible sofa bed, and a washing machine, you may be tempted to just stay in and while your afternoon away within the comfort of your own space.
However, we suggest stepping out to explore the area on foot. You'll encounter the grand boulevard of Avenida da Liberdade — lined with multifarious high-end fashion boutiques reminiscent of Champs Élysées in Paris — just a stone's throw away amongst other attractions.
4. This spacious loft with scenic views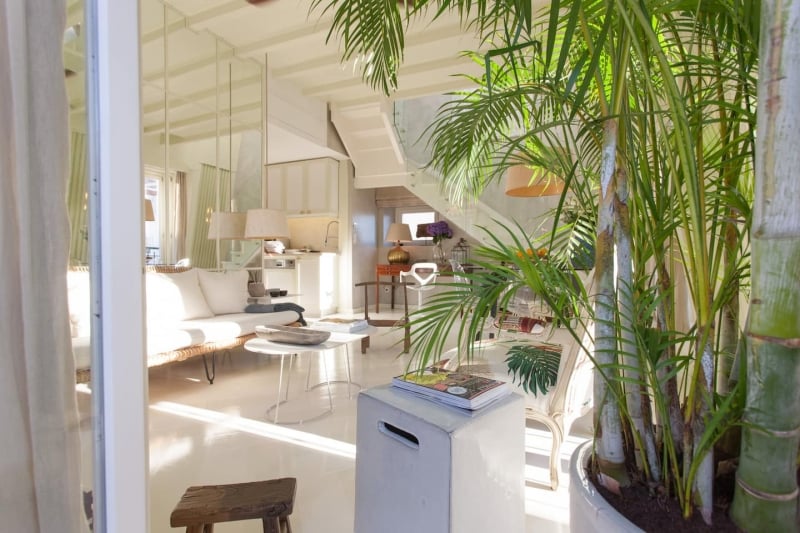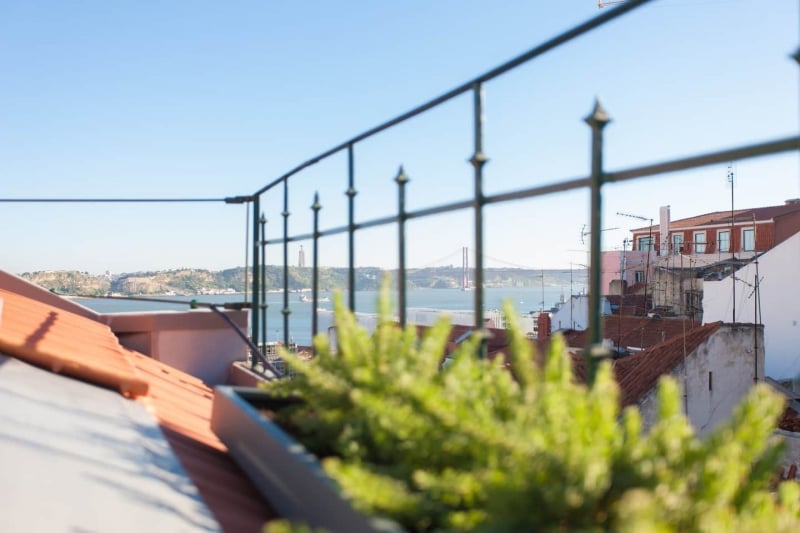 Listing name: Chiado Loft 12 Amazing Duplex with Terrace
Listing type: Entire home 
Max. no. of guests: 3
No. of bedrooms: 1
Imagine having unobstructed views of the tranquil neighbourhood and the reposeful river during your stay! That's what you're in for when you put up at this one-bedroom loft, nestled in Rua da Bica. From the L-shaped balcony and open-air terrace, you have two vantage points from where you can get a load of the scenery. Apart from that, what adds to the allure of this Lisbon Airbnb is the fact that it's separated into two levels — one for the living and dining area and the second for the bedroom. That way, you can differentiate between rest and leisure time easily here.  
5. This modern apartment in a historical district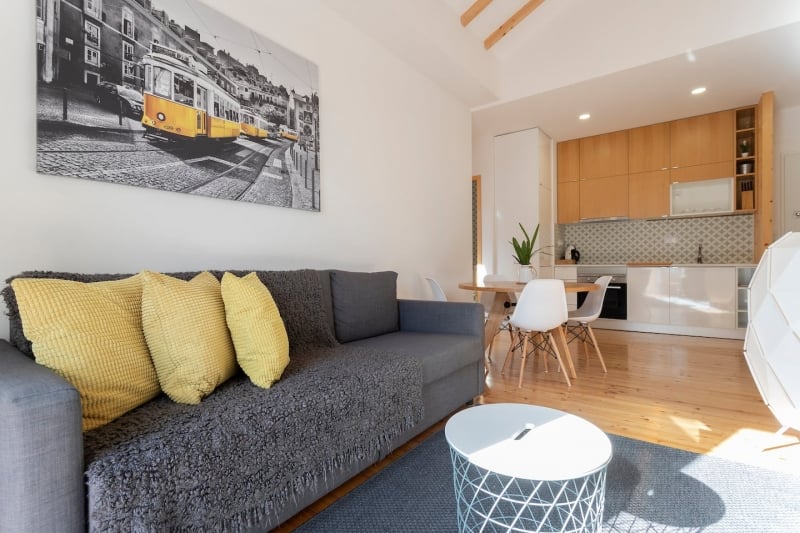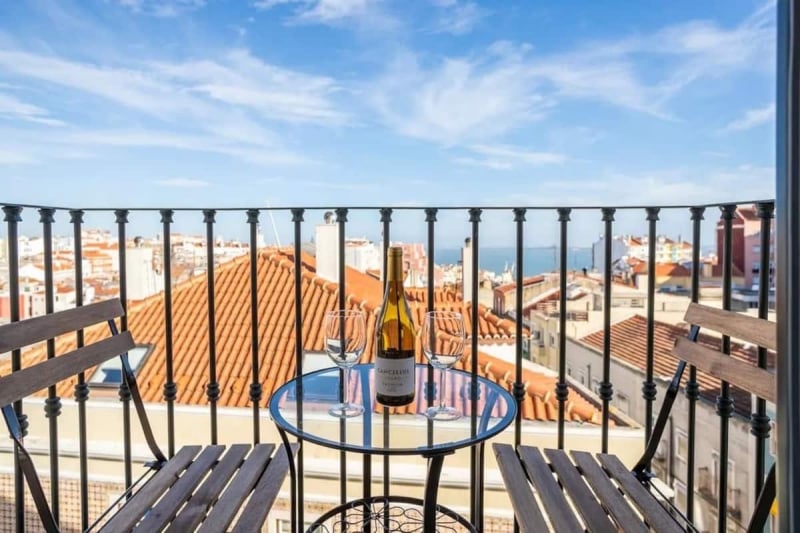 Listing name: Tram 28 – Amazing Balcony View of the Tagus River
Listing type: Entire home 
Max. no. of guests: 4
No. of bedrooms: 1
This cosy apartment commands a breathtaking vista of Tragus River from the balcony — complete with an outdoor seating area. You can spend your afternoons basking in the radiant sunshine for some relaxation time. Alternatively, make use of the amenities such as the WiFi and television to idle away the hours.
If getting out and about is more of your thing, you will appreciate that the vintage yellow tram which passes through line E28 is just a few metres away! It will take you across various historical districts such as Graca, Almafa, and Estrela. 
6. This beautiful home with many incredible reviews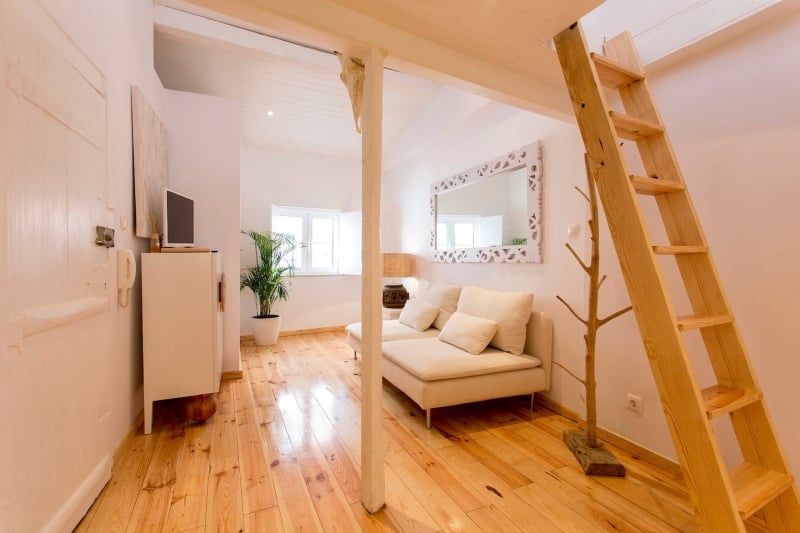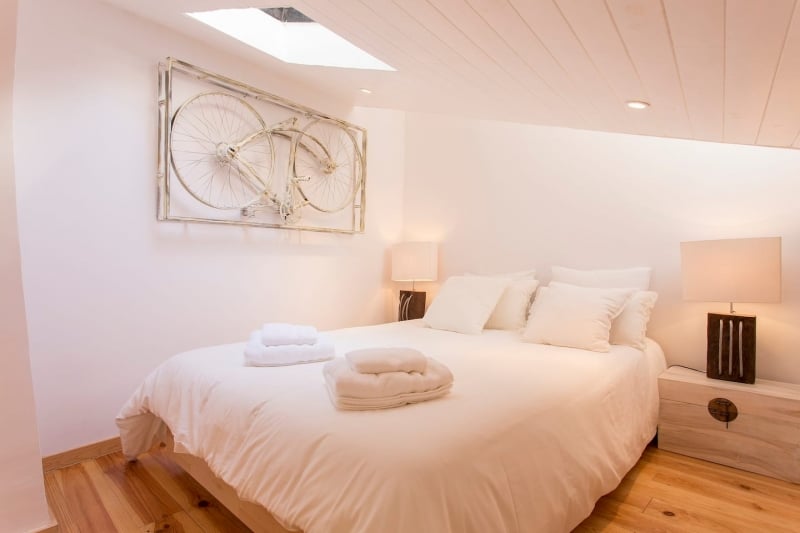 Listing name: MEZZ APARTMENT – BY MAYORAL
Listing type: Entire home 
Max. no. of guests: 2
No. of bedrooms: 1
Let more than 300 raving reviews of this beautiful Lisbon Airbnb bear testament to its appeal. Aside from its wallet-friendly price and gorgeous interiors, many guests have also left positive comments about its strategic location and benevolent host. After all, it's a walking distance from a slew of attractions including the Castle of Lisbon, Lisbon Flea Market, and Lisbon Cathedral. Additionally, the host is known to make the check-in process a breeze and respond to queries almost immediately. 
7. This charming cottage in a tranquil neighbourhood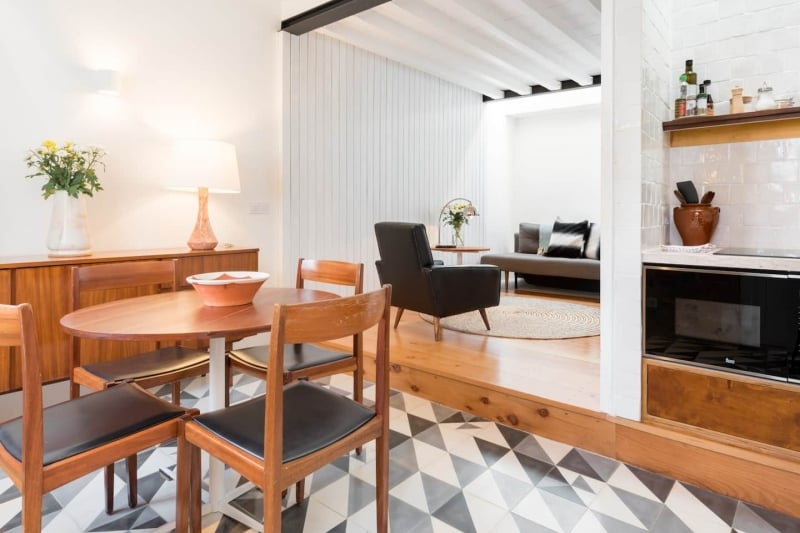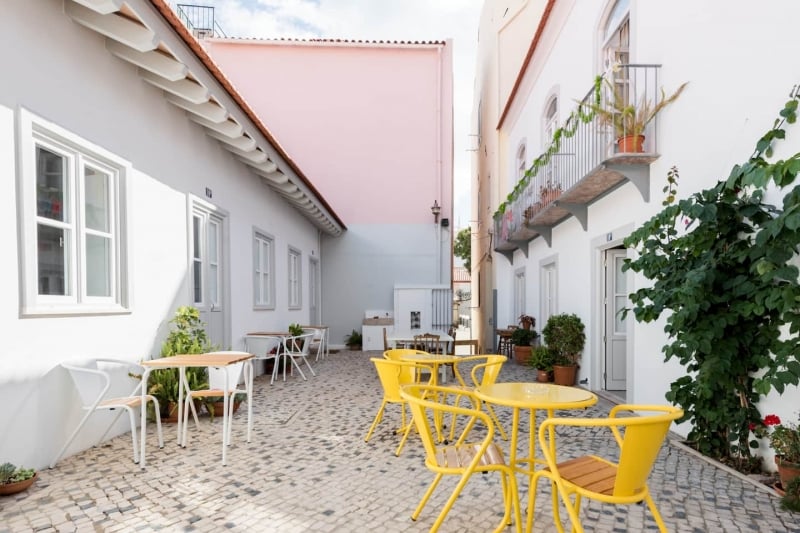 ​​Listing name: Beautifully Restored Cottage with Patio in Historic Center B
Listing type: Entire home 
Max. no. of guests: 2
No. of bedrooms: 1
It's not often that you get to retreat to a romantic cottage that has been restored to preserve its glamour. So, next time you're in Lisbon, make sure to seize the opportunity to stay at this Airbnb. Designed with attention to detail, every nook and corner of this sanctuary will leave you in awe. Plus, it boasts well-appointed amenities such as a full kitchen, bathroom essentials, and room-darkening shades for an unforgettable stay. The cherry on top: A patio where you can meet and greet your friendly neighbours. 
8. This intimate refuge with a large rooftop terrace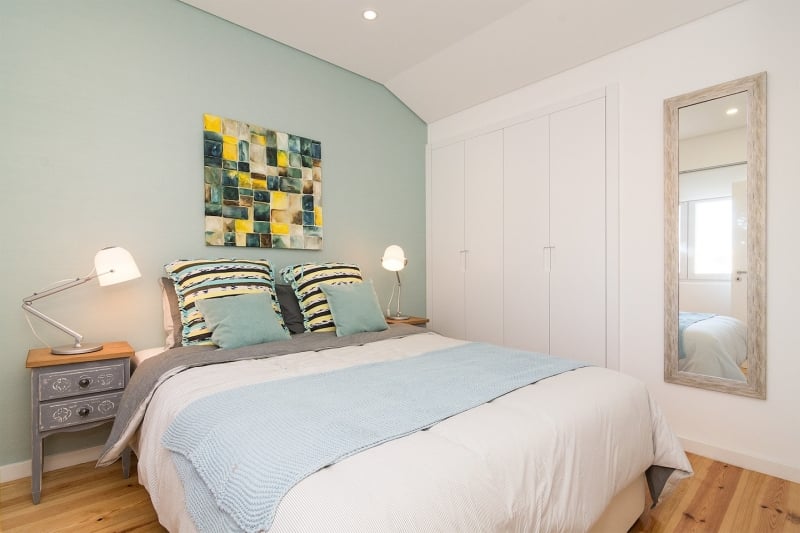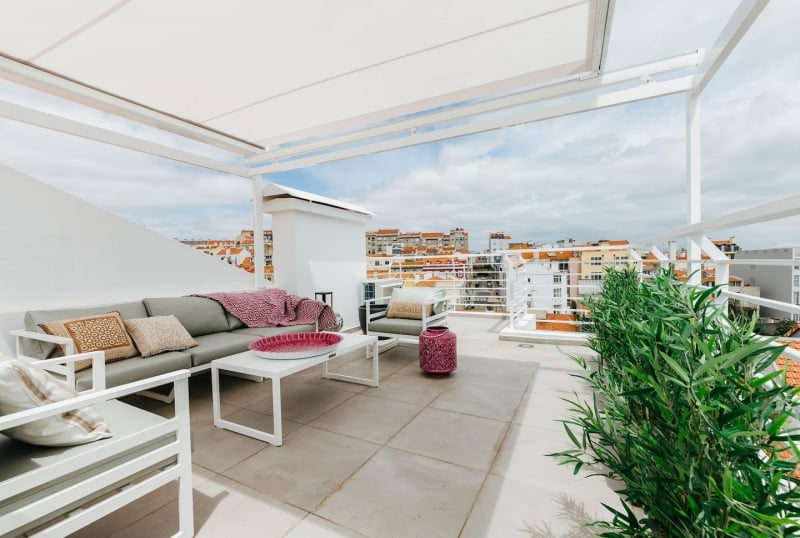 Listing name: SPECTACULAR NEW Graça Riverview Terrace Apartment
Listing type: Entire home 
Max. no. of guests: 2
No. of bedrooms: 1
After witnessing the spectacularity of Lisbon, retire to this attractive lair that sits on the outskirts of Alfama. New and modern, it comes with two beds, making it ideal for a group of four. Plus, you can avail of free on-street parking and luggage drop-off during your stay for added conveniences.
The most desirable feature: An expansive rooftop terrace that overlooks Tejo River. With dining and seating areas along with a retractable electric awning, you'll find yourself lounging about at this spot at any time of the day to enjoy the soothing atmosphere. P.S. Fleece blankets are available to keep you warm as you snuggle up in the open air. 
9. This luxurious home with a garden and outdoor pool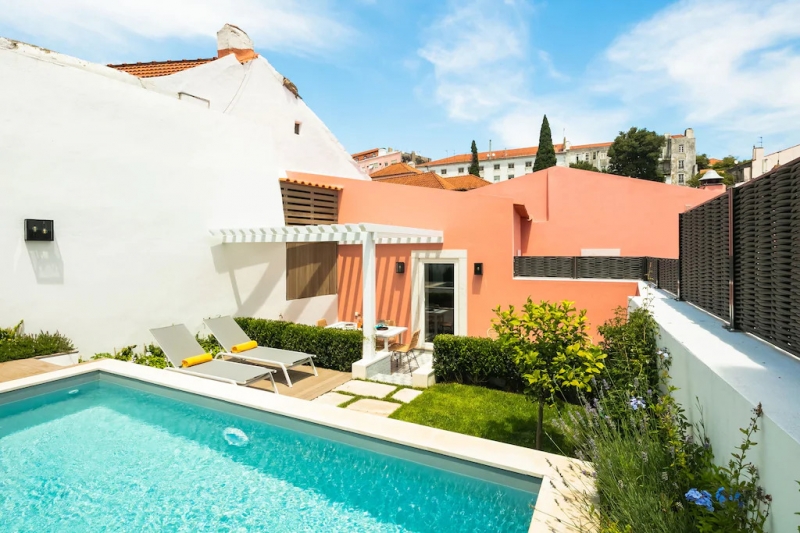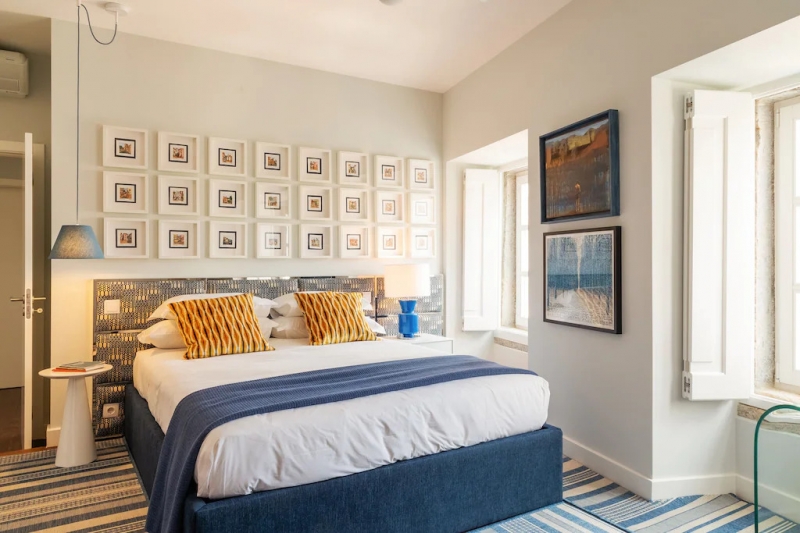 Listing name: By the Castle | LUXURIOUS, PRIVATE GARDEN & HEATED SWIMMING POOL
Listing type: Entire apartment
Max. no. of guests: 4
No. of bedrooms: 2
Make your holiday in Lisbon even more incredible by staying at this highly rated luxury apartment. It is located in the historical centre of Lisbon, between the viewpoints of Portas do Sol (Alfama) and Graça, and a five-minute walk from São Jorge Castle. Previous guests have given it five-star ratings for its luxurious amenities, including a private garden and a saltwater pool.
Not to be missed, of course, is its convenient location, where you can easily take in the sights and sounds of Lisbon on foot. It has everything going for it: convenience, luxury, and unique experiences.
10. This relaxing villa for families and friends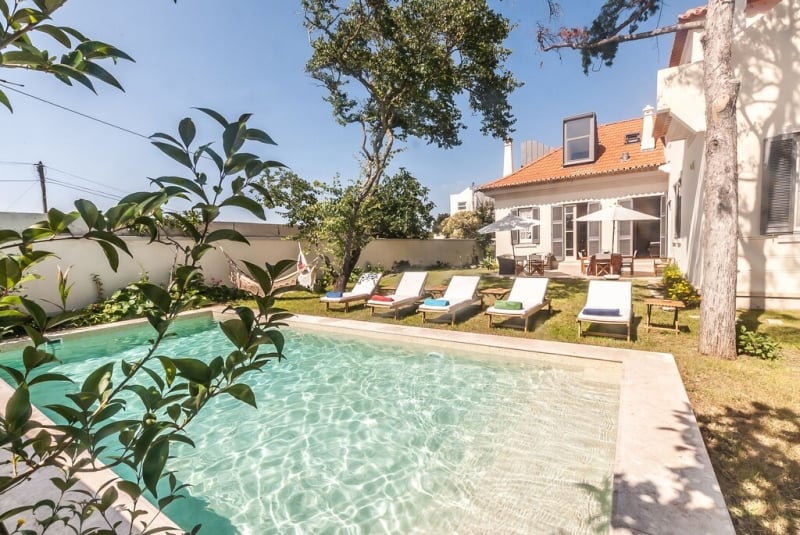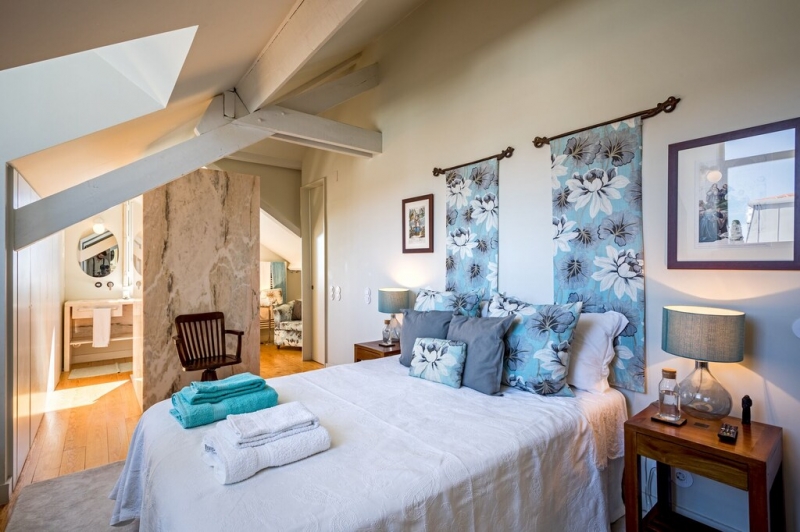 Listing name: Wonderful villa for 10 persons in Lisbon centre, with swimming pool
Listing type: Entire villa
Max. no. of guests: 8
No. of bedrooms: 4
Ideal for families and big groups, this newly renovated villa is nothing short of fancy. With its outdoor swimming pool, wonderful garden, spacious bedrooms, and even bicycles for you to use, you'll surely get the most of your stay in Lisbon even before you start exploring the city.
Only 100 metres away from Pestana Palace Hotel & Spa, this vacation rental enjoys close proximity to Ajuda Palace, Monument to the Portuguese Discoveries, Planetarium, National Coach Museum, Macao Museum, Oriente Museum, Electricity Museum, and many more landmarks. Relaxing atmosphere, amazing amenities, and central location — what more can you ask for?
Also read: Which to Visit: Porto or Lisbon?
Thinking of where to stay in Lisbon? These Airbnbs and vacation rentals are your go-to accommodation options when you're visiting the bustling city. Which one would you be keen to put up at? Don't forget to share your photos with us on Instagram at @tripzillamag and use the hashtag #TripZillaShare!
Got a property you'd like TripZilla to feature? Inquire with us here.
---
This article contains affiliate links. When you book through these links, we may earn a small commission at no additional cost to you. All images courtesy of the respective property listings.