Johor is the southernmost state in Peninsular Malaysia, separated from Singapore by only a kilometre long causeway, making it an easily accessible destination for many Singaporeans.
In recent times, the state of Johor's most iconic holiday attraction is undoubtedly Southeast Asia's first ever Legoland theme park but is that's not all southern state has to offer!
From unique glamour camping, island getaways and hanging out with goats, the sometimes underrated state of Johor has plenty of attractions. Here are 8 lesser known attractions that one can find just across the causeway from Singapore.
Also read: When in Johor: Singaporeans are Guilty of Doing These Unbelievable Things
1. Canopy Tribes, Ulu Sungai
Image credit: Canopy Tribes
If you're in Johor and just have that sudden urge to forego modern hotels and experience the comforts of nature instead, you'll be happy to know about Canopy Tribes. Located a mere 3km away from Kota Tinggi, Canopy Tribes is a luxurious glamping site that offers fully furnished…tents and an authentic glamour camping experience, complete with a charcoal BBQ grill and exquisite comfort. If enjoying luxury under a sea of stars is your kind of thing, consider Canopy Tribes your top accommodation choice when in Johor.
Psst, not many people know about this place…
2. Themed Parks and Fun Towns, Across Johor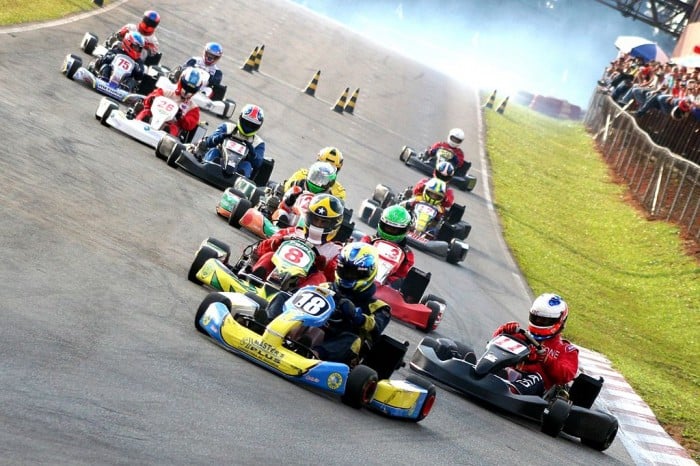 Image credit: Claudio PlanetKart
No, I'm not talking about Legoland. Forget that for a second, okay. Apart from Legoland, there are quite a few themed parks and fun towns in Johor. In Nusajaya, you can find the Sanrio Hello Kitty Town which is, as the name suggests, an entire town dedicated to the popular cartoon character. If Hello Kitty is not your thing, then head on over to the Angry Birds Activity Park in Johor Bahru! Don't like cartoons in general? Don't worry, for fun, head over to the PERMAS Go Kart arena which features a 1.4km long race track! Whether it's silly fun or adrenaline rushes you're after, you'll probably be able to find it in Johor if you know where to look!
Also read: 15 Incredible Photos of Islands and Beaches You Won't Believe Are in Malaysia
3. Firefly Valley Leisure Park, Kota Tinggi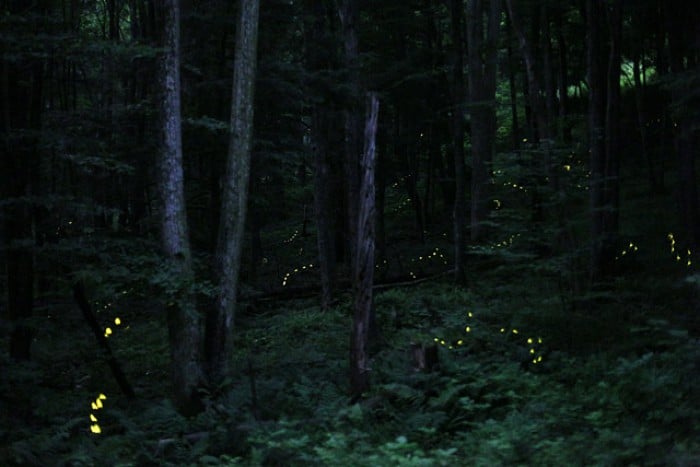 Image credit: Radim Schreiber
For the romantic of heart, be sure to check out Firefly Valley Leisure Park in Johor. There aren't many places in the region where you can find colonies of fireflies lighting up your surroundings, especially these days when so many of us live in concrete jungles. If you're looking for an night time experience that feels like a fairytale, then definitely hit this place up when in Kota Tinggi. One of the best experiences would be the firefly cruise which lasts approximately 40–50 minutes along the Johor river.
4. Zenxin Organic Park, Kluang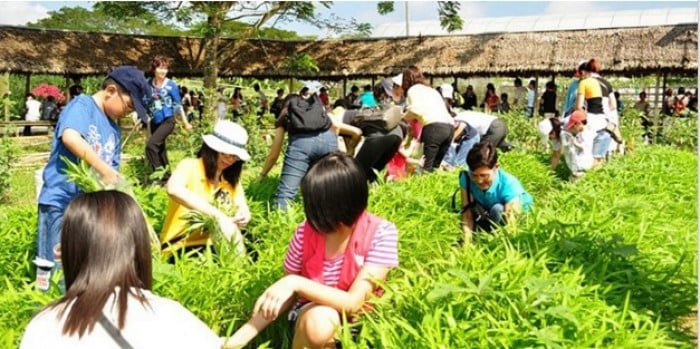 Image credit: Zenxin Organic
The 100 acre wide Zenxin Organic farm in Kluang is considered the biggest organic farm in Peninsular Malaysia. Offering scenic views and a great escape from city life, Zenxin Organic Park operates as both an educational and recreational facility. Visitors may choose to join a tour of the park, explore the premise on their own, sample deliciously fresh organic fruits and visit greenhouses as well. The park also has a restaurant, produce market and flower nursery. So for good family fun away from the busy city, Zenxin Organic Park is certainly worth a visit!
5. Desaru Ostrich Farm, Desaru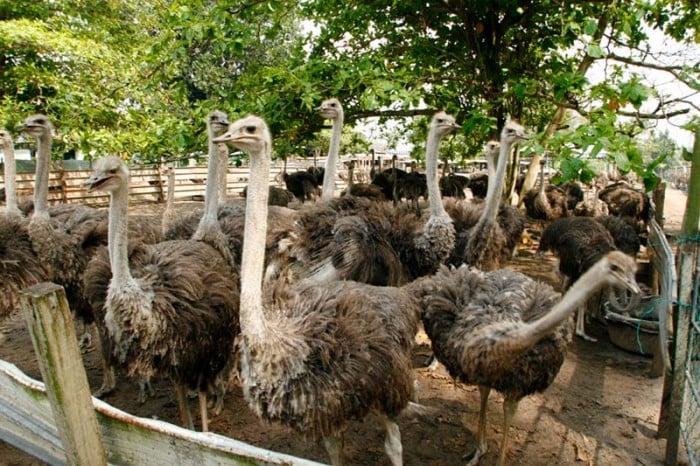 Image credit: Virtual Malaysia
Desaru is a beach and resort area in Kota Tinggi which is generally known as the Gold Coast of Malaysia. In addition to water theme parks and resorts, there is also an ostrich farm which houses over 100 ostriches. At the farm, a local guide takes visitors through the daily ins and outs of the business. From watching ostriches lay their eggs to the incubation process and even to touching the birds, visitors at the farm are able to get close and personal (watch those fingers!) to the big birds. There's also a souvenir shop selling arts and crafts made from ostrich egg shells and even dried ostrich meat, if you can handle eating ostrich meat  whilst being surrounded by ostriches, most of which will probably be staring at you with big, googly eyes.
6. UK Argo Farm, Kluang
Image credit: Green Holidays
Okay, I swear, this is the last entry on the list concerning animals and agriculture, but the UK Argo Farm deserves a mention for being a top destination in Kluang (and no, it's not located in the UK, nor is it related to Argos, which is a UK retail company). Of course, after visiting ostriches, in order to be fair to all animals, you should also visit goats and sheep! Boasting scenery which makes it a worthy entry on the list of places that look like New Zealand, UK Argo Farm is a large scale farm specialising in sheep and goat dairy products. Visitors are treated to the process of feeding and maintaining the sheep, and also the process of extracting milk. You could also cuddle a baby goat if you want as part of the experience. That's not too baaaaaa-d.
7. Kluang Food Street, Kluang Mall, Kluang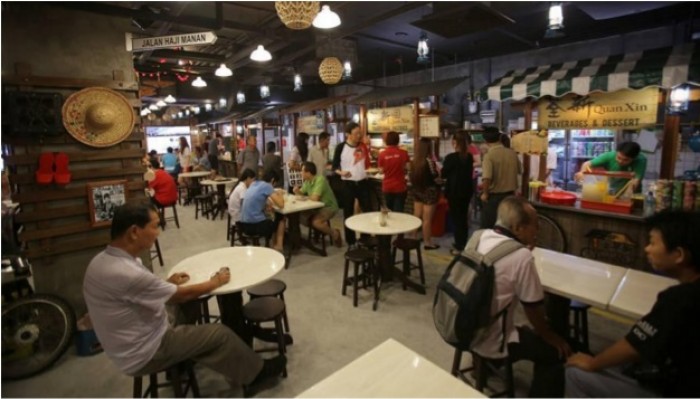 Image credit: Maju Padu
The Kluang Food Street is not an actual street per se. It is located on the lower ground floor of the Kluang Mall, a hidden gem of its own in some ways. The Kluang Food Street is basically a food court/centre that is modelled after a typical Malaysian hawker street from the 50s and 60s. The décor of the place feature portraits of classical movies and local performers. Apart from the nostalgic atmosphere, the food served is good and the price is reasonably cheap! So if you're in for a good place to eat and are looking to do some shopping thereafter, definitely stop by the Kluang Food Street in Kluang Mall!
8. Pulau Rawa (via Mersing Jetty)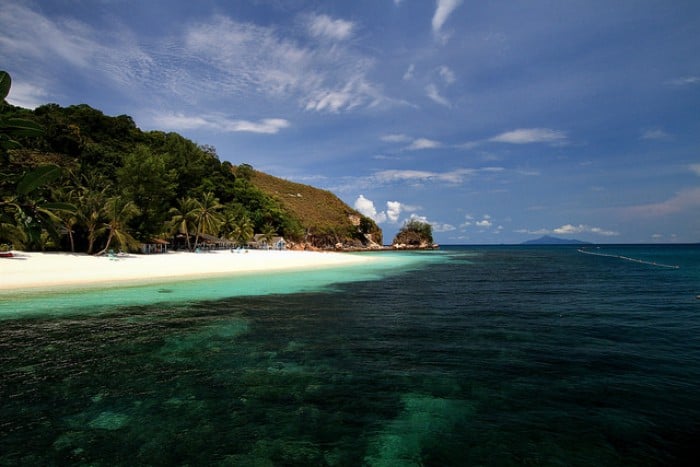 Image credit: Phalinn Ooi
The very fact that an island as pristinely beautiful as Pulau Rawa managed to slip under the radar is proof that there is still much to see and do and explore in Johor, and in the wider sense, Malaysia. Breathtaking scenery, a soothing ambience, crystal clear water and gentle sea breezes all make Pulau Rawa one of the very top island getaway destinations in Malaysia and a true hidden gem of Johor. Fishing is strictly prohibited and the Rawa resort on the island practises a strong 'reduce, reuse, recycle' policy, ensuring that Rawa island remains one of the few true untouched gems of nature left in Peninsular Malaysia.
Also read: Legoland, Johor Bahru: Most Exciting Place on the Planet
So, if you're reading this in your office right now, you're probably very interested in visiting these places. You wouldn't finish reading this article otherwise, no? So come on over, Johor is not just Legoland! Try one of these hidden gems (why not all) and you'll be sure to come back for more!