Say goodbye to water parks with lazy rivers and lame water slides as this list gathers some of the most extreme water park rides from all over world. These crazy rides can get pretty intense and push the limits of your adrenaline threshold. Do you dare to take the plunge?
1. Citta Del Mare Holiday Village, Italy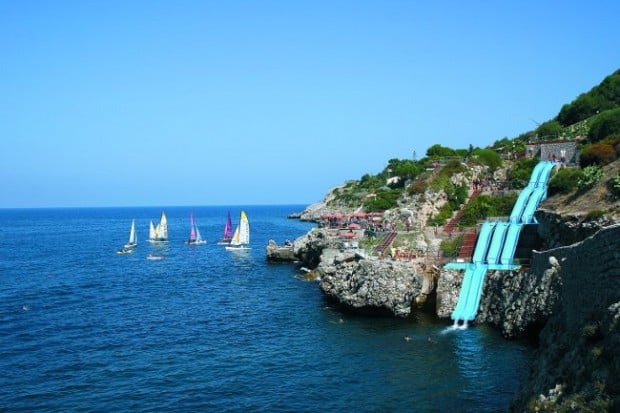 Image credit: The Nomad Lad 
This ride is exactly as it looks – riders slide right into the Mediterranean. This three levels of fun is built at the sides of the cliffs and guarantees a scenic view of the Gulf on the way down. Be prepared for this to be your coolest water slide 'benchmark' as nothing is going to come close to its uniqueness.
2. Brain Wash, Wet n' Wild, Orlando, U.S.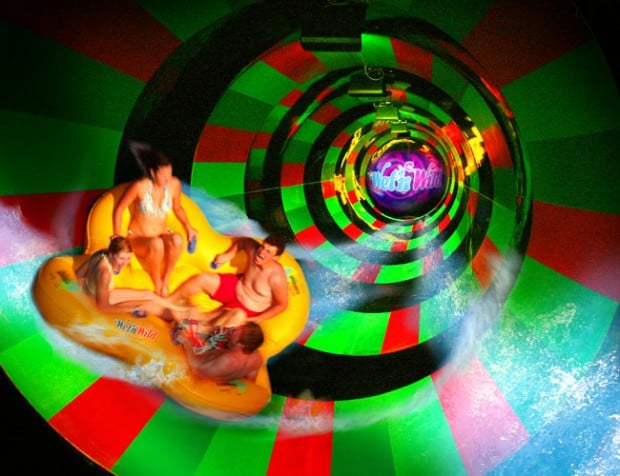 Image credit: Wetnwild 
True to its ride name, riders are brainwashed with lights, sounds and videos as they are taken on a six-story drop through the dome-shaped funnel and into the landing pool. With only the float's handles as your safety weapon, hold on tight as this ride sends you on multiple twists and turns along the way before the exhilarating 16 metres plunge.
3. Twister and Speedy, Sonnentherme Lutzmannsburg Thermal Spa, Austria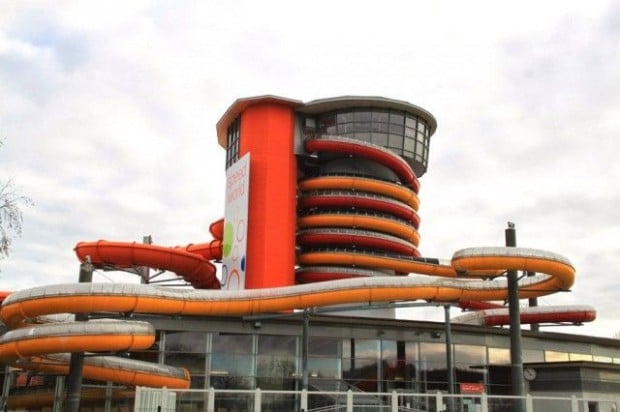 Image credit: Marleen Bosch
These two slides complement each other perfectly with speed and distance – Speedy sends riders on an exhilarating acceleration through a seven-story high tubing while Twister, on the other hand, extends over 200 metres and is one of the longest indoor slides in the world. With the multiple loops along the ride, get ready to be dizzy-headed by the time you have spun your way through the endlessly-winding tubes and out into the landing pool.
4. Insano, Beach Park, Brazil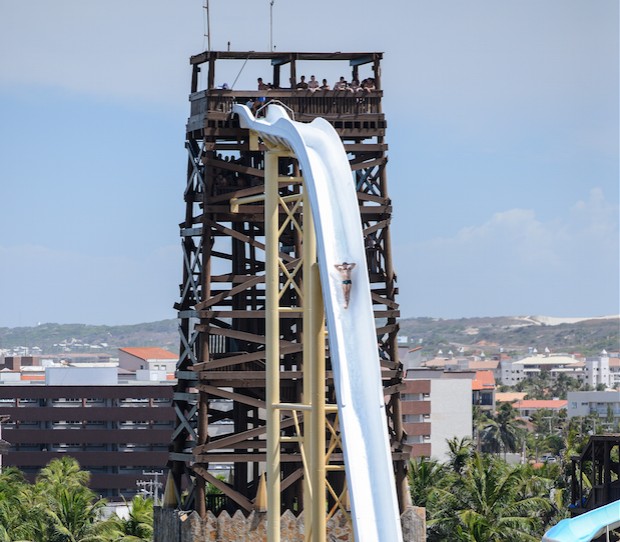 Image credit: Beach Park
The ride everyone is anticipating for in this list – the tallest water slide in the world. Insano is 40 metres high and the slide is insanely angled to provide such a steep velocity that riders' bodies to not touch the slide until they have reached the bottom. Are you up for it?
5. Scorpion's Tail, Noah's Ark Water Park, Wisconsin, U.S.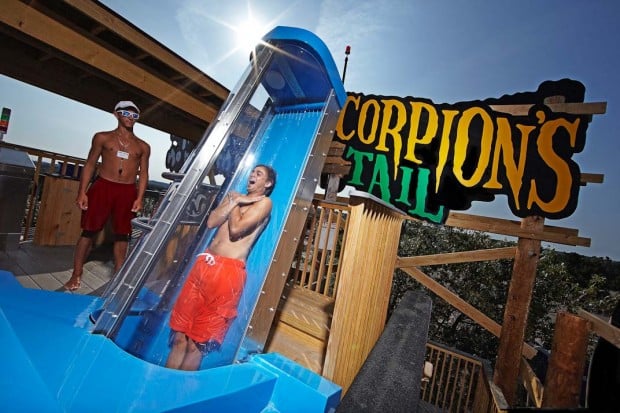 Image credit: Buckettripper 
Think launching off a water slide on a float is too mainstream? Try standing atop this 33 metres tower, having the floor catching you off guard and vanishing beneath your feet. After dropping off the platform and free falling vertically, riders are winded into the crazily twisted chute at an extreme speed.
6. Leap of Faith, Aquaventure, Paradise Island Resort, Bahamas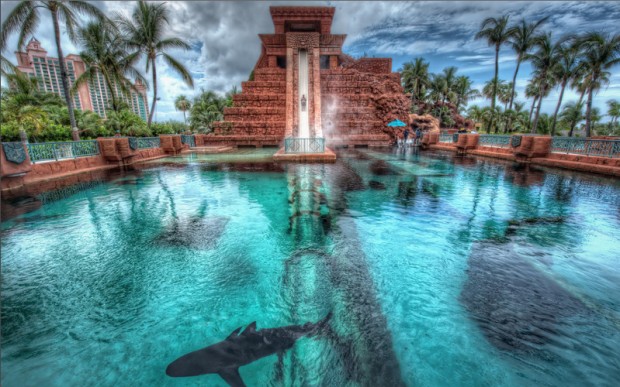 Image credit: Fansshare
This ride is probably the most extraordinary one in the list. Starting off like any other water slide, riders are delivered underwater once they reached the bottom of the slide. They are sent for a spine-chilling yet absolutely unforgettable experience of sliding through a clear tube underwater which is surrounded by live sharks. These frightening mammals are definitely going to surge your adrenaline level to its maximum!
7. Cliffhanger/F5 Twisters, Schlitterbahn, Texas, U.S.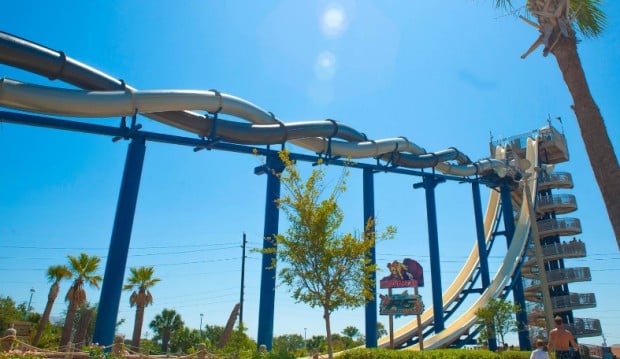 Image credit: Schlitterbahn
Like, Twister and Speedy, this double slide are evenly matched. Riders can either opt for an insane seven-story plunge down the Cliffhanger or twist through F5 Twisters' intertwining tunnels. For the latter, the tunnels are even bedazzled with lights and fog for an extra thrill.
8. Python, Daemyung Resort, South Korea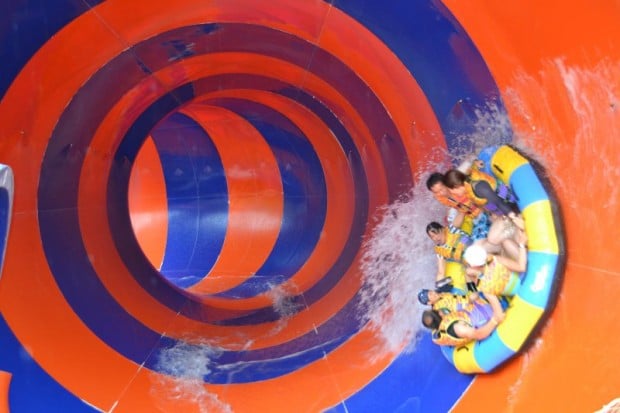 Image credit: Sherayx
Do not be fooled by this seemingly ordinary water slide. Python is actually termed one of the world's scariest water slides. It has multiple extreme tilts in the tightest of corners and its enclosed sections are bound to send riders sweeping up the sides. This underrated ride is definitely a must-try.
9. Cannonball Loop, Action Park, New Jersey, U.S..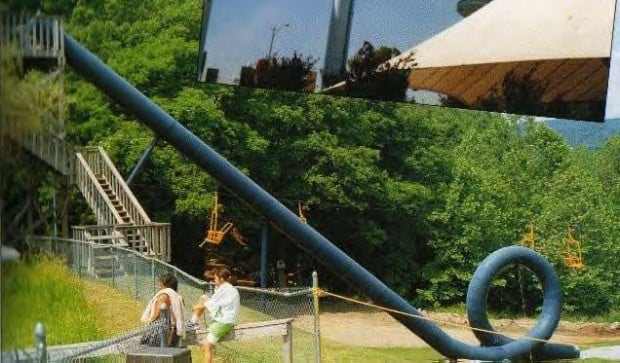 Image credit: DelGriffith
This ride is so dangerous that it was almost never functioning. Looking at the dubious structuring of the slide, it is no surprise that Action Park was infamous for its risky rides which are almost pushing the limits of Physics. A handful of fatal incidents were actually recorded in this amusement park. Riders of Cannonball Loop are carefully instructed on how they have to position their bodies and then manually hosed down with cold water. We are not even sure how they are going to make it through the loop. Warning: only for riders who are willing to gamble with death.
10. Epic Plunge, Norwegian Cruise Line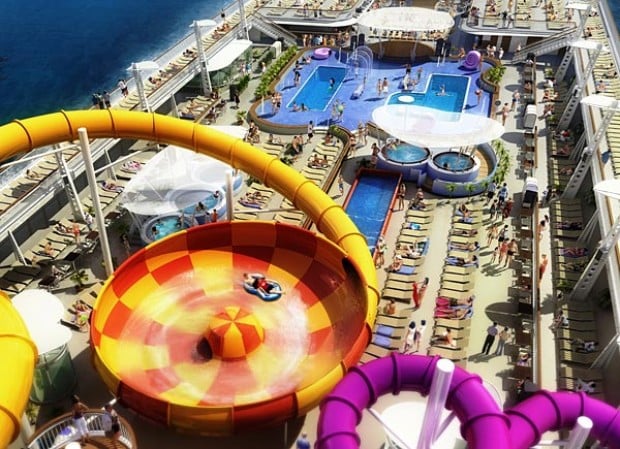 Image credit: Sky Blue Cruising
Believe it or not, this ride is actually situated on a cruise ship. Epic Plunge traverses riders through 70 metres of twists and turns, with some even jutting out of the cruise and hovering over the ocean. After the exciting ride through the tubes, Epic Plunge shoots riders out into the giant bowl before they eventually get sucked into the hole and plunge into the deck pool.
11. The Mammoth, Splashin' Safari, Indiana, U.S.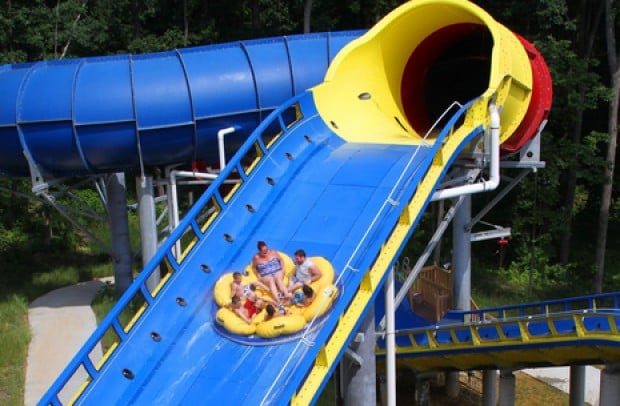 Image credit: Holidayworld
The six seater raft ferries riders along the world's longest water coaster, extending over 500 metres. Though it is not a fast moving water ride, Mammoth guarantees to soak riders thoroughly as it glides through floods of water. There are also seven drops altogether, with the highest reaching a height of 20 metres.
12. Head-first Racer, Chimelong Waterpark, China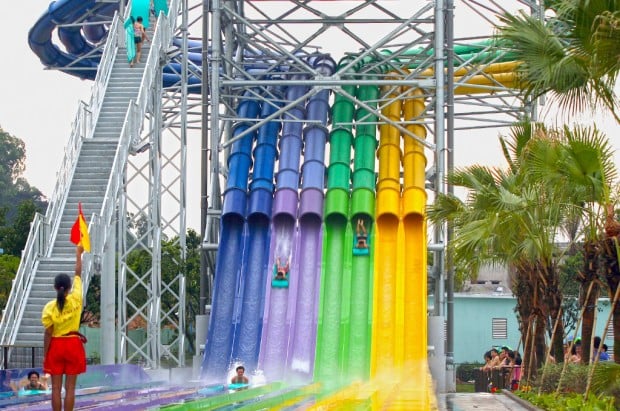 Image credit: White Water
This classic racer water slide ride is bound to bring out the competitive spirit in us. Riders are to select one of the eight colourful slides to go on and start the race by completing a round at the top before they dive straight down the open flumes. Ready for the chase?
13. The Cyclone, World Waterpark, Canada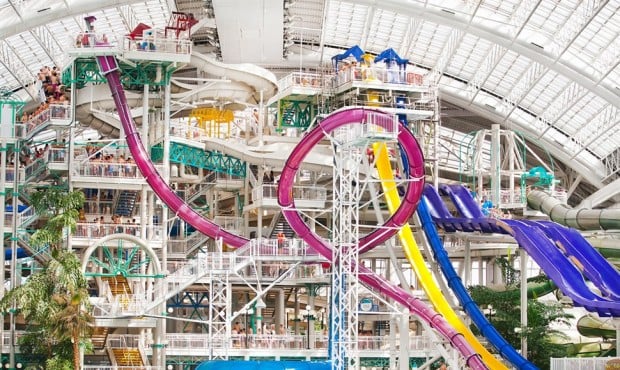 Image credit: Mall Database
World Waterpark is an indoor water park in West Edmonton Mall in Canada and visitors can access it all year round. This particular ride is the first slide in Canada to have a 360-degree loop. Riders are dropped into a gripping five-story free fall before they are shot into the gigantic loop at an intense speed.