Singapore might be famous for its flashy bars atop the rooftops of its iconic hotels. But did you know there's a growing number of speakeasy or 'speakeasy-style' bars with arguably even better vibes and drinks to boot? 
Tucked away in nondescript corners of otherwise busy MRT stations or old and unassuming malls is a thriving cocktail culture that can best be found in the city's "secret" bars. Complete with hidden entrances and unique, brilliantly hand-crafted cocktails, these are the watering holes for the discerning drinker.
So, without ado, here are the 11 best "hidden bars" in Singapore you should definitely check out!
Oxwell & Co, a British pub that occupies all four stories in a shophouse, might be well-known for its classic British pub grub. But have you heard of the bar within their dining/bar area on its third floor? Called the Apothecary, its entrance is through a hidden door, which will lead you to a room styled like a medieval medical clinic from the past.  Homemade 'medications' include Fennicilin which consists of whisky, Croak and Wheeze Relief, Butterfly Corpse Effect and Sailor Painkiller, all concocted with a rum base. 
Address: 5 Ann Siang Road, Singapore 069688
Opening hours: Open daily from 12am – 12pm
Live performances are held in this bar and their cocktails are of the same theme, spanning from ragtime to jazz music. Here's how to locate it: enter the bar through an unmarked wooden door located to the left of the entrance of The NCO Club. 
As you soak up the 1920's atmosphere of the environment, do seek out their cocktails. You'll find cool twists to conventional drinks like The White Lady (which uses almond syrup instead of the usual sugar.) The Mezcal Negroni has a refreshing smoky tint to it and Ways of a Diva is inspired by Bessie Smith infused with Mozart Dry Chocolate, pear and cinnamon. 
Address: 32 Beach Road, Singapore 189764
Opening Hours: Wednesdays to Saturdays 830pm to 1am (closed on Sundays to Tuesdays)
3. Pinball Wizard 
Throwback to the retro and 90s era with this brand new bar that is tucked away in Singapore's Sim Lim Square, an old mall famous for its electronic stores. As its name suggests, there are pinballs machines for you to relive those nostalgic days of arcade games and even a dance floor for you to show off your moves with hits from the 90s playing.  
The cocktails are just as special: Pinball Wizard is the first bar in Singapore to offer eco-spirits. There's also Instagram-worthy (and delicious) glitter shots and fun flavours like the Peanut Butter & Jelly which is created with raspberry and hazelnut liqueur with vodka and cranberry juice. This bar just opened only in September, which makes it the newest watering hole on the list! 
Address: 1 Rochor Canal Road, #B1-29 Sim Lim Square, Singapore 188504
Opening Hours: Tues & Wed 6pm-1am, Thurs & Fri 6pm- 3am, Sat 6pm-4am, Sun & Mon Closed 
This award-winning bar is nestled in the basement of an unnamed building in the back alley of the intersection of Club Street and Ann Siang Hill. Enter through the frosted glass door entrance on the first floor and take a flight of stairs to its basement – therein lies the Operation Dagger. 
We recommend trying their Caramello Koala with caramel-filled olive, Oyster ice cream with sherry and matcha. Its mouthwatering food menu also features savoury bar bites and dishes such as mashed potatoes with crispy kale, parmesan and truffle go perfectly well with the drinks. Given how boisterous the streets of Club Street and Ann Siang can be on a weeknight among the yuppie crowd, this speakeasy is a refreshing haunt for a brilliant tipple and scrumptious food. 
Address:7 Ann Siang Hill, #B1-01, Singapore 069791
Opening Hours: Mon to Sat 6pm-12am, Sun Closed
Although it's conveniently located in the Forum The Shopping Mall, you will not be able to find this bar on the directory. Find Uma Uma Ramen however, and take a flight of stairs underground where you'll find a Japanese menu board with paper lanterns – that is the entrance of the bar.
Here, you can expect an extensive collection of sake and Japanese snacks like Mentaiko Cheese Balls, Wagyu Beef Cubes (a personal favourite!), but also their special cocktails including Live.Love.Passion, a cointreau drink, and The Smith's which has a delicious lychee flavour kick.
Address: 583 Orchard Road, Forum the Shopping Mall, #B1-39, 238884
Opening Hours: Mon to Thurs 6pm-12am, Fri & Sat 6pm-1am, Sun Closed
Along one of the busiest train stations in Singapore, lies a bar with windows so high up that you'll almost forget you're on a popular commuting platform in the city. During the day, the bar is segregated from the hustle and bustle of the city with a black door, providing a little oasis. The Secret Mermaid features a small bar counter with shelves upon shelves of American spirits like whiskeys, ryes, and bourbons.
Custom cocktails such the Spiced Blueberry Mojito and apple vodka which have been distilled from renowned KOVAL Distillery and Catoctin Creek Distilling Company can be found here. They also have delicious snacks for you to order as well, such as the Truffle Mushroom Poutine Fries and Pulled Duck Buckwheat Corn Dogs. 
Happy Hours are from 5-7pm and you can also enjoy its delicious oysters at SGD$2/piece during those hours or with a regular priced drink then. 
Address: 10 Collyer Quay, B1-09, Ocean Financial Centre, 049315
Opening Hours: Mon to Fri 5-11pm, Sat & Sun Closed
The Spiffy Dapper is a no frills watering hole alike to a tavern with a brilliant selection of beers, gin and tonic. In the day, it operates as a regular coffee house before transforming into a hidden bar come nightfall. You will have to locate the 'Dapper Coffee' signage along Amoy Street to find the staircase which leads up to the second floor and into the bar.
While they used to be known only for their drinks, its food menu has also proven to be quite an appetizing perk for customers now. The Spiffy Dapper Burger is delectable beef patty and baked avocado burger creation, guaranteed to fill your stomach before you take on the drinks. Drugstore Cowboy Singapore Sling, Sheik on the Level gin are also other crowd favourites you cannot miss!
Address: 73 Amoy St, Second Floor, Singapore 069892
Opening Hours: Mon to Thurs 5pm-1am, Fri 5pm- 2am, Sat 6pm-2am, Sun 7pm-1am 
The Other Room sits quietly behind a curtain at Marriott Hotel. Camouflaged into a wall is a doorbell that you need to ring to enter. Be dazzled by the disco ball and music playing when you enter!
The Other Room prides itself on its in-house casking technique by Dario Knox, which houses rum and whiskey in different wood barrels, ultimately bringing out unique and authentic flavours. Midnight in Paris is a sweet choice; foamy with a refreshing floral and lemony taste. You could also its 'smokier' drinks like the Winston Churchill and Fidel Castro. 
Here's something for the ladies: get ready to be pampered when you come in on Thursdays from 830 pm, as you will receive complimentary oysters when you order its cocktails!
Address: 320 Orchard Road, #01-05 Marriott Tang Plaza Hotel, 238865
Opening Hours: Sun to Thurs 6pm-3am, Fri to Sat 6pm-4am
Missing Japan and its incredible drinking culture? This craft cocktail bar, run by veteran bartender Anthony Zhong (of Jigger and Pony) will give you exactly that. Boasting of over 180 cocktails (but no menu) and delicious izakaya-style snacks such as duck curry udon and shisamo tempura with chips, you're definitely in for a treat. Do request for his trademark Negroni as well as the Granny's Old Drink! We also love the cozy and intimate bar space, which feels and looks like someone's home kitchen. 
Address: 179 Telok Ayer St, Singapore 068627
Opening Hours: Mon to Sat 6pm -12am, Sun Closed
For refreshing, fruity and eye-catching concoctions, head to Bitters & Love! This spot is admittedly slightly hard to find: once you locate the Shoebox Canteen, go behind the glass panels which separates the cafe and bar (do remember that the bar only operates in the evenings!)
Their signature drink is the Kaya Toast Cocktail which is a mix of rum, tea and yes, good ol' Kaya. Be amazed by their unusual presentation of drinks which include a passionfruit whisky served in a plastic bag much like the coffee takeaways you can get from hawker centres. Other crowd favourites include mangosteen-flavoured The Queen, pineapple-infused Festive Season, and the Banana Pancakes which as you probably guessed, is banana liqueur with maple syrup. All drinks are prepared with dashes of bitter flavours to hit that sweet spot on your tongue.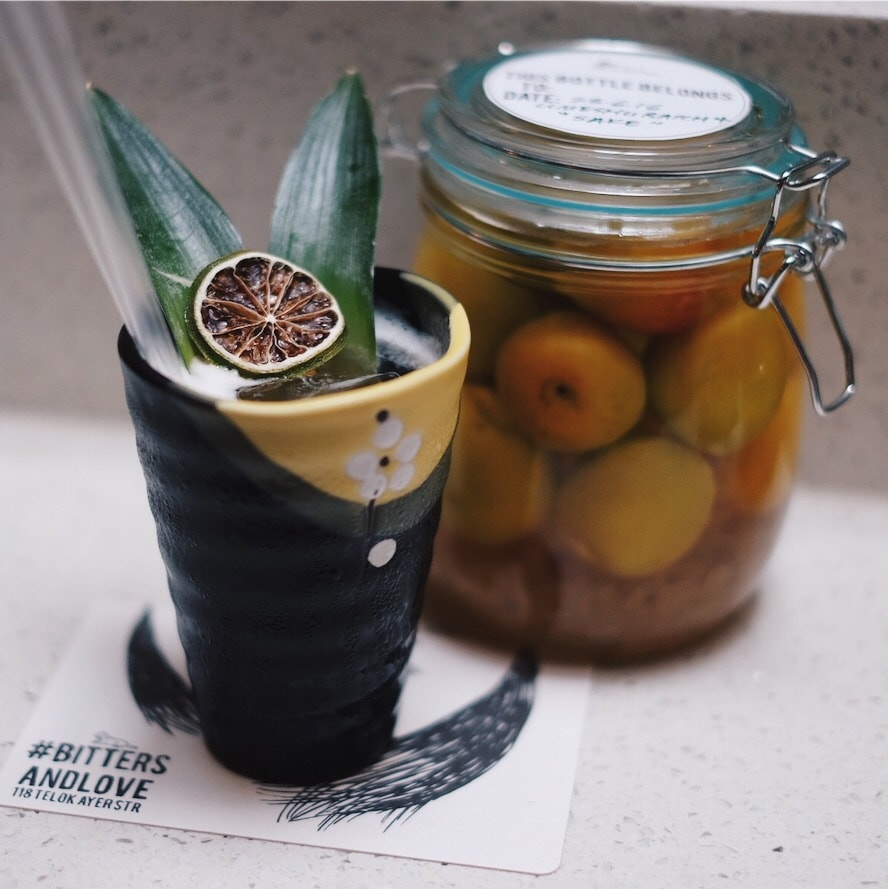 Image Credits: Bitters & Love
Address: 118 Telok Ayer St, Singapore 068587
Opening Hours: Tues to Thurs 6pm-12am, Fri 6pm-2am, Sat 7pm-2am, Sun & Mon Closed
If you're looking for nostalgic, old school vibes and uniquely Singaporean cocktail concoctions, look no further than Ah Sam Cold Drink Stall. 
This bar is hidden amongst the shophouses along Boat Quay, in a building with a relatively obscure staircase which you need to climb. Once there however, you can enjoy the sights of the city over the Singapore River. 
With wooden benches and wooden bulletin boards, you will feel like you are transported back into the good old 'Kampong' days. Sip on its chrysanthemum gin and even a hot chocolate whiskey, which will no doubt bring back childhood memories and leave you wanting more. 
Address: 60 Boat Quay, Singapore 049848
Opening Hours: Mon to Thurs 6pm-12am, Fri-Sat 6pm-2am