Think you're a know-it-all when it comes to German food and drinks? Think again! German cuisine is not all about bratwurst and pork knuckles served up with pints of beer.
In line with the 'Culinary Germany' campaign launched by German National Tourism Board, we dive deep into the traditional German cuisine and discovered ten unusual local delicacies that showcase the multitudinous array of different regional cooking styles. From dishes like white asparagus with Hollandaise sauce to raw minced pork – are you game to try them all?
1. Hackepeter or Mett
We all know that Germans are huge meat lovers! Thus, it is hardly surprising that Mett is a popular gastronomic gem in Germany. Mett is a dish of raw minced pork that's purchased from the butcher. It is also known as hackepeter in northern Germany.
Fun Fact: Hedgehog-shaped mett is often served at birthday parties and buffets. This particular presentation of mett was especially popular during the 1970s.
2. Sülze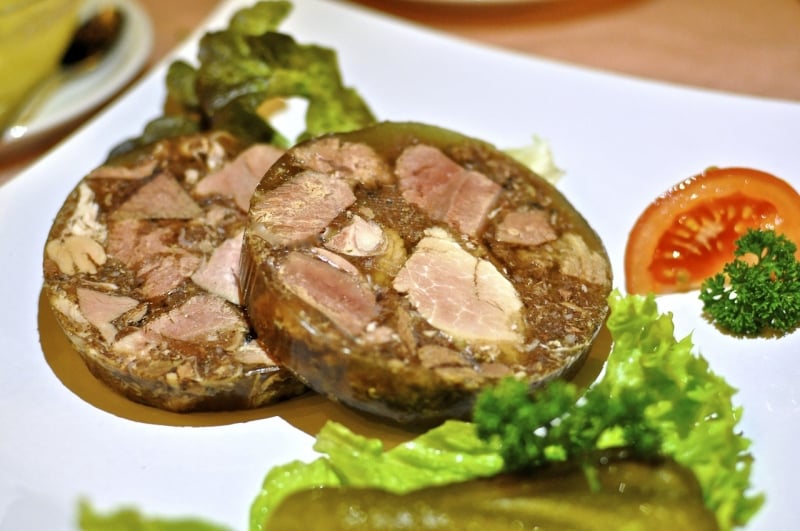 Although Germans call it "head cheese", Sülze does not contain cheese at all. In fact, sülze is a jelly-like cold cut dish that is most commonly made using the meat from the head of a pig or a calf. Yes, you read it right – this dish may sound bizarre but it is nonetheless, a well-liked lunchtime dish in Germany. Don't forget to pair it with a pint or two of German crystal wheat beer, Kristallweizen!
3. Handkäse mit musik
A culinary speciality of Frankfurt am Main, Handkäse mit musik is a German regional sour milk cheese that has a pungent smell that will keep any foreigner miles away.
Literally 'hand cheese with music' when translated into English, the name of this unassuming appetiser originated from the fact that it was handmade and caused flatulence when eaten with chopped onion toppings. Germans traditionally drink Apfelwein (apple wine) along with it.
4. Milbenkäse
Milbenkäse is German speciality cheese that contains living mites. Produced exclusively in the village of Würchwitz, these quark cheese balls are coated with caraway and salt and left to dry in a wooden box with rye flour and cheese mites for three months. The mites will then excrete digestive juices that will ferment the cheese, creating a distinctive zesty taste.
5. Spargel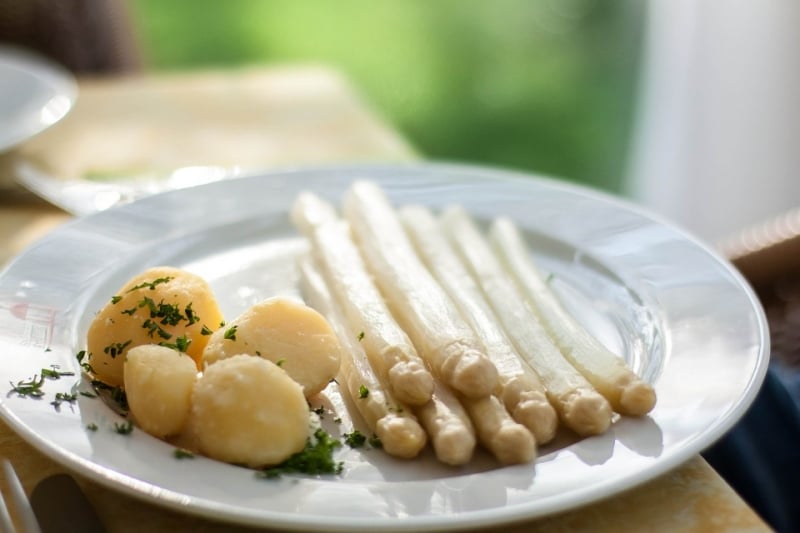 We know that Eggs Benedict with hollandaise sauce is a match made in heaven but what about Spargel (white asparagus with hollandaise sauce)? Germans are obsessed with this combination to the extent that they can consume up to 125,000 tonnes of spargel for three months straight during the Spargelzeit season.
6. Leberwurst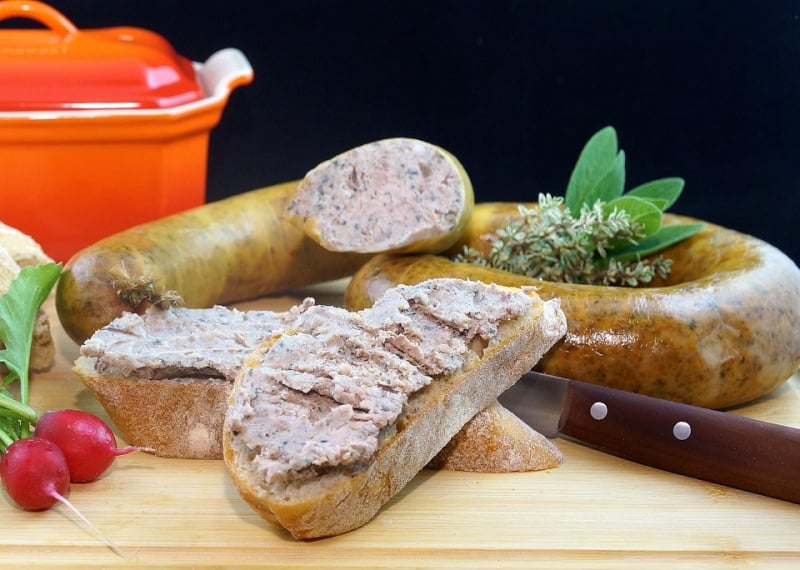 The thought of eating offals might make some people feel queasy but the Germans definitely seem to have a stomach for it. Leberwurst, a liver sausage filled with calf fats and a variety of spices, is a popular breakfast staple in Germany.
Different regions in Germany cook up their own unique recipes for leberwurst – ask any German and he should be able to differentiate the region just by the taste of the leberwurst. In Thuringia, special ingredients including marjoram and ground peppers are added.
7. Speck
Pork lard fans, this is for you. Literally pure pig stomach fats, Speck is yellowish-white in colour and can be well-disguised as American Swiss cheese on a cheese platter. Eat it the German way by spreading them on bread and pastries!
8. Wiener-Würstchen
This is bratwurst with a refreshing twist – hot dogs in a jar! With a salty tang and a surprising pop when you sink your teeth in, Wiener-Würstchen is a delightful snack that even foreigners would fall head over heels with. Just be careful not to drink the liquid in the jar – it tastes like pure, liquid sodium.
9. Beer Cheese Soup
You might get drunk from drinking this unusual concoction made with leftover stale beer, sugar, milk, egg yolk and cinnamon. The Germans really do love their beer, don't they? 
10. Dickmilch
If you fancy blue cheese or sour cream, you might love Dickmilch, a thick and sour cultured milk found in Germany. Mix it with whipped cream for a delicious afternoon treat!
Daredevils, make this your checklist when you're in Germany. Guten Appetit!