Ho Chi Minh City is a young, dynamic city, with a lively and modern life. In recent years, this city has attracted a broad range of visitors to visit and experience. This has led to a growing number of hotels in Ho Chi Minh City. If you do not know which hotel to choose for your forthcoming vacation or business trip in Ho Chi Minh City, here are some ideas of the best luxury hotels in Ho Chi Minh City!
1. Pullman Saigon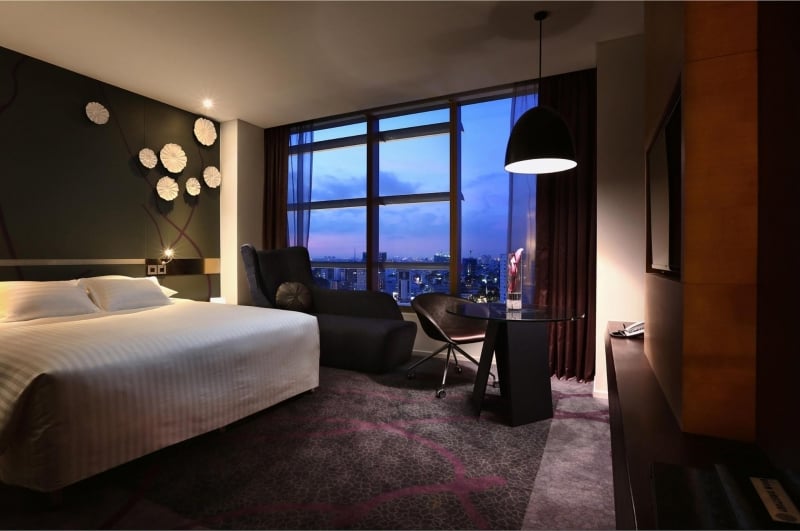 Pullman Saigon Center has 306 spacious guestrooms, including 17 opulently-appointed suites – all of which offer guests an intimate space ideal for resting, relaxing and working. The rooms range in size from 34 to 160 square meters and are outfitted with urban contemporary décor.
The stylish furniture and amenities provide comfort and functionality for all types of travelers, featuring Pullman signature beds, separate rain showers, cutting-edge designed bathtubs, complimentary high-speed Wi-Fi internet, coffee/tea making facilities, a 40-inch flat LED screen with international channels, and multi-function panels that can integrate the room's entertainment system with guests' own devices. The highlight of the rooms is the floor-to-ceiling windows that offer spectacular views of the city's skyline.
Address: 148 Tran Hung Dao Boulevard, District 1, Ho Chi Minh City, Vietnam
2. InterContinental Saigon Hotel & Residences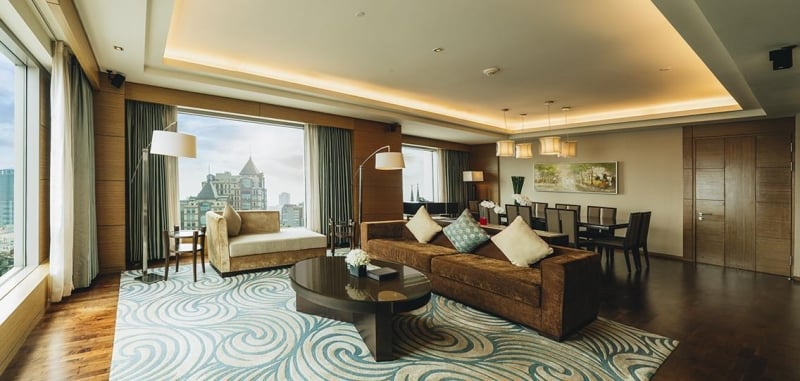 As the luxury landmark in the heart of Ho Chi Minh City's buzzing Central Business District, InterContinental Saigon Hotel & Residences presents the most iconic historical destinations like Notre Dame Cathedral, Saigon Opera House with just a few steps away. Here we celebrate Saigon's multicultural roots, giving leisure and business travellers a look at the French colonial buildings set alongside sleek, modern skyscrapers, all interspersed with vibrant Vietnamese culture.
Recognized as Vietnam's Leading Hotel in 2018 by World Travel Awards, InterContinental Saigon Hotel, with 305 beautifully furnished guest rooms, has been proven to be the stylish choice for international business leaders and discerning travellers who value classic elegance with a contemporary spirit.
Moreover, InterContinental Saigon Residences, also recognized as Vietnam's Leading Hotel Residences in 2018 by World Travel Awards, offers the "Live, Work, Entertain" lifestyle to both long-term and short-term visitors. With exquisite and spacious apartment floor plans and layouts, exceptional facilities, luxury services, and insider city information, these 260 premium apartments let residents experience Vietnam's vibrant city on the best terms, however long the stay.
Address: Corner Hai Ba Trung St. & Le Duan Blvd., Ben Nghe Ward, District 1, Ho Chi Minh City.
3. Lotte Legend Hotel Saigon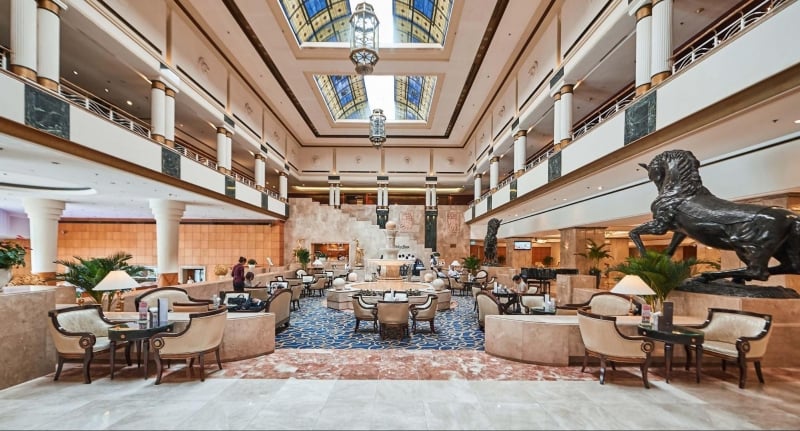 Fronting the scenic Saigon River and perfectly locating on Ton Duc Thang Street, Lotte Legend Hotel Saigon is one of the most beloved 5-star hotels in Ho Chi Minh City. Within a few minutes walking distance to major shopping, dining and commercial addresses and points of interest such as the famous Opera House, Dong Khoi Street, and Le Thanh Ton Street.
The hotel combines natural beauty and spectacular opulence to provide the best for the discerning traveller. The breathtaking "city-resort" setting and its distinctive architectural interior give one a feeling of luxury and tranquillity. The hotel's six chic bars and restaurants will certainly tempt guests into lingering a little longer. This is the perfect place for conducting business. The meeting and banquet facilities are well equipped to cater to your every need.
Address: 2A – 4A Ton Duc Thang, District 1, Ho Chi Minh City, Vietnam
4. Fusion Suites Saigon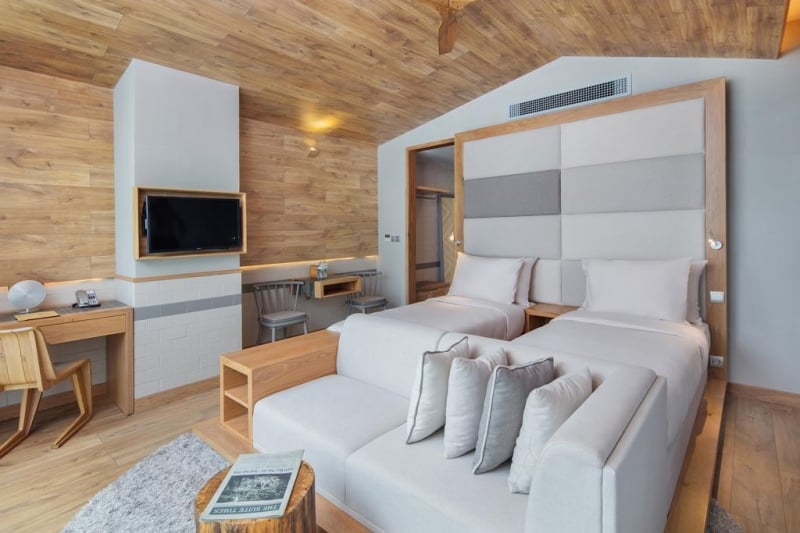 Fusion Suites Saigon Hotel is located in District 1, the busy center of Ho Chi Minh City. With a convenient location, you can visit all the famous places in the city easily.
Fusion Suites Saigon Hotel consists of 71 suites offering three main options, which are Suite, Corner Suite, and Family Suite. Additionally, each suite is equipped with extremely modern and stylish furnishings. In what must be the first of its kind, daily spa treatments are included in the room rates, which gives you yet another reason to stay here.
Address: 3 – 5 Suong Nguyet Anh Street, Pham Ngu Lao Ward, District 1, Ho Chi Minh city.
5. Sherwood Suites Saigon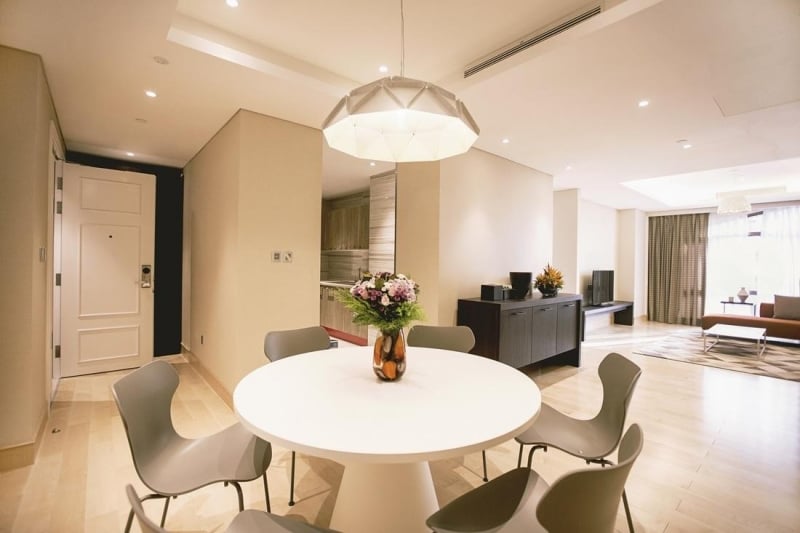 Situated at the central location of Ho Chi Minh City, this hotel is considered to be the perfect combination of convenience with luxurious amenities and outstanding service, giving people a feeling of warmth and comfort as if they are in their own home, despite short-term or long-term stay.
Sherwood Suites Saigon features 157 suites, in which each kitchen space is fully equipped with high-class facilities and marble bathrooms. Additionally, all suites come with private balconies, a rarity in Ho Chi Minh City!
Address: Sherwood Suites Saigon, 192 Nam Ky Khoi Nghia, District 3, Ho Chi Minh City
6. Maison De Camille Boutique Hotel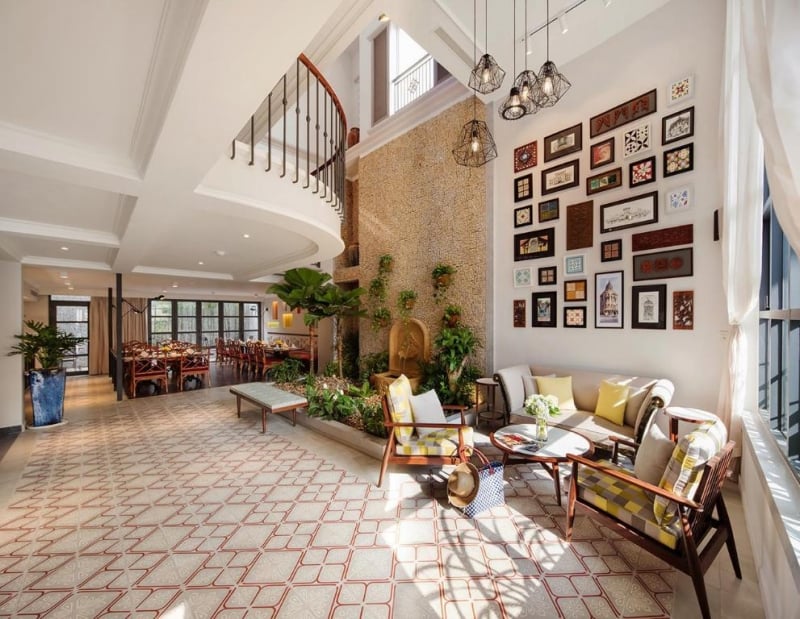 If you want to find a place with beautiful and quiet architecture but it is not too far from the city center, then this hotel will be a good suggestion. Maison De Camille Boutique Hotel is located in Ho Chi Minh City, a 10-minute walk from the Museum of Vietnamese History. This hotel has been designed in French Retro style architecture, equipped with advanced facilities and perfect services.
Maison De Camille Boutique Hotel includes nearly 19 rooms, its standard hotel room area ranges from roughly 30 m2. All rooms have balconies and windows overlooking the city, provided with air-conditioners with a mini bar and a flat-screen TV.
Address: 174/21 Dien Bien Phu Street, Ward 17, Binh Thanh District, Ho Chi Minh City, Vietnam
7. The Reverie Saigon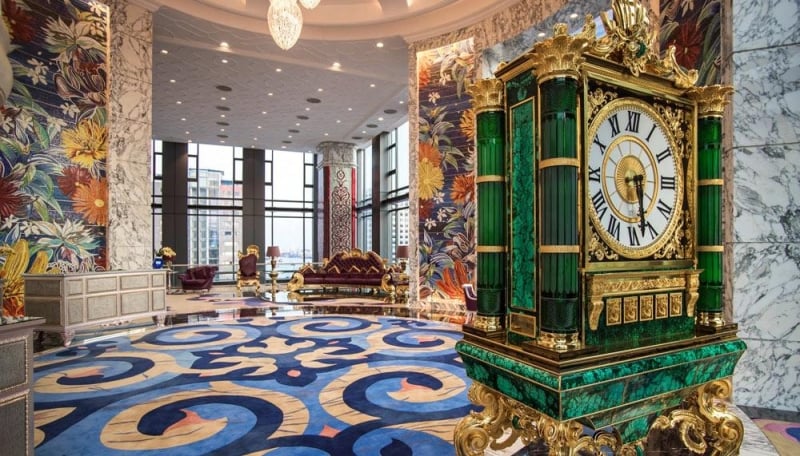 This hotel is located in Times Square, which is famous for being the busiest urban area in the heart of Ho Chi Minh City. The first impression that The Reverie Saigon brings are its palatial designs, which are probably more opulent than a real palace!
The Reverie Saigon has 286 rooms, and facilities in each room at The Reverie Saigon contain sophisticated designs with unique masterpieces from leading Italian furniture brands. From each room, the guests can comfortably enjoy a panoramic view of the modern city by Saigon River.
With a luxury bar, top-class European and Indochina restaurants, modern spa rooms and world-class facilities, The Reverie Saigon Hotel is truly an ideal resting paradise for in-house guests.
Address: 22 – 36 Nguyen Hue Boulevard & 57-69F Dong Khoi Street, District 1, Ho Chi Minh City
8. Park Hyatt Saigon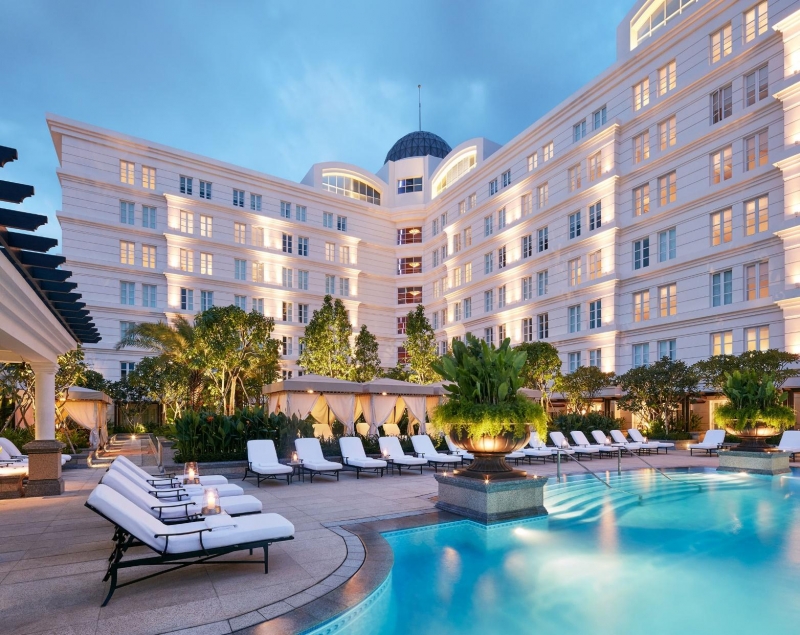 Next to Lam Son Square, having a convenient location and a view of The Saigon Opera House, the distance from Park Hyatt Saigon and Tan Son Nhat International Airport is about 7 km. Park Hyatt Saigon is a nine-storey, ivory building, which was refreshed to reflect its own image while still maintaining the original French architecture. The front area of ​​the hotel is decorated with colourful flower gardens and fountains, where you can take a walk in.
Park Hyatt Saigon has 252 hotel rooms, offering three main types which are standard, deluxe and suite. An attraction of this hotel is that all rooms are designed with warm colour tones, with Vietnam's traditional furniture and crafts weaved in.
Apart from these utilities, Park Hyatt Saigon also offers a wide range of facilities and services, such as spa service with seven treatment rooms, steam rooms, a swimming pool, a fitness center, meeting rooms, function rooms, and even babysitting services!
Address: 2 Lam Son Square, Ho Chi Minh City
9. Sheraton Saigon Hotel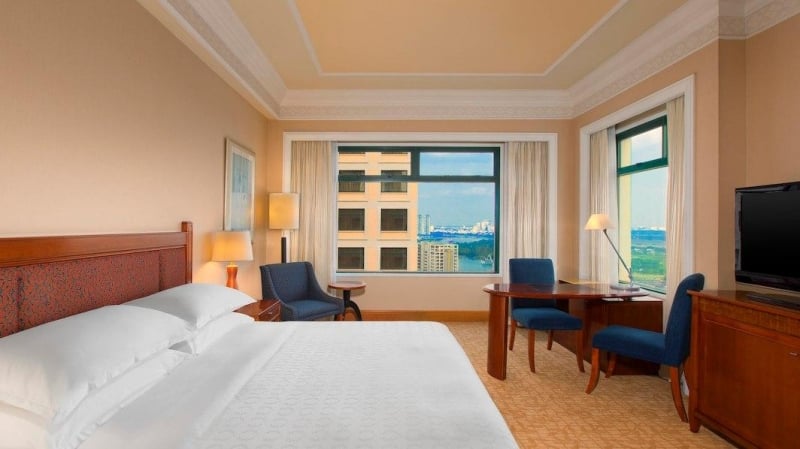 Located in the heart of Ho Chi Minh City, surrounded by shopping centers, entertainment areas, Sheraton Saigon Hotel is an ideal accommodation for leisure travellers or entrepreneurs. The hotel's recreational facilities include game rooms, an outdoor pool, a fitness center and spa.
The hotel has about 485 rooms and all rooms are fitted out with modern and comfortable facilities. Main hotel room types that Sheraton Saigon Hotel provides are Deluxe, Club Deluxe, Studio, Junior Suite and Grand Suite. All rooms have a marble bathroom and a panoramic view of the Saigon River and Ho Chi Minh city, providing an airy and truly tranquil space to rest and relax in.
Address: 88 Dong Khoi St, District 1. Ho Chi Minh City
10. Glenwood City Resort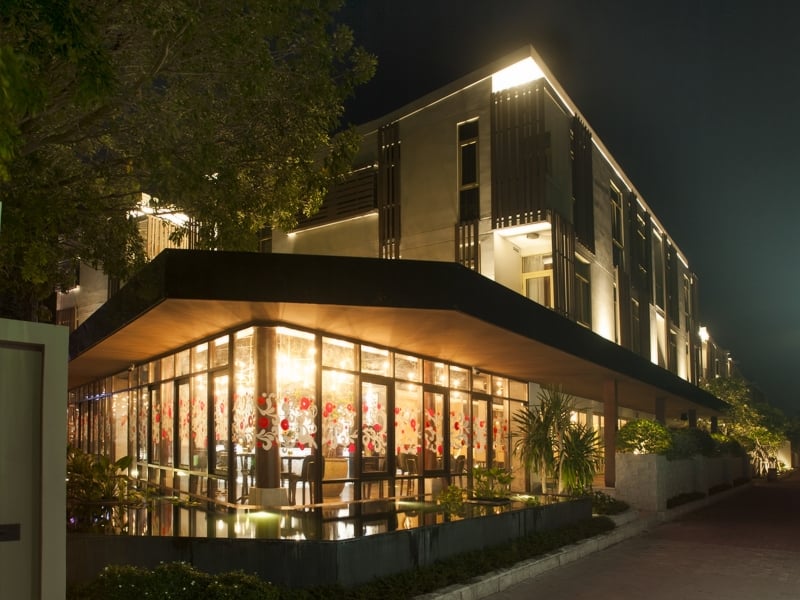 If you want to get away from the hustle and bustle of the noisy cities, then you should come to stay at Glenwood City Resort. This hotel will bring you back to nature, while you luxuriate in their beautiful rooms, built in Asian and European architecture style – a harmonious combination of modern style and traditional features.
Glenwood City Resort has provided full amenities of a high-class resort with spa, gym, swimming pool, and a unique garden, where visitors can relax and sunbathe as well as enjoy culinary pleasures in their restaurant, serving traditional Vietnamese cuisine dishes.
Address: 243 Nguyen Van Huong, Thao Dien, District 2, Ho Chi Minh City, Vietnam
Visit Tripzilla Vietnam for our Vietnamese version.