There's definitely lots to experience and explore in Kuala Lumpur all year round, but rather than just taking in the usual fare of museum rounds and the local crafts market, here are 12 uniquely wonderful things in Kuala Lumpur you should check out:
1. Dine in the dark
It's one thing to eat with your eyes closed, but 'Dining in the Dark' restaurant in Changkat Bukit Bintang goes a step further with customers actually eating in pitch darkness. Experience a gastronomic adventure like never before with a complete fine-dining menu made entirely by blind and visually impaired staff. If you've never felt nervous about putting an unknown piece of food into your mouth, you'll definitely feel that way with this new sensory journey.
2. Get up and close with sharks
Sharks are often misunderstood, and even more so after the movie "Jaws" entered our lives. If you want to get over your fear of sharks or just want to experience the thrill of being close to a live shark, you can always place a booking at Aquaria KLCC. You'll enter an underwater cage to get as close as possible to a shark without touching it. If you have a diving license, you can go a step further and actually swim with various sharks and other marine creatures.
3. Explore a Malaysian rainforest
Trekking through a rainforest hardly seems like a unique activity until you consider the fact that the KL Forest Eco Park (formerly known as Bukit Nanas Forest Reserve) is right in the centre of skyscrapers. Located at Jalan Raja Chulan, this park is open for free to visitors from 7am to 6pm. Here, you'll get to hike and explore one of the oldest forest reserves in Malaysia, dating millions of years, on a 200-metre canopy walk.
4. Party on a helipad
Sip on cocktails high up in the air on a helipad. If you think that's a joke, just check out KL's Heli Lounge Bar. Although it's still in use during the daytime (there really is no rest for helipads), once the clock hits 6pm, the entire rooftop and lounge below turns into a popular spot for drinking and relaxing. You might feel the urge to shout out loud when you're this high up, so just go ahead. Who knows, there might just be others joining in the fun.
5. Get a bird's eye view of Kuala Lumpur
If you have no reservations about flying, you should definitely check this out. Experience the spectacular aerial view of Kuala Lumpur city centre and beyond with a 30-minute helicopter ride. Enjoy the in-flight commentary by experienced pilots and snap away to get amazing pictures. If you have limited time to spare, this is one way you can still experience the best of Kuala Lumpur's views in just one trip.
6. Eat vegetarian food at a monastery
You might be familiar with Chinese vegetarian food, but when was the last time you had a wide array of dishes to choose from in a monastery? Vegetarian mixed rice or "chap fan" is a pretty popular meal choice in Malaysia, and the Dharma Realm Guan Yin Monastery on Jalan Ampang is definitely a crowd puller. If you've never seen more than 50 types of vegetarian dishes at a glance, you'll want to try this out for yourself.
7. Walk the sacred halls of Masjid Negara
Rather than spending all your time hopping from one mall to another, you can take some time out to visit Malaysia's national mosque. Visitors are always welcome to view the sacred halls during the opening hours of this mosque which is located at the edge of the Perdana Botanical Gardens in Kuala Lumpur. You'll be given a floor-length robe to put on and you'll have to take off your shoes beforehand so as not to damage the floor. From then on, just take your time exploring the inner beauty of the largest mosque in Malaysia.  
8. Explore KL's night market scene
Although it is no longer the longest night market in Malaysia, the Taman Connaught Night Market still reigns supreme in Kuala Lumpur at approximately 2.4 kilometres long from start to finish. You won't have to worry about feeling tired as there are tons of stalls to catch your attention along the way. With an average of 700 over stalls to explore, this must-see sight occurs every Wednesday so be sure to check it out if you can.
9. Dine and revolve at the same time
Ever eaten in a revolving restaurant? How about one situated 282 metres above the ground? If you're looking to sample all types of local and international cuisine with an extensive buffet, this is one place you'll want to check out. Atmosphere 360° at KL Tower not only provides its diners with lunch and dinner options, it also grants customers a great view of an ever-changing skyline.   
10. Enjoy a no-car day
Being healthy is not just about eating the right things, but also about keeping fit with outdoor activities. KL's Car-Free Morning is a special event that occurs every first and third Sunday of the month from 7am to 9am. You'll get to cycle, run, rollerblade, skateboard and handcycle without any worries as no cars are allowed along the route during this period. There are also side activities that include horse carriage rides, zumba and lucky draw.  
11. Climb the steps of Batu Caves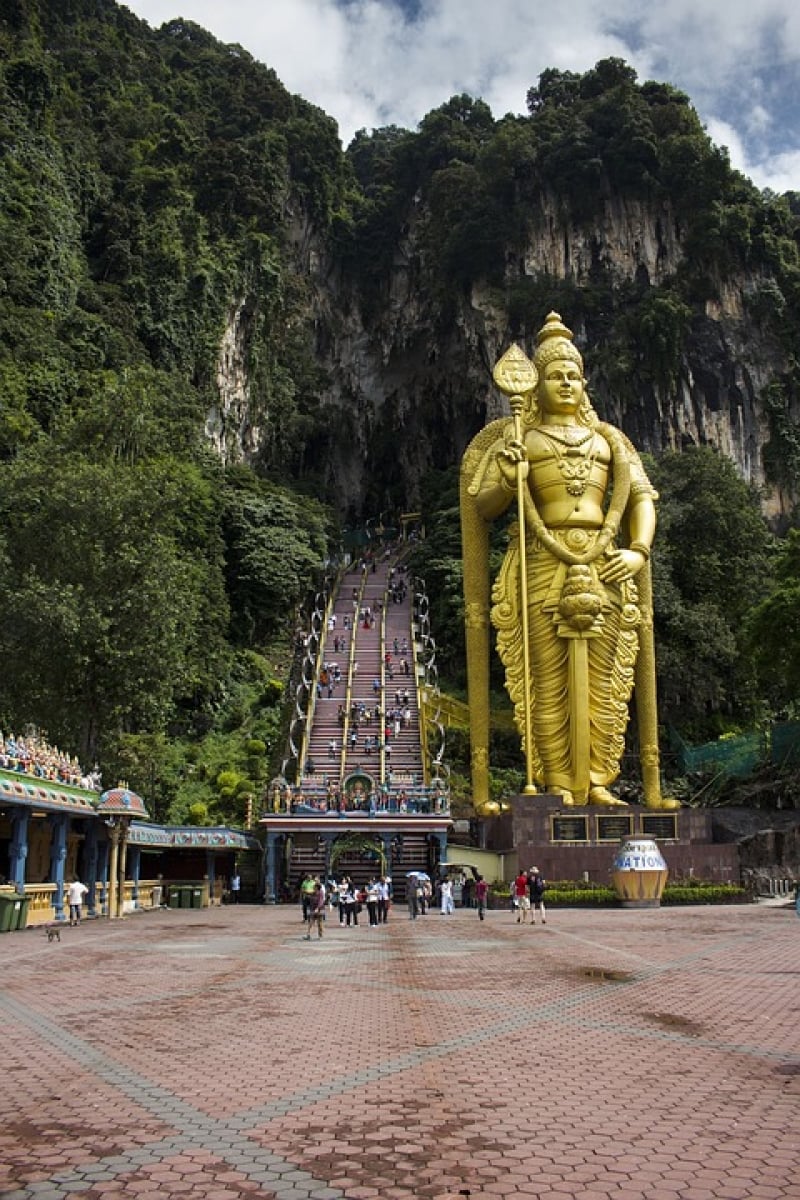 Located a little more than 10 kilometres north of Kuala Lumpur's city centre, this famous limestone hill is comprised of a series of caves and indoor temples. Visitors to this popular destination are greeted with 272 steep rock stairs that extend into the cave. For beginner rock climbers, this is also a good spot to practise and hone your skills. It is especially crowded during Thaipusam as the Silver Chariot procession makes its way from Kuala Lumpur the night before to Batu Caves the following day.
12. Unwind in the middle of KL
Fancy a stroll in the park or a swim right in the heart of Kuala Lumpur? Although overshadowed by the PETRONAS Twin Towers on most travel guides, this lovely tropical garden is truly a gem. Designed by a Brazilian master of gardens, the late Roberto Burle Marx, this 50-acre stretch of land holds a 1.3-kilometre jogging track, plenty of rest areas, a children's swimming pool and playground. If you love the outdoors, KLCC Park is one place you'll have to see for yourself.