Contributed by Part-time Traveling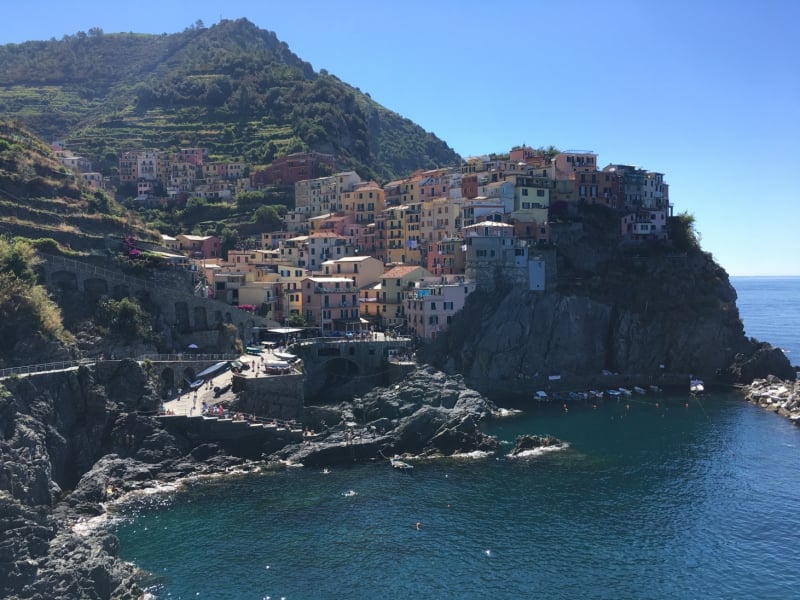 Many of us would have seen pictures of Cinque Terre, commonly listed in articles such as "Most beautiful places in the world" or "Places to visit before you die". After all, Cinque Terre is a UNESCO World Heritage Site, consisting of five little fishing villages along the rugged coast of the Italian Riviera. Much of its charm and allure comes from its distinct colourful houses, each village with its own unique character.
Now that you have set your heart and eyes on this gorgeous seaside town, you might find yourself in the same situation as we did, having only 10 days in Italy, but not wanting to miss Cinque Terre. You would be happy to know that a day trip to Cinque Terre (from Florence) is very much possible!
If you are planning to soak in the sun, sand and sea, the best time to visit would be the warmer months of mid-May to mid-September. If you are interested in hiking or sight-seeing, mid-March to mid-October is ideal.
Getting there
From Florence, take a direct regional train to La Spezia. I would recommend starting your day as early as 6 or 7 in the morning as the journey takes 2.5 hours. When you arrive at the La Spezia train station, stop at the tourist information office and get the 1-Day Cinque Terre Treno card which allows you unlimited train travel, access to the coastal trails and public toilets. It's worth it.
From La Spezia, you can take another shorter train to any of the five towns. The travel time between each town ranges between 2 to 5 minutes. A schedule for 2017 is available here.
So much to see, so little time
Since you only have one day, it's best to focus your sightseeing on three towns, so that you have enough time to explore and enjoy each one.
In the summer months, see Manarola, Vernazza and Monterosso, the most beautiful of the five. But if you are going off season (the idea of dipping in freezing seawater is not very appealing), exchange Monterosso with Riomaggiore.
Tip: If you can afford the time, spend a night in Cinque Terre to enjoy the sunset and watch the seaside houses illuminate into a warm glow of colours (this was something we missed as the sunset in summer only begins at 9pm, and we had to catch our return train back to Florence).
Swim from rocks in Manarola
Manarola was the first stop we made. Its main street, lined with tiny shops and cafes along a steep slope, was quaint, charming, and quiet. Keep walking down and you will reach an opening leading to some rocks and sea. There is also a lookout point further down where you can capture this famous shot of Cinque Terre.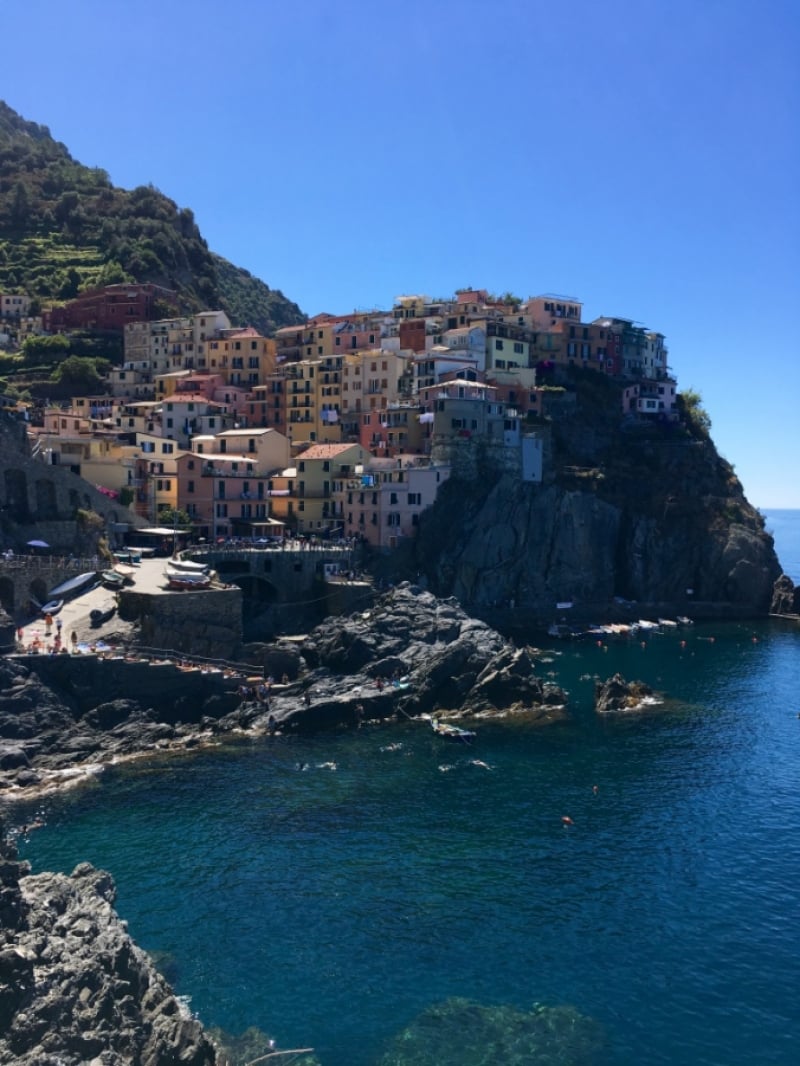 We were not planning on getting ourselves wet (not until the beach in Monterosso), but the glittering sea was inviting us in and the rocks created a perfect swimming hole. In a moment of spontaneity, we ditched our bags and jumped in.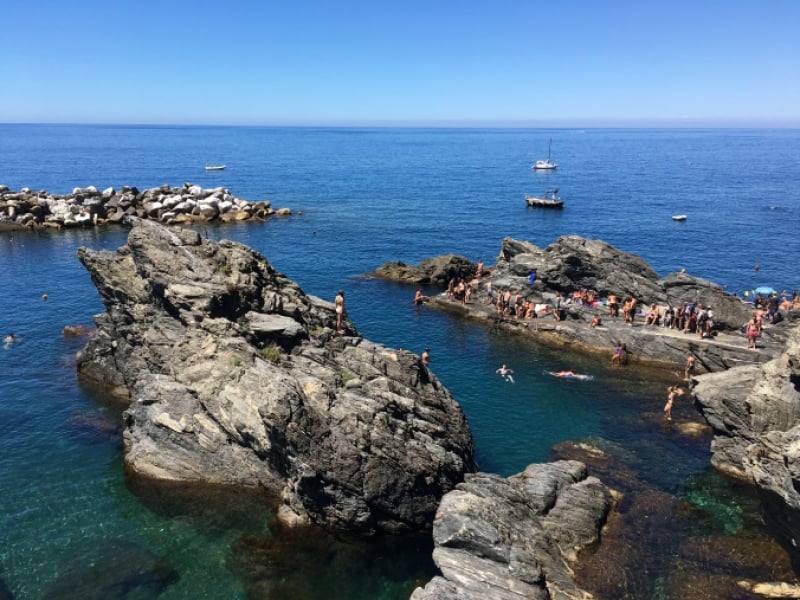 The water was freezing! But it was the best decision we'd made. Floating on my back in the Mediterranean Sea, the sun burning my face, and the cold water on my skin. I have truly never felt more alive
Try Friggitoria in Vernazza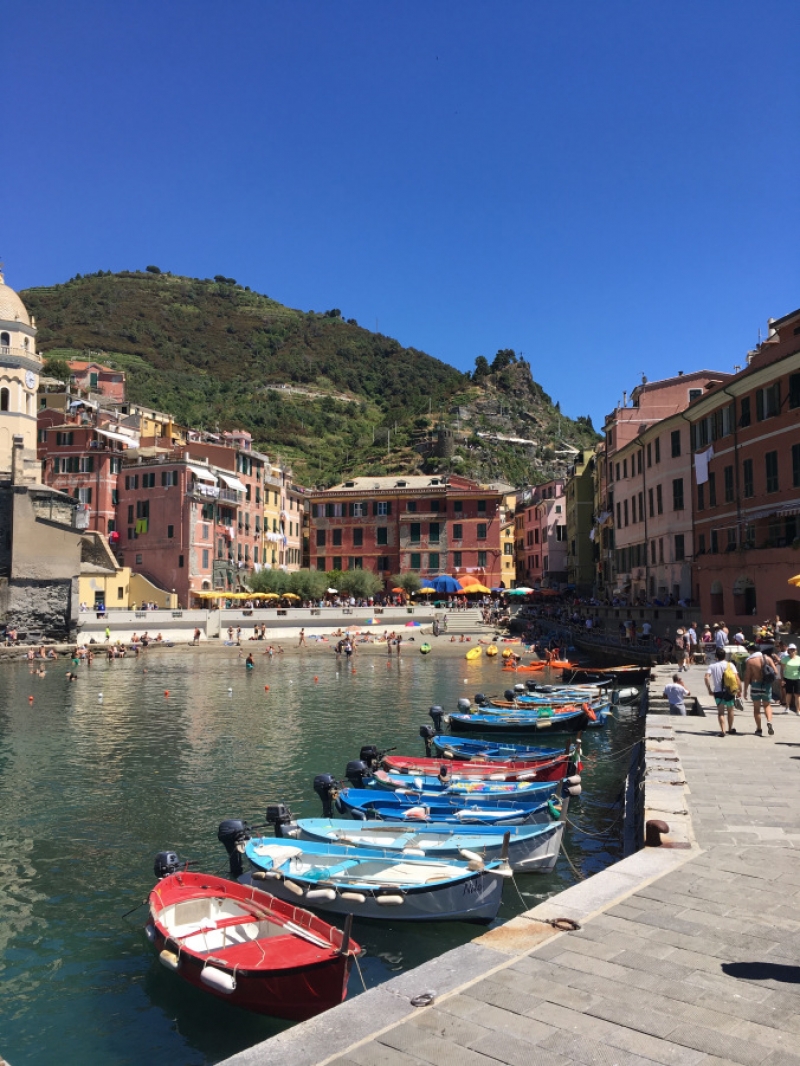 The town of Vernazza is the most bustling out of all. It should be about lunch time by the time you arrive. Walk down to the harbour where you will find plenty of seaside restaurants. Enjoy the view while sipping on a glass of wine.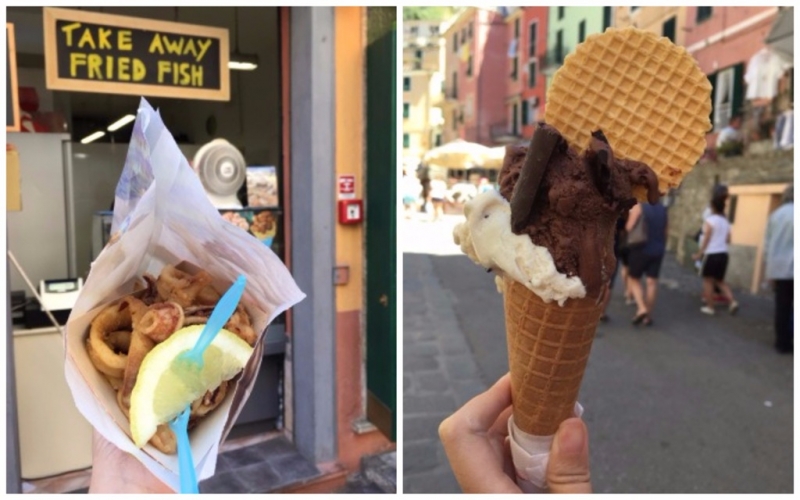 The lobster linguine at Gambero Rosso is pretty famous, and so are its seafood. If you are looking for a cheaper option, Ristorante Pizzeria Vulnetia serves pretty good pizza and pasta. For a quick snack, try friggitoria – delicious bite-sized fried seafood in paper cones.
Before you leave Vernazza, don't forget to get a gelato at the Gelataria Vernazza to cool down from the afternoon heat. It was one of the best we tried in Italy.
Soak up the sun in Monterosso
Monterosso has the only sand-covered beach area in Cinque Terre, lined with umbrellas and deck chairs. You will find plenty of beachgoers getting a tan, frolicking in the water, or just soaking up the sun and sea.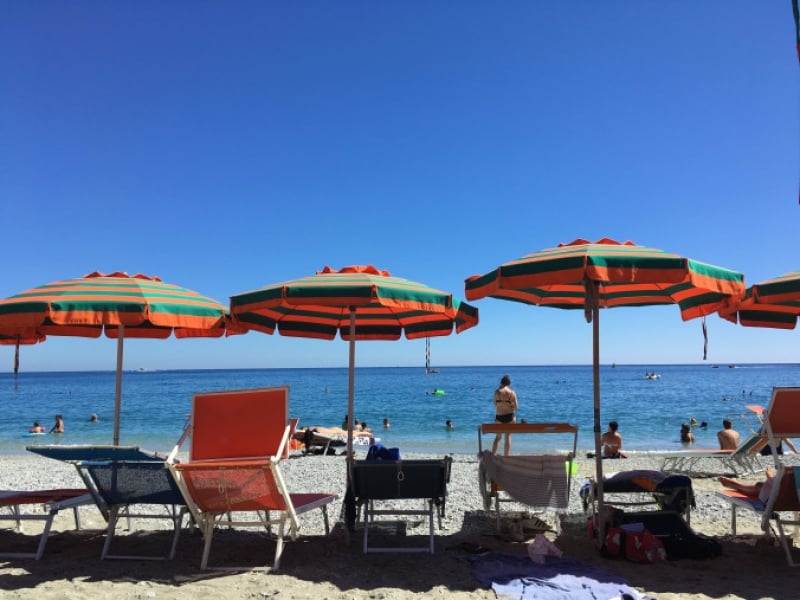 You will be able to get cheap massages here – I did mine at 20 euros for 40 minutes. The masseuses, usually ladies covered in long sleeves and pants, wearing hats, come around and do the massage on the spot.
Tip: Do note that these umbrellas and deck chairs are not free. We paid 10 euros for two chairs and an umbrella!
Catch the golden hour at Riomaggiore
If you are lucky to stay and catch the golden hour, I've heard that the best spot is from Riomaggiore. Shh, it's a well-kept secret. Just remember to thank me later when you get your picture on National Geographic.
Follow the rest of our adventures:
To read more about our 2017 Europe trip, in Santorini, Athens and beyond, check out our website!