Heads up, all you theme park enthusiasts! I'll let you in on a little secret: the US West Coast is almost chocked to the brim with theme parks for you to go wild at!
I'm sure we all know about the famous Disneyland in California – but the list doesn't stop there. Let's take a look at that, as well as other theme parks in the west coast that will offer you some sheer unadulterated fun. It's time to relive your childhood and go for some scream-inducing rides!
Also read: USA Pacific Coast: Stunning Spots to Make You Literally STOP in Awe
1
.
 Disneyland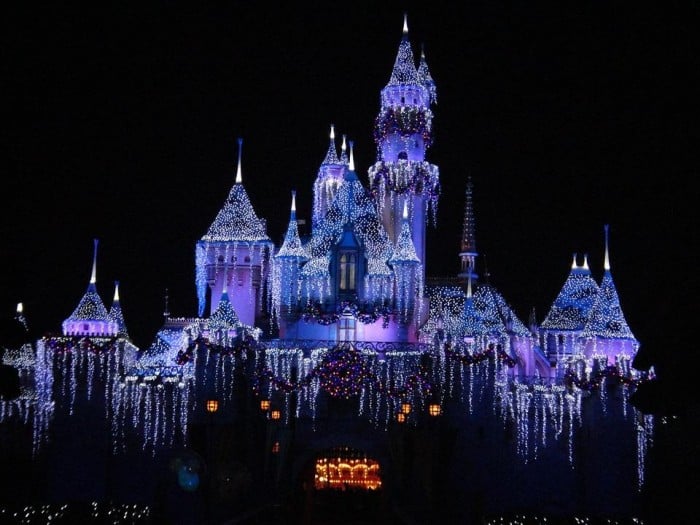 Of course, what else will top the list? There's no way you've truly experienced California if you haven't been to Disneyland. I mean, come on, people, this is definitely the big mother of all Disneyland theme parks across the globe! Relive your childhood by interacting with your favourite Disney princesses and swooning over dashing Disney princes. A stroll around Disneyland is enough to have the magic reveal itself to you. It will literally be a dazzling place you never knew!

2. Stratosphere Tower Thrill Rides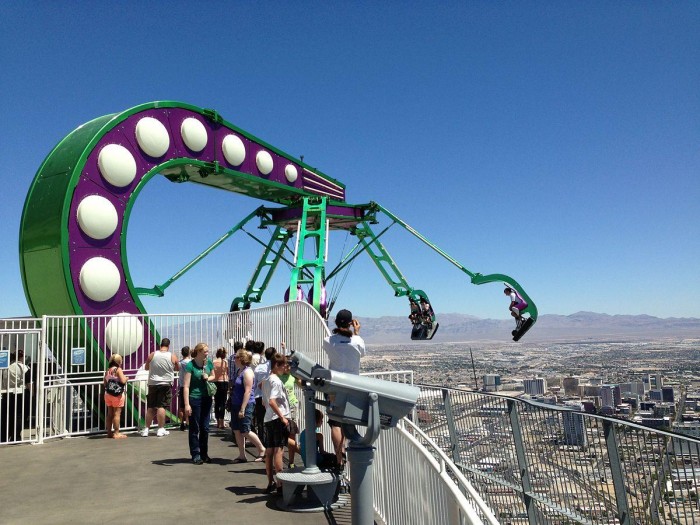 Image credit: Fastily
All you thrill-seekers, are you ready to walk that fine line between life and death? Are you longing for the adrenaline to pulse through your veins? If you are, I've got just the thing for you – all you gotta do is to ride to the top of the Stratosphere Tower and choose between four hair-raising thrill rides! Plummet to your impending doom with the SkyJump Las Vegas, watch your life flash before your eyes on the X-Scream and the Big Shot, or dangle at the edge of your life with the Insanity Ride. Gulps! Whatever you choose, you're bound to have your heart racing for days.
Here's a suggestion: try out the Stratosphere Tower rides out in the evening instead, and spend your morning revelling in amazement in one of the greatest wonders of the world – the GRAND CANYON! You're sure to feel tiny as you look over at the vast landscape that is the result of all the effort of the Colorado River after ages and ages. You will spend your entire day feeling a wonder of two different types – awe in the morning, and thrill in the evening!
3. Six Flag's Discovery Kingdom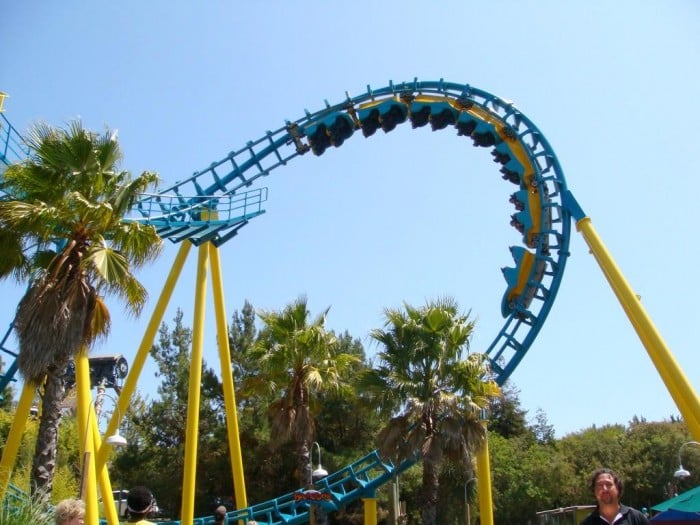 Image credit: Martin Lewison
Venture to the Northern San Francisco Bay for beautiful views, thrilling rides and – as if those things aren't enough – personal animal interactions! Six Flag's Discovery Kingdom was a small zoo before it became the amusement park that it is today, and animal-lovers will definitely not be disappointed, because the park just screams animals, animals, and even MORE animals!! Think dolphins, walruses, giraffes, and even foxes! Their cuteness and ability to do tricks will just make you double your score for this place.
No trip to San Francisco is complete without a visit to Yosemite National Park. If your previous day was filled with much screaming and racing hearts, now is the time to lose yourself in serenity. Become one with nature as you wander down bubbling streams, or crane your neck up in an attempt to take in the full majesty of the giant sequoia tree. Don't miss out or you're gonna regret it!
The West Coast is filled with things to do, so I wouldn't blame you if you're already itching to try all these things out! Begin your exploration of this exciting part of the US by grabbing thissweeet travel deal by Focal Travel.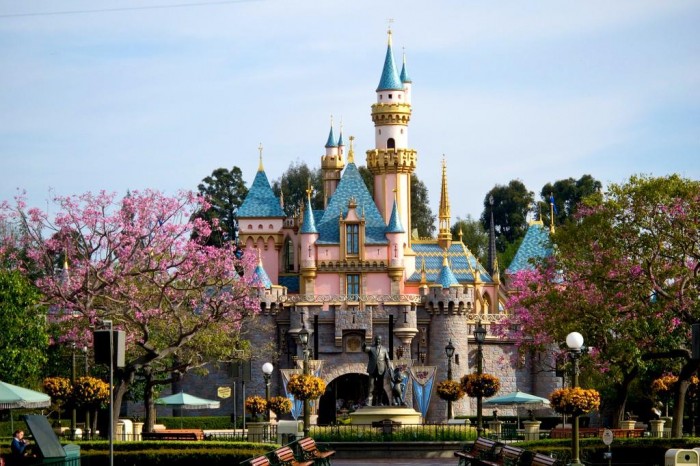 Image credit: Anna Fox
See the best of the US West Coast in this 8D6N Marvel of West Coast package (from SGD 1180) – or, if you want to enjoy the USA just a little longer, you can opt for the 11D9N Colour of West Coast U.S.A. (from SGD 1515) deal instead!
Does this sound like your cup of tea? Arm yourselves with the promo code "TripZilla USCWC11" and book now by calling up Focal Travel at 6536 3033! Hurry before it's all gone!
4.
 Universal Studios Hollywood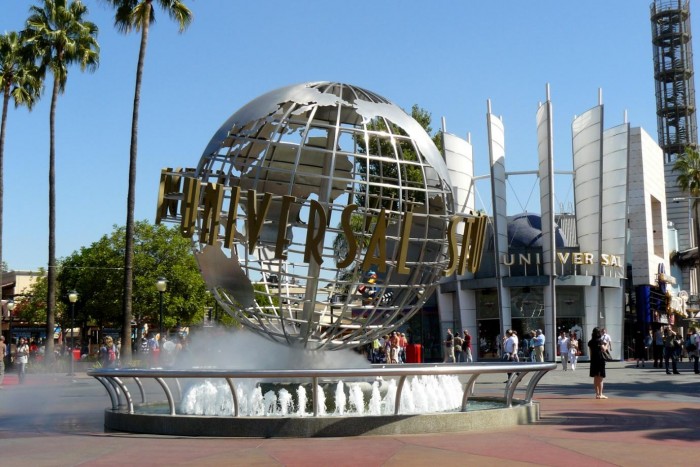 Image credit: SPBer
Are you a huge movie buff? If so, the Universal Studios Hollywood might just become your second home. Watch your favourite movies come to life around you – from the magic surrounding the Wizarding World of Hogwarts, to the dreary post-apocalyptic world of the Walking Dead Attraction, and finally, to the hilarious silliness of the Despicable Me Minion Mayhem.You're bound to find that one attraction that will make all your movie fantasies come true!
5.
 Knott's Berry Farm
 Image credit: Wikipedia Commons
Grab yo' kids and get ready for some seriously good family days together. After your time in Knott's Berry Farm, your kids might just declare you the best parent ever! You can find this one in Buena Park, California, and it features 40 rides, so you'll definitely find a ride that everybody will enjoy! The family rides here are absolutely thrilling – feel as free as a bird as you swing around on the Waveswinger, cling to one another as you careen down a 38-foot drop on a log at the Timber Mountain Log Ride, or get soaked together on the Bigfoot Rapids.
6.
 Six Flag's Magic Mountain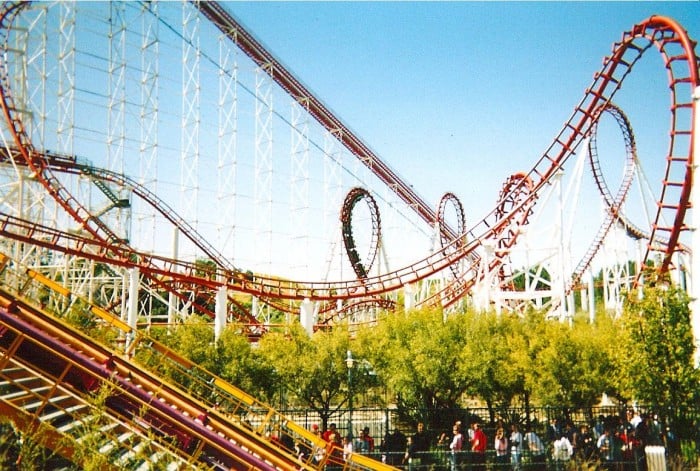 Image credit: Alton
Ah, don't we all just love rollercoasters. Boy are you in for some adrenaline overdose, because the Six Flag's Magic Mountain hosts the world's biggest collection of roller coasters. Brace yourselves before you hop on as there won't be any opportunity to take a breather on the ride itself; you will be taken for plunges and spins that you never believed your body was capable of handling until now. The rides here are certainly not for the weak-hearted – don't say we didn't warn you!
7.
 Disney's California Adventure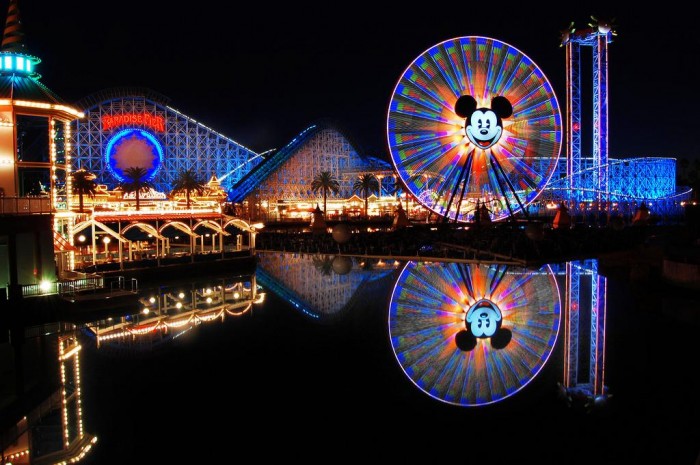 Image credit: Vincent Lock
If Disneyland just isn't enough for you, double the Disney experience and hop on over to Disney's California Adventure! It may be smaller than Disneyland, but no way is it lesser the fun! Whip your cameras out, because there will be a ton of photos for you to take at Cars Land and Buena Vista Street. If your kids are tagging along for the adventure, I can guarantee that they will love this place to bits. Make sure to score some family bonding points with them over here!
8. 
Wet 'n' Wild Las Vegas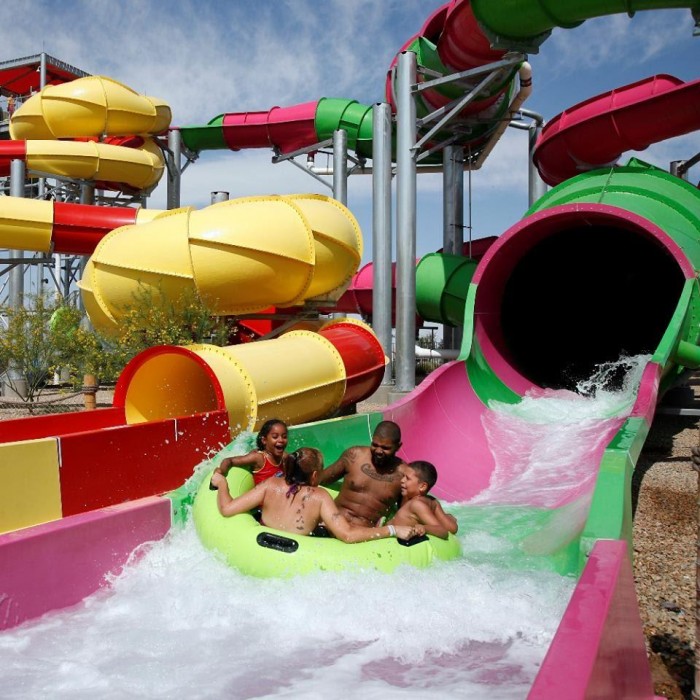 Image credit: Wet'n'Wild Las Vegas
As far as names go, this Vegas water park is the most aptly-named place anywhere, because "wet n wild" is exactly what you will be as you explore the rides here. Be sure to experience the sharp twists and turns of the Constrictor as well as the sudden drop on the Rattler slide, because these are the rides of the water park! Take it from us – you'll be mad to give them a miss!  
All this excitement not enough for you? With fun times all around you in Las Vegas, you're never far from a good 'ol party. Make your way over to Fremont Street at night for the most majestic neon lights show, or take the time to explore the world's biggest hotel – Palazzo Venetian Mega Centre! You're never too old to enjoy The City of Lights.
9. LegoLand California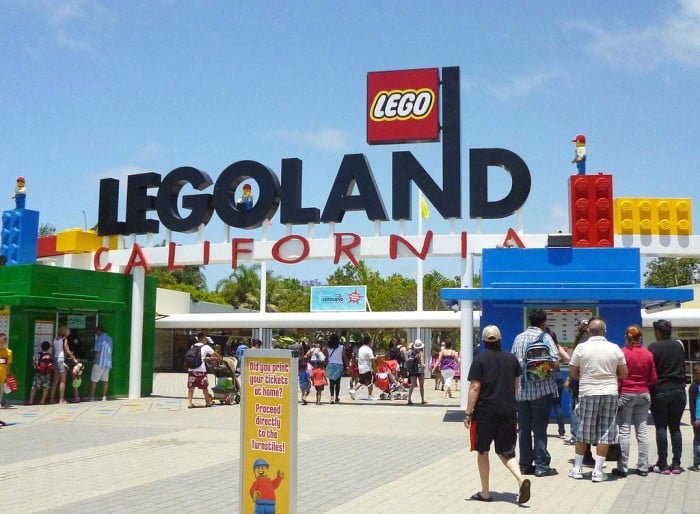 Image credit: Coolcaesar
If you're a Lego fan, I'm sure you remember those days you spent hours stacking brick after brick on top of one another. What if I tell you that those days can be relieved at the Legoland California? This theme park has structures of famous landmarks like the Taj Mahal and the Eiffel Tower made entirely out of Lego bricks. Those teeny little buildings you made back then will look like dollhouses next to them!! Keep those jaws in check and get ready to be amazed, because the majestic Lego masterpieces you'll see will be unlike anything you've ever seen before!
10. FairyTale Town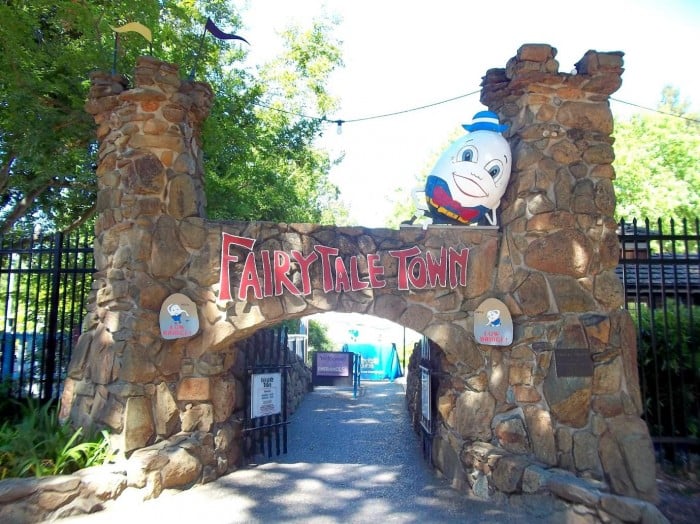 Image credit: Janice Marie Foote
Let your child actually live out their fairytale fantasies at Fairytale Town! Your child will feel like royalty by riding carriages that are pulled by grand white horses or bring out their inner pirate as they board a ship shouting "ahoy mateys!" You could also introduce them to the story of Robin Hood as you stroll through Sherwood Forest with rustic music playing in the background. Bring your child here and you will make their fairytale dreams come true, but take some time to walk down memory lane and revel in the magic of your childhood stories!
After you're done here, take the time to visit Lombard Street and Sausalito! If you haven't been to Europe yet, this is your chance to kill two birds with one stone. The Victorian homes, the art exhibits, the romantic vibes…*sighs* Take a stroll down the street and you're bound to feel like you're walking down an actual street in Europe!
Experience these theme parks and more! Don't forget to use the promo code "TripZilla USCWC11" when you book your 8D6N package or 11D9N package with Focal Travel. Call them up at 6536 3033 to book now!
All set to check out these theme parks for yourself? We know we are – enjoy!
---
Brought to you by Focal Travel