The great Alpine outdoors, the grandeur of imperial architecture, the captivating realm of Swarovski, heart-pumping snow sports, and an unparalleled Renaissance charm — this is Innsbruck. Known as the best gateway to Austria's rich Tyrolean culture, Innsbruck captures hearts without fail even with just a 3-day itinerary. But this doesn't mean you'll have to stick to just three days — the longer you stay in Innsbruck, the more of it you can enjoy!

Given Innsbruck's colourful history, its stunning sights, and its diverse culture, planning a trip to Austria's "Capital of the Alps" can be quite overwhelming. But did you know that three days could already give you an authentic taste of the place? An Innsbruck 3-day itinerary is just right for you to experience its top five attractions, but you're always welcome to extend your stay — long summer days are best spent hiking in the mountains and winter is the time for sports and endless fun on snow-capped peaks.
If you think it's going to be too jampacked, worry not! We've crafted a special Innsbruck 3-day itinerary and travel guide that's perfect for any first-timer who wants to get the best Innsbruck experience without feeling too rushed. So all you have to do is sit back, read on, and let Innsbruck's wonders unfold right before your very eyes.
What you can't miss
Let's start off with the basics. Whether it's a long weekend or three days in the middle of the week, 72 hours is a good amount of time to get the most out of a Tyrolean holiday. Given that you know all the sights that you have to see, that is (but of course, you can indulge in mountain views for a week or even longer!). Innsbruck is your best bet for the ultimate holiday experience in Austria that gives you the best of ALL worlds. To make sure you don't miss out, here are the top five activities you must not skip at all costs.
1. Visit the famous Golden Roof in the Old Town
History buffs will surely fall in love with the Altstadt or Old Town, an area that transports visitors back to the imperial rule of Habsburg Emperor Maximillian I. And what better way to get a peek of the past than to visit the famous veranda from which Emperor Maximillian I himself would watch the city's hubbub below.
This special perch is known as the Golden Roof, a striking structure that's made of 2,657 fire-gilded copper tiles! It glints a brilliant gold when hit by the sunlight, hence its name. The Golden Roof Museum, which is also found in the Old Town, will tell you all you need to know about Emperor Maximillian I's love affair with Innsbruck. The streets of Old Town make for a wonderful leisurely walk, so be sure to explore on foot.
2. Go for a scenic ride aboard the Nordkette cable cars
They say to get a true taste of a place, one must take its public transport! In the case of Innsbruck, you must ride the Nordkettenbahn or the Nordkette cable cars. It's a funicular with stations that double as architectural masterpieces by the late architect Zaha Hadid. Get to traverse across four different stations: Congress, Löwenhaus, Alpenzoo, and Hungerburg. After enjoying the funicular ride, hop into a cable car. It will only take you 20 minutes to get from Old Town to an elevation of 2,000 metres! Think of it as a double treat: You can take in awe-inspiring scenery on the way up and you'll lay your eyes upon majestic mountain views when you get to the top.
3. Step into the enchanting realm of Swarovski Crystal Worlds
Everyone knows Swarovski, the brand of crystals. But not a lot of people know that you can actually step into a museum, amusement park, and exhibition space that displays all things Swarovski! Some of its exhibitions are truly out of this world, so you'll have to see Swarovski Crystal Worlds to believe it!
Also read: Inside the Dazzling Realm of Swarovski Crystal Worlds — What to See & Do
4. Be transported back in time as you enter the Ambras Castle

If there's one more thing that Innsbruck can boast of, it is its splendid display of imperial palaces and Renaissance architecture. Ambras Castle is one such property that deems this true. Go back to a time when knights in shining armour were aplenty. Surely it's a delight to see, but setting foot inside the Ambras Castle will also probably be one of the most memorable history lessons you'll ever have. And don't forget to roam the extensive parks and forest grounds that surround this beautiful landmark — definitely IG-worthy!
5. Let the Bergisel Olympic Ski Jump take your breath away

You might already know this, but we'll say it again for emphasis: Innsbruck hosted the Winter Olympics twice! It's also a popular spot for skiing and other snow sports so it shouldn't come as a surprise that it is also home to one of the most iconic ski jumps in the world — the Bergisel. Now this, you absolutely cannot miss.
For a more detailed primer on the sights and the experiences that await at Innsbruck, read Welcome to Innsbruck — Austria's Very Own 'Capital of the Alps'.
What you have to prepare
What could possibly make this great adventure even better? Some handy dandy travel tips, of course. When exploring Innsbruck, make sure you…
1. Dress for the occasion
First of all, Innsbruck is indeed beautiful. But you'll actually have a unique experience depending on the season.
Come December, the place transforms into a winter wonderland. It's known for skiing because it's right by the Austrian Alps, after all. During this time (up until April), nights can get pretty chilly and will even drop to some negative degrees. Those who are used to the warmth and humidity of tropical countries will do well to note this and keep it in mind when packing. Most importantly, layering is key and thermal wear is your friend. Also, if you're sensitive to cooler climates, load up on vitamins and bring your personal medication.
Also read: Winter Checklist: 10 Items to Pack on Your First Snowy Vacation
But temperatures don't stay the same all year 'round. Summers (around June to August) in Innsbruck are quite pleasant. At this time, much of the landscape changes into lush greenery and the weather is almost always sunny, with soft, cool air that breezes through every once in a while. Casual clothes should be fine, but remember to bring a lightweight jacket or sweater with you at all times just in case it gets cold — especially at night. A shawl or scarf will do, too. Bring your most comfortable footwear no matter the season. Aside from this, we recommend boots if you'll be hiking a lot.
2. Brace yourself for a lot of walking… and eating
Innsbruck is a very safe place. In fact, it's also known as a university town and people walk around all the time. Any local will tell you that this is the best way to enjoy the city's buzzing streets and explore its nooks and crannies. You might even be able to score some interesting finds if you pass by shops and stalls. Of course, with a lot of walking (cardio!) comes the treat of splurging on tasty snacks and local delicacies.
A few recommendations: Try traditional Tyrolean specialities such as Kasspatzln (baked soft egg noodles or dumplings with a sprinkling of cheese), Speckknödel (bacon-filled dumplings served with soup), and Tyrolean grey cheese. Yum!
3.  Get your very own Innsbruck Card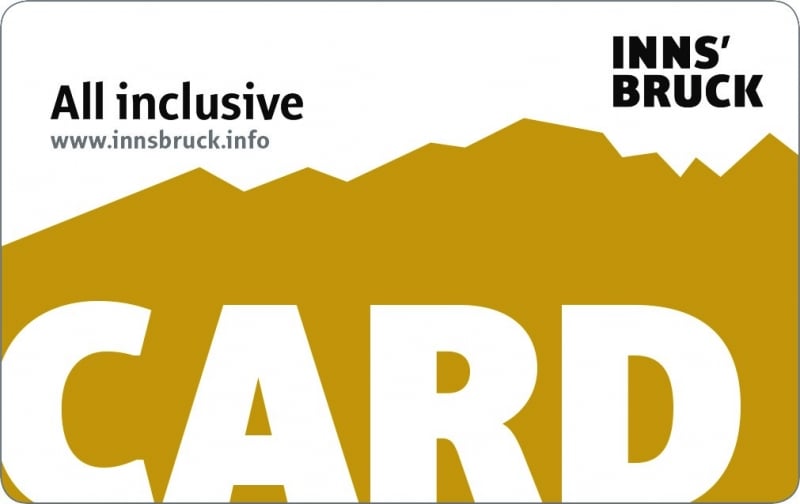 Here's a pro traveller tip: If you can get your hands on passes that will let you enjoy exclusive deals, promos, and even tour or transportation discounts, grab them while you can! Luckily, for this particular trip, you have the Innsbruck Card to turn to. Here are just some of its perks:
One-time entrance to all 19 sights and attractions

One return trip on all seven cable cars

Free rides on all public transport, including the Sightseer bus and the Swarovski shuttle

Daily guided city walking tour starting at 2pm
With an Innsbruck card, you not only save money on great deals, you also maximise your trip to this Tyrolean wonderland! Prices are as follows: €43 for 24 hours, €50 for 48 hours, and €59 for 72 hours. Children aged six to 15 will also enjoy a 50% discount. For more details, click here.
Innsbruck 3-day itinerary
Finally, you're nearing the end of this comprehensive guide to Innsbruck. Simply follow this thoughtfully crafted itinerary and you'll be having one unforgettable Austrian adventure in no time.
Day 1
9am to 10am
Walk around Altstadt and drop by the quaint shops along Maria Theresien Street to score some great buys. Aside from well-preserved house facades and arcades that capture the old-world Renaissance aesthetic, you'll also come across local stories and handicrafts shops. If you want to go hunting for souvenirs, head to the area's two shopping malls, Rathausgalerian and Kafhaus Tyrol.
Tip: Grab a cappuccino and apple strudel while walking around. You won't regret it.
10am to 12.30pm
The Golden Roof opens at 10am, so now would be the best time to take a look. Your next stop is the Tiroler Volkskunstmuseum or the Regional Heritage Museum, where you'll be acquainted with everything you need to know about the history and culture of the Tyrolean people.
Right before taking your lunch, visit the Hofkirche (Court Church), where you can get a glimpse of the Habsburg emperor's imperial tomb.
12.30pm to 2pm
Take your lunch anywhere you please. There are many restaurants to choose from. The best part? They're all walking distance! Our recommendation would be the Tyrolean Inn for some authentic local specialities.
2pm to 3.30pm
Join the Per-Pedes Old Town walking tour that's covered by the Innsbruck card and learn more about the Old Town. This starts on time so better be a few minutes early!
3.30pm to 6.30pm
Ride the Nordkettenbahn's valley station and enjoy the breathtaking scenes at Hafelekar.
Grab a bite at the Seegrube Restaurant before dropping by the Innsbruck Alpenzoo. After seeing Alpine wildlife up close, take the Nordkette funicular back to the city.
7pm onwards
Congratulations, your first day is about done! To cap this momentous occasion, melt into the scenery at Hofburg Courtyard. If you visit in July, you'll be treated to some live musical performances. Wine and dine at the same place then make your night even more eventful at Casino Innsbruck before heading back home.
Day 2
10am to 12pm
Explore the multi-faceted realms of Swarovski Crystal Worlds. You can also dine here, if you wish. Just make sure to reserve a table at Daniels Kristallwelten, Swarovski Crystal Worlds' in-house restaurant.
12pm to 2pm
Or if the sun's out, you can have a hearty picnic at the Hofgarten or Imperial Gardens, where you'll be surrounded by nature.
2pm to 6pm
If the weather permits, hop on board the Patscherkofelbahn cable car and head to the heavens. Hike along the mountain trails and marvel at a path lined with beautiful Alpine roses. All around, you'll see ancient pine trees towering above you. Take note, though, that the roses will only be in full bloom from June to July.
Otherwise, visit the Bell Museum of the Grassmayr Bell Foundry, Austria's oldest family business. Here, you'll be treated to a multisensory experience.
7pm to 10pm
Attend the Tyrolean Evening Show and enjoy a night filled with Austrian Wiener Schnitzel, dancing, singing, and yodelling courtesy of the Gundolf family.
Day 3
10am to 12pm
Take the Sightseer Bus to Ambras Castle and get lost in its hallowed halls. Another alternative would be the Imperial Palace, where several historical staterooms are on view.
12pm to 2pm
If you want to be enveloped by nature, make your way to Lake Lans from Ambras Castle. There, you can grab a bite at the lakefront. If you prefer to go back down to the city, we recommend hip and modern Wilten, a district known for scrumptious vegetarian and vegan specialities.
2pm to 6pm
From Wilten, you will see the Bergisel Olympic ski jump, where you can watch athletes train from May until October. Afterwards, drop by the 360° Giant Panoramic Painting at the Tirol Panorama Museum just below the ski jump.
7pm onwards
Make a toast to the three days you've spent in Innsbruck at one of the area's popular rooftop bars. Of course, you must dine and drink with a view! Our picks? Check out the 360° bar on top of the shopping mall Rathausgalerian or the Adlers Hotel rooftop bar.
There you have it — your complete guide to spending three unforgettable days in Innsbruck, Austria's very own "Capital of the Alps." Stick to this guide and we assure you a unique Tyrolean holiday that's one for the books!
Visit Innsbruck and make it your gateway to the rest of Europe! Did you know that Italy and the Dolomites are just 30 minutes away from Innsbruck? Let it be your home base so you can take day trips to Salzburg, Munich, and even Neuschwanstein Castle — all just two hours away. You can see more of Austria with this 7D6N Tour Package. Enjoy daily buffet breakfast that comes with the package, along with excursions to Hallstatt, Zell am See, Vienna, and so much more!
For more information, please visit Innsbruck Tourism's official website and Facebook page.

---
Brought to you by Austrian National Tourist Office (ANTO) and Innsbruck Tourism Office.