People ask me why I keep going back to Tokyo and my answer to them is this – why not? Tokyo is a country that never ceases to amaze me; home to amazing food, impeccably clean streets and quite possibly the politest people in the world, Tokyo seems to have this magic enigmatic quality that draws travellers back again and again to its humble shores.
Let's face it – besides all that, Tokyo is also pretty darn unique. It has the world's only Disneysea, a district full of parading cosplayers, a giant bustling cross-section where all the lights turn red or green at once… And the list goes on and on. I went on a quest to uncover all of the novel things that can be found ONLY in Tokyo and trust me, if you like to unearth a place's hidden quirks and eccentricities – you're in the right place! And in Tokyo, nothing is too strange or too outrageous; why not embrace the city and all its idiosyncrasies, made even better by how flights are going from just S$566 with ZUJI and Visa (!!):
NOTE: THIS FLASH SALE HAS EXPIRED, BUT DON'T MISS THE NEXT ONE! FOR INSIDER INFORMATION ABOUT THE NEXT FLASH DEAL, JUST:
Yep, fly to Tokyo from just S$566 with ZUJI and Visa! This is after the S$50 rebate that you'll get when you book your flights with Visa Checkout before 5 March 2017*. All you have to do is to
book your flights on ZUJI
, sign up for Visa Checkout and add your preferred Visa card, select Visa Checkout on the payment page and
voila!
You'll be well on your way. Visa Checkout is a new payment service which lets you pay in a couple of clicks – find out more
HERE
.
Can't wait to breeze your way through with Visa Checkout? Now you have even more reason to because ZUJI is having a massive flash sale to five countries from 21-23 February 2017, and Tokyo is one of them! Grab the chance to fly to Tokyo from just S$566, Seoul on Korean Air from S$571, Bangkok on Thai Airways from S$150, Hong Kong on Singapore Airlines from S$186 and Taipei on Eva Air from S$370. These prices are after the S$50 rebate you'll get from paying with Visa Checkout, and they're all for flights on full-service airlines, which means food and baggage ALL-IN. What a steal!
GRAB YOUR FLIGHTS WITH ZUJI & VISA NOW!
Secure your tickets on ZUJI with Visa Checkout NOW – the flash sale will be over before you know it!
*Only valid for Visa Checkout transactions made with Visa cards, and limited to the first 200 redemptions for a minimum spend of S$500.
Tokyo is truly, a destination that's one-of-a-kind. Here are some things that can only be done in this wonderful city!
1. Walk a goat in one of the city's busiest districts
Image credit: 桜丘カフェSakuragaoka Café Facebook
I bet you've heard of dog cafés, cat cafés or even owl cafés… but what about goat cafés? How cool is that! Nestled in a cosy corner of Tokyo's Shibuya district lies Sakuragaoka Café, a nondescript establishment serving good old comfort food and the regular iced latte alongside two super cute goats.The goats come in an adorable yin-and-yang pair – a white one called Sakura, and a black one called Chocolat. The goats are incredibly friendly, and are always up for a pat or a nose sniffling session. Ask the cashier for some hay or food pellets, and you'll pretty much have the two creatures (literally) eating out of your hand!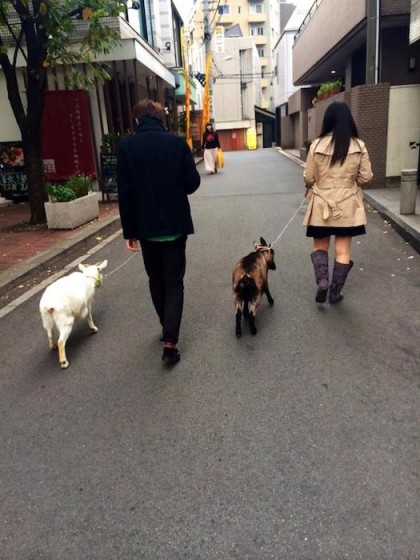 Image credit: 桜丘カフェSakuragaoka Café Facebook
What's even quirkier, is that the café offers its patrons a chance to walk the goats along the streets of Shibuya! All you have to do is call the cafe (+81 3-5728-3242) and reserve a slot on Mondays and Wednesdays.
Travel Cheat Sheet Tip: The café is open from 8am to 4am daily, which is perfect for a late night snack and some furry lovin'. Do take note that smoking is allowed anywhere in the cafe, so do choose to sit at the café's al fresco section should you prefer not to inhale any fumes.
How to get there: The café is a seven-minute walk from Shibuya station's Hachiko exit.
2. Down cocktails at a bar manned by monks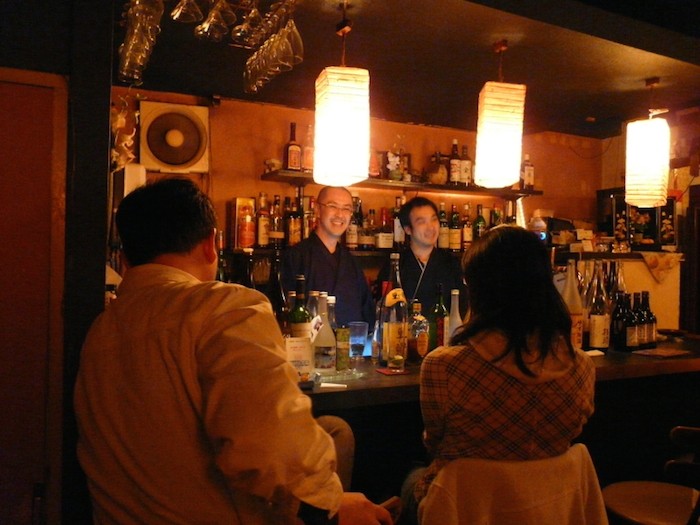 Image credit: Vowz Bar
Now this is a sight that I never thought I'd lay my eyes on – a bizarre mix of booze and Buddhism, Vowz is a bar that is owned and manned by monks. In one corner of the bar you'll find a robed monk chanting serenely, in another, a monk casually pouring a fruity cocktail into an iced glass. The bar was opened with the intention of providing a space for customers to speak their minds; it was a place where patrons could carry out lengthy conversations with the monks, learn more about the Buddhist faith and even gain enlightenment.
The monks are open-minded and are willing to listen and give advice on a large variety of topics, such as fortune, wealth or even love. They even conduct sermons at times for those willing to listen!
Travel Cheat Sheet Tip: Each cocktail is named after a relevant Buddhist teaching, given names such as "Burning Hell" or "Perfect Bliss". If you visit alone, the names of the cocktails themselves are more than enough collateral to start a conversation with the monks or with the stranger next to you!
How to get there: The bar is a three-minute walk from Yotsuya-sanchome station.
3. Sing your hearts out at a FREE karaoke session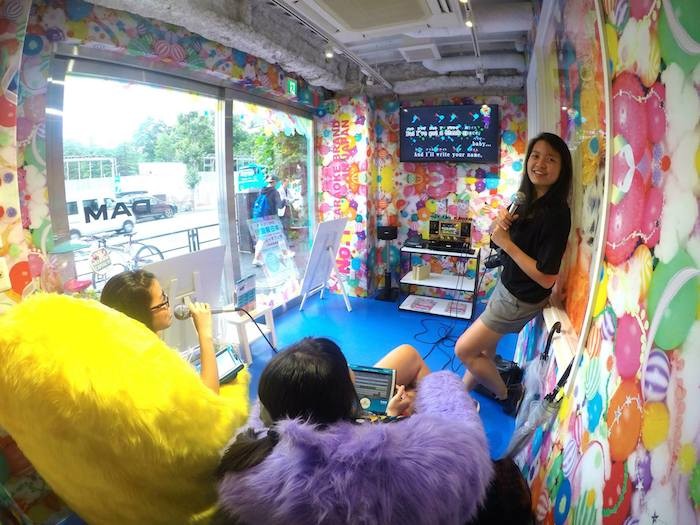 Come on, who doesn't love belting out a tune every now and then? I'm pretty much a self-professed shower rockstar, and the occasional karaoke session just serves as additional practice. And believe it or not, there's actually a place in Tokyo where you can karaoke for FREE – yes, for free! Housed in an adorably named 'Moshi Moshi Box', the karaoke room is part of the Harajuku Information Center and allows passers-by to sing their hearts out as much as they want.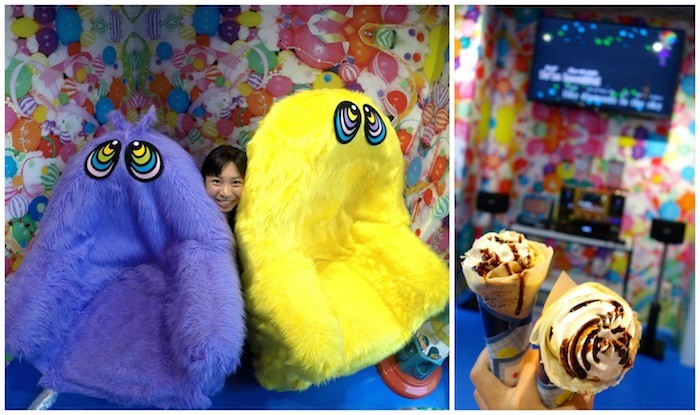 Take your pick from loads of chinese and english songs – we rocked out to Bon Jovi, Taylor Swift and even Jay Chou. The room is decked out with all the equipment needed for a karaoke party, from microphones and a state-of-the-art sound system to incredibly fluffy armchairs. However, the room does have glass walls along one side of it – so do be prepared to be the subject of attention as anyone can look in and watch as you lose yourself in the music.
Travel Cheat Sheet Tip: There is no time limit, so feel free to sing for as long as you want! If you manage to hit a certain number of points, you might even be able to redeem a free chocolate cream crepe. Yummy!
How to get there: Walk to the end of Takeshita Street in Harajuku and cross the intersection. The karaoke place is housed in Harajuku Information Center, which is located along directly across the intersection at the end of Harajuku's Takeshita Street.
Pay for your flights with Visa Checkout on ZUJI
and enjoy an additional S$50 rebate with a minimum spend of S$500*! We loveeee all these card promotions, and the best part is that these discounts are ON TOP of the already discounted fare. All you have to do is to select
Visa Checkout
on the payment page when you
book your flights on
ZUJI
and that's it!
Don't forget that
flights to Tokyo are going from just S$566 with All Nippon Airlines (ANA)
when you book your flights on ZUJI with Visa Checkout! Start your Japanese experience right from the moment you step on board your ANA flight – ANA is dedicated to giving their passengers an authentic experience even before they step foot on Japanese shores. It doesn't get any better than this!
*Only valid for Visa Checkout transactions made with Visa cards, and limited to the first 200 redemptions.
4. Visit a video game arcade modelled after a dystopian wonderland
Image credit: Ken OHYAMA from FUNABASHI, Japan
Having grown accustomed to the fluorescent neon-lit arcades of my youth, I hence found the Anata No Warehouse to be a complete eye-opener. The exterior looks like a rusty and dilapidated building that has been abandoned for years, sticking out like a sore thumb between the shiny facade of adjacent buildings. Venture inside to uncover an entire dystopian world built on the foundation of filth; the warehouse was modelled after Hong Kong's Kowloon Walled City, an area where organised crime, drugs, prostitution and gambling ran rife. The area was demolished by Hong Kong's government back in 1994, but lives on in the legacy of Anata No Warehouse.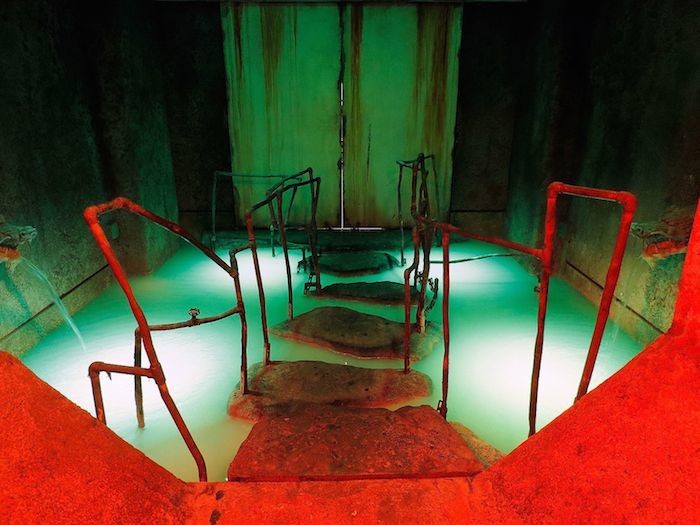 Image credit: Ken OHYAMA from FUNABASHI, Japan
Visiting the warehouse was quite an experience; the seedy interior was complete with rooms filled with fake prostitutes, and the entire place felt like dirt and grime on crack. A eerie vibe reminiscent of 'Silent Hill' hung in the air yet beyond the cruddy walls, we found an absolute gamer's paradise. The warehouse was in fact home to an eight-storey arcade that housed practically every game imaginable to mankind. Billiards, darts, rows of arcade games… you name it, they've got it!
Travel Cheat Sheet Tip: No matter how cool this place may look, I recommend visiting with a large group of friends. Kudos to the designers, for the realistic decor gave me a creepy feeling that I just couldn't shake off!
How to get there: The arcade is not in central Tokyo per se, but located in Kawasaki. Kawasaki is part of the Greater Tokyo Area, and is a 20-minute train ride from Tokyo Station. The arcade is another five-minute walk from Kawasaki Station.
5. Channel your inner ninja over dinner
Image credit: Chime
I don't know about you but I've always admired the stealth of Japanese ninjas. I love how they managed to creep up unannounced on their enemies in the still of night – ninjas were like spies, but so much more. So imagine my delight when I stumbled across the Ninja Akasaka Restaurant during my Tokyo trip research; this was my chance to be a Ninja too, if only for a night!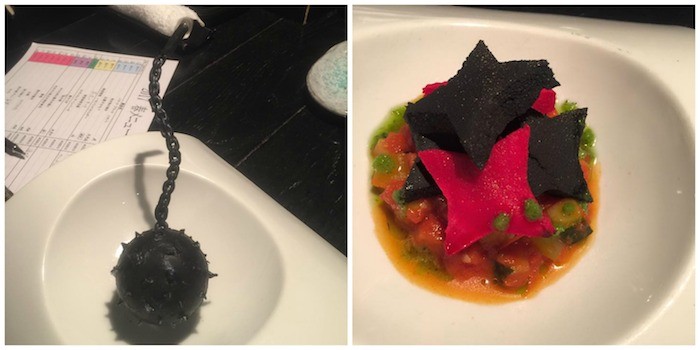 Image credit: Ninja Akasaka Facebook
Getting to the restaurant is a challenge in itself due to the entrance being hidden behind a small door shrouded in darkness. Once through the door, a guide brought me through 'Ninja training', where I had to navigate a maze of winding corridors complete with trapdoors and hidden stairwells. Once I got to the end, I was greeted by a waiter decked out in full black Ninja garb holding the menu in the form of a long scroll. The food was delicious and creatively presented; we dined on food shaped like ninja star blades or spiked ballsand watched as the waiter pulled his sword out of a smoking bowl.
Travel Cheat Sheet Tip: If you spend more than 3000 (~S$37) yen per person, you'll get to enjoy a private magic show by the resident Senior Ninja. We highly recommend this as it's a show not to be missed!
How to get there: The restaurant is a two-minute walk from Akasaka Mitsuke station.
6. Watch as sumo wrestlers compete to make babies cry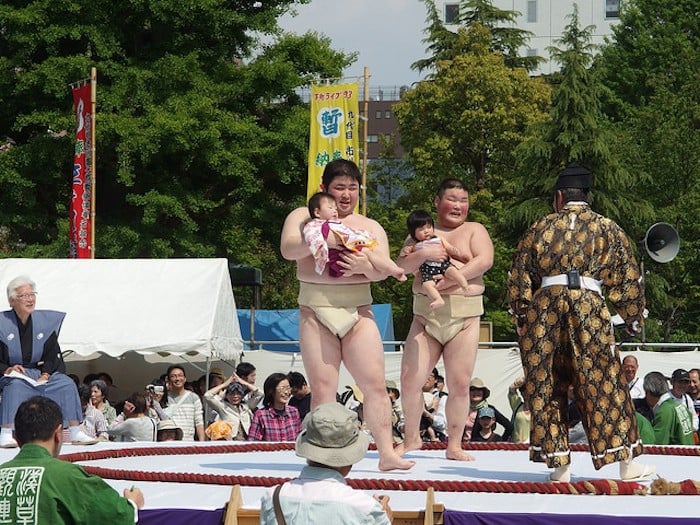 Image credit: Guilhem Vellut
Think of sumo wrestlers and what comes to mind? Probably huge muscled warriors reminiscent of the Hulk, encircling a stage whilst making reverberating grunts and crouching down in reactive fight stances. Interestingly, the annual Naki Sumo festival held at Tokyo's Sensoji Temple (on May 26) doesn't involve sumo wrestlers gearing up for a fight, but instead revolves around these giant men doing all they can to make babies cry. This 400-year tradition is believed to bring babies good luck and fortune, and mothers willingly bring their offspring to offer as tribute.
The sumo wrestlers compete to see whose baby cries first; if the baby takes a while to start crying, the referee might even help things along by making scary faces or creating loud noises. Sometimes, the wrestlers or the referees simply resort to shouting "naki, naki, naki!" ("cry, cry, cry!") in the babies' faces. If both babies start crying at the same time, the one that wails the loudest will be crowned champion.
Travel Cheat Sheet Tip: To qualify, participating babies must be born in the previous calendar year. The competition is open to babies of any nationality, so if you have a newborn and you wish to bestow some good luck upon him/her – you know where to bring the little one!
How to get there: Sensoji Temple is located right outside the Asakusa Station, behind the Nakamise Shopping Street.
Spend a minimum of S$500 and
receive an additional S$50 rebate with
Visa Checkout
* when you book your flights on ZUJI! And yes, this is ON TOP of the already discounted fare, equating to just S$566 for your flights to Tokyo on a full-service airline! If you've got a Visa card, there's really no better time to use it.
The Visa promotion is on from 20 Feb to 5 March, but
ZUJI
's flash sale is only from 21-23 February 2017 so
you better get moving!
7. Take a roaring picture with a life-sized Godzilla replica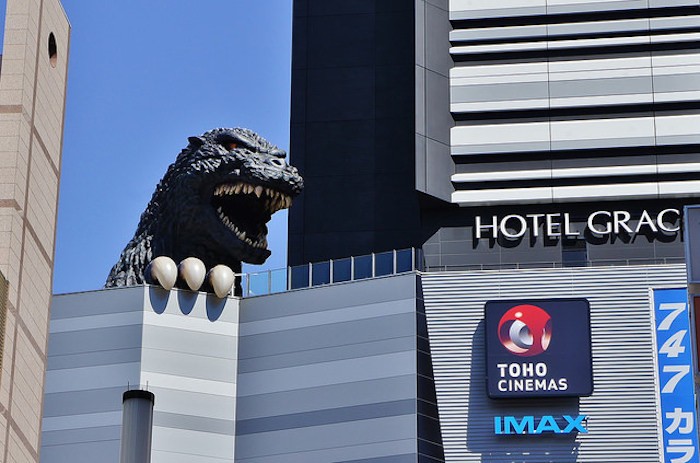 Image credit: Manish Prabhune
I've lost track of the number of times I've watched the Godzilla movie – call me sadistic, but there's just something cathartic about watching a giant lizard tear up a city. I hate to admit it, but watching the movie over and over again is indeed one of my innate guilty pleasures. Debuted by Toho Studios in 1954, the company has since constructed a 12-metre tall life-sized Godzilla replica that graces the top of the Shinjuku Toho Building!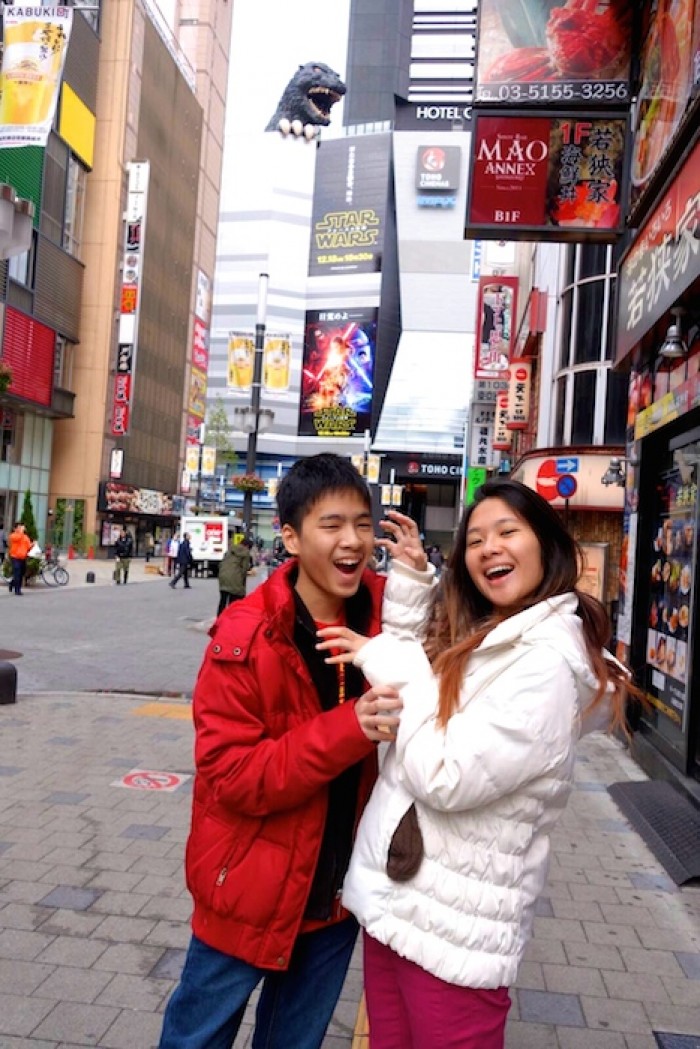 The position of the replica creates the illusion of Godzilla breaking through the myriad of buildings, where passers-by can break out their best monster poses for a truly novel photo opportunity. The GodZilla head is located just opposite Don Quijote, a multi-level variety shop that sells just about anything and everything. It's also within close proximity to the famous Robot Restaurant, which offers a unique dining experience like no other!
Travel Cheat Sheet Tip: For a more immersive experience, book a night at the Hotel Gracery where you can stay in a room that has a direct view of the monster's head! You can even opt for Godzilla-themed rooms that are filled with movie paraphernalia and decor.
How to get here: The Godzilla replica can be found in Kabukicho, Tokyo's red light district. However, the district is far from seedy – the area is filled with vibrant restaurants and shops. Kabukicho can be reached by a short walk from the east exit of Tokyo's Shinjuku station.
8. Watch AKB48 live in concert at Akihabara Theater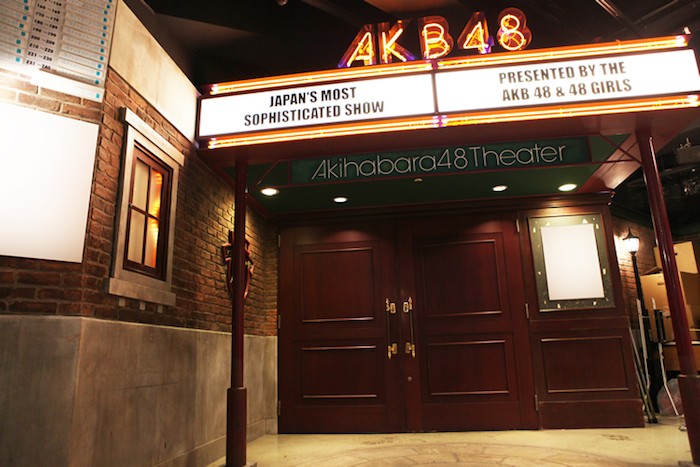 Image credit: AKB48 Theater
AKB48 is an immensely popular girl group in Japan, and has over 130 members as of December 2015. The group was founded with the intention of being 'idols you can meet'; unlike other boy/girl bands that only appear in occasional concerts, AKB48 conducts regular performances at its own theater in Akihabara. The members of the group perform on a rotational basis, and even emerge for a short meet-and-greet with members of the audience after each show.

Image credit: Dick Thomas Johnson
Each showing only seats 250 people, and is known for its intimate setting where the audience is seated really close to the stage. Scoring tickets for these shows can be rather tricky, as the show operates on a lottery system. You have to apply for tickets on the official website a day in advance, and emails will be sent to applicants who are picked at random. Only recipients of these emails are able to procure the actual tickets – they have to visit the theater on the day of the show with the email as proof to obtain the physical tickets!
Travel Cheat Sheet Tip: Some shows have specific restrictions, such as showings only for females or for people born in the month of February, for example. The lottery system on the website also allocates tickets based on categories; for example, a certain number of tickets is allocated to couples, a certain number to mobile site members, a certain number to couples and so on. Do check on this before you make your application to prevent a wasted trip!
How to get there: The theater is a five-minute walk from Akihabara Station.
Bet you never knew how cool Tokyo could be, huh! Start your exploration of the city's unique side by booking your flights to Tokyo right now:
*Only valid for Visa Checkout transactions made with Visa cards, and limited to the first 200 redemptions.
Don't forget to pay for your flights on ZUJI with Visa Checkout and receive that extra S$50 off! Are you feeling that #wanderlust yet? Join us as we continue to uncover more unique things to do in every corner of the world!
---
Brought to you by ZUJI and Visa.