ZUJI x TripZilla: Presenting to you, our nifty 'ZUJI Keeps It Real' series!
Straight up, no fluff: arm yourself with candid travel cheat sheets that contain authentic stories, real life experiences and insider tips for fellow travellers. We've been inspired and we hope you will be too!
---
Okay, how many photos have we seen of the Neverland Siberian True Love Cafe, Karmakamet Cafe, 'After You' or even 'Mr Jones' Orphanage'? Two words. Too many! On my last trip to Bangkok, I set out on a quest to hunt down cafes that haven't been splashed all over Instagram, to find the hidden gems that haven't yet been discovered by tourists.
So next time you head to Bangkok for a holiday, don't just head straight for the same old usual cafes. Here are 7 Bangkok cafes that I bet your friends have never been to!
NOTE: THIS FLASH SALE HAS EXPIRED, BUT DON'T MISS THE NEXT ONE! FOR INSIDER INFORMATION ABOUT THE NEXT FLASH DEAL, JUST:
If you're planning to head to Bangkok anytime soon, you're in luck! For
5 days
only (
12-16 Oct 2016
), ZUJI is having a
FLASH SALE
where
return flights to Bangkok
are going from
JUST S$120
!
Book your flights with your VISA card and enjoy a 5% flight/package rebate and 12% hotel coupon code. You'll also get an additional S$50 rebate with VISA Checkout payment! That gives you more moolah to go cafe-hopping!
Besides Bangkok, ZUJI is also offering return flights to Seoul from S$325 and return flights to London from S$669! Book now – your adventure awaits!
1. Perhaps Rabbits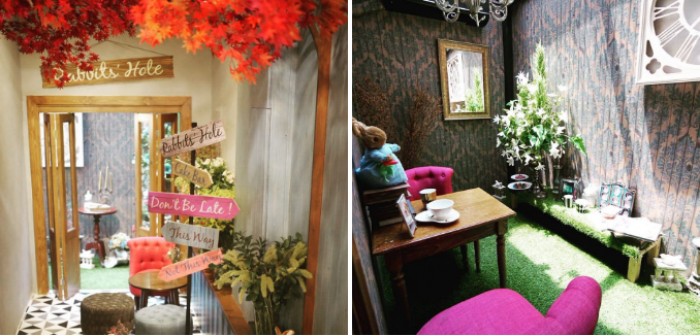 Image credit: Perhaps Rabbits
I've always had a strange fascination with the whimsical world of Alice in Wonderland. Hence, imagine my delight when I found out I could be literally transported into that fantastical world at 'Perhaps Rabbits'! Trust me, you'll never ever want to leave this adorable paradise. The interior was incredibly intricate, with minute details surprising us around every corner. Yet despite this attention to detail, the cafe was far from cluttered and was in fact rather cozy. We had our phones in our hands the whole time – I just couldn't stop snapping photos of every corner of the cafe!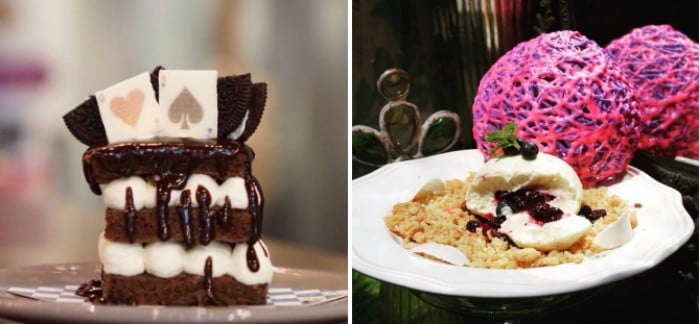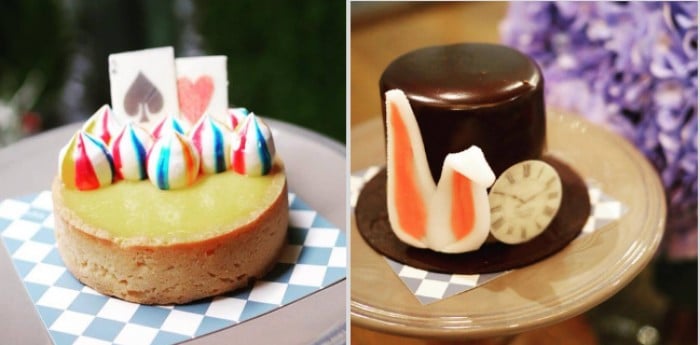 Image credit: Perhaps Rabbits
Indulge in a mad tea party with their wonderland-themed desserts such as the Blue Bunny Egg, Green Tea Bush, Rabbit Hole Mud Cake, Mad Hatter Mousse and more. Their desserts are so beautifully decorated, I almost couldn't can't bear to eat any! We particularly loved the Blue Bunny Egg, which consisted of blueberry cheese pie with a purple-pink chocolate coating and biscuit crumbs. Feel as if you've gone back in time and embrace your childlike wonder as you go crazy over these glorious desserts – I know I did!
Travel Cheat Sheet Tip: Remember to try their adorable popcakes as well! These nifty little goodies can be taken away as well for snacking later on.
Address: Werng Boran, Ekkamai, Bangkok, Thailand
Nearest BTS station: Ekkamai
2. Ink and Lion

Image credit: Ink & Lion Cafe
During my cafe-hopping jaunts, I've always lamented my inability to try more things than my stomach can handle – everything just looks so good! However, here at Ink and Lion, they serve up relatively mini-sized pastries and desserts, which is perfect for those who wish to try a greater variety. This industrial chic art gallery and cafe churns out a mean coffee as well; choose from hot and cold espresso coffee in different styles, as well as pour-over drip coffee.
Travel Cheat Sheet Tip: How's this for the perfect meal – the butter waffles with chocolate sauce, accompanied by an iced white with an affogato for dessert? I highly, highly recommend this combination!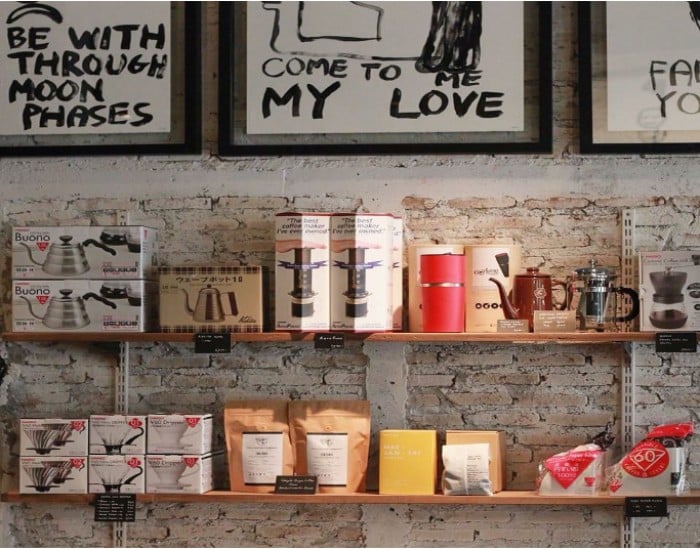 Image credit: Ink and Lion
I loved admiring the various exhibits by local and international artists as well. We were completely floored by their masterpieces and admittedly (extremely) jealous of their artistic talents!
Did you know that you can even buy your very own coffee brewing gear from the cafe? Future coffee barista in the making, thank you very much. Oh, and we even had a second round of waffles before leaving because who can say no to waffles, am I right?! Besides, this cafe definitely knows how to serve up a superb waffle!
Address: 1/7 Soi Ekamai 2, Sukhumvit 63, North Prakanong, Wattana, Bangkok, Thailand
Nearest BTS station: Ekkaimai
Go on a hunt for the perfect waffle in Bangkok! When you
book your return flight to Bangkok
on
ZUJI from just S$120
(remember this unbelievable fare is available for
5 days
–
12-16 Oct
– only!) with your
VISA card
, you get a
5% flight/package rebate
, as well as an
additional S$50 discount
when you use
VISA checkout payment
. We did the math, and these savings get you an extra 10 waffles to gulp down!
What else are you waiting for?
3. Fill In The Blank Cafe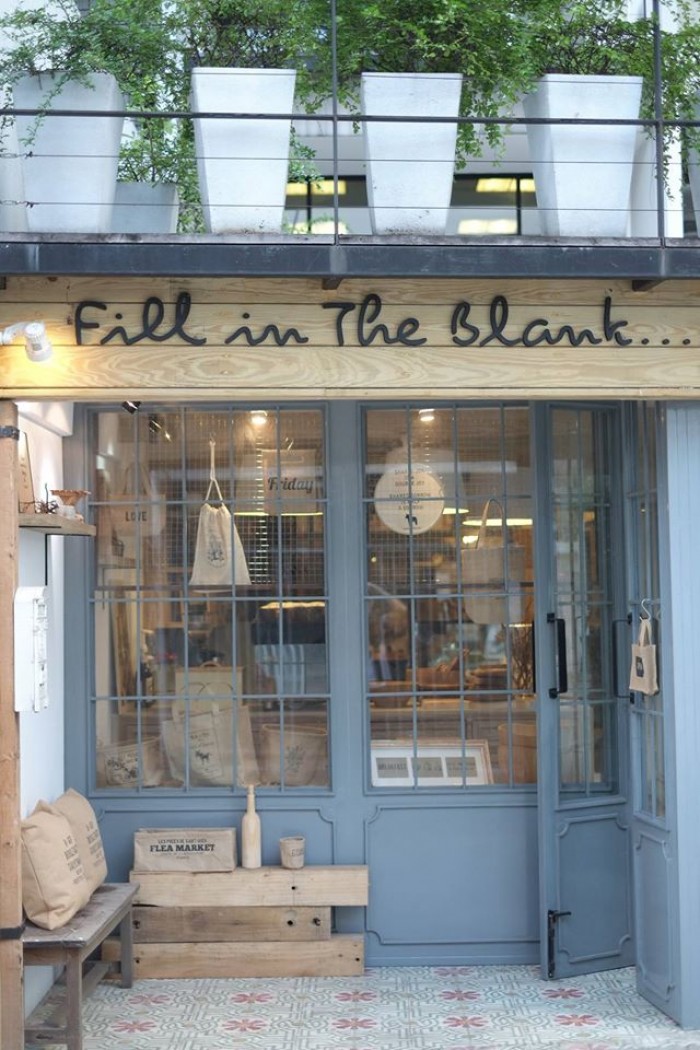 Image credit: Fill In the Blank
What a unique name for a cafe! Much like its namesake, this cafe felt a little like a mysterious enigma I couldn't wait to crack. The cafe is a quaint little establishment located in a small alley not too far from the main street. Decked out with rustic wood furnishings and pastel colours, the interior of the cafe creates a soothing and peaceful ambience.
Travel cheat sheet tip: You can choose from either indoor or outdoor seating, but we recommend the outdoor seating, where you can dine alfresco-style in the middle of a charming garden.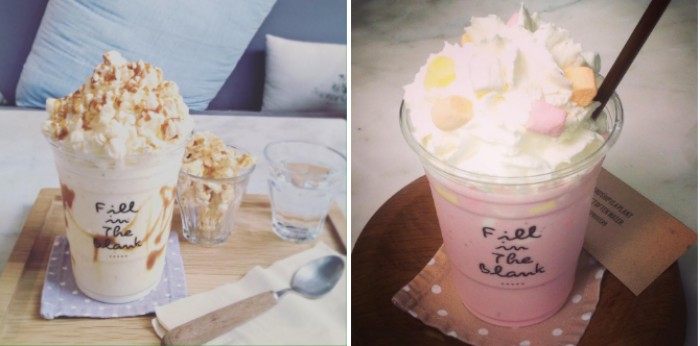 Image credit: Fill In The Blank
I would come here just for the milkshake alone; I mean, just look at it! Don't their milkshakes just look absolutely AMAZING?! Choose from an array of highly interesting flavours such as salted caramel popcorn or strawberry marshmallow. The milkshakes are thick and creamy without being overly sweet, and come with a generous heap of toppings. Take it from me – these milkshakes are oh-so-insta-worthy!
Address: 28/10 Sukhumvit Soi 61, Bangkok, Thailand
Nearest BTS station: Ekkamai
4. Li-bra-ry Cafe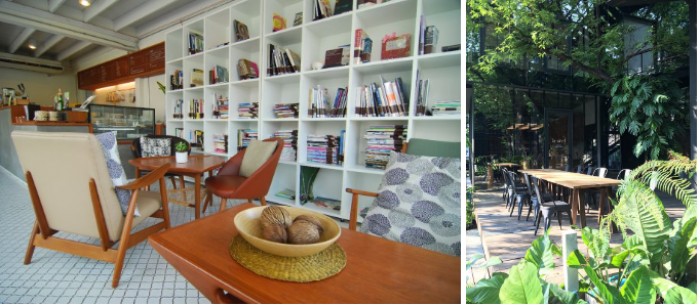 Image credit: Library Cafe
Oh, don't we all wish that our living room could look just like this? Tucked away in a quiet corner, the Library Cafe is a perfect hideout for those looking for a tranquil sanctuary. Get away from the hustle and bustle of Bangkok's city life and gain some respite here whilst immersing yourself in the world of fiction. The minimalistic decor and lush greenery provided the perfect setting for devouring a good book on a sunny afternoon.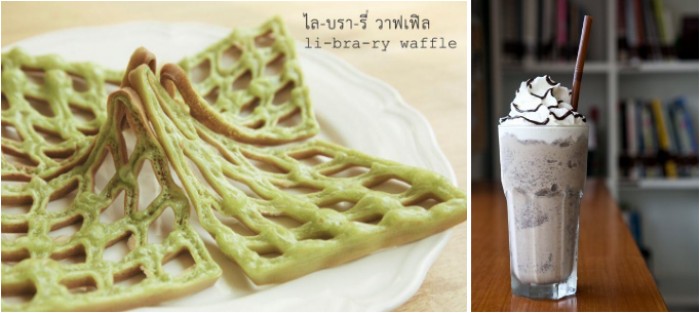 Image credit: Library Cafe
We tried this quirky looking library waffle that was surprisingly crunchy on the outside and soft on the inside! My favourite item on the menu would be the chocolate blended smoothie, which was super sinful but yet so refreshingly good. We finished it in no time!  
Travel Cheat Sheet Tip: For those with monster stomachs, tuck into the Library Cafe's main course items as well, such as mini spring rolls or pasta. My favourite is the mini spring rolls – they're surprisingly addictive, I bet you won't be able to stop at one!
Address: 2 Soi Metheenivet, Sukhumvit 24, Bangkok, Thailand
Nearest BTS station: Prompong
Okay so we had some serious food coma after devouring all those desserts. Luckily our accommodation was located just a few streets away! If you're a serious cafe-hopper like us, perhaps it might be good to stay somewhere in near proximity to the cafes. When you
book your return flight to Bangkok
on
ZUJI
from just S$120
(valid from
12-16 Oct
only), whip out your
VISA card
and enjoy a
12% hotel coupon code
.
Start booking and researching for your trip now
– cafe wonderland awaits!
5. Let Them Eat Cake
Image credit: Let Them Eat Cake
We stumbled upon this beauty whilst on a hunt for some post-dinner sweet cakes and desserts, and subsequently ended up going back every single night of our trip! We first fell in love with the aesthetics of the cafe – boasting chic Parisian decor, black and white marble floors and plush armchairs, 'Let Them Eat Cake' seemed like a lovely place to slowly savour every bite of your dessert. The cafe has managed to recreate some of the best classic Parisian cakes right here in Bangkok, leaving any visitor completely spoilt for choice!

Image credit: Let Them Eat Cake
Just look at all these delicate treats! Every single cake is literally a miniature piece of art. The best part? Their cakes only cost between 130-200 baht apiece. What a steal! Paying homage to their Thai roots, the Thai tea tart is a delightful favourite amongst locals that frequent this cafe. This goes for any avid fan of Thai milk tea – this tart is a definite must-try!
Travel Cheat Sheet Tip: If you're not a fan of tarts, go for their macarons which come in a variety of flavours such as Thai tea and chestnut, passion fruit with raspberry, jasmine tea with strawberry and many more.
Address: Ground Floor, Mille-Malle, Sukhumvit 20, Bangkok
Nearest BTS station: Asok
6. (un)Fashion Vintage Cafe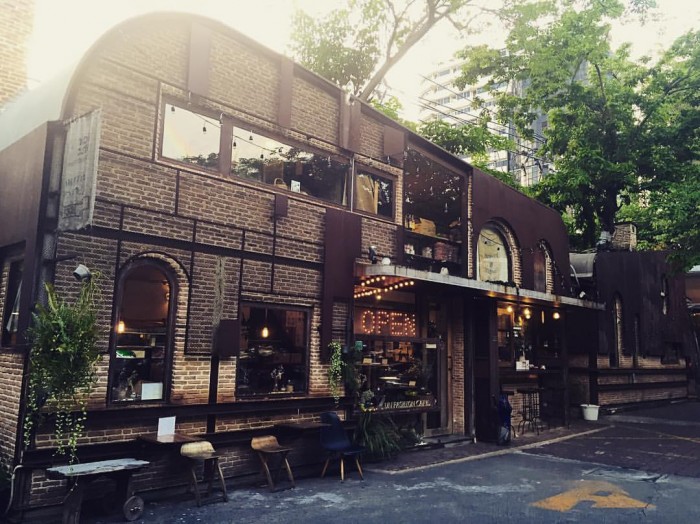 Image credit: Wendy Lin
This cafe is the perfect union of two of my favourite things – fashion and coffee! If you're a lover of all things vintage and leather, this is the place for you. The cafe was started by a darling Thai-Japanese couple who modelled the place after a caravan. The interior is plush and cozy; I fell in love with this adorable nook by the window!

Image credit: (left) DaysinMahanakhon; (right) Lu Sung Cheng
I had such a lovely afternoon just curled up by the window, sipping my cup of freshly brewed iced caramel latte and people-watching. The cakes and pastries sold there are also both delicious and affordable. I tried the chocolate waffle and it was so soft and fluffy – exactly how good waffles should be!
Travel Cheat Sheet Tip: Visit this cafe prepared to part with a big chunk of your money – the cafe has a shopping section as well for when your appetite is fully sated and satisfied. The owners constantly import products from Italy, Japan and the USA on a weekly basis, so you're bound to find something you like.
With both coffee and shopping in one space, this cafe has definitely won me over. I'll be back for sure!
Address: Ekkamai Soi 10, Bangkok, Thailand
Nearest BTS station: Ekkamai
7. One Ounce For Onion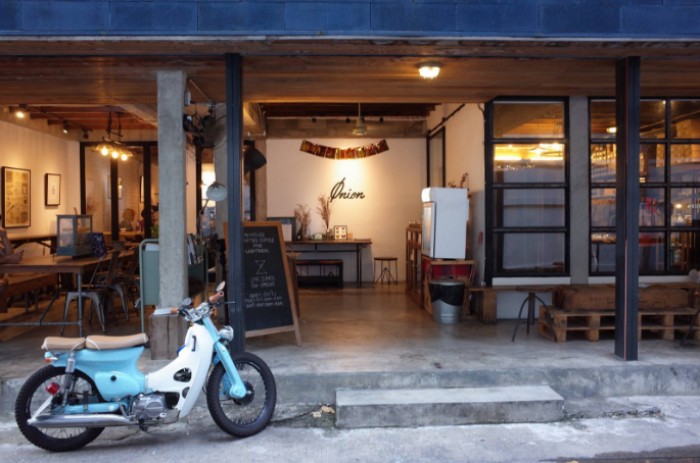 Image credit: One Ounce For Onion
'One Ounce For Onion' is THE ultimate hipster cafe, a true hidden gem just waiting to be discovered. The cafe is pretty tiny and has a fashion store just next door, and thus might be pretty hard to find. However, the cafe is every bit worth the hunt! Opened by a young guitarist from the indie band Slur, they offer high quality speciality coffee by the local roaster Brave. We had a great time just browsing through magazines and indulging in a cup aromatic coffee of while letting the soulful overtones of acoustic music wash over our heads.
Travel Cheat Sheet Tip: I highly recommend the black chinotto coffee, which consists of a refreshing mix of cold brew and chinotto orange. It's delightfully bittersweet, with a hint of a citrus tinge.

Image credit: One Ounce For Onion
Grab their signature dish – the Grilled Croissant – with your cup of coffee. Dip soft grilled croissant slices into a homemade spicy tomato sauce, which is mixed with minced pork and a runny egg yolk. Mmm… now this is what a meal should taste like! Another creative dish that caught our eye were the waffles with popsicle and mixed fruits. We'll definitely be back to try that!
Address: 19/12 Ekkamai 12, Sukhumvit 63 Rd., Klongton Nua, Wattana, Bangkok, Thailand 10110
Nearest BTS station: Ekkamai
Are your tastebuds tempted yet? Why, it might even be worth making a trip to Bangkok to check out these hidden gem cafes before they become flooded with tourists. If you like that idea, we've got just the thing for you:
For first-hand information about ZUJI's upcoming deals and promotions, simply subscribe to their mailing list right here and have them delivered right to your doorstep: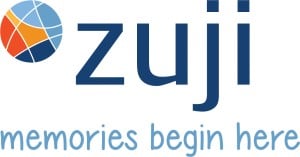 Thank you for your subscription.
By subscribing to ZUJI's mailing list, you will:
Be the FIRST to know about flash sales and exclusive airfares

Receive hints about flash sale timings – every minute counts!

Have first-hand information about ZUJI special promotions
See the world with ZUJI; stay tuned for the next installment of our 'ZUJI Keeps It Real' series!
---
Brought to you by ZUJI.