ZUJI x TripZilla: Presenting to you, our nifty 'ZUJI Keeps It Real' series!
Straight up, no fluff: arm yourself with candid travel cheat sheets that contain authentic stories, real life experiences and insider tips for fellow travellers. We've been inspired and we hope you will be too!
---
Seoul is one of THE most popular destinations in the world. Let's face it, it's only going to get harder and harder to enjoy places without hordes of people to elbow through! I spent a month in Korea, and had lots of time to explore; here are all my precious secrets and hideouts, dished out just for you!
I know we all loveeee Korea and don't mind going back over and over again to explore, don't we? And there's no better time to do it than now because ZUJI is offering flights to Seoul from just S$443 ALL-IN!
NOTE: THIS FLASH SALE HAS EXPIRED, BUT DON'T MISS THE NEXT ONE! FOR INSIDER INFORMATION ABOUT THE NEXT FLASH DEAL, JUST:
Fasten your seatbelts – for 5
 days only
(26-30 Sept 2016),
fly to Seoul from just S$443 all-in with ZUJI
!
Isn't that fantastic? But hold up, that's not it –
book your flight with your
Maybank card
and enjoy
an additional 6% rebate
PLUS receive a
12% hotel coupon code
, and redeem a
FREE luggage if you spend S$2,500 or more
.
We did the math, and that means you get a S$26.58 rebate when you book with your Maybank card! This savings can get you a sumptuous bowl of Korean samgyetang (ginseng chicken soup), with leftover cash to buy lots of snacks from Lotte Mart! Boy is that cheap or what? Brb, packing our bags now!
Here are 7 of my favourite non-touristy things that I recommend everyone to do in Seoul, especially during the upcoming winter months:
1. Watch a baseball game at Jamsil Stadium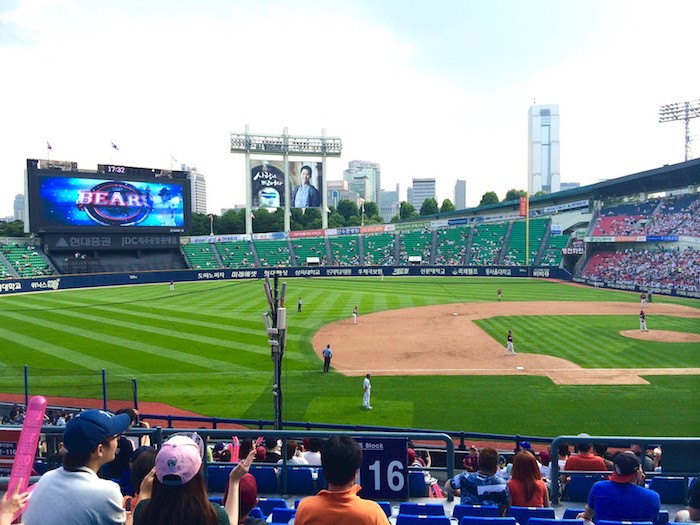 I have never watched a baseball game in my life before I went to Korea, but I knew that I absolutely had to check it out! Especially because Koreans take their baseball VERY seriously. There are many diehard fans who pledge allegiance to a particular team and they become real competitive when they meet fans supporting the opposing team! Even if you have no knowledge about baseball, the game is really easy to understand and follow!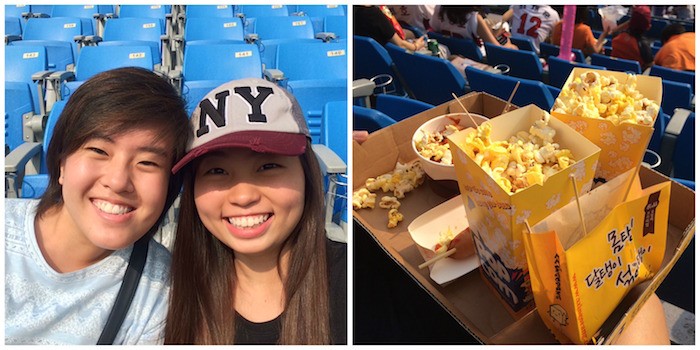 Besides, the atmosphere of the stadium was just so electrifying! I felt as if I was attending a mega concert or a music rave. Koreans love to drink beer, and eat fried chicken or snacks while catching the exciting baseball game – of course we had to follow suit, right? Everybody also please go buy the PEANUT BUTTER SQUID, it's the ultimate bomb!  
Travel Cheat Sheet Tip: You can purchase your tickets online, at selected convenience stores, or at the stadium on the day itself. Just remember to check the game timings and head down a few hours in advance to be safe. Prices start from 8000 won for unreserved seats. If you prefer to book online, the website of Doosan Bears is one of the few with English, you can head over HERE to book. I recommend going to the stadium and buying tickets from there directly, it's hassle-free and super easy!
Directions: Take exit 5 or 6 of Sports Complex Station on Line 2, and follow the signs to Jamsil Stadium. It will take around 10 minutes.
2. Go Ice-fishing with your bare hands
Image credit: KTI
The Hwacheon Sancheoneo Ice Festival is a local festival that offers a unique winter experience you will never forget! Come 2017, the ice festival will be held from 9-31 January (dates to be confirmed). The region is home to sancheoneo, the mountain trout that lives only in extremely clean AND cold waters. They can only survive in the purest of waters by the way, which goes to show how pristine the environment at Hwacheon is. The highlight of the day was definitely BAREHANDED ice-fishing!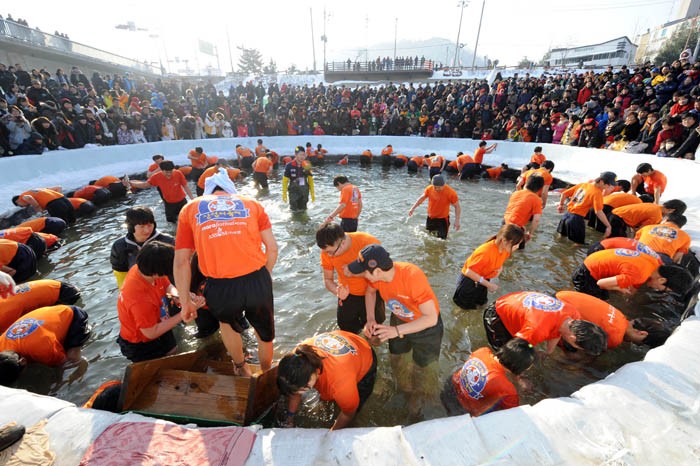 Image credit: Korea
We scrambled around in ICE COLD WATER for 5 minutes trying to catch as many fish as we could; the water was no joke, it was so insanely cold that I thought my teeth were gonna drop off from chattering too much! If you manage to catch any whilst you're there, you can even grill and eat the fish on the spot. Besides ice fishing, I also tried a ton of other activities such as snow sledding, ice soccer and taking selfies with multiple ice sculptures.
Travel Cheat Sheet tip: Refer to the English festival brochure for more program information, wear thick winter clothes and shoes with thick soles, and book your accommodation in advance.
Directions: Go to Dong Seoul Bus Terminal, located at Gangbyeon Station on Line 2. From Dong Seoul Bus Terminal, take an express bus to Hwacheon (est. travel time of 2hrs 40min one-way, 10,400 won for the bus ticket). The Hwacheon Stream is about 10-min walk from the Hwacheon Bus Terminal.
3. Learn Wicked Moves from 1 Million Dance Studio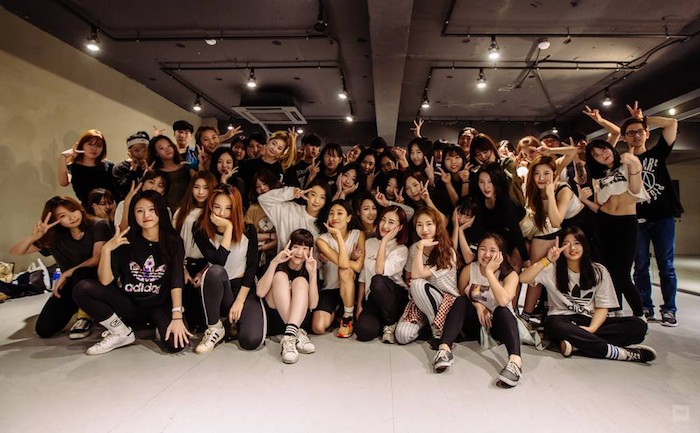 Image credit: 1milliondancestudio
If you haven't seen all the awesome dance videos that people have been sharing on Facebook non-stop, you're probably living in a cave. The dancers at 1 Million Dance Studio will just blow you away with their intense choreography to the latest pop hits! Obviously, if you make a trip to Korea, you can't miss out on taking a dance class with these legendary dancers, can you?! Better to have tried and failed than to have never tried at all, as I always say!
The instructors there have also collaborated with, and choreographed for, various Korean celebrity boybands and girl groups, so you're definitely learning from the best of the best. I went for a class by Lia Kim and had a great workout!
Directions: Take exit 1 of Seonjeongneung station on Line B
4. Get new pairs of trendy glasses for your family and friends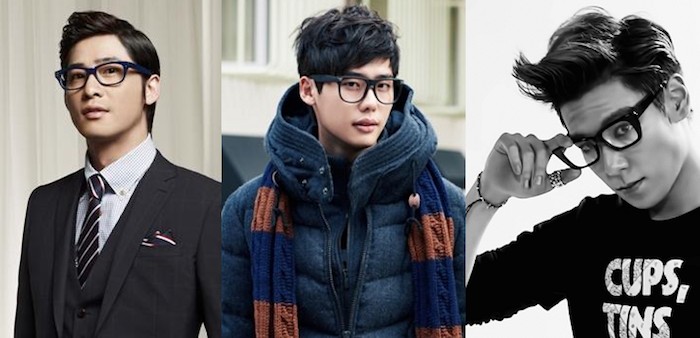 Image credit: Koreaboo
Most people tell you to go to Korea and buy back cheap cosmetics ranging from face masks to eyeliners and sleeping packs for them, but how many people tell you to get SPECTACLES for them?! Hardly, I presume. Bet you didn't know that spectacles are actually MUCH cheaper to make in Korea and opticians are also really efficient! Instead of having to burn a huuuuuge hole in my pocket just to make ONE pair of glasses in Singapore, I can make THREE pairs in Korea for the same price. I made mine at a random optician in Hongdae for only S$100 using the thinnest possible lenses available for my eyesight of 950 degrees. WHAT A STEAL!
Travel Cheat Sheet Tip: Besides those at Hongdae, opticians at Namdaemun offer spectacles at prices 30% cheaper than those sold at other places! But if you're afraid about the language barrier, you can always head to stores like Alo or Davich at Myeongdong that have workers who are fluent in English or Chinese!
5. Go paragliding and enjoy the spectacular views from above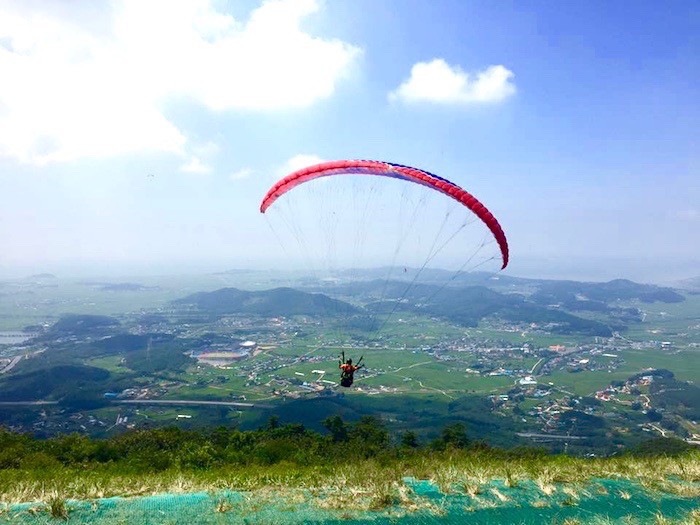 Lots of people have gone bungee jumping and even skydiving, but did you know that paragliding is available in South Korea as well, and even during the winter? It's a totally unique experience! You also get to enjoy spectacular views from up above and enjoy the thrilling feeling of effortlessly floating in the air. There are a few locations around Korea that offer paragliding such as Danyang, Jangamasan Mountain in Gangwon-do and Yangpyeong.
Travel Cheat Sheet tip: Pssssst, if you're scared, you can always choose to do tandem paragliding with an instructor attached to you. I have a slight fear of heights, but the tandem guide made me feel super secure!  
Directions: Go to Dong Seoul Bus Terminal, located at Gangbyeon Station on Line 2. From Dong Seoul Bus Terminal, take an intercity bus to Pyeongchang. Then, from Pyeongchang Intercity Bus Terminal, take a taxi to Jangamsan Mt. Paragliding Field.
6. Rail-bike along old train tracks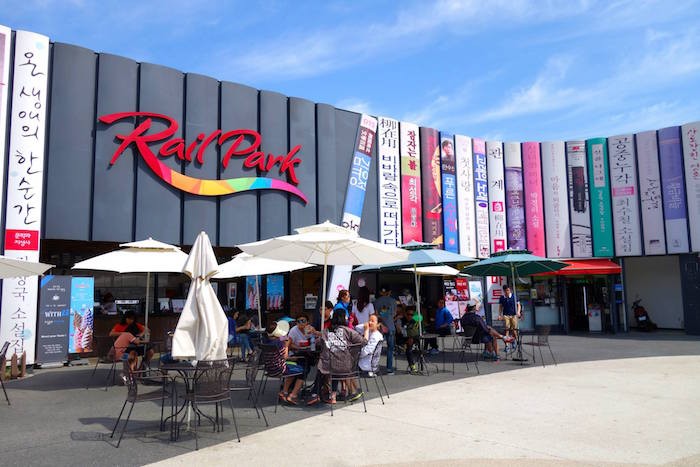 Rail-biking is a fun and enjoyable experience perfect for a great afternoon! It is also a relatively novel experience, because you get to cycle on abandoned rail tracks while relaxing with the cool breeze and picturesque scenery along the way. Couples can also have a romantic, lovey-dovey time and not be disturbed by anybody as they cycle along the route. As for me, I went with 3 other friends and it was one of the most memorable experiences I had in Korea!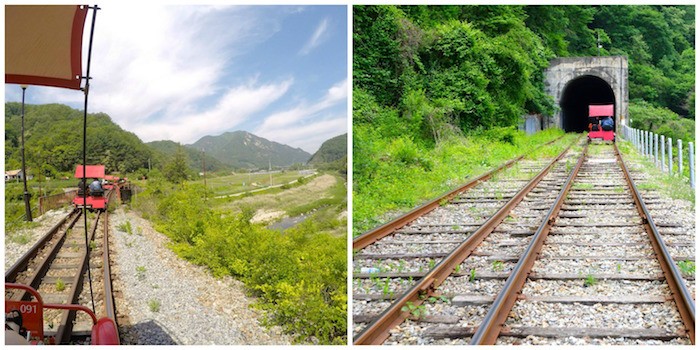 We could blast music from our phones and sing at the top of our lungs without being a public nuisance at all! There will always be a comfortable distance between your rail bike and the previous bike, so be sure to maintain that. Besides, there is only one track for the rail bikes to travel on so you definitely can't cycle faster to overtake someone else! Just sit back, relax, and enjoy the experience. There's also a rest stop for you before you turn back and cycle to the starting point, so don't worry!
Travel Cheat Sheet Tip: There are bikes that fit either 2 or 4 people, and the one that fits 4 is wayyyy cheaper. Hence, if you're a party of 2, we recommend approaching another group of 2 in the queue and team up to enjoy rail-biking at a much cheaper price. You're welcome!
Directions: Take exit 1 of Gimyujeong station and walk straight for 4 minutes.
Sometimes, we all just need a comfy accom to relax and rewind at the end of the day. We hear you!
Book on ZUJI with your
Maybank card
and you'll receive a
12% hotel coupon code
! Spend
S$2,500 and above
, and you'll also get to redeem a
FREE luggage
! What else are you waiting for?
7. Visit Namseong Market, a traditional market off the radar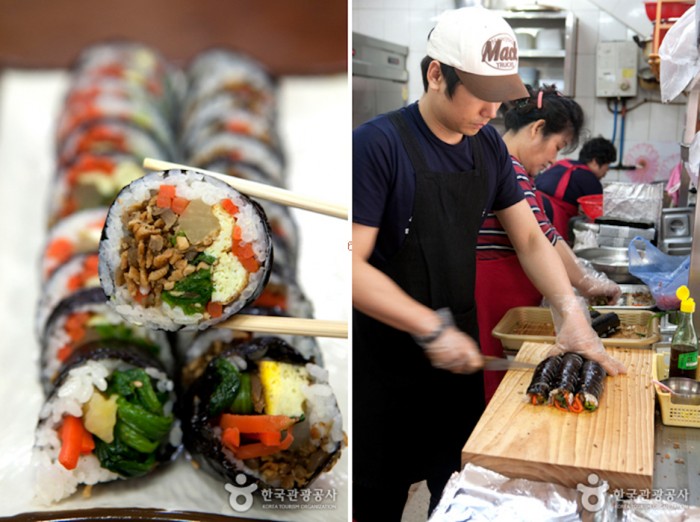 Image credit: KTO
Wandering around traditional markets are a great way to learn about the daily life of people in a country, and Namseong Market offers just that. Aside from Namdaemun Market and Gwangjang Market which are fairly well known amongst the tourists, Namseong Market is totally off the radar. It may be small in size and you will not take long to fully explore it, but it is absolutely charming in its own way.
You'll even get to see live turtles and eels swimming freely around in tubs, waiting for someone to buy and cook them.
Travel Cheat Sheet tip: Remember to check out Bangbae Kimbap at the end of the alley for some absolutely delectable kimbap! It's so good, you'll be addicted and end up eating more and more.The Yubu Kimbap and Gochu Kimbap are my personal favourites, you definitely have to try them! So affordable and yet soooo yummy.
Directions: Take exit 14 of Isu station on Line 4.
Can't wait to try out all these local gems and activities for yourself? I've got just the thing for you!
[DEAL] FLY TO SEOUL FROM JUST S$443 ALL-IN
ZUJI is offering irresistible deals to 3 popular destinations, and South Korea (Seoul) is one of them! From 26 to 30 September 2016, book your flights to Seoul from just S$443 all-in – yes, it is that cheap! After all, cheaper flights means more money to spend at your destination, yes?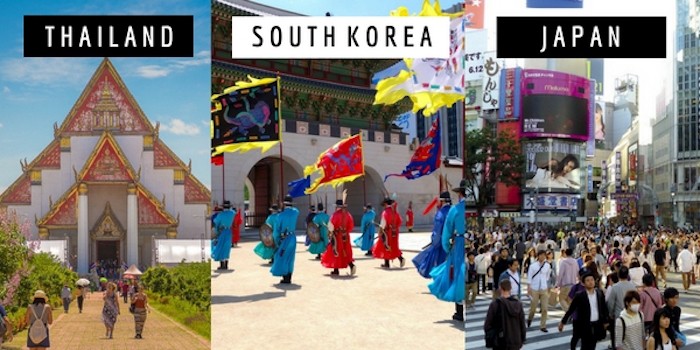 If Korea's not your cup of tea, ZUJI is also offering amazing deals to both Japan and Thailand from 26 to 30 September as well! Mark your calendars people – Due to popular demand, the sale has been extended for 2 more days, and is ongoing for 5 days, 5 DAYS ONLY!
Hold up, that's not it! If you complete your booking with a Maybank card, you:
Get up to

6% rebate

on all flight/package bookings

Receive a

12% hotel coupon code

Redeem a

FREE luggage

when you spend S$2,500 and above
That's the best thing about booking with ZUJI – on top of all these flash sales, you get to enjoy ADDITIONAL credit card discounts. Holidays, come to Mama!
Don't say we good things don't share – hurry book your next holiday right now with ZUJI!
For first-hand information about ZUJI's upcoming deals and promotions, simply subscribe to their mailing list right here and have them delivered right to your doorstep: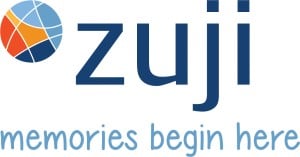 Thank you for your subscription.
By subscribing to ZUJI's mailing list, you will:
Be the FIRST to know about flash sales, special conditions, and exclusive airfares/promotions

Receive hints about flash sale timings – every minute counts!

Have first-hand information about ZUJI special promotions
Awesome! What else are you waiting for? Pssst, also stay tuned for the next part in our 'ZUJI Keeps It Real' series – we promise, it will be bigger and better! Till then, bon voyage!
---
Brought to you by ZUJI.