ZUJI x TripZilla: Presenting to you, our nifty 'ZUJI Keeps It Real' series!
Straight up, no fluff: arm yourself with candid travel cheat sheets that contain authentic stories, real life experiences and insider tips for fellow travellers. We've been inspired and we hope you will be too!
---
All heads will turn at the whiff of good food, but everyone has their differing recommendations on which establishments are the chart-toppers! Bloggers will blabble as relatives rave, but the chief benchmark we all use for the penultimate epicurean experience is the Michelin Guide.
Recognising only the cream of the crop, this guide has crowned Hong Kong as the city of culinary greatness. Since 2009, Michelin has accorded stars to a staggering 61 restaurants! In fact, my recent stroll along central Kowloon alone already took me to a litter of prestigious one to two starred establishments!
NOTE: THIS FLASH SALE HAS EXPIRED, BUT DON'T MISS THE NEXT ONE! FOR INSIDER INFORMATION ABOUT THE NEXT FLASH DEAL, JUST:
[FLASH SALE] Get to Hong Kong, Taipei or Seoul from just S$141 with ZUJI!
If you have plans underway to head over to Hong Kong, check out ZUJI's FLASH SALE where flights to Hong Kong are going from JUST S$141 during 18–20 April 2017!
Wondering whether a getaway to Taipei or Seoul might be better instead? Well, ZUJI has a FLASH SALE for flights to both cities from JUST S$249 during 18–20 April 2017 too! How amazing is that?
Additionally, get these perks when you book any of your flights with your Mastercard by 30 April 2017 for travel by 31 September 2017:
$20/50/100 rebate on ALL flights or packages with a minimum spending of $400/800/1600

12% hotel coupon code

Free insurance (up to $25 per booking)
With the innumerable options, all offering the richest and most authentic flavours, at your fingertips, it's a mind boggle to decide which to feast at. There's so much food but so little time! But skip the hassle of worrying – I have taken the liberty to prepare a guide around Hong Kong's starry food scene.
From those with the least crowds, to the cheapest prices and most organic menus, here are Michelin starred restaurants in Hong Kong for the different types of foodies.
The one with the best dim sum: Sun Tung Lok (Tsim Sha Tsui)
With Hong Kong being the world's dim sum paradise, choosing a place to feast on dim sum can actually be challenging. Personally, I was spoilt for choice on where to go, from the cheap street stalls to the lofty restaurants promising dumplings of the highest quality. But in the city where even the cheapest of dim sum is appetising, you should go for the best: Sun Tung Lok!  This two-star restaurant offers a good mix of traditional and novel dim sum dishes, masterfully made with fresh ingredients. I loved the classic steamed barbequed pork bun (S$10), with its tender filling, but also enjoyed the restaurant's delicate baked abalone puff (S$14).
Sun Tung Lok (Tsim Sha Tsui) opens for lunch from 11.30am to 3pm, and dinner from 6pm to 11.30pm daily.
Travel Cheat Sheet Tip: Still unsure of what to eat, or simply want to try the best dim sum that Sun Tung Lok has to offer? Check out the restaurant's special seasonal dim sum menu, which offers dishes dependent on the time of the year! My favourite was the steamed chinese sponge cake with quinoa and rose sugar (S$8.70). Note that the seasonal dim sum menu is only available for lunch.
The one with the most creative dishes: Bo Innovation
If you are looking for a restaurant with the most innovative yet delicious food, Bo Innovation wins hands-down. This three-star establishment offers one of the most kaleidoscopic gastronomical experiences I have ever encountered, with its unconventional French-Chinese fusion cuisine. The restaurant's chef, Alvin, artfully whips up traditional dishes in the most contemporary of methods, resulting in dishes such as Black Truffle XO "Har Gau" and Foie Gras "Mui Choy"! I found his interpretation of the Xiao Long Bao extremely creative – rebranded as the Molecular Xiao Long Bao (S$16), this classical Shanghainese dumpling has been reincarnated as a jelly-like sphere.
Bo Innovation opens for lunch from 12pm to 3pm only during the weekdays, and dinner from 7pm to 12am (weekdays) or 6pm to 12am (Saturdays and public holidays).
Travel Cheat Sheet Tip: Bo Innovation's dishes can be so unorthodox that choosing what to eat might prove difficult. Try the restaurant's Set Lunch menu instead! For just S$99, you get an entree and main course of your choice (from a smaller selection), as well as dessert.
For those who already day-dreaming of dim sum and creative dishes, your trip to these restaurants might just come true! Book your flight to Hong Kong on ZUJI from just S$141 with this unbelievable flash sale from 18–20 April 2017 only!
Besides Hong Kong, you can also get to Taipei and Seoul at incredible prices too! What are you waiting for? Head over to ZUJI's website today!
The one (area) with affordable delights all around: Wellington Street/Stanley Street
One of Hong Kong's best kept secrets, Wellington Street and Stanley Street is home to a flurry of cheap and affordable restaurants that either have Michelin stars or are Michelin-recommended! It's the perfect place to indulge in Hong Kong's gastronomic delights without having to worry about burning a hole in your pocket. You could even go on a Michelin food trail! Here are our top two finds:
#1: Mak's Noodle
You can't leave Hong Kong without indulging in a hearty bowl of wonton noodle soup, that's for sure. And Mak's Noodle is known for serving the best wonton noodles in the whole of Hong Kong! This restaurant offers arguably the most delectable shrimp wontons, served in small bowls complemented by thin springy noodles and soup bursting with umami flavour. And with an open-air kitchen, we just couldn't stop gaping at the seasoned chefs doing their thing and serving up dish after dish of steaming hot goodness! The best part? It only costs S$4.13, so we went ahead and ate to our heart's content.
Mak's Noodle is open from 11am to 9pm daily.
#2: Yat Lok
An unimpressive facade, crazy crowds, long queues, no-nonsense waitresses and atrocious service…Yet people keep flocking to Yat Lok from all over the world. That's a sure sign that their food must be absolutely fantastic, enough to overlook all these bad characteristics of a dining experience. The undisputed culinary star is none other than the roast goose of course! Delicate crispy skin atop tender chunks of roast goose, and served with sweet plum sauce, we just couldn't stop ourselves from wiping the plate clean. Take a look at that plate of glistening and juicy meat – we absolutely loved it! Get a Goose Drumstick with Rice at just S$15.70.
Yat Lok is open from 10am to 9pm daily, except on Sundays where they are open until 5.30pm only.
Travel Cheat Sheet Tip: There are plenty of Michelin starred or recommended restaurants around the area, so go on a food trail and plan your food intake wisely! This way, you get to enjoy a larger variety of food from various establishments instead of just having a satisfying meal at one restaurant.
The one with the best view: Tin Lung Heen
Looking to combine your dining experience with a visual treat? Head over to the opulent Tin Lung Heen! Situated at the 102nd(!) floor of the Ritz-Carlton Hong Kong, this two-star Cantonese restaurant offers sweeping views of Victoria Harbour, Hong Kong Island and the South China Sea. Tin Lung Heen's high-ceiling lavish interior and massive glass windows also play a significant role in making sure your eyes stay as satisfied as your stomach. And speaking of the food, I recommend the famous Barbequed Iberian pork with honey (S$57) and the restaurant's signature Steamed Crab Claw with Egg White (S$55.80). The former melted in my mouth exquisitely, while the latter was the best steamed crab I have ever tasted!
Tin Lung Heen opens for lunch from 12pm to 2.30pm, and dinner from 6pm to 11.30pm daily.
Travel Cheat Sheet Tip: Tin Lung Heen is the perfect spot to catch the beautiful sunset over Victoria Harbour, so do start your dinner there early during the summer! Ask to dine by the window, and enjoy your fill of the Cantonese cuisine before watching the sun gradually dip under the horizon. With posh dining and excellent food, where else can be better to enjoy the sunset in Hong Kong than this restaurant?
The one with the best customer service: Lung King Heen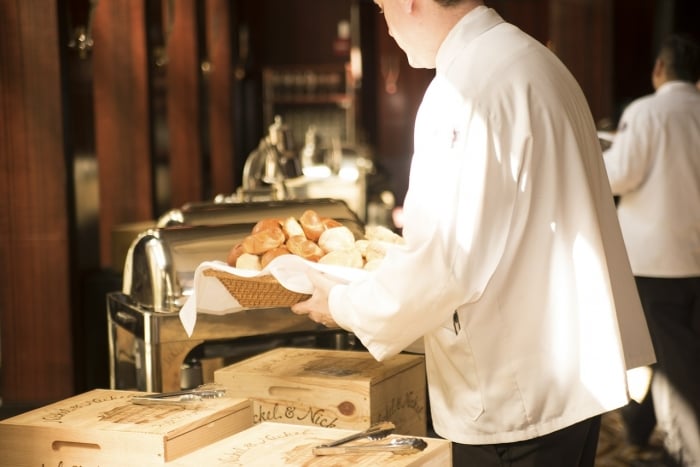 When it comes to Hong Kong, we can all agree on one common notion. The food is beyond amazing, but the customer service isn't as impressive. From the glamorous upmarket outlets down to city-dwelling street stalls, I've encountered my fair share of brash, indifferent waiters and cooks. So you can imagine the huge sigh of relief I heaved after finding Lung King Heen Cantonese Restaurant.
It's not just the legendary dim sum delicately crafted by Chef Chan Yan Tak that's charming foodies; the accompanying serving staff also put immense care and obvious pride in their duties! They were courteous, generous in paying compliments and took the time to meticulously explain the menu to me as well. It wasn't only the good food (Lung King Heen has three stars) – the lofty service standards were equally impressive and made my overall dining experience a really pleasant one.
Lung King Heen opens for lunch from 12pm to 2.30pm, and for dinner from 6pm to 11.30pm daily.
Travel Cheat Sheet Tip: If you're looking for the quintessential restaurant setting to treat your date to a romantic evening out, Lung King Heen is a great option! Translated as 'view of the dragon', the restaurant offers a panorama of the harbour.
Get more amazing discounts when you book any flight or package on ZUJI with your Mastercard! Here's the full list of perks when you book by 30 April 2017 for travel by 31 September 2017:
$20/50/100 rebate on ALL flights or packages with a minimum spending of $400/800/1600

12% hotel coupon code

Free insurance (up to $25 per booking)
So hurry, and book your flights now with your Mastercard. There's no better time than now!
The one with the cheapest food: Tim Ho Wan
I know what you're thinking: wait, doesn't Singapore already have outlets? Be that as it may, it's always better tasting food from the original trailblazers. Besides, where else but at Tim Ho Wan, can you find the cheapest Michelin starred food in the world, 24 hours a day!
Unlike its swankier star-studded compatriots, Tim Ho Wan has retained its humble beginnings. It started out as a hole-in-the-wall, and has kept true to that ever since. The two branches that I visited amazed me with their modest furnishings, but that was not what blew my mind – it was the price of the food!
Here, a full meal consisting of at least seven or eight plates of dim sum will cost you no more than S$20. Say what?! Since when was Michelin starred food this cheap! Favourites on the menu include har gao, or prawn dumplings (S$4.50), pan-fried turnip cakes (S$2.50) and steamed rice with chicken feet and spare ribs (S$4.60). But the show stealer has to be the signature barbequed pork buns (three pieces for S$4), which sell over 750 plates everyday! With their extensive menu brimming with affordable dishes priced no more than S$5 each, Tim Ho Wan is the cheapest option out there.
Most Tim Ho Wan outlets open from 10am to 9.30pm daily.
Travel Cheat Sheet Tip: Of all the Tim Ho Wan outlets across Hong Kong, two branches retain their one-star accolade: North Point and Sham Shui Po. But expect a long queue at those places once you arrive because you're likely to rub shoulders with Michelin guidebook-wielding tourists. Learning some simple Cantonese arithmetic also helps because the boss lady won't be calling out your queue number in English!
The one with the best dessert: L'Atelier de Joel Robuchon
No food hunt is complete without dessert, and the best place to end your gastronomic adventure with a bang is at the L'Atelier de Joel Robuchon! The three-star restaurant has a wide selection of mouth-watering desserts, ranging from the unique La Mangue (black pepper mousse with mango jelly and sorbet) to the exotic L'Ananas (pineapple compotes with Malibu ice-cream), all for S$30 each. I personally like the Le Pop Framboise (raspberry mousse with Rose Champagne sauce and soursop sorbet), with its delicate blend of sweet and sour flavours. If you prefer to stay at a place to feast from entree to dessert, L'Atelier de Joel Robuchon also offers an exquisite selection of French dishes for lunch and dinner.
L'Atelier de Joel Robuchon opens for lunch from 12pm to 2.30pm, and for dinner from 6.30pm to 11.30pm daily.
Travel Cheat Sheet Tip: For those seeking after-dinner drinks and a pleasant place to chill, check out the wine selection at this restaurant! L'Atelier de Joel Robuchon is famous for its extensive wine collection, making it the perfect establishment to unwind after a long day of eating. The restaurant's tranquil ambience also makes it ideal for quiet evening conversations.
Already salivating at the thought of savouring delicious Cantonese cuisine at these excellent establishments? You're in luck – fly to Hong Kong from just $141 with ZUJI:
[FLASH SALE] Fly to Hong Kong, Taipei or Seoul FROM JUST S$141!
These Michelin starred restaurants might wait for you, but your stomach definitely cannot! Fulfil your foodie dreams at last, especially with flights to Hong Kong FROM S$141 with ZUJI! All you have to do is just book your flight from 18 to 20 April 2017.
If Hong Kong is not the only place you want to visit, don't fret: ZUJI also has amazing flight deals to Taipei or Seoul FROM S$249! Again, simply book your flight from 18 to 20 April 2017.
That's not all! Receive these additional mindblowing benefits when you book with your Mastercard by 30 April 2017 for travel by 31 September 2017:
$20/50/100 rebate on ALL flights or packages with a minimum spending of $400/800/1600

12% hotel coupon code

Free insurance (up to $25 per booking)
Still hesitating? Don't! Seize the chance to embark on a culinary adventure of epic proportions in Hong Kong, or equally awesome getaways in Taipei and Seoul! 
For first-hand information about ZUJI's upcoming deals and promotions, simply subscribe to their mailing list right here and have them delivered right to your doorstep: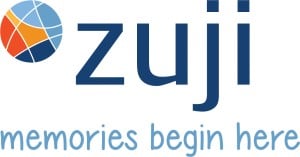 Thank you for your subscription.
By subscribing to ZUJI's mailing list, you will:
Be the FIRST to know about flash sales, special conditions, and exclusive airfares/promotions

Receive hints about flash sale timings – every minute counts!

Have first-hand information about ZUJI special promotions
While you prepare to place reservations in these restaurants, do remember to stay tuned for the next instalment of our 'ZUJI Keeps It Real' series! Have fun feasting!
---
Brought to you by ZUJI.