Bangkok – of coconut ice cream and Phad… Okay, hold up right there. The usual Thai food you love is amazing, yes, but there's a smorgasbord of other dishes in Bangkok most travellers don't know about, which are also worth every calorie.
Each of my visits to this sprawling city is one with a surprise up its sleeve. And the recent Bangkok trip I made was no exception. This time, I ventured off the usuals, food-wise; a Bangkok trip sans mango sticky rice, sans Phad Thai, and sans everything-you-find-in-a-typical-Thai-restaurant-in-Singapore. I pledged to only order dishes I've never heard of, and boy was the temptation to order a Tomyum Goong at every meal real. But trust me when I say the reward is sweet (sometimes literally too) as I unearthed eats I never thought I would have midnight cravings for even till date – months after I'm back.Listed are 10 of my favourite dishes from this week-long culinary expedition. It was part agonizing, part sentimental recalling them while seated here, 882 miles away, but I'll be back for them that's for sure.
1. Traditional Thai Ice Cream
–
alternative to Coconut Ice Cream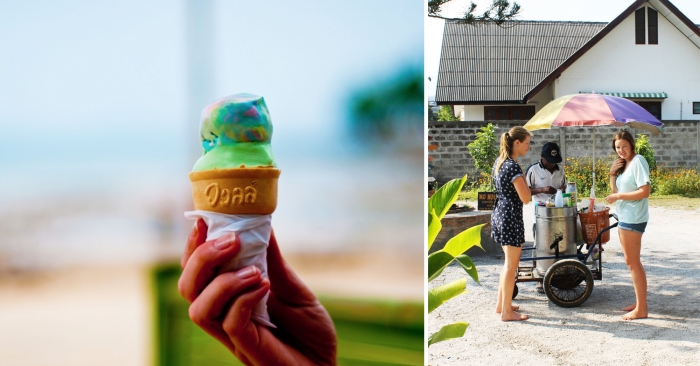 Image credit Jani (right), Connie Ma (left)
Coconut ice-cream has been an inarguable Bangkok street-food staple for the longest time, so much so that your shopping at frenetic markets is never complete without a husk of this creamy goodness.
However, equally gratifying during the merciless summer heat is a cone of traditional Thai ice-cream. I noticed that these ice-cream are eerily similar to that from our favourite ice-cream uncles in Singapore, even down to the humble bikes they ride on. These friendly vendors aren't too common, especially in the downtown area, so a tip is to ask the locals if they know of any in the vicinity. Generous scoops of assorted ice-cream flavuors drenched in toppings of your choice – all for just 20 baht. Absolutely worth the hunt.
2. Jok
–
alternative to glass noodle soup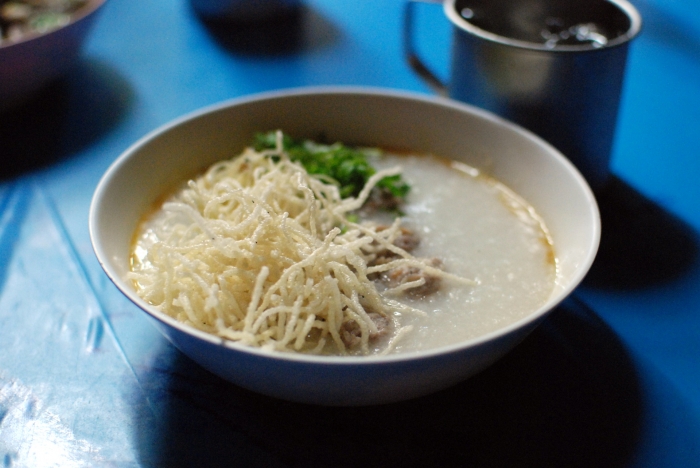 Image credit: Takeaway
Prior to this trip, mention Thai food and I mostly thought of spice, salt, and fish-sauce everything. So imagine my delight when I chanced upon Jok (rice porridge), one of the locals' most-raved breakfast dishes. Jok is a simple congee dish simmered in pork broth for its rich, savory flavour – the best way to start a hectic day of affairs in Bangkok, I say.
3. Roadside BBQ Skewers
–
alternative to Mookata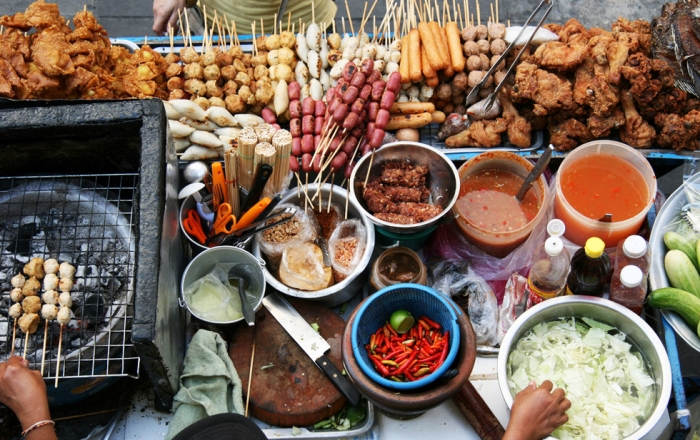 Image credit: J Aaron Farr  
Here comes my favourite of the lot. These roadside barbecue stalls are littered all over the streets of Bangkok, yet I've never stopped by one during my previous visits. Though safe to say I've made up for that by having them almost daily (eeps) since my great discovery of it.
The only downside to the skewers: try juggling five skewers on each hand, while making sure each square of grilled meat gets a sufficient dip of the chili sauce. Talk about first world pains.
4. Squid Eggs – alternative to Fried Quail Eggs
While you're at the street market, mosey your way over to one of these stalls selling fried squid eggs. Confession: it never occurred to me that squid eggs were even a thing, much less a dish so curiously appetising. Have them either grilled or deep fried (I'd strongly recommend the latter), then drizzled with one of my all-time favourite sauces, the Thai green chili sauce.
5. Khao Soi Kai (curry egg noodles)
–
alternative to Tomyum Goong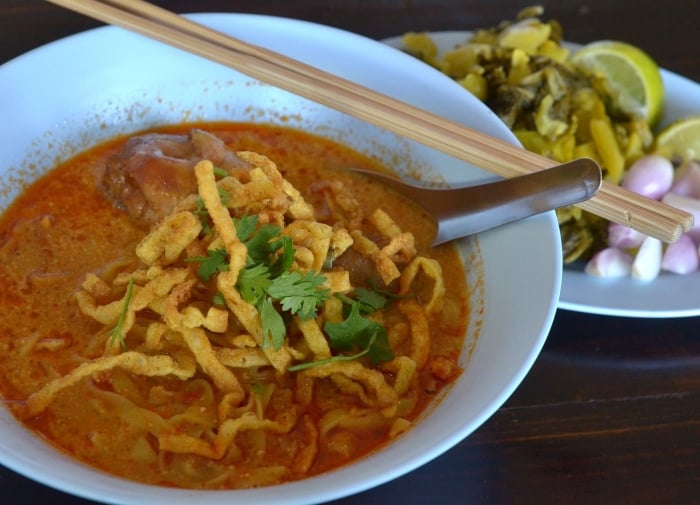 Image credit: Takeaway
I'm not a huge fan of spices – I can barely survive half a McSpicy, yet Khao Soi Kai is one dish I'd gladly sacrifice my delicate buds for. The broth is packed with uncompromising flavours of curry and coconut milk, while the crisp egg noodles perfectly complement the soup topped with generous servings of shallots and chicken slices.
6. Shaved Ice with Thai Milk Tea & toppings
–
alternative to Thai Milk Tea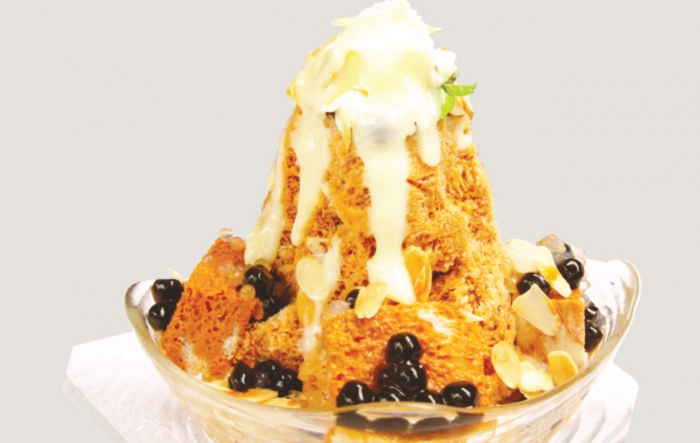 Image credit: Lukkaithong
Thai Iced Milk Tea is basically Bangkok's de facto beverage, and this masterpiece from Lukkaithong Cafe has remade the drink into a dessert form – complete with shaved ice-cream, pearls, almonds, and a generous pour of milk tea. This tower of sugar rush will transport you into reverie and rid your mind off the aches from a scorching day of retail therapy.
7. Lap Nuea Dip (raw beef) – alternative to Basil Fried Beef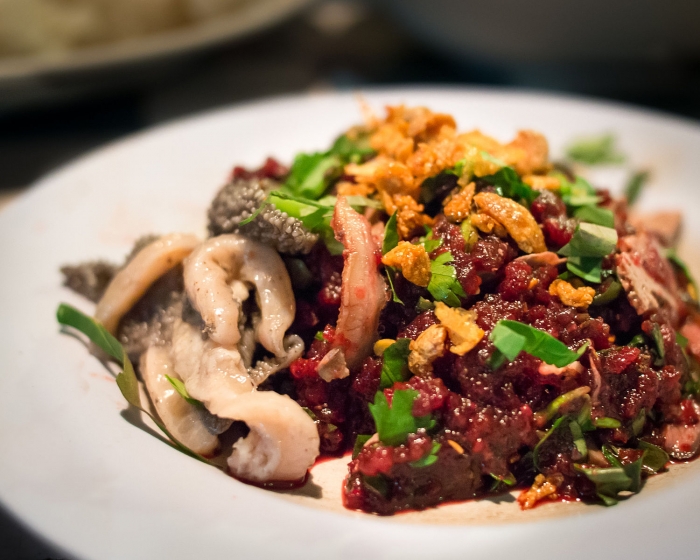 Image credit: Takeaway
Basil fried anything can never go wrong, so trying this alternative dish may require a vault of faith. But once you go raw, you never go back. Lap Nuea Dip is sometimes served with beef tripe as well, so if you're a fan of innards, this is one dish not to be missed.
8. Somtam Ponlamai (fruit salad)
–
alternative to Mango Salad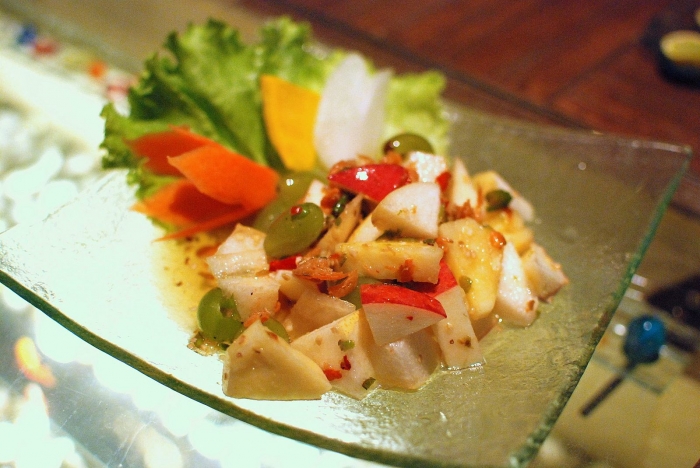 Image credit: Takeaway
After days of indulging in greasy Thai delicacies, this refreshing fruit salad (locally known as the Somtam Ponlamai) definitely lightened the guilt I've assembled from all the calories. Somtam Ponlamai uses other fruits such as apples, raisins, grapes, and pineapples, which was a great switch from the usual mangos and papayas.
9. Yen Ta Fo
–
alternative to Phad Thai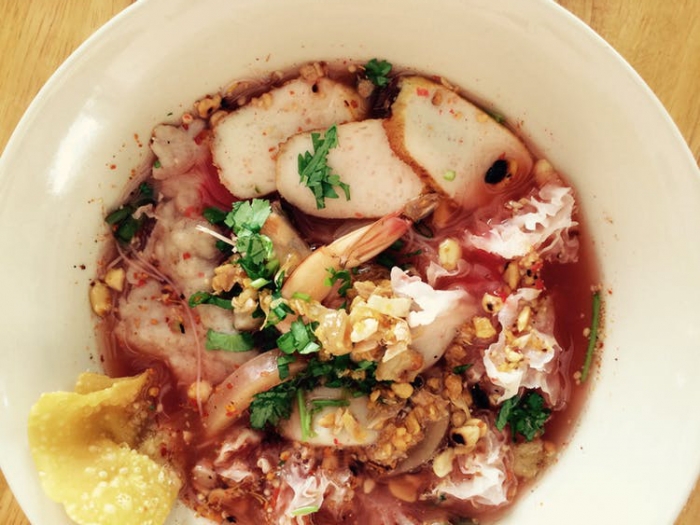 Yen Ta Fo is pretty much the Thai's take on my favourite comfort food, the Yong Tau Foo (surprise, surprise). While the dish similarly consists of an assortment of ingredients, the extra oomph in the form of the lightly-sweetened and tangy pink noodles is what makes the Yen Ta Fo a winning formula.
10. Kway Chap
–
alternative to boat noodles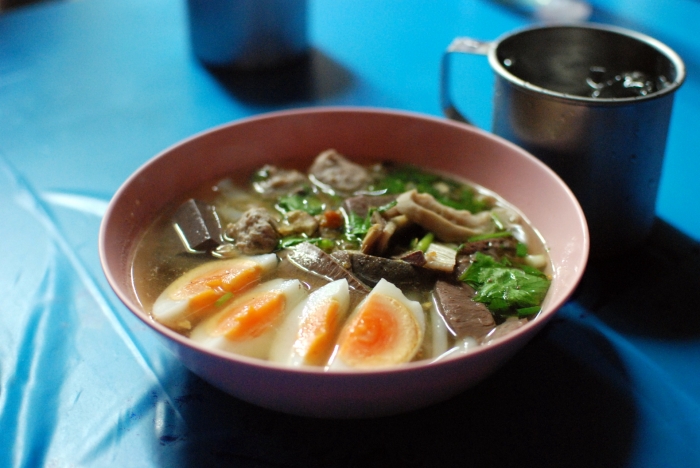 Image credit: Takeaway
This is another dish which bears an uncanny resemblance to a well-loved Singapore delicacy, the Kway Chap. Though similarly served with noodle sheets, pork innards and hard-boiled eggs, the Thai-style Kway Chap has a more distinctive herbal and peppery taste to it. If you fancy broths that are richer in flavours, this might just make you a convert.

I'm nowhere a foodie and when it comes to eating, delving beyond the familiar is typically off my radar. But I must say, these food in Bangkok might have just topped my reasons for revisiting this magnetic city over and over again.