Buffet dinners, conference halls, dinner and dance, chalets… Bored of your company's mainstream retreat ideas? The key to having an unforgettable retreat would be to ditch those mainstream ideas and head outdoors, of course! Breathe in the refreshing air amidst lush greenery and escape from the hustle and bustle of the city. For delivering outstanding work, the team ought to be graciously rewarded right?
Then… there's definitely no better way to party than on a PRIVATE YACHT for sure. Ahoy, mateys! We had an incredible time on the Valencia yacht thanks to Yachtly. They are Singapore's FIRST yacht rental and boat charter platform, where you can choose your ideal yacht or boat for rent, browse reviews by previous customers, and more! No matter whether you're looking to host your birthday party, have corporate events, gatherings with family and friends or even wedding solemnisations, Yachtly is the place to go to.
To make things even sweeter, if you book your yacht rental through us, you'll enjoy
2 x sparkling wine (worth $136) for FREE!
Simply use the code <
#freewines
> while making your booking. So, what else are you waiting for? Get some delightful bubbly for your yacht party today! 
1. Hello casual clothes, farewell office wear!

Always fantasized about that bourgeois-luxe yacht life? Let Leopard 51 – Valencia take you on a once-in-a-lifetime voyage as you hop onboard a spiffy catamaran towards Singapore's idyllic Southern islands, from Sentosa Cove's ONE°15 Marina Club. Ditch those blazers, formal shirts, and sky-high stilettos and get comfy with your casual shorts, tank tops and flip-flops instead! It's time to let loose and be merry, get ready for non-stop chatter and bonding with the people you meet the most everyday – your colleagues!
2. Tons of space for all that hearty chatter
Combining a multitude of sensational features, this catamaran boasts a sleek design and an ergonomic layout that makes it super easy to navigate around comfortably. The numerous lounging and dining areas on both the lower and upper deck of the yacht also provide everyone with ample space to just chill, and have some hearty conversations over refreshing drinks and barbecued food.
They've even managed to provide two separate bedrooms with toilet facilities at the basement of the yacht! That just shows how spacious it is.
The upper deck is also a great place to kick back, relax on the comfy seats, and sip some beer. Take in the gentle sea breeze and picturesque scenery all around you – it's definitely a mesmerising side of Singapore you don't get to see often! Add on the fact that the yacht was also fully equipped with a surround sound system – we were grooving to the top hits from Spotify in no time.
That's not all! On the upper deck, the balcony makes for a picture-perfect spot as the blue skies and sea blend into an ombre harmony of blue-green shades, complete with fluffy white clouds and copious amounts of natural sunlight.  You get to sit on the ledge and dangle your legs in the air as the yacht continues to whizz through the waters, feeling the salt in the air and the wind in your hair. That's the delightful taste of freedom, far far away from the confines of the office!
3. EVERYTHING will be settled by your friendly crew
This is probably the most important point for the team in charge of planning such recreational retreats for the company. Forget about having to do meticulous research and tearing your hair out over party ideas – there's plenty of onboard recreation options (read: food, booze, and fun)!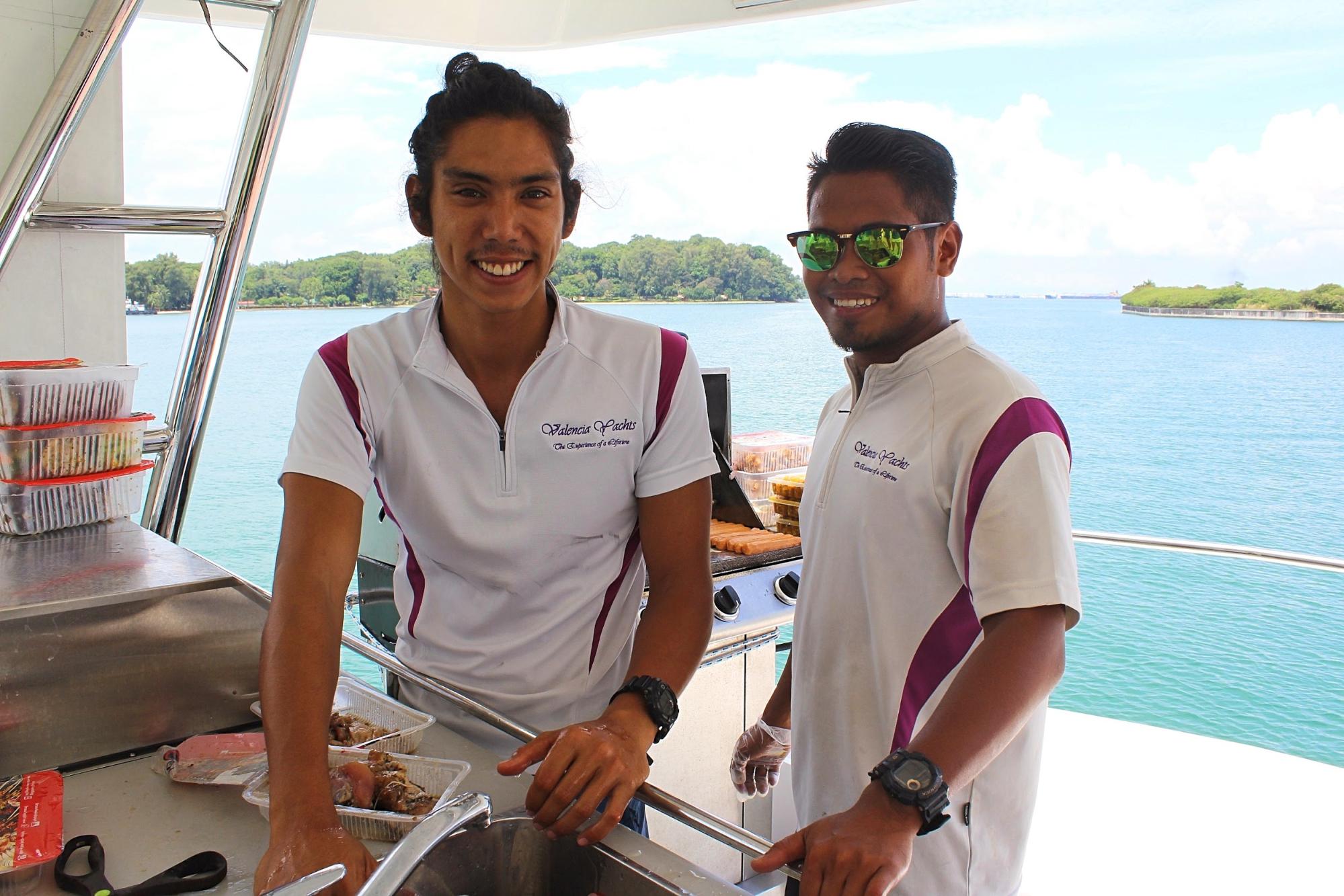 The professional and amiable crew members are at hand to attend to your each and every need. They really prioritize the folks on board and will go the extra mile just to make the journey an extra smooth and memorable one. So sit back, relax and daydream away! From steering and docking the yacht, to preparing the barbecued food, guiding us on water activities, and more, they'll settle anything you could possibly need! Awesome or what?
4. Feast on a sumptuous barbecue spread
You can choose to order food directly from Yachtly, or bring your own food potluck style, where the crew will offer BBQ services at a nominal price! We decided to order food directly from Yachtly, and boy, were we blown away by the delectable BBQ feast that awaited our arrival. Think: succulent sausages, assorted grilled vegetables, mouth-watering chicken wings, tasty satay and LOADS more! Savour these fresh from the grill and toast to magical moments with a Heineken or two. The best part? You don't even have to lift a finger because the hardworking crew will grill them to perfection just for you.
This is only the tip of the iceberg! Even with 30 hungry souls onboard the yacht, we could barely finish the buffet feast that was lovingly prepared for us. Plus, apart from the ice lemon tea and Coke that was provided, they also provided TWO complimentary bottles of Aviva Pink Gold Sparkling Wine! Sweet, light, and fragrant with a delicate aroma of white flowers and grapefruit, it was the perfect drink to complement a day out at sea. Needless to say, both bottles were emptied within minutes!
Tempted to rent a yacht now? Grab your family, friends, or colleagues for an epic time out at sea! Plus,
if you book your yacht rental through us, you'll enjoy
TWO sparkling wine bottles FOR FREE, worth $136!
Simply use the promo code <
#freewines
> while booking. There's no better way to celebrate and escape the tropical heat than with some refreshing bubbly.
5. Entertainment options galore: Indoor KTV, Kayaking, Water Mat, Island-exploring
Ready to belt out your favourite hits? Aside from the hearty spread, check out the indoor karaoke system and channel that inner superstar in you. From an extensive list of songs, sing to your heart's content and have a rocking good time! There's a huge selection of both English and Chinese songs available, so there's definitely something for everyone. Who knows, you might discover a colleague's secret singing prowess in the process, as they belt out soulful tunes! This is also a great opportunity to catch your bosses in a relaxed atmosphere, and they might even grace the party with a duet performance for the first time.
Fret not, the glass windows ensuring panoramic views from inside the saloon also means that you won't be missing out on the gorgeous sea views! Have an enjoyable time with everyone, singing the latest hits and grooving to timeless classics!
If you've been eyeing the refreshingly cool waters, you'll be stoked to know that there are two kayaks available for use, as well as a dinghy! Upon anchoring at Lazarus Island, choose whether you'd like to leisurely row in the waters or just lounge and bask under the warm sun rays on the dinghy.
Alternatively, you could also dive into the sea from the yacht and have a splashing good time just swimming around! Better yet, put those swimming skills to good use and act as a propeller while your colleague kayaks around leisurely!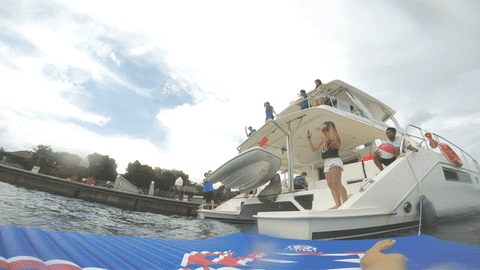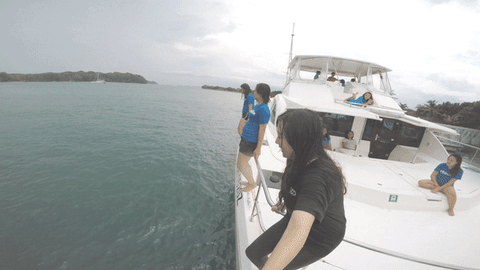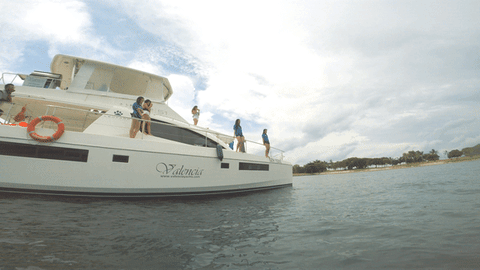 Some adventurous souls in the company also bravely dived into the sea from the lower deck and EVEN the upper deck! It's the perfect opportunity to whip out your phones for non-stop Boomerang shots.
The yacht even comes with a water mat where we could all lie on and laze around, after countless jumps into the sea. It was incredibly relaxing to just lie there and float away without a worry or care in the world. We even brought our beers and ciders out onto the float along with us. Drinking whilst floating in the sea? Pure bliss!
Tempted to join us? Pretty sure this is the kind of party that will float your boat!
If water activities aren't your thing, there's always the option of hopping off the yacht and exploring the islands instead! Besides, getting to Lazarus Island and St John's Island isn't that convenient unless you have a boat, so you'd better grab this opportunity to roam around freely!
Frolic on the beach or dip your legs in the waters along the shore! You'll feel as if you've got the entire island to yourselves because yes – it is THAT empty! Save for one or two groups of people having a picnic on the beach, the rest of the island is practically devoid of people. So go ahead and jump around to your heart's desire! You don't come by a pristine, empty beach in Singapore that easily.
The sandy shores are also ideal for engaging in some team-building games! Bond over epic moments and cherish each other's company amidst the scenic nature-scapes.
6. Lie on the sundeck for a good suntanning session
The best spot on the yacht? Hands down, the breezy, open sundeck that screams surreal, unobstructed views!
There's no better way to while away the afternoon than on that pearly white sundeck! Get that much-needed dose of sunshine, fresh air and blue cloudy skies amidst peals of laughter and good conversations with your colleagues. It's a taste of the high life for a solid 5 hours!
Last but not least, we had an absolute blast!
We had to conclude the day well-spent with a company group photo, of course! As the yacht made its way back towards ONE°15 Marina Club, we couldn't miss the opportunity to snap a photo against the backdrop of Singapore's Central Business District. The friendly crew was more than happy to help us with the photo taking session! Needless to say, those mega-watt smiles were an accurate reflection of the fun we had aboard the yacht!
Trust us when we say that this will most definitely live up to the best company retreat ever! Take home precious memories and perhaps a couple of beers too, when you dock right back at ONE°15 Marina Club, just like we did. Don't forget to use the promo code <#freewines> while booking, so you get to enjoy TWO sparkling wine bottles FOR FREE!
If you're looking for yacht charters or boat rentals for your next event in Singapore, just remember, Yachtly is your answer! Head on to their Facebook page to find out more today.
---
Brought to you by Yachtly.