Feeling cooped up in your humble abode and yearning for some type of getaway? Perhaps it's time you treated yourself to a peaceful and indulgent staycation in your own town. Checking into a hotel can make you feel like a curious traveller again, despite the fact that you're actually staying put. Oceanians and Southeast Asians, you've got some incredible hotels that are just waiting to be booked. Many of them are Wyndham hotels that offer unforgettable accommodations! If you're interested, keep reading. 
It's time to start creating wonderful memories again, and you can do that while staying at Wyndham hotels where your every need for comfort, dining, and fun will be met.
Enjoy up to 25% off and earn 3,000 Wyndham Rewards Bonus Points at participating hotels in Asia Pacific. A luxurious staycation awaits!
Booking Period: Until 28 August 2021
Stay Period: Until 30 August 2021
Tip: To know about Wyndham Hotels & Resorts COVID-19 safety protocols, click here.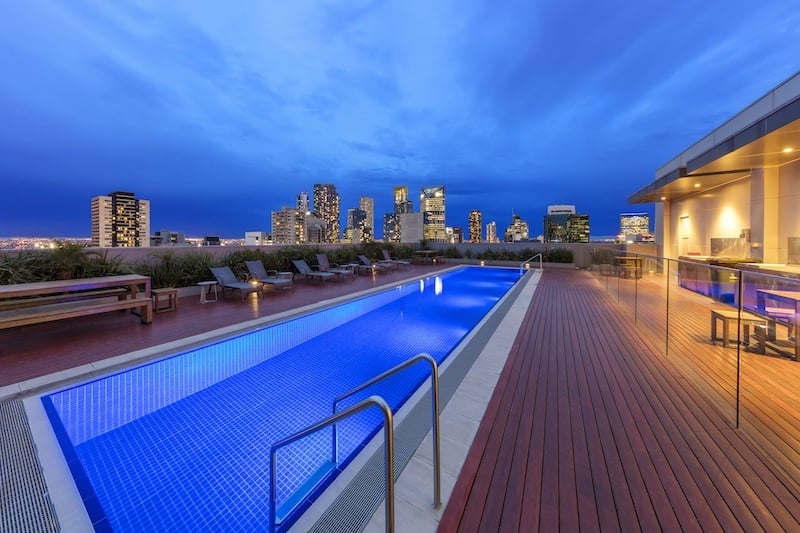 Nestled in the heart of Melbourne's business district, Wyndham Hotel Melbourne is the perfect place to experience the city's pulse. The hotel is a convenient walking distance from theatres, cafes, restaurants, and alleys that depict creative street murals. It's a dandy area to take photos of your OOTD in case that's your thing. 
But more than that, Wyndham Hotel Melbourne exudes relaxation with its spacious accommodations. Guests can pick between studio rooms, one-,two-, and three-bedroom apartments that feature their own kitchens, balconies, and of course, WiFi!
Need to get some exercise? The hotel gym has treadmills, ellipticals, weight benches, and everything in between for your fitness goals. Don't forget the rooftop pool, where you can go for a dip and bask in that Melbourne sunshine. That's exactly the kind of staycation you'd want down under.
Phone number: +61-3-86928900
Address: 199 William Street, Melbourne, Victoria 3000, Australia
Book your Australia holiday here!
Yet another strategically located Australian hotel, Ramada by Wyndham Diplomat Canberra is only eight kilometres from Canberra Airport and a walking distance from Canberra Railway Station. It's a perfect way to milk your staycation; from here, you can visit plenty of local attractions like the National Gallery of Australia and the National Zoo & Aquarium Canberra, where your little ones can make friends with koalas and kangaroos! 
Chill travellers will also appreciate Ramada's interiors of blue and white, which remind guests of sailing in the sea. All guest rooms are appointed with free WiFi, a flatscreen smart HD TV, minibar, coffeemaker, bath products, and so many more amenities that will offer you the solitude you seek. For outdoor activities, you can always hit the pool, rent a bike, or even destress at the sauna. To top it off, a breakfast buffet will be waiting for you the morning after. Better make room for a hearty Aussie breakfast!
Phone number: +61-2-62952277
Address: 2 Hely Street Griffith ACT, 2603, Canberra, Australian Capital Territory 02603
Book your Australia holiday here!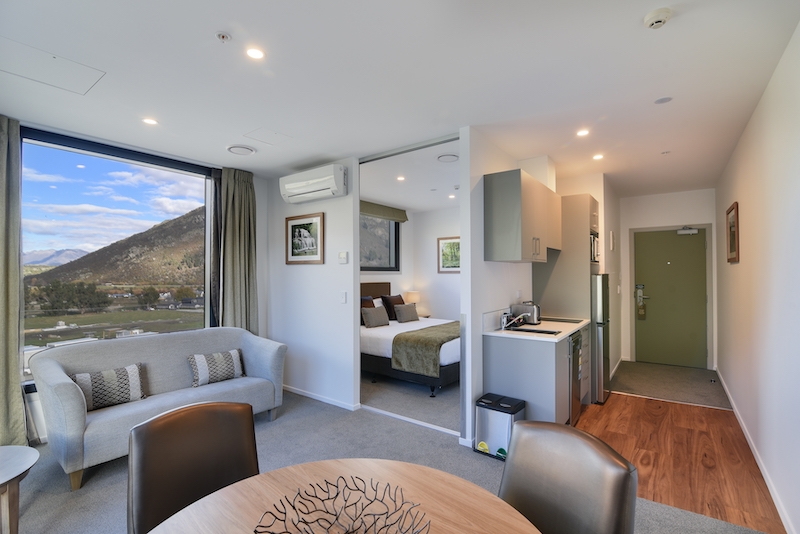 Kiwis are truly lucky that it's safe to travel around New Zealand during the pandemic. So here's an idea for all those who can fly to Queenstown, the adventure capital of the world: Book a stay at Wyndham Garden — it's within walking distance from the Queenstown Airport. Plus, it only takes a short drive from here to the Coronet Peak and the Remarkables snowfields, to name a few thrilling adventures. Everything is at your fingertips in this luxurious accommodation. 
From the Studio and Executive to One Bedroom apartments, each room in Wyndham Garden is presented with a contemporary Kiwi design, with European kitchen appliances to match. There's WiFi and an LED television for your entertainment, and a washing machine, dryer, microwave, and dishwasher for your convenience. 
With all these necessities in place, it's tempting to keep to your room. But given that you'd be situated near beautiful natural attractions, we encourage you to explore more of what Queenstown has to offer while making Wyndham Garden your temporary home!
Phone number: +64 03-222-7058
Address: Wyndham Garden Hotel, 32 Red Oaks Drive, Queenstown, New Zealand
Book your New Zealand holiday here!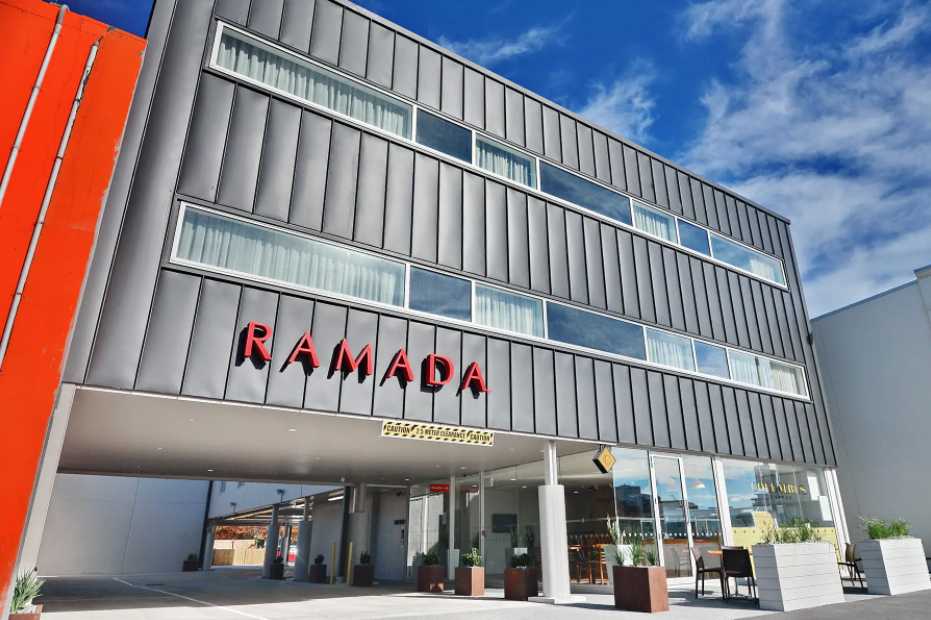 Time to head to Christchurch, the second-largest city in New Zealand and quite known for its English heritage. Staying at the popular Ramada Christchurch will allow you to enjoy a European-inspired vestige along with the city's many parks and malls, all of which are conveniently located near Ramada Suites Christchurch. This modern boutique hotel is also just a five-minute walk to the city centre, where you can visit educational attractions, such as the Canterbury Museum, Quake City, and the Air Force Museum of History. 
Ramada Christchurch hotel offers apartment-style rooms for your ultimate convenience. The Studio, 1 Bedroom, and 2 Bedroom apartments are all very spacious from the get-go. What's more, they're all equipped with SKY TVs, complete kitchens, laundry facilities, and king sized beds. And the best part for those on a roadtrip staycation is that the hotel offers free parking for a limited time. Top this with Ramada's hotel promo and you've got yourself a sweet deal! 
Phone number: +64-3-9290267
Address: 264-266 Tuam Street, Christchurch, New Zealand 08011
Book your New Zealand holiday here!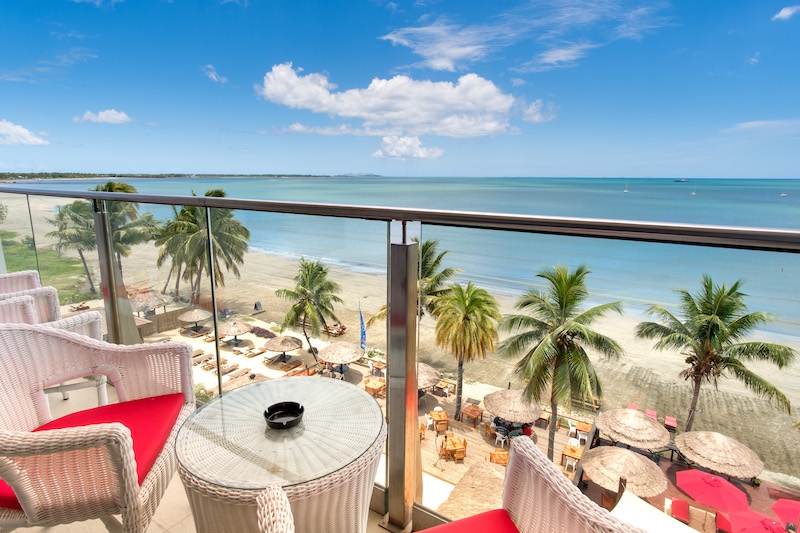 Fiji is a quaint country yet rich in marine life and natural resources. If that tickles your fancy, then experience the best of what Fiji has to offer at Ramada Suites Fiji. This Wyndham hotel is only a 15-minute drive from Nadi International Airport and sits beside the beautiful Wailoaloa Beach. 
You have the privilege of waking up to a sunny beachfront where you can soak up some vitamin D from the warm Fiji sun. Feast on some Pacific Island-inspired cuisine on the rooftop restaurant and go on adventures in nearby attractions where you can fish, surf, dive, and sightsee! The property itself has all the makings of a tropical paradise. For one, it already comes with free airport transfers, quality WiFi, and a bar lounge that has a generous view of Wailoaloa Beach. 
Each suite, starting from the King Studio to the Two Bedroom Beach Front Suite, offers an invigorating ocean view with palm trees swaying to the breeze. Every room is appointed with laundry facilities, a kitchenette, and a flat-screen TV that has in-room movies. The interiors are nothing short of relaxing, as they're filled with cream colours complemented by wooden and warm accents. Sit back, relax, and enjoy Fiji!
Phone number: +679-672-0370
Address: Lot14 Wasawasa Rd Wailoaloa Beach, Nadi, Fiji 00679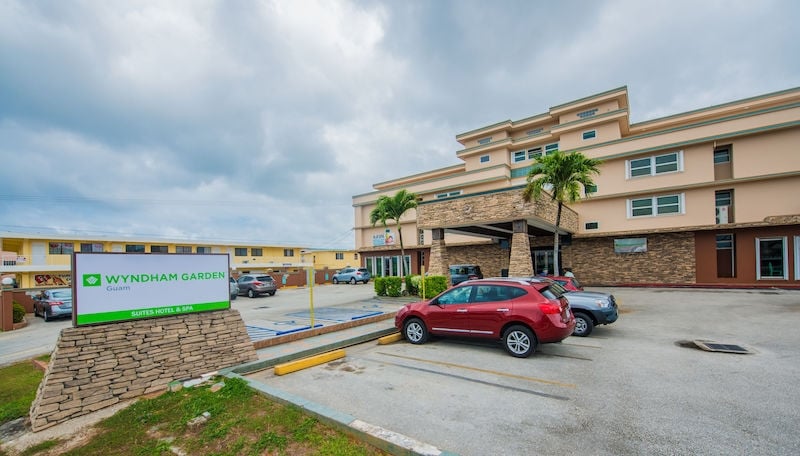 Guam, a tropical paradise identified by palm tree-covered beaches, Chamorro villages, and its Spanish colonial heritage. It's easy to explore this unique island country if you book a stay with Wyndham Garden Guam, arguably the most preferred tourist accommodation in Guam. Not only is this Wyndham hotel ideal for families, couples, and business travellers, but it's designed to feel cosy and familiar with its BBQ/picnic area next to the outdoor pool and sundeck, and the tranquil H20 Spa. It's also a pet-friendly hotel for dogs, cats, and birds! Where else would you want to book?
When it comes to its rooms, all the Studio Suite Queen accommodations come with a complete kitchenette, a queen-size bed, a spacious living room with sofas, and a 42-inch flat-panel TV. The Studio Suite Twin rooms, on the other hand, also come with a flat TV, twin beds, a lounge area, and a study table. Complemented with wooden furniture and cosy cushions, every aspect of the two suites is designed to make you feel right at home. On top of that, guests can avail of the free local shuttle service from here that goes to popular commercial areas in Guam!
Phone number: 1-646-3060
Address: 240 Ypao Road, Tamuning, Guam 96913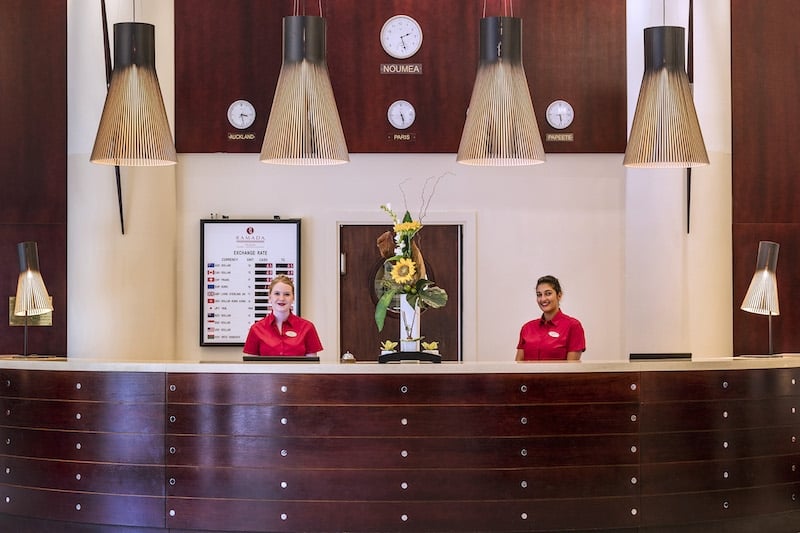 Yet another tropical getaway would be in Noumea, New Caledonia; a country that has one of the world's largest marine life-rich lagoons. Similar to Guam, this paradise is dotted with palm trees, island towns, and even jungles. Its French-influenced cuisine will have you racing towards its restaurants. But in Ramada Hotel Noumea, you don't need to stress. This luxurious Wyndham hotel features a fun sports bar and the only panoramic revolving restaurant to be found in the country. From here, guests have a generous view of the city, Caledonian lagoon, and Anse Vata Bay, while indulging in the country's authentic cuisine. 
The view doesn't disappear in the suites, as each room features a terrace where you can appreciate the scene of palm trees and the perfectly manicured fields of Noumea. What's more, you're sure to enjoy the tropical ambience and elegant wooden interiors, from the simple Classic Room ideal for couples, to the spacious 3 Bedroom Apartment that can fit a family. These rooms are well appointed with a flat screen TV, WiFi, double sofas, and a fully equipped kitchen. 
If you get bored, there's a fitness centre and outdoor pool for your daily exercise, and you can even take a short boat ride to Amedee Island. Wanna see the animals of Noumea? Noumea Zoo, the Botanical Gardens, and the Aquarium of Noumea aren't too far from the hotel either. There's an adventure waiting for you in every corner!
Phone number: +687-239-000
Address: 7 rue Louis Bleriot BP 8262, Noumea, New Caledonia 98807
Book your New Caledonia holiday here!
Also read: 2021 Vacation Guide: Where to Go and Stay for Much Needed Time Away
Wyndham Hotels in Southeast Asia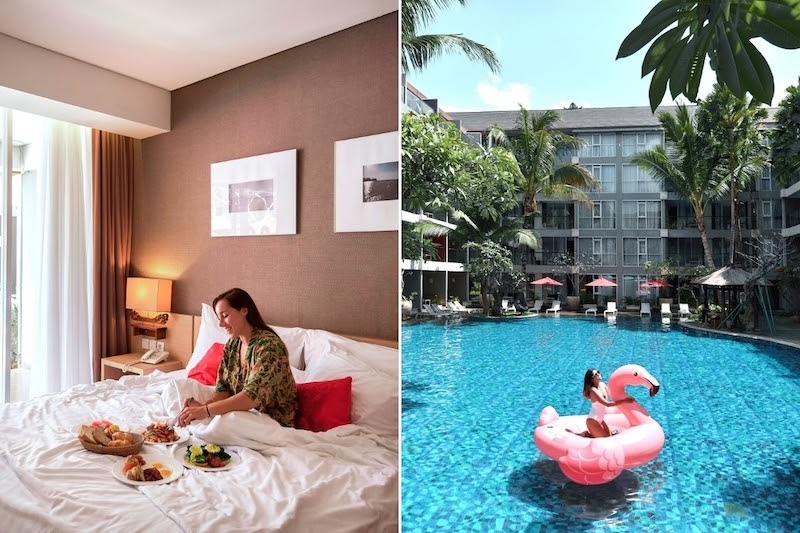 COVID-19 vaccination in Indonesia is moving pretty fast, so it could be time for a well-deserved staycation in good ol' Seminyak, Bali. Ramada Encore by Wyndham Seminyak is a popular choice for a peaceful and convenient vacay as it's located within a short distance from Seminyak Square, a go-to dining and shopping complex to experience authentic Indonesian flavours and products. This Wyndham hotel also offers shuttle services around the Kuta-Seminyak area in case you want to hit the beach! 
The hotel amenities are simply luxurious. You can appreciate retro interiors as you feast on Asian and Western cuisine in their restaurant called The Garden Mahadewi. Feel free to taste their finest wines from the hotel's Peak Wine Cellar; and if you want to share more drinks with your friends, the Lagoon Bar is open 24/7. 
Probably the best part of Ramada Encore is that most of their suites offer a garden or pool view which makes guests feel closer to nature. With minimalist interiors, spacious balconies, cosy sofas, and soft double beds to match, guests are in for a rejuvenating stay. 
Phone number: +62-361-4741400
Address: Jl. Dewi Saraswati lll Seminyak, Bali, Indonesia 80361
Book your Indonesia holiday here!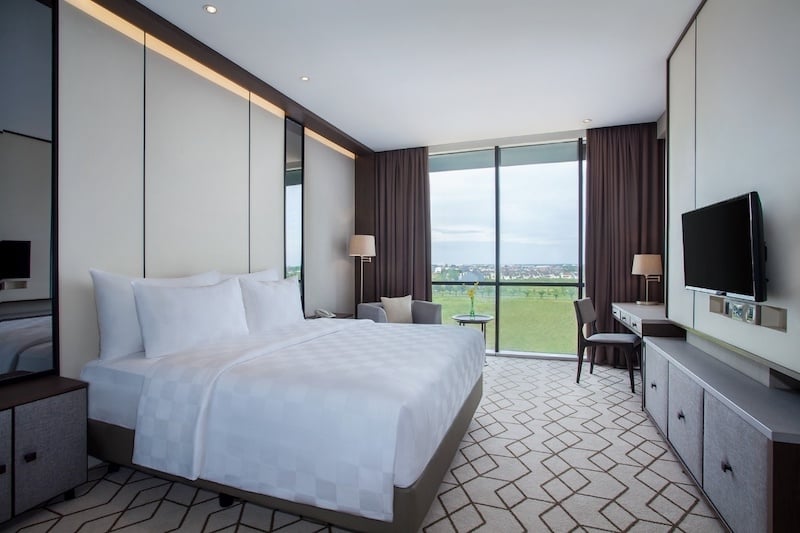 Indonesians who are tired of working from home might be interested in transferring their working stations to Palembang's Wyndham Opi Hotel for the time being. This hotel, after all, is just a short drive away from the city centre; you would also have easy access to top attractions like Ampera Bridge, Jakabaring Sport City, Cheng Ho Mosque, and Palembang Bird Park. 
If you'd rather stay in the hotel, then perhaps you can squeeze in the time to enjoy its therapeutic amenities such as the sauna and spa, while getting some exercise at the gym or outdoor pool. But the most soothing thing about this Wyndham hotel? The modern and monochromatic interior design. From the textiles to the furniture, the interiors exude simplicity and opulence at the same time. 
The suites are no different; the chandeliers, carpets, beds, and curtains all keep a grey, brown, and white colour motif that can only help each guest unwind to an appealing and quiet place. Should you find yourself in Wyndham Opi Hotel's gorgeous suites, expect sleek bathrooms, high-speed WiFi, HD TVs, and queen-sized beds with big fluffy pillows. Everything sounds tempting, no?
Phone number: +62 711 554 1777
Address: Komplek Opi Mall Jl Gubernur HABastari Sungai Kedukan Rambutan, Palembang, Indonesia 30967
Book your Indonesia holiday here!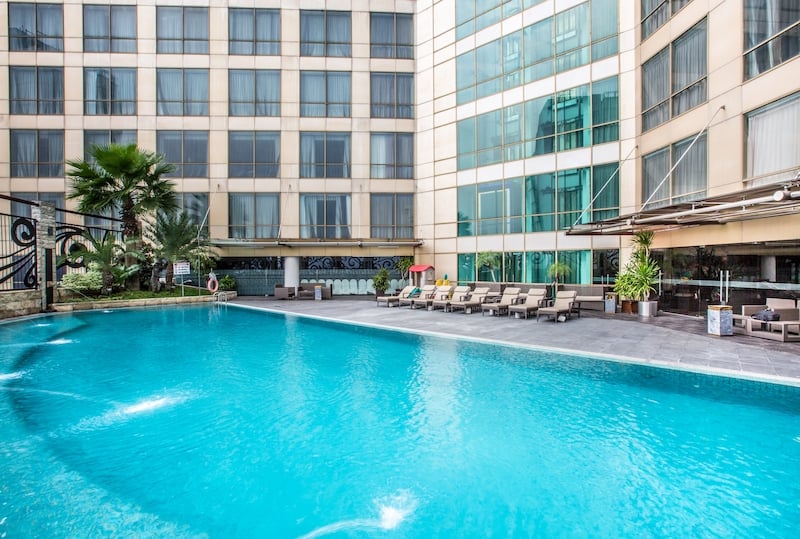 As Indonesia's second-largest city, Surabaya is home to the best hotel accommodations the country has to offer. Wyndham Surabaya City Centre is one that sits at the heart of the city. From here, you have easy access to a melting pot of cultures in the city. You can take a tour of an active volcano, watch sunsets at the beach, and rent a scooter to explore Chinatown; there's even a complimentary shuttle service to Tunjungan Plaza Surabaya where you'll find over 500 street vendors and artisans. Want a blast from the past? Tour Kota Tua on a horse-drawn carriage to witness Dutch architecture right in Indonesia. 
But as guests are still encouraged to establish social distance and stay vigilant during the pandemic, staying inside this luxurious hotel isn't a bad idea either. Wyndham Surabaya is complete with WiFi, a spa, pool, and three restaurants to enjoy Asian and Western cuisine. Its rooms are all spacious and ooze opulence as they maintain a gold and cream colour motif. A look that might even remind you of a palace!
Each guest room also features a flat-screen TV, working desk, coffee making facilities, and king beds, which are perfect for those who want to have a work-life balance during their stay. You can even book romantic dinners or reserve meeting rooms for business conferences. Whatever you need, Wyndham Surabaya surely provides it!
Phone number: +62 31 535 1555
Address: Jalan Basuki Rahmat No. 67 – 73, Surabaya, East Java, 60271
Book your Indonesia holiday here!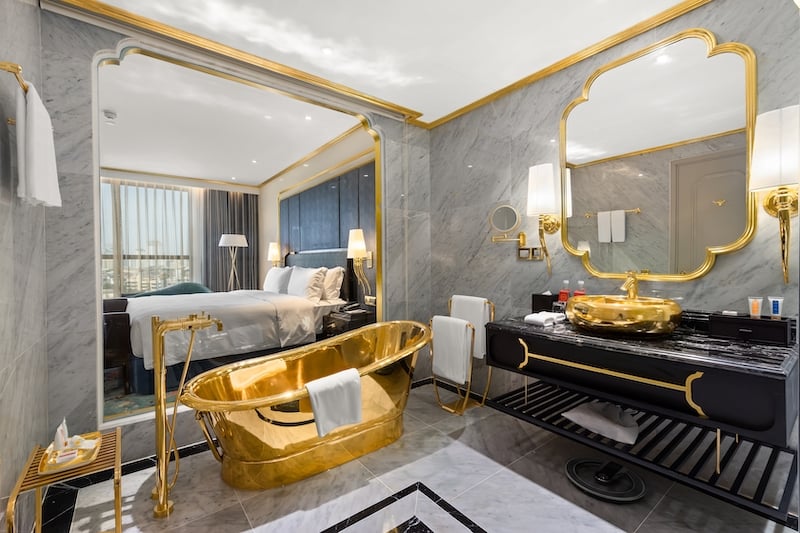 Vietnam has been very successful in containing the pandemic and its locals are reaping the benefits of their quick response. Among those benefits is the chance to stay in Dolce by Wyndham Hanoi Golden Lake, a grand hotel that might as well be a palace of sorts. This 5-star Wyndham hotel is coated with 24-karat-gold and rests on the shores of Giang Vo Lake, offering guests a nature-filled view of Hanoi.
As if things couldn't get better, even the hotel pool is gilded in gold. There's a spa and state-of-the-art gym to match too; and if you're craving for some drool-inducing cuisine, the hotel restaurants offer both Asian and French dishes to appease your appetite. 
Dolce by Wyndham features 342 stylish rooms with bathrooms that are likewise festooned in golden plates. These suites offer a generous view of the lake and city, and are decorated with imperial style furniture. You'll find deluxe bath products for your self-pampering sessions, and ultra fluffy pillows covered in crisp linen for your much-deserved beauty sleep. Other amenities of course include sofa beds, coffee makers, work desks, HD TVs, and laptop-sized safes. With the addition of makeshift fireplaces and floor-to-ceiling windows, how could you not feel like nobility in this luxurious hotel?
Phone number: + 84-24-3365-9999
Address: B7 Giang Vo, Ba Dinh, Ha Noi
Book your Vietnam holiday here!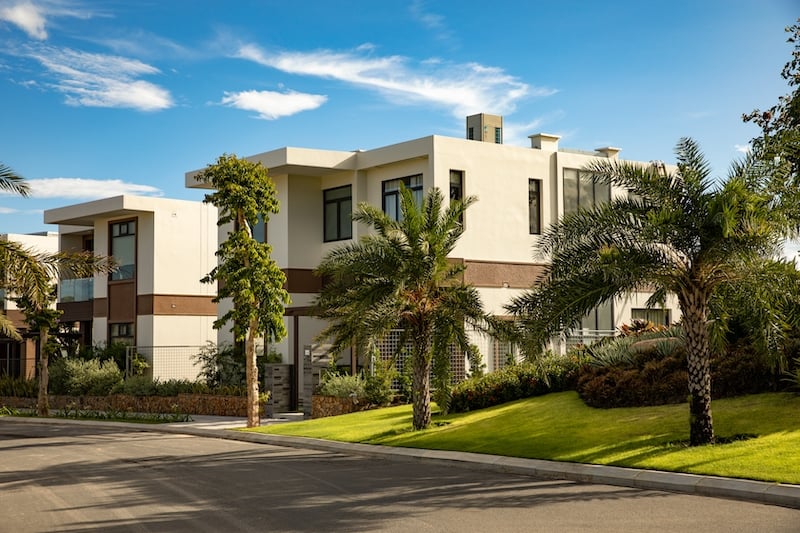 Want to be near Vietnam's stunning white beaches while staying at a posh hotel? Wyndham Grand KN Paradise is the answer to your prayers. This peaceful hotel is only steps away from the white sand and turquoise waters of Long Beach. To make guests' outdoor adventures even more exciting, the hotel offers a 27-hole, Greg Norman-designed golf course that comes with a lovely ocean view.
While you're one with nature, you're going to be chowing down on food that's composed of freshly caught seafood, world-class quality meats, and handpicked Da Lat grown fruits and vegetables that are carefully chosen for their quality and alpine flavour. Since these produce are grown in climes akin to Europe, eating them is almost like tasting the fresh produce of Europe too.
As for the suites? Well, each room is decorated with contemporary Vietnamese interior design, a private vanity, balcony, and even its own pool. Depending on which suite or villa you book, you may share a private pool with three other suites or have one all to yourself. All rooms have high-speed WiFi and spacious writing desks for your work-related needs. After an activity-packed day, fall asleep on the king-sized bed waiting for you with its plush and bouncy pillows. With everything so convenient, you'll sleep like a baby. 
Phone number: +84 (0) 2583 999 288
Address: Long Beach Cam Nghia Ward Cam Ranh, Khanh Hoa, 650000 VN
Book your Vietnam holiday here!
Golf enthusiasts are going to love it in Wyndham Sky Lake Resort & Villas; the resort is literally located inside a golf club! Specifically speaking, you'll find this accommodation inside Sky Lake Golf Club in the Van Son Lake district. Not only is this a paradise for golfers, but it's also the perfect opportunity to experience Chuong My's natural beauty through the perfectly verdant and trimmed landscape, with an outdoor infinity pool to top it off.  
This Wyndham hotel is considered a wellness sanctuary for its nature-filled surroundings, which guests can admire from the tranquillity of their private balconies. There's a holistic spa and modern gym to keep you fit during your stay as well. You won't be left wanting inside your rooms, as each suite is well-appointed with HD TVs with HBO, kitchenettes, working desks, bath products, and many other amenities that will ensure your stay is easy and comfortable. The hotel's crowning glory, by the way, would be its villas that boast multiple bedrooms and private pools! 
Phone number: +84 (0) 2433 593 838
Address: Van Son Lake Area, Hanoi 100000, Vietnam
Book your Vietnam holiday here!
Also read: 11 SEA Holiday Staycation Ideas for a Safe Year-End Getaway Close to Home!
To people that call these dreamy destinations home, this tempting lineup of Wyndham hotels is just within your reach. If you're lucky enough to be a local, your next staycation should be a no-brainer, especially with the generous discounts, excellent amenities, and rejuvenating views that these hotels have to offer. Happy vacay, and don't forget to take photos!
---
Brought to you by Wyndham Hotels & Resorts. All images credited to Wyndham Hotels & Resorts.