Chances are, if you live outside of the United States, you've never heard of Maine.. Nicknamed the Pine Tree State, Maine is located in the extreme northeast of the United States, and is considered the safest, quietest state in the country. Instead of heading straight to the New York or LA for your next US trip, pay a visit to a dainty town in Maine. The following list should convince you why Maine should be your next holiday destination.
1. Fresh Lobster 

Image credit:

Stephen Ritchie
Some may argue that boiled lobster is only an excuse to indulge in melted butter, but these people haven't tasted the fresh east coast Maine lobster, which is superior to any other type of lobster, period. The lobster eating experience is symbolic to Maine. To truly appreciate it the way Mainers do, this delicacy needs to be enjoyed on a breezy summer's day at a picnic table with a killer view. Satisfy your cravings with a once-in-a-lifetime lobster roll, also widely referred to as "heaven on bread".
2. Lighthouses
With 65 historical lighthouses that proudly stand by the 5,000 miles of the coastline, inlets and islands, Maine is almost impossible to not nickname The Lighthouse State. For over a century, the beacon of light shining from the lighthouses have functioned as entrance markers to ports, safely guiding sailors into the harbors along the rocky coastline of Maine. Till this day, lighthouses are visited by tourists from all over the United States, and stands as a distinctive representation of Maine. To snap the best photographs, hop onto one of the many boat tours available, and educate yourself on the history of lighthouse keeping.
3. Acadia National Park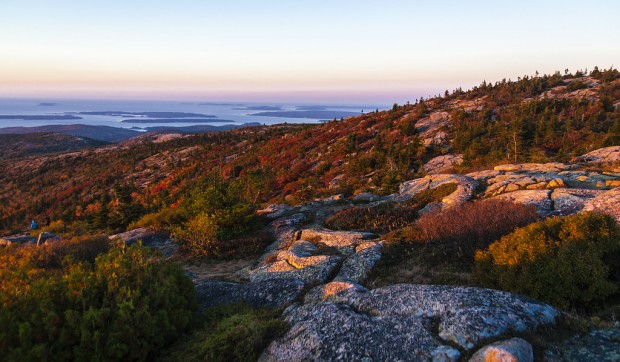 Image credit: Paul VanDerWerf
One of the country's most visited national parks, Acadia National Park was originally donated by 20th century visionaries who were blown away by its beauty and diversity. The best thing to do in Acadia National Park is to grab some fresh air and hike up to one of the peaks. To experience a Maine version of Olympus, climb up Cadillac Mountain, the highest point along the North Atlantic seaboard, and take a couple minutes to absorb the panoramic scenery. From Oct 7 to March 6, this is where you can view the first sunrise everyday in the United States.
4. Seasons
Whether you'll be visiting in the spring, summer, fall or winter, you are guaranteed to fall in love with what Maine has to offer. Maine has four distinctive seasons, each with its own unique character; the blossoming months of spring, lazy summers, crimson-colored fall and brisk winters.
For that classic American summer experience, plunge into the fresh waters of Maine's finest lakes, Cheaper by the Dozen style. For interested anglers, journey over to Rangeley Lakes to get a few tips from expert fly fishers in the area.
6. Skiing



Image credit:

Bob Travis
Some of New England's best ski resorts in New England are located in Maine, due to the underpopulated ski lifts and long ski trails, . Enjoy the breathtaking scenery and untouched snow and head up to Maine for the ski experience of a lifetime. Sugarloaf, Maine's largest single ski mountain, offers many other winter activities such as snowboarding, tubing, nordic skiing, and snowshoeing. If you're a skier, with Sugarloaf's long ski seasons (open into May), the "beast of the east" is where you want to be.
7. Moose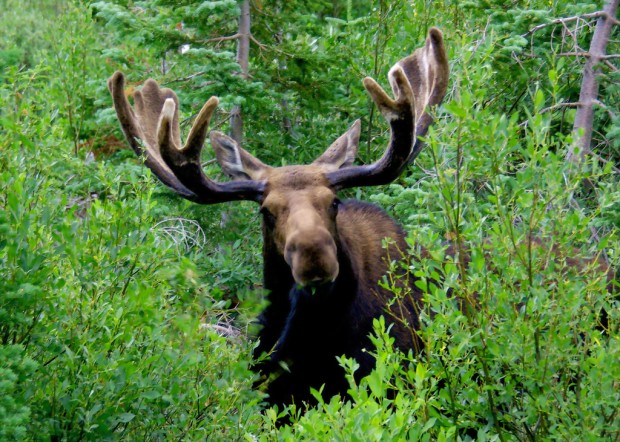 Image credit: Al_HikesAZ
Catch a glimpse of Maine's iconic moose. The state is fortunate enough to have a sizeable, densely-packed population of this fascinating creature. Because the impressive antlers of the Bull Moose are fully formed during the fall, the best time to go moose watching is at dusk and dawn from mid-May through July and during the fall breeding season. Their majestic antlers shed in November to December and new large antlers will start to grow again in the spring. For a higher chance of spotting a moose, it is advisable to contact a moose safari. Although being in the right place at the right time really applies to the art of moose watching, tours in some region have reportedly sighted as many as 20 moose on one outing.