The New Year holiday season is around the corner. Balancing the frenzy of shopping, company parties, and family time can be daunting, but those who manage to squeeze in time to enjoy some time off—or perhaps, give the gift of getting away—will find affordable rates, seasonal revelry, and beautiful landscapes to cap off another great year.
Vietnam is always on the top recommended place as it is a super cheap travel destination with rich culture, beautiful country of lush mountain landscape and sweeping white sands.
Christmas & New Year is the most beautiful time to visit Vietnam with pleasant, mild climate in every region of the country. However, you should be wise in choosing the proper destinations because of the large difference in climate between the South, Center and North. You will experience sunny days with a touch of wind in attractive beaches and spectacular sites in the South and the Center while you will enjoy a cold weather in the North.
December is suitable for doing a number of exciting activities like visiting the beautiful beaches of Mui Ne and Phu Quoc, exploring the attractive sites in the Center and the South, and hiking or climbing in the North's highland areas.
Also read: Hiking in Vietnam: 10 Trails with the Most Picturesque Views
To help you plan your perfect Vietnam holiday, here is a list of the best attractions with suggested itineraries.
1. Moc Chau plateau
Moc Chau plateau, located about 200 km west of Hanoi is one of Vietnam's most attractive places in December. It is well-known for poetic landscapes with endless grass fields, huge gardens of plum and apricot trees and various flowers, immense tea plantations and large herds of milk cows.
During the holiday, there are vast forests of blossoming plum trees, especially around Kia Cave, Paco, and Tan Lap tribal village, where the white plum flowers are so numerous that they are like snow blanketing the valleys.
What's more, you can also visit tea farms and learn how to pick tea leaves, dry them and then brew a cup of tea and enjoy it in the cold weather.
2. Ha Long Bay
Halong Bay is one of the world's natural wonders and always a highlight in every Vietnam itinerary. It is even more exciting to discover the bay during the New Year holiday.
Halong Bay features more than one thousand awesome limestone karsts and islands of various sizes and shapes along the coastline of Bai Chay Beach. The best way to tour, see and enjoy Halong Bay scenery is to cruise around the bay's islands. If your time permits, we recommend you to take the overnight trip and enjoy your silent night there.
A December cruise is an ideal way to spend the holidays with your family or friends. Halong Bay cruise ships are fully decorated with lights, and holiday-themed music fills the air. Many cruise lines offer special holiday rates for the month of December. The best cruises travel to a variety of warm-weather destinations, including the Halong Bay, Bai Tu Long Bay, Lan Ha Bay and Cat Ba Island. Gliding along the bright turquoise water past towering limestone rock formations is truly an unforgettable experience.
Also read: 12 Experiences Every Traveller Should Have in Vietnam
Kayaking is a great activity to explore the breathtaking beauty of Halong Bay. Paddle through islets and visit hidden caves, lagoons, unspoiled beaches and floating fishing villages.
3. Hanoi – Perfume Pagoda
The Huong Pagoda, also known as Perfume Pagoda, is considered the most beautiful landscape and sacred caving pagoda in Vietnam. It is a vast complex of Buddhist temples and shrines built into the limestone Huong Tich mountains. It is the site of a religious festival which draws large numbers of pilgrims from across Vietnam.
Visitors of the Perfume Pagoda will always remember the interesting feeling of boating through a small stream on the way there. This romantic 4 km long "Yen Stream" winds around mountains. During winter, the Yen Stream becomes more peaceful. There are no busy lines of boats or laughter and chatter heard in festival seasons. Sometimes, a few off-season tourists come and enjoy themselves among the simple lives of the locals.
When you come here in December, you will see water lilies in bloom. These lovely flowers blossom at the end of the year which is not the festival season, so the place is very quiet and suitable for those who want to contemplate in a peaceful environment.
4. Ban Gioc waterfall
To most travellers to the Northwestern border provinces, Ban Gioc Waterfall is a "must see" tourist site.
Ban Gioc is the fourth largest border waterfall after Iguazu Falls between Brazil and Argentina, Victoria Falls between Zambia and Zimbabwe, and Niagara Falls between Canada and the US. It is one of the ten most spectacular waterfalls in the world, according to Touropia travel site.
December comes signing the blooming season of wild sunflowers and buckwheat flowers stretching along the sides. Ban Gioc waterfalls is difficult to reach, however, it is worth the trip because of its absolutely stunning scenery.
[DEAL ALERT] Start planning your Vietnam adventure and book your trip to enjoy best deals up to $100/pax and FREE PRIVATE AIRPORT PICK UP.

Find out more at Asianway Travel now!

Better price when travelling with friends and family.
5. Hoi An
If you are going to travel to Central Vietnam, you shouldn't miss Hoi An. Its gentle and slow pace of life will bring you poetic experiences and surprises. Hoi An ancient town on these days is no less busy than other cities in Vietnam not only on special occasions but also on usual days. Visitors will be impressed by the many special features from zigzag roads and curved roofs covered in moss colour to street vendors.
And this setting will be even more bustling if you visit Hoi An on the Christmas or New Year occasions. On Christmas and New Year night, almost all visitors pour out the road to enjoy a view, ramble and join in jubilant, animated crowd. Spending Christmas in such a gentle and peaceful place is an experience you will forever remember.
6. Mui Ne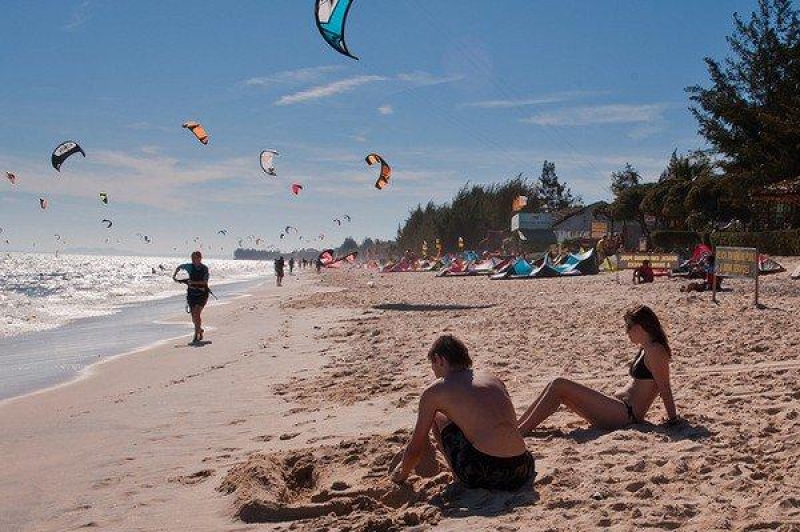 Mui Ne is relatively different from other places in Vietnam. The weather in Mui Ne is dry all year since Binh Thuan province, where Mui Ne is situated, is the driest region in Southeast Asia. Even in the rainy season, there seems to be very little rain compared to nearby places like Nha Trang and Hoi An.
Located in Phan Thiet, the capital of Binh Thuan Province, Mui Ne is one of the most stunning beaches in Vietnam. It is a beautiful beach with many high-ranked coastal resorts, which can easily satisfy any type of traveller. Mui Ne attracts both the international and domestic travellers with its gorgeous beach and many interesting activities like kitesurfing and windsurfing.
7. Phu Quoc Island
Think luxury beach break in Maldives with much more reasonable budget. Think Phu Quoc!
Phu Quoc Island is known for white sand beaches and resorts, most of which are along the palm-lined coast. Phu Quoc Island now becomes a must-visit beach in Vietnam. Phu Quoc is also the busiest and the only beach in Vietnam where you can admire the sun go down the sea.
Besides swimming, visiting the night market, and exploring the famous pearl production companies, visitors can also explore the scenic spots such as Dinh Cau, Star beach, Long Beach, "sim" forests, pepper garden, and fish sauce production work. Enjoying fresh seafood and visiting the Phu Quoc Prison are also a must-do.
Want a worry-free trip to Vietnam? Why not book a private tour and all you have to do is enjoy the once in a lifetime experience in Vietnam and let us do the rest.

Better price when travelling with friends and family.
Asianwaytravel.com is a leading local tour operator based in Vietnam who specializes in customized private tours to Vietnam, Cambodia and Laos.

Whether you want to modify a tour package on the website or have an itinerary built from scratch, we can create an ideal trip for JUST FOR YOU.

WHY CHOOSE ASIANWAYTRAVEL.COM?

Reply within 24 hours
* Personalized trip proposal
* Price quotation

100% tailor-made trip
* Satisfaction guaranteed trip plan 
* Flexible travel date

Enjoy tour in "My Style"
* Private guide & car 
* 24/7 fully backed up

In addition to the benefits of all Asianwaytravel.com—booking handpicked hotels, transportation, excursions and more—customized tours offer a personalized experience. You decide where to visit, how long to spend and what type of accommodation suits you best.
---
Brought to you by Asianway Travel.