As your aircraft begins its approach, an impenetrable wall of white is the only thing you see outside your window. The relentless lashing of wind and rain is enough to get even the most seasoned traveller a bit jittery. Then you descend through the storm, the clouds outside your window begin to dissipate, and you look upon one of Vietnam's most breathtaking sights. To the west, as far as the eyes can see, are green hills and mountains – the valleys between them irrigated by rivers that shimmer gold in the filtering sunlight. To the east, the waters of the South China Sea, or the East Vietnam Sea depending on who you ask, dotted with fishing boats. Welcome to Danang.
Earlier this year, AirAsia recommenced flights to the city out of Kuala Lumpur while SilkAir is offering fare deals from Singapore through to the end of March 2015. That got us thinking about a place that sums up what a trip to Vietnam is all about – affordable travel, stunning sights, addictive food and a culture that could only have been carved out from a tumultuous past. Here are the places in and around Danang you should visit.
Danang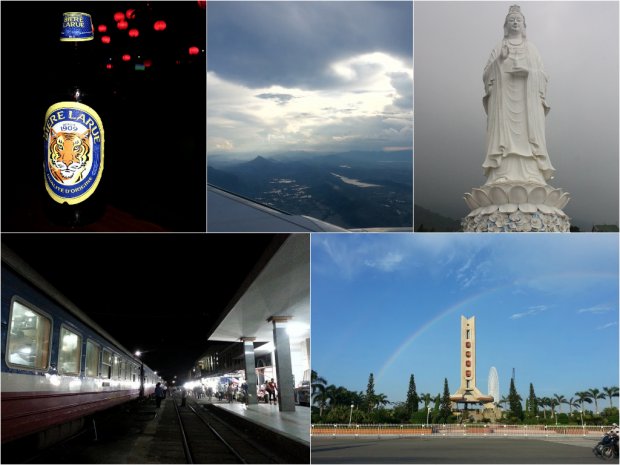 Top left to right: Biere Laure, Approach to Danang, Linh Ung Pagoda
Bottom left to right: Danang Railway Station, Danang War Memorial
A bustling port and industrial centre, Danang is Vietnam's fifth largest city. It is perhaps best known in the Western world as the site of a major American and South Vietnamese air base during the Vietnam War. Though it's viewed more as a gateway city to three UNESCO World Heritage Sites than a place that deserves a visit on its own, Danang is not without its charms.
The Han River, which runs through the city, transforms into an artery of light after dark, with the many bridges that crisscross it illuminated in a kaleidoscope of colours. There are around 60km of sandy shores along Danang's coast, including My Khe beach, just across the river.
My Khe was a popular rest and relaxation spot for American and Australian soldiers during the war, and it is still known by its nickname, China Beach. The beach is dotted with resorts and seafood restaurants, making it a great stop to begin or end your visit to the area. Son Tra Mountain (which the soldiers called Monkey Mountain) rises up 850m at the north end of My Khe, and looking out from its base is Linh Ung Pagoda. A 67-metre-tall statue of the Goddess of Mercy stands at the heart of the pagoda complex, serving as an observation deck and a museum of Buddha statues.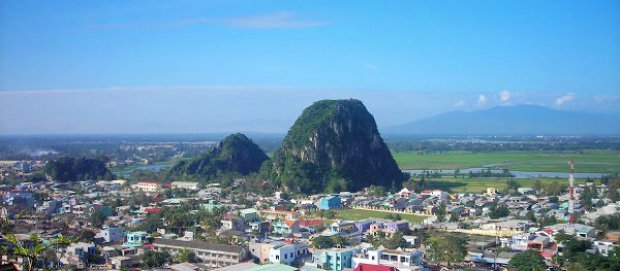 Marble Mountains
From Danang, your next destination is likely to be Hoi An, a half-hour's drive southeast. Heading towards this World Heritage Site, you will pass the Marble Mountains, a group of five limestone peaks named after the five classical elements – Thuy Son (water), Moc Son (wood), Hoa Son (fire), Kim Son (metal) and Tho Son (earth). Thuy Son is the best known of the five, and it can be ascended with a short but steep trek or with the help of an elevator curiously built into its side. The hill is pockmarked with skylit caves which house statues and ancient art dating back to the era of the Champa Kingdom. Close to the summit is Tham Thai Pagoda, a place to catch your breath, look out over the sea and the Cham Islands in the distance, and listen to the sounds of hammers and chisels from the marble craftsmen at work in Non Nuoc village below.
Hoi An


Left and right: Paddy Fields and By The River 
Continuing south, the city sights give way to countryside scenery, apart from the resorts that line the seafront. You then travel along a road which dissects a massive paddy field before arriving at the seemingly sleepy town of Hoi An. Recognised as a World Heritage Site by UNESCO in 1999, Hoi An is the reason most travellers come to this part of Vietnam.
What started out as a small trading port in the 15th century grew into a village influenced and inspired by the many traders who passed through it – the Chinese, the Japanese, the Indians, the Dutch, the Portuguese, the French and the Americans. The Japanese also leant their name to the Japanese Covered Bridge, a walking bridge revered as the symbol of Hoi An.
Tourism has taken hold here, so you can expect the usual share of souvenir shops and touts, but the rich heritage of Hoi An is very much alive in the temples, museums and ancient houses spread around the town. You can explore the sites on your own with tickets purchased at strategically-placed kiosks, but an organised walking tour is the best option for your first visit.
Apart from its historic sites, Hoi An is also well known for its tailors. On every street, there are clothiers who can put together shirts, dresses, full suits and traditional ao dai outfits in just a matter of hours. Simply select the design you want from a catalogue carefully assembled from torn pages of other catalogues and fashion magazines, and you're on your way. While they can do a quick job, it's best if you give them a day and arrange to come in for a fitting before leaving with the finished product. Yaly Couture and Be Be are two reliable tailors where shirts cost around $50 and suits around $100. You can even have shoes made to measure at shoemaker shops here, but suffice to say, they won't be Italian leather house quality. If you love silk, the Silk Village is also worth a visit for an education on how the material goes from caterpillar fibre to soft fabric and works of embroidered art.
No mention of Vietnam is complete without discussing its cuisine of course, and Hoi An is a foodie's dream. International restaurants with rooftop terraces, roadside dessert stalls and eateries by the river bank that pop up each night to serve cao lao (pork noodles) by the light of kerosene lanterns – the choice is yours. The Cargo Club Restaurant and Citronella offer the most indulgent dining experiences, with both hosting cooking classes.
As a destination on every self-respecting backpacker's Southeast Asian itinerary, Hoi An has a flourishing nightlife scene. Across the river from the main part of town, bars like Infinity and Rango (a boat converted into a bar) serve up cocktails, questionable spirits and bottles of the local Biere Larue until the early hours. The bars are close to a regular night market where you'll see people hawking a vivid array of handmade lanterns in every shape and size. With the touristy stuff out of the way, one of the best things to do in Hoi An is to kick back at one of the nondescript riverside restaurants near the Central Market with a glass of local draught beer. At Thuan Y, each glass only sets you back about 50 cents, complemented perfectly by a plate of Hoi An's signature white rose dumplings.
The Cham Islands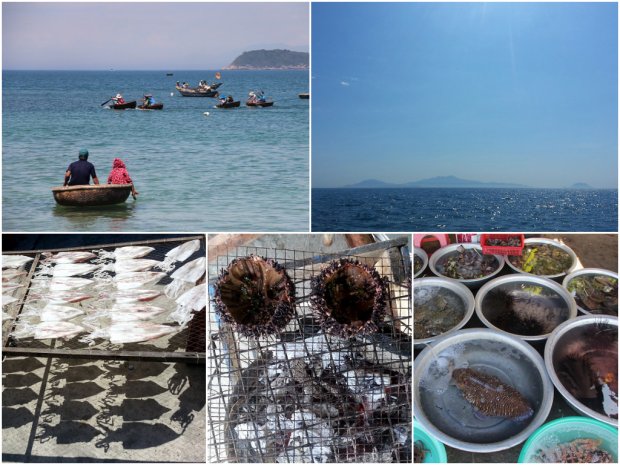 Top left to right: Basket Boat Race and Cham Islands
Bottom left to right: Drying Squid, Sea Urchins and Live Seafood
An archipelago located about 16km from the mainland, the eight Cham Islands have been inhabited for over 3,000 years. They form part of the Cu Lao Cham Nature Park with 410 acres of coral reefs and almost 1,000 species of aquatic life. The settlement of Bai Lang on Hon Lao (Pearl Island) is where you'll start your visit after an exhilarating speed boat ride. Bai Lang is very much an active fishing village with fishmongers selling live local seafood – crabs, clams and some of the biggest cuttlefish you've ever seen. If you love your uni, sea urchin is a specialty here. The shoreline along the village is strewn with iconic basket boats which look just like what they sound like – round boats woven from bamboo which resemble giant baskets.
With the Cham Islands' wealth of biodiversity, it's one of Vietnam's best sites for snorkelling and diving. Most tours will include a short snorkelling expedition with equipment provided, and if you're qualified, you can arrange a scuba trip with the Cham Island Diving Center.
Hue and My Son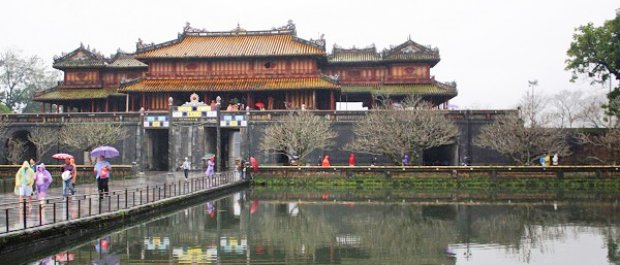 Ngo Mon Gate in Hue
Two other UNESCO World Heritage Sites are within a daytrip tour's reach of Danang and Hoi An – the Complex of Hue Monuments and My Son Sanctuary. Hue is located 80km to the northwest and My Son, 69km to the southeast. The sites provide a complete picture of Vietnam's history, spanning the Champa Kingdom, the Nguyen Dynasty and the Vietnam War.
Hue was the imperial capital of Vietnam's Nguyen Dynasty from 1802 to 1945 and its importance is symbolised by the Complex of Hue Monuments, a walled city within a citadel that took inspiration from the Forbidden City of Beijing. It was badly damaged during the Battle of Hue in 1968 and only a handful of the original buildings were left standing. Slowly but surely however, the majestic gates, temples and palace of the city have been restored to their former glory. Hue also has its own culinary heritage to offer in the form of bun bo Hue, a spicy and sour beef noodle dish which uses thicker, rounder noodles compared to the better known pho.
My Son Sanctuary (pronounced "me sun") dates back much further. The group of temples that make up the sanctuary were built over the course of a thousand years between the 4th and 14th centuries. Reminiscent of Angkor Wat in Cambodia, they were originally Hindu temples dedicated to the goddess Shiva. The sanctuary was rediscovered in 1898 by French archaeologists, and while restoration works were carried out in the late 1930s and early 1940s, it was also badly damaged during the war. Today, the ruins only hint at the sanctuary's former glory.
Beyond
With its location between Hanoi and Ho Chi Minh City, your journey across Vietnam doesn't have to end in Danang. Budget flights are available aboard VietJet Airways, Jetstar and Vietnam Airlines to connect you to other major cities, or you could take one of the world's most awe-inspiring train journeys. Heading north to Hanoi aboard the Reunification Express, you traverse Hai Van Pass (Ocean Cloud Pass). During the day, the panorama of mountains, forest and surf is simply magical, and at night, the lights of basket boats twinkle in the darkness, blurring the boundary between the sea and the sky.
Essentials
When to visit: September to December is the period most common for monsoon rains and typhoons in Central Vietnam. Months outside of these are good for travel, with June to August being best for travellers who prefer summer temperatures.
Flights: AirAsia flies to Danang from Kuala Lumpur four times weekly (Mondays, Wednesdays, Fridays and Sundays) from around $230 return (including fees, taxes and 20kg checked baggage). Connections from Singapore to Kuala Lumpur are available on numerous airlines including AirAsia, Tigerair and Jetstar from around $80 (including fees, taxes and 20kg checked baggage).
SilkAir offers all-inclusive daily flights between Singapore and Danang from $509 (some flights will transit in Siem Reap).
Do take note that flight prices fluctuate and airlines offer promotional prices at times. Therefore, it is good practice to check prices for individual airlines before making your purchase.
Hotels: Accommodation can range from basic hostels to lavish five-star private villas. For a seaside stay close to both Danang and Hoi An, the Hyatt Regency Danang Resort and Spa and The Nam Hai are two luxurious options. If boutique hotels are more your thing, The Little Hoi An Boutique Hotel & Spa is the kind of place you will want to return to time and time again.
Also Read: 5 Best Luxury Resorts In Vietnam
Tours: Each hotel has its own affiliated tour operators, but Hoi An Travel will give you a good idea about prices and itineraries. You can also find the best travel packages to Vietnam's Central Coast and beyond right here. If you've got a license, or you're just daring enough, you can rent your own scooter or motorcycle for your trip. Taxis are generally trustworthy, but as always, request that they use their meters, or agree on a rate before departing.
Trains: The Man in Seat 61 has a comprehensive guide to train travel around Vietnam including timetables. There are agents who claim to be able to book train tickets for you online, but the most dependable way to purchase them is to do so in person at the train station.
Also Read: So You Think You Can Speak Vietnamese?