Thinking of travelling to Korea over the next few months? Make sure your trip coincides with one of these exciting festivals, because they will add a whole new dimension to your Korean experience! Along with the festivals, we'll also throw in some great-value tour recommendations for you to consider.
1. Hwacheon Sancheoneo Ice Festival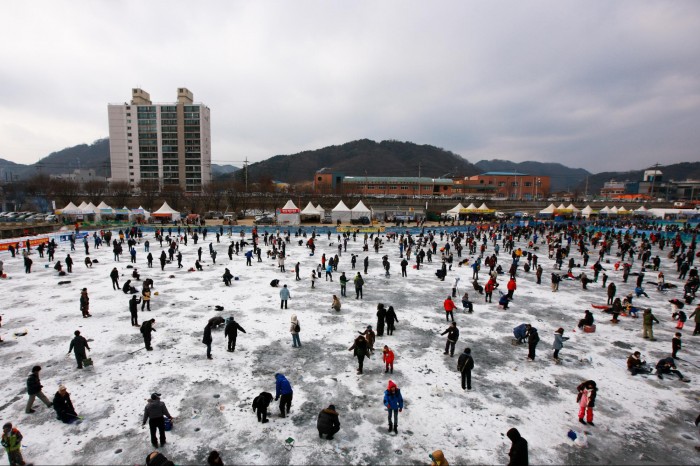 Image credit: Korea Tourism Organization
Hwacheon Sancheoneo Ice Festival is a unique celebration that takes place in Hwacheon county, Gangwon-do, and the highlight of this festival is Sancheoneo (mountain trout) fishing. During the festival which happens on mid- to end-January,  participants carve holes in the frozen Hwacheoncheon Stream and try to catch the mountain trouts swimming below them. On top of that, there will be other fun activities like ice-skating, snow sledding and snowmobiling – making this festival the perfect one for families!
Also Read: My First Time Skiing in Korea
Mix your ice fishing experience in Hwacheon with a visit to Jeju Island and Seoul. Dynasty Travel's
8D6N / 8D7N / 9D7N Sparkling Korea + Jeju Island (KKWS8 / KKWS8A / KKWS9)
packages are perfect for you!
Highlights: 
✓  Stay in international 5-star hotels (for KKWS8 and KKWS9)
✓ Ice fishing in Hwacheon (for departures from mid-Jan to end-Jan)
✓ Tangerine-picking experience (for departures from 15 Nov 2016 to 15 Mar 2017)
✓ One day of skiing with rental of equipment included
✓ Hanbok photo-taking session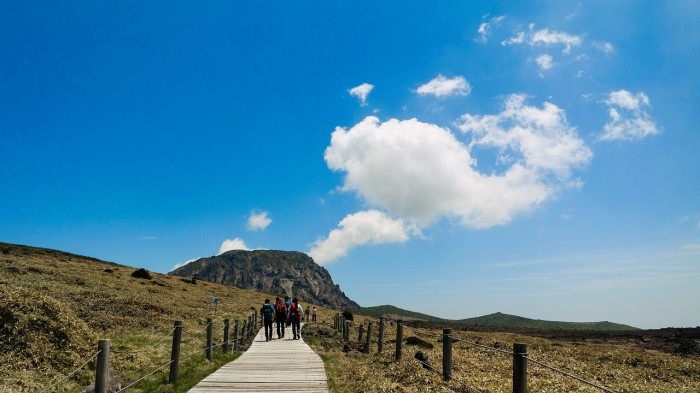 Image credit: Pixabay
Begin your Korea trip proper in Jeju Island, recognised as one of the New7Wonders of Nature. You'll spend two nights here, visiting key attractions like the 3D Art Museum, Jeju Aqua Planet, Teddy Bear Museum, Hello Kitty Island and Play KPop Museum. Witness a Nanta Show, a non-verbal and uniquely-Korean performance which is particularly popular in Jeju Island. Nature-lovers will enjoy stunning views from the Seongsan Sunrise Peak, a tuff cone crater formed by a volcanic eruption under the sea. On top of that, visit Seongeup Folk Village, a designated Folklore Preservation Zone which exhibits the historic and cultural properties of Jeju Island – from architecture, food and craftsmanship.
From Jeju Island, fly back to Gimpo airport and be ushered to Gangwon-do. You'll have two nights here filled with plenty of great activities! Pose for photos in a traditional Korean dress (also known as hanbok), try your hand at making kimchi, visit Kangwon Land Casino and have a splash in a  Spa Water Park. You'll be staying at a Ski Resort, and of course, your next day will be spent on snow! A basic ski lesson will be provided to get you started, so don't worry!
It's time to make your way to Seoul, and there are some exciting stops en-route. Fans of Descendants of the Sun will rejoice, because Samtan Art Mine, a filming site of this hugely popular Korean series, is part of the itinerary. After that, visit Everland, Korea's biggest theme park, with rollercoasters and much, much more! Groups that depart from mid- to end-January will experience the ice fishing at Hwacheon as part of the aforementioned Hwacheon Sancheoneo Ice Festival.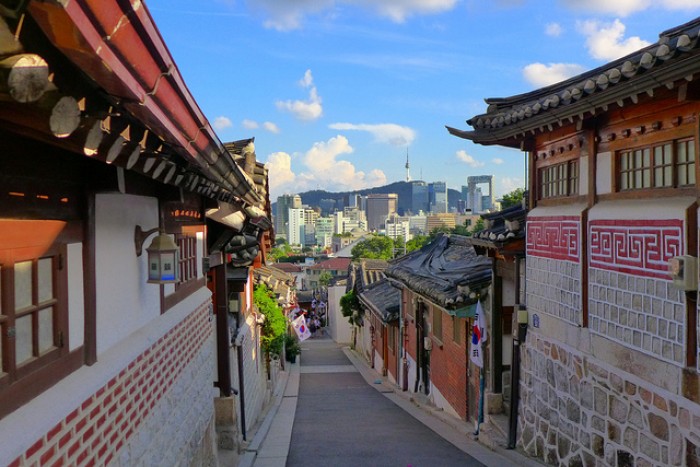 Image credit: Travel Oriented
Day seven will be spent in your new favourite city, Seoul.  A unique experience that you can look forward to is touring the historic Bukchon Hanok Village,  which is filled with hundreds of traditional houses known as hanok. You'll also visit Grevin Seoul Wax Museum, where life-sized figures of your favourite Hallyu stars await you. Learn the secrets of flawlessly beautiful Koreans in a Skincare Course, and go shopping at The Face Shop outlet and a Duty-Free Shop. Bid farewell to Korea the next day, but not before some final sightseeing at Gwangjang Market, which sells anything and everything from street food to vintage clothing and linen beddings.  You'll also have your final chances at snagging some last-minute Korean goodies at a Huganbao showroom, a seaweed museum and a local product shop.
The 8D7N Package follows closely with the 8D6N Package, but with a visit to Common Ground container mall in Seoul and an additional night in Jeju Island.
The 9D7N Package also follows closely with the 8D6N Package,  but with an additional day in Seoul for your shopping and leisure needs.
2. Go Go Ski Festival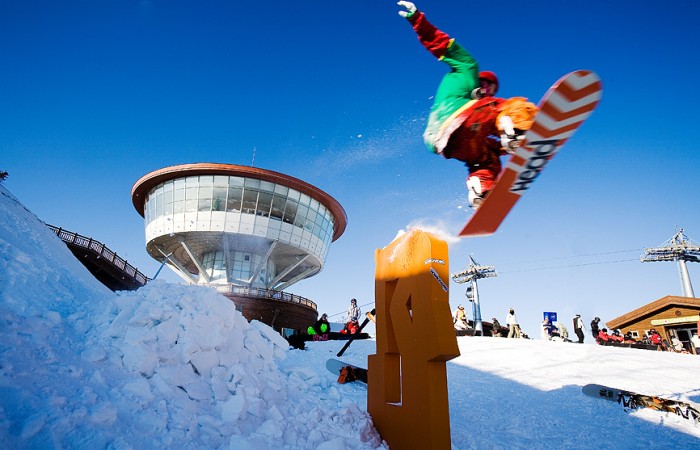 Image credit: High1 Resort
Another not-to-be-missed Korean winter festival is the Go Go Ski Festival, held from mid-December to March at High1 Resort. Start your winter adventure in Korea during a ski festival – the atmosphere will be electric! High1 Resort is equipped with all the facilities you need for a snowy good time, and they cater to skiers of varying levels of experience. On top of skiing lessons, there will also be exciting performances and events to look forward to.
If you'd like to experience the Go Go Ski Festival, we recommend you to grab Dynasty Travel's  7D6N Korea Go! Go! Ski package (KKGG7A) which covers Seoul, Gangwon and Dogyeonggi-do.
Highlights: 
✓ Woongjin Playdoci Snowdoci and Waterdoci
✓ High 1 Ski Resort
✓ Four days of skiing with rental of equipment included
✓ Go! Go! Ski Festival
✓ Take part in a skiing competition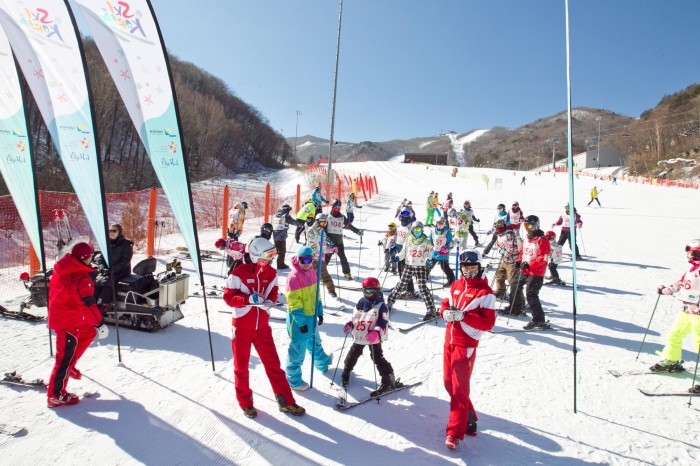 Image credit: Korea Tourism Organization
This Korea Go! Go! Ski package will get you started and you'll be on your way to becoming a pro skier in no time… at least, that's what we hope!
Upon landing in Seoul, you'll rest for the night and head to Gangwon-do the day after. The destination is Woongjin Playdoci Snowdoci, Korea's very first indoor ski resort, where you'll embark on a basic ski lesson before taking on the slopes. You'll also visit Woongjin Playdoci Waterdoci, a massive indoor water park and spa, featuring waterslides, wave pools and even an aqua bar!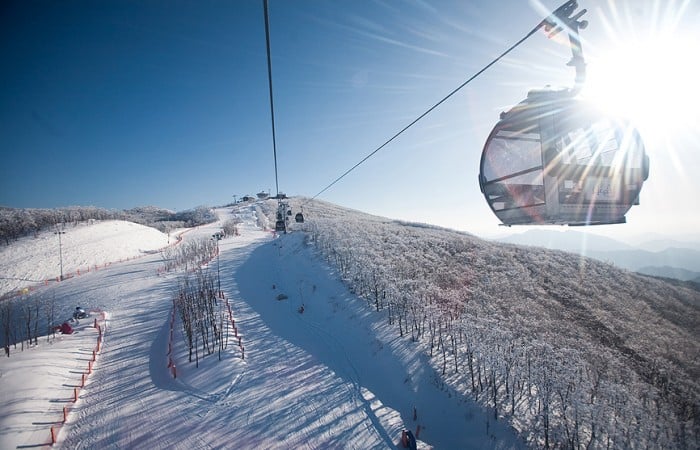 Image credit: High1 Resort
Of course, we know you haven't had enough of skiing, so on your third day, you'll be whisked off to High 1 Ski Resort in Gangwon-do to be a part of the Go! Go! Ski Festival. You'll have two days of ski lessons and practice here before a ski competition on the fifth day, where you can put all your newly-learned skills on display! There's even an award presentation followed by a farewell dinner on your last day here. Also, do take note that rental of ski equipment, such as ski poles, skis and ski boots are included.
Also Read: My Very First Winter Sonata in Gangwon
On day six, it's time to make your way to Seoul and en route, drop by the Samtan Art Mine. Don't waste any time in Seoul – go crazy in Myeongdong shopping street for your haul of cosmetics, clothes, bags and cute stationery! Before your trip ends, you'll also make a few unique stops: a Korean Ginseng Centre Showroom, a Huganbao Showroom, a seaweed museum and a local product shop.
3. Muju Firefly Festival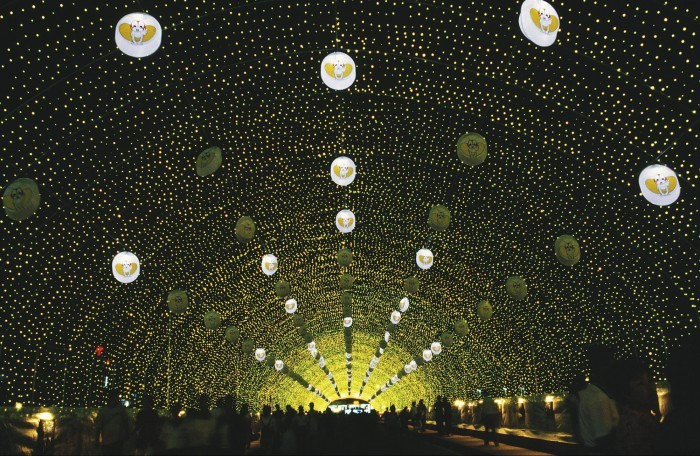 Image credit:Korea Tourism Organization
The Muju Firefly Festival, which takes place from 27 Aug to 4 Sep 2016 in Muju, Jeollabuk-do, is a night spectacle you don't want to miss! Imagine armies of fireflies glittering against the backdrop of the night sky – it will be a sight to behold for sure! While you can see fireflies in the city, the best place to view this natural display is in the valleys just outside the city. It'll also be a great excuse to check out Muju's stunning mountainous landscapes! On top of that, before the parade of firefly lights, there'll be performances ranging from martial arts to a fashion show; and exciting booths and spaces will be set up for this nine-day event.
Have a blast in Korea and enjoy these festivals!
---
Brought to you by

and supported by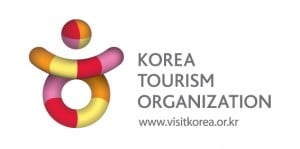 and