Los Angeles goes by many names – it is the City of Dreams, City of Angels, and even the City of Flowers and Sunshine! Indeed, as the largest city in California, you can expect that Los Angeles has much to offer. There are a plethora of exciting activities to do, and endless sights and sounds to be immersed in. Consequently, first-time visitors may be overwhelmed when trying to navigate this concrete jungle; but there's no need to fret!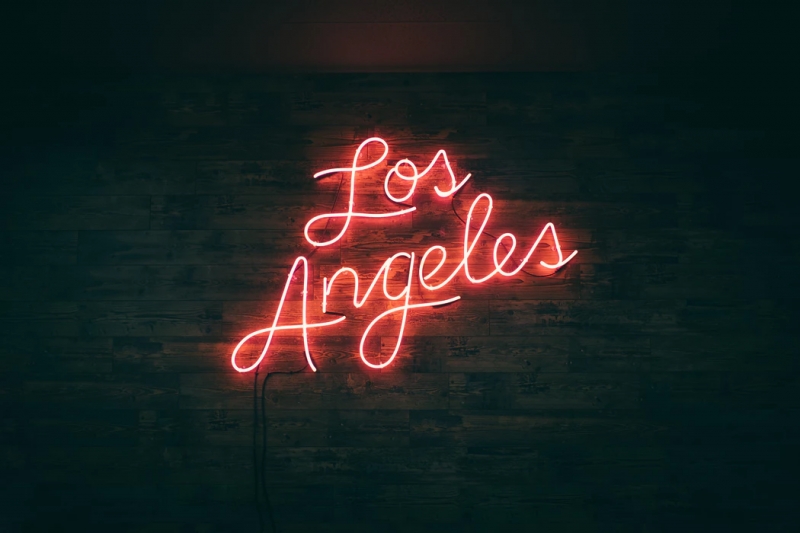 This five-day itinerary showcases the very best of Los Angeles, and still allows ample time for rest and relaxation. We've done all the hard work for you – just get ready for an epic adventure in the USA!
Day 1: Hollywood and Santa Monica Pier
Start your California-dreaming none other than at Hollywood, the home of unparalleled glitz and glamour! These nine letters symbolize the pinnacle of the film and entertainment industry, and have now become an iconic landmark for both locals and tourists. While the sign forms part of the backdrop in the actual neighbourhood of Hollywood, there are a few places where you can enjoy unhindered views – perfect for taking your next viral Instagram shot! You could hike up Runyon Canyon, take the stairs to the top level of the Los Angeles County Museum of Art, or just sit at the Hollywood Bowl and admire this unforgettable view.
In addition, you must swing by the legendary Hollywood Walk of Fame. This popular attractions spans the sidewalk of 18 blocks, and includes more than 2,600 terrazzo and brass stars embedded in the ground. Be on the lookout and hunt for the stars of your favourite celebrities – both human and not. Aside from famous singers and actors, you will also be able to spot fictional characters like Donald Duck, Snow White and even Shrek! Still, don't just keep your eyes on the ground. Instead, use the route as an avenue to explore Hollywood, and take in the dazzling sights around you.
Address: N Highland Ave & Hollywood Boulevard, Los Angeles, CA 90028, USA
As the day draws to a close, make your way to Santa Monica Pier for golden hour. This landmark, double-jointed pier dates almost 100 years back, and is one of the best places to catch a magnificent sunset; stand in awe as the sky bursts into fiery shades of red and orange, and capture the resplendent moment when the sun descends in the horizon. Aside from the captivating scenery, there are a chock-full of activities waiting for you at the Santa Monica Pier. Head to Pacific Park, a family-friendly amusement park with a signature ferris wheel, or learn about local fish at the Santa Monica Pier Aquarium.
Address: 200 Santa Monica Pier, Santa Monica, CA 90401, USA
Day 2: Disneyland
Naturally, you have to spend a day at Disneyland, the Happiest Place on Earth. This particular theme park is prominent for being the only theme park designed by Walt Disney, and has set the benchmark for other Disney-operated parks all over the world. No matter how old or how big of a Disney fan you are, spending a day at Disneyland is bound to lift your spirits and leave you feeling like a kid again. Lose yourself in the wonder of the vintage-styled buildings, be charmed by the animated mascots, and get your shot of adrenaline as you tackle the thrilling roller coaster rides.
Who says that the fun has to end when the sun goes down? In fact, it's only just the beginning! At night, be enchanted by psychedelic colours as Disneyland is transformed into a city of lights. End your journey at Sleeping Beauty's castle for an invigorating fireworks display and other heartwarming performances. There's no better way to wrap up a magical day at Disneyland than this!
Opening Hours: 9am to 10pm (Monday – Tuesday)
                                    9am to 9pm (Wednesday)
                                    8am to 11pm (Thursday)
                                    8am to 12am (Friday and Sunday)
                                    9am to 12am (Saturday)
Address: 1313 Disneyland Dr, Anaheim, CA 92802, USA
In-N-Out Burger
You may be stuffed after a day of snacking in Disneyland, but there's always space for some In-N-Out! Don't be fooled by this seemingly innocuous fast food chain; these burgers have now become synonymous with the American experience, and are a quintessential element of any Los Angeles visit. Expect toasted buns that sandwich juicy grilled beef patties, melted cheese and fresh vegetables – each bite really packs a punch! If you want something more extravagant, choose from their secret menu and be blown away by the unique combinations and depth of flavours. This is comfort food at its best!
Day 3: The Broad Museum, The Grove and Rooftop Drinks
Switch things up and get in touch with all things contemporary and artistic at The Broad Museum! Los Angeles' newest museum is also a strong contender to be the city's best, both inside and out. Its eye-catching exterior is a testament to modern architectural marvels, and the thought-provoking exhibits will both impress and move you. Even though this may not seem like the most conventional tourist stop, you should definitely make time to stop by and get a glimpse of the city's unique culture and rich artistry.
Opening Hours: Closed on Monday
                                    11am to 5pm (Tuesday – Wednesday)
                                    11am to 8pm (Thursday – Friday)
                                    10am to 8pm (Saturday)
                                    10am to 6pm Sunday)
Address: 221 S Grand Ave, Los Angeles, CA 90012, USA
Next up, it's time to go shopping! Los Angeles is renowned for its diverse range of shops, outlet-store discounts and of course, the trendiest fashion. The Grove is one of many outdoor shopping malls that offers a wide array of fashion-forward boutiques and both mainstream and indie brands. It may be tempting to grab everything off the shelf, but be careful not to break your bank! If you get tired of shopping, just take a leisurely stroll around the compound and bask in the electrifying atmosphere. After all, when you're in Los Angeles, everything is an experience.
Opening Hours: 10am to 9pm (Monday – Thursday)
                                    10am to 10pm (Friday – Saturday)
                                    10am to 8pm (Sunday)
Address: 189 The Grove Dr, Los Angeles, CA 90036, USA
End the day with  dinner and drinks at a rooftop bar – imagine kicking back with the stunning city skyline as your view! For those who are on a budget, perch la is a quaint spot that's great for a cosy night. Enjoy a sumptuous meal and a cocktail under some fairy lights, and groove along to the tunes of the live band. If you are looking to splurge, the Skybar at Mondrian is a choice location for a luxurious night out. Grab a drink and let loose as the Hollywood DJs play their set; you'll feel like you're right there at the top of the world, as you're dancing and gazing at the illuminated city from afar.
Can't wait to explore one of these dreamy rooftop bars in Los Angeles? Then there's no time to lose!
Experience the glitz and glamour of Hollywood with United Airlines' ongoing promotion where you can fly to Los Angeles from $1134! Book by 21 Jun 2018 for travel from now to 31 Oct 2018.
Day 4: Original Farmers Market, Watts Tower and Venice Beach
Start your day with a trip to the Original Farmers Market, a one-stop shop for everything you need. First established in 1934, the market has grown significantly in stature and has attracted patrons like The Beatles and Marilyn Monroe! Who wouldn't want to walk the same footsteps as these legends? The market consists of more than 100 vendors that range from grocers, artists and even barbers. Go on a gastronomic adventure as you savour international cuisine, and pick up fresh local produce to take home with you. In addition, there are pop-up events like pet adoption drives, open-mic sessions, and more. There'll definitely be something to pique your interest, so don't miss out!
Opening Hours: 9am to 9pm (Monday – Friday)
                                    9am to 8pm (Saturday)
                                    10am to 7pm (Sunday)
Address: 6333 W 3rd St, Los Angeles, CA 90036, USA
After a busy morning, take things easy and pay the Watt Towers a visit. At first glance, it might not look the part, but it is actually considered a Los Angeles Historic-Cultural Monument, as well as a U.S National Historic Landmark. Be awed by the intriguing backstory of the sculptor, Sabato Rodia, and these 17 steel spires. Each spire was constructed by Rodia's innovative and improvisational sculpting techniques, and is embedded with random items like
mirrors and clary pottery. You simply can't help but fixate on this abstract monument – it's certainly a fascinating sight you'll never find elsewhere!
Opening Hours: Closed on Monday and Tuesday
                                   10am to 4pm (Wednesday – Saturday)
                                   12pm to 4pm (Sunday)
Address: 1727 E 107th St, Los Angeles, CA 90002, USA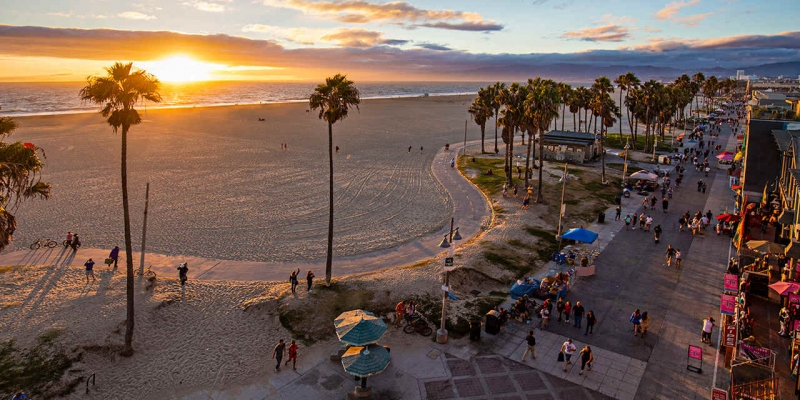 Venice Beach is the perfect destination for you to unwind; this coastal paradise exudes bohemian vibes, and boasts picturesque views of the sun, sea and sand. As you stroll along the bay area, pop by one of the many eclectic retailers and pick up a cool souvenir to take home. Also, keep your eyes peeled for the talented street performers, and grab a sumptuous bite from a local diner.
Address: 1800 Ocean Front Walk, Los Angeles, CA 90291
Day 5: Museum of Jurassic Technology and Comedy Club
Step into a whole new world at the Museum of Jurassic Technology, possibly the most bizzare and unconventional museum in the country. As you make your way around the dimly-lit museum, be fascinated by unusual and enigmatic exhibits like 'Cat's Cradle' and 'No One May Ever Have the Same Knowledge Again'. Prepare your stomach for unexpected and unpleasant things, but learn to see them from a new, reinvented perspective. Talk about an experience like no other!
Opening Hours: Closed on Monday, Tuesday and Wednesday
                                    2pm to 8pm (Thursday)
                                    12pm to 6pm (Friday – Sunday)
Address: 9341 Venice Blvd, Culver City, CA 90232, USA
The only thing better than food is… food on wheels! While you are exploring the city, it is inevitable that you will chance upon food trucks. These trucks capitalize on their mobility to serve up delicious street food across different places, and their elusiveness makes them even more appealing. Don't underestimate these chefs; they offer a diverse range of cuisines and maintain a high quality of food and service as they buzz around town. When you spot one, be sure to join the queue and enjoy some good nosh.
Unfortunately, you are almost coming to the end of your adventure in Los Angeles! End it with a bang, and drop by a comedy club for a night of unfiltered jokes, self-deprecating humour and uncontrollable laughter. The Comedy and Magic Club is highly raved about, and appearances by popular comedians like Ray Romano and Jerry Seinfeld are not uncommon. So sit tight, crack a cold one open, and get ready to laugh your socks off!
Opening Hours: Closed on Monday
                                    10.30am to 9pm (Tuesday – Friday)
                                    12.30pm to 8.30pm (Saturday – Sunday)
Address: 1018 Hermosa Ave, Hermosa Beach, CA 90254, USA
And there you have it, the perfect Los Angeles itinerary for first-timers. Although five days barely scrape the surface of what Los Angeles has to truly offer, it's a good start for exploring this gorgeous city!

Don't wait any longer  – get ready for that Los Angeles getaway you've always been dreaming of!
Book by 21 Jun 2018 to enjoy the special offer from $1134 and travel to your dream destination.
---
Brought to you by United Airlines.