Craving a quick weekend getaway, stat? Floundering amongst the rising hotel prices for your end-of-year vacation?
If you're in need of a last-minute luxury escape, now is the time to book it. Trip.com is running a massive promotion for the next 101 hours, with up to 63% off hotels all over Indonesia, including Bali, Batam, Yogyakarta, and more!
Booking a luxury resort or villa at the eleventh hour doesn't need to burn a hole in your wallet. Read on for ten gorgeous retreats under only S$100/night that will leave you itching to fly off now!
Trip.com's Indonesia Hotel Sale 101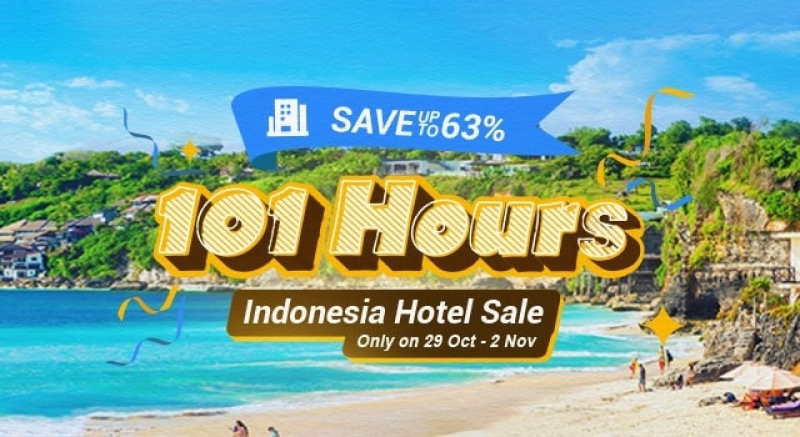 Don't miss the chance to save up to 63% off luxury accommodation with 60 Indonesian hotels! Unmissable deals with hotels starting from as low as SGD 17/night.
Offer valid for 101 hours only, starting now and ends on 2 Nov 2018!
1. Puri Sebatu Resort, Bali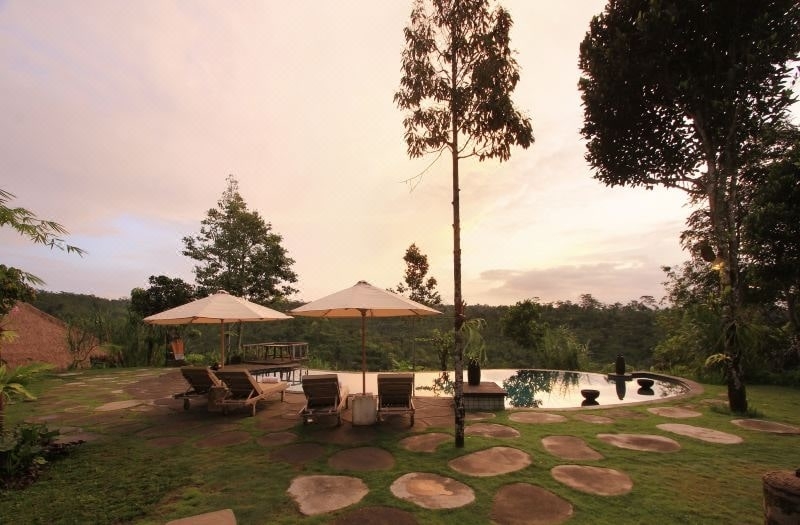 Tranquil and secluded, Puri Sebatu Resort is tucked away on the slopes of the mountainous Sebatu Valley. You'll enjoy beautiful views of the surrounding jungle and rice plantations as you relax in the infinity pool.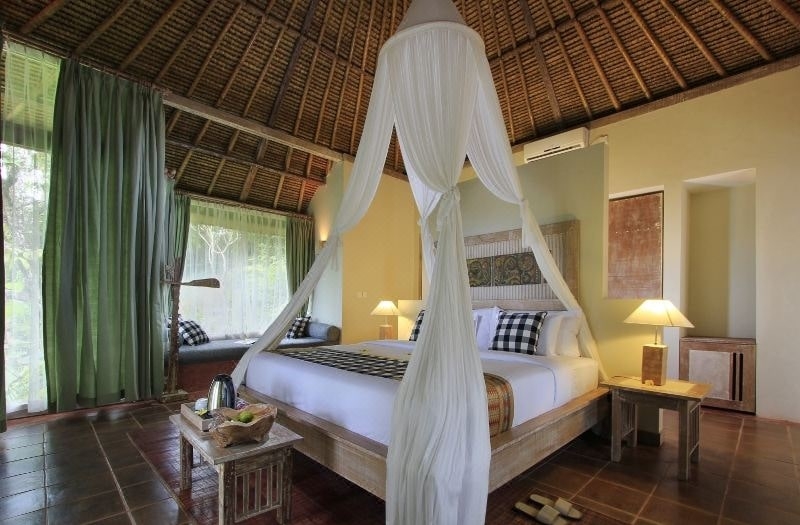 You'll feel at home in Bali with natural, Balinese-style furnishings. Traditional grass designs adorn the roofs and terracotta tiles line the floors of each villa, with a spacious private terrace and a semi-outdoor bathtub overlooking the valleys.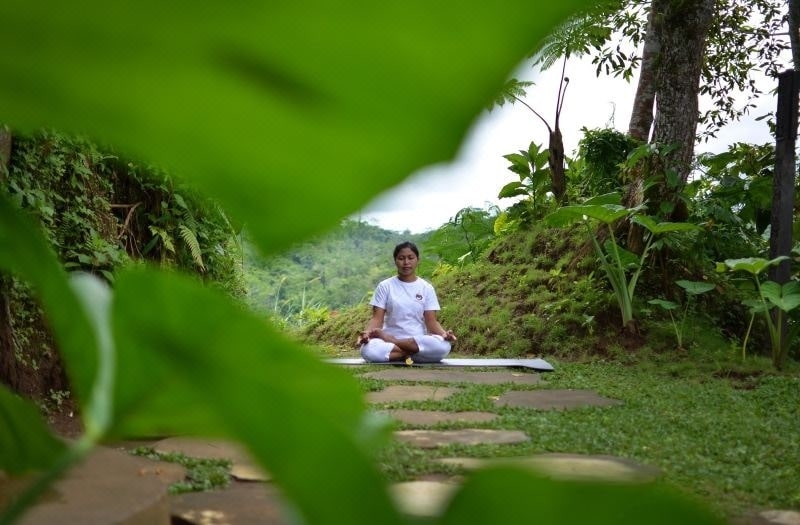 Rejuvenate your spirit with complimentary yoga and meditation sessions, in the dedicated yoga pavilion surrounded by lush greenery and the soothing sounds of a flowing river.
Address: Br Apuh, Desa Sebatu, Tegallalang, Bali 80571, Indonesia
Price: From S$67 per night. Find out more about Puri Sebatu Resort's rates here!
2. The Kryamaha Villas, Bali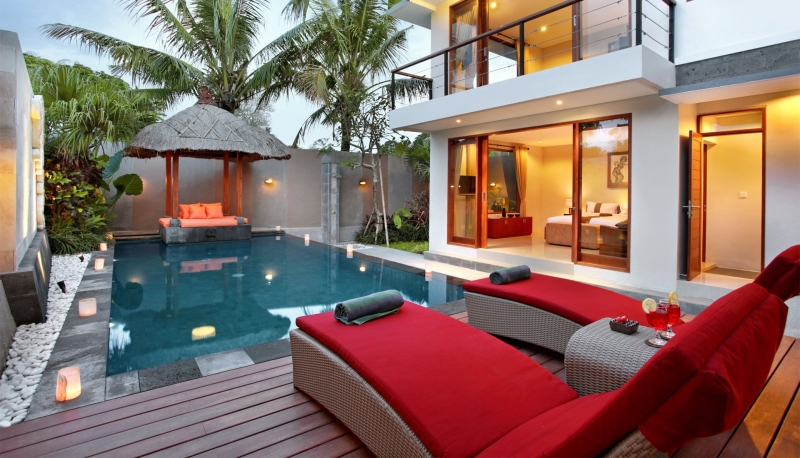 Stay in one of the beautiful pool villas of The Kryamaha Villas, located amongst the rich Nyanyi rice paddy fields. It's both modern and luxurious, with an open-air living room and private swimming pool in each villa. A Balinese touch is present in the wooden furnishings sourced locally and the traditional angkul-angkul entrance gate.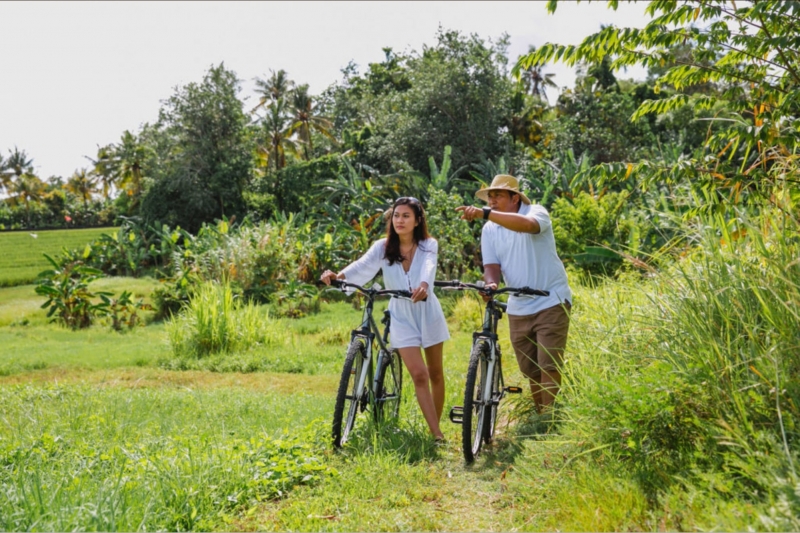 Wake up early to bask in the sunrise and fresh air, or go on a guided walking or cycling tour of the rice fields in Nyanyi Village.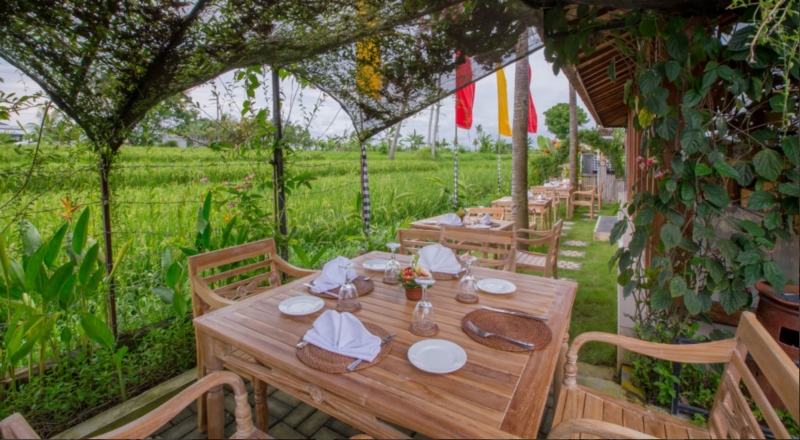 Dine well in a tranquil outdoor environment with fresh evening air, and expand your knowledge of Balinese cuisine with a cooking class and demonstration with their Executive Chef.
Address: Kryamaha Nyanyi, Jalan Nyanyi, Desa Beraban, Bali 80361, Indonesia
Price: From S$83 per night. Find out more about The Kryamaha Villas' rates here!
3. D'Djabu Villas Canggu, Bali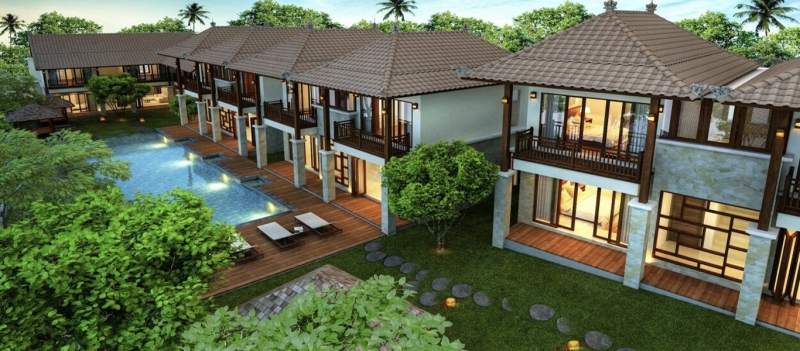 D'Djabu Villas Canggu is a boutique resort located near both Batu Bolong Beach and Echo Beach. It's a short walk to the beach for your morning surfing lessons – or home after a night out on the town at the entertainment stretch near Sand Bar.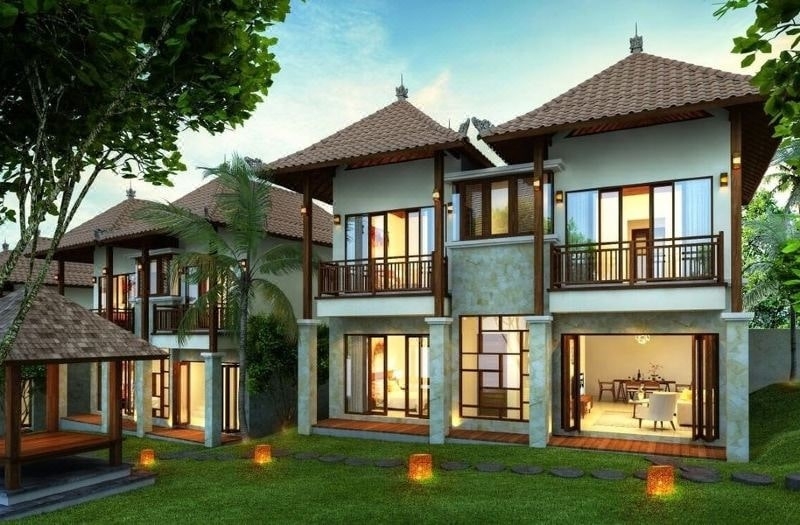 You'll be able to choose between waking up to a sea view or a pool view, in one of the resort's comfortable and spacious villas. Children are very welcome here and there's even a babysitting service available!
Address: Jalan Pantai Batu Bolong, Bali 80361, Indonesia
Price: From S$58 per night. Find out more about D'Djabu Villas Cangu's rates here!
4. The Grand Bali Nusa Dua, Bali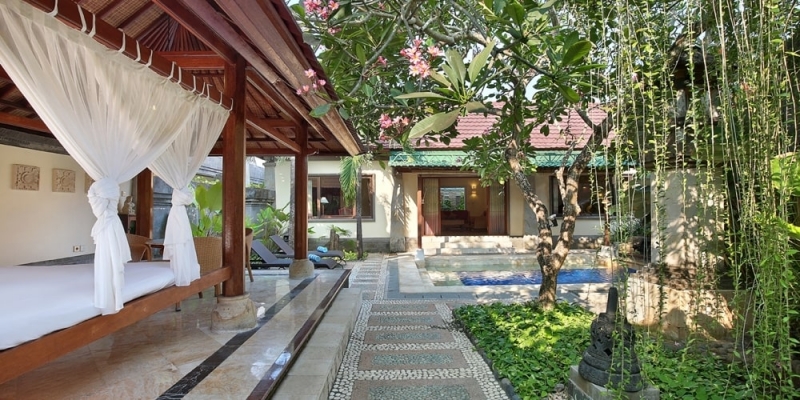 Experience elegant serenity in one of Grand Bali Nusa Dua's pool villas. You'll get a good night's rest in the comfortable king-sized beds and spend slow mornings in the semi-open gazebo living areas surrounding a private pool.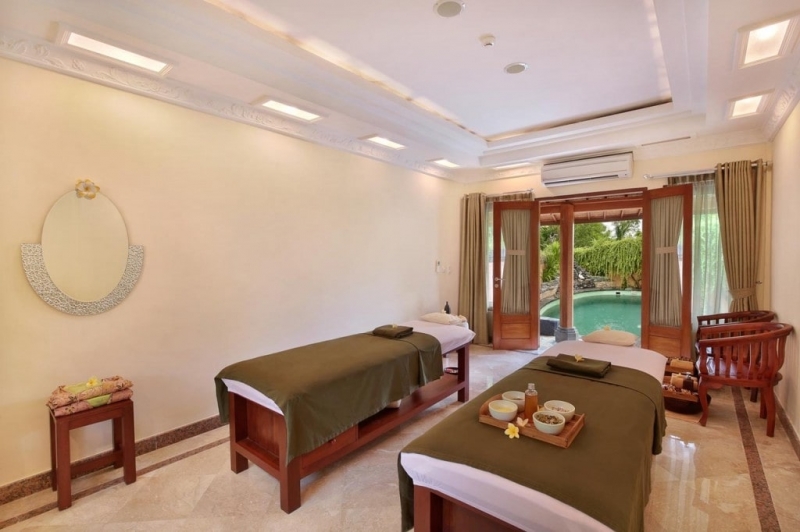 Give yourself a well-deserved pampering at one of the six dedicated spa suites, where you can release tension with a soothing Balinese massage or body treatment. Mixing modern massage techniques with traditional natural products, you'll experience pure relaxation.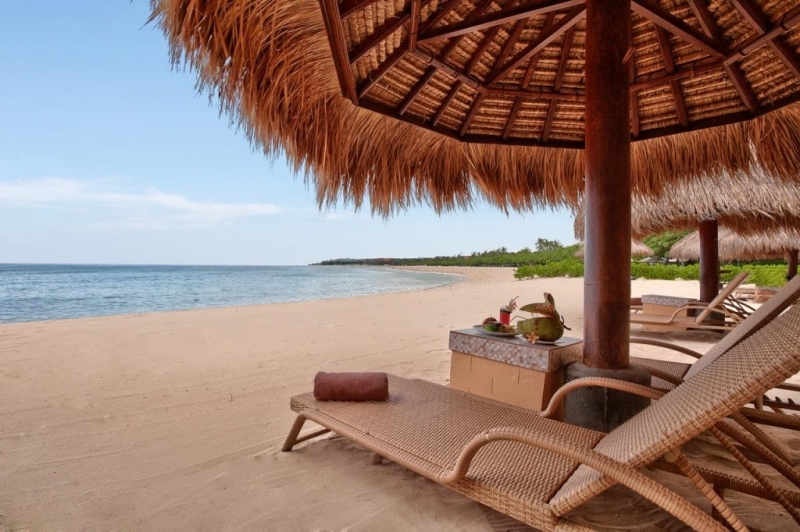 Complimentary access to their private beach club is included, where you can lie back on the sunbeds and sip a cocktail or coconut water, far away from the crowds!
Address: ITDC Complex Nusa Dua Lot RA 6, Jl Nusa Dua Selatan No.8, Bali 80363, Indonesia
Price: From S$77 per night. Find out more about Grand Bali Nusa Dua's rates here!
5. Grand Mega Resort & Spa Bali, Bali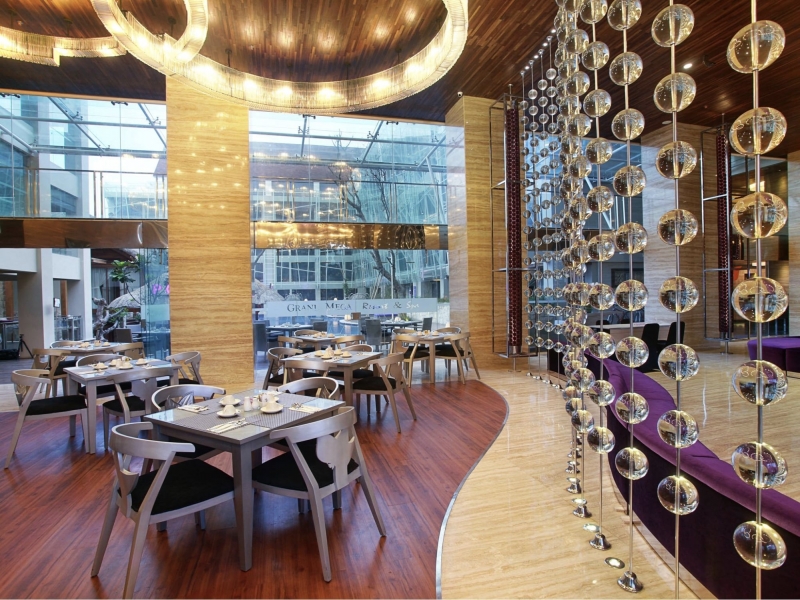 Stylish, contemporary and effortlessly upscale, the Grand Mega Resort & Spa Bali is conveniently located within walking distance of three department malls and just steps from the powdery sands of Kuta Beach.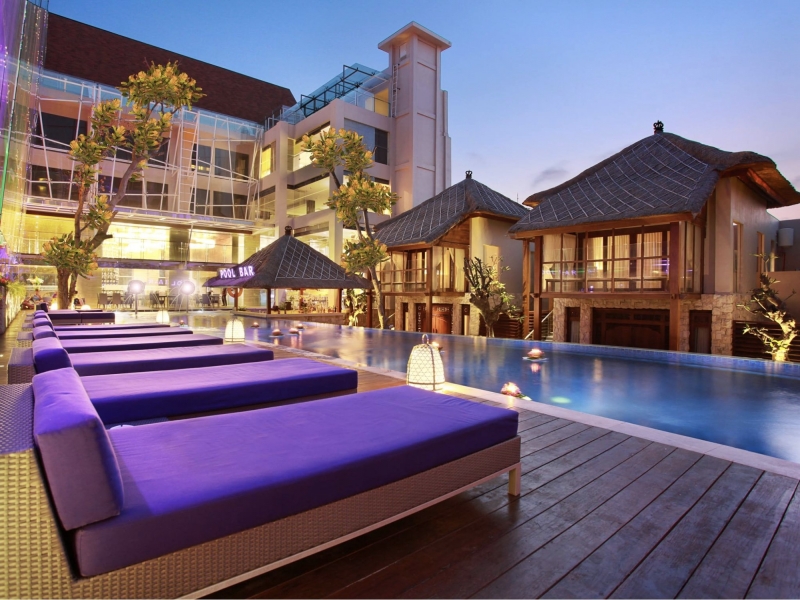 Sip on the cocktail of the month, order a bucket of beer from the poolside bar, or grab a snack and sunbathe through a balmy afternoon.
Address: Jl Bypass Ngurah Rai No. 234 Simpang Siur, Kuta, Bali 80361, Indonesia
Price: From S$31 per night. Find out more about Grand Mega Resort & Spa Bali's rates here!
6. Nongsa Point Marina, Batam
Nongsa Point Marina is located on the northern tip of Batam Island. Every room is equipped with a private balcony from which you can relish the views of the mountains or the marina cove.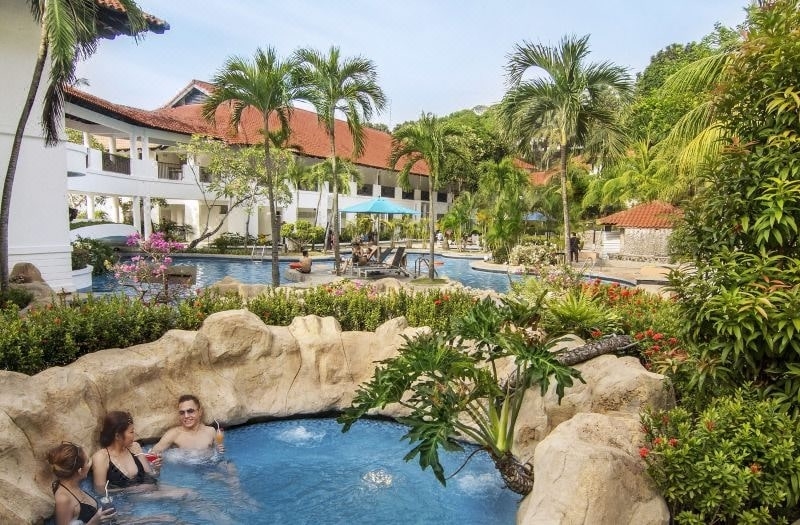 Tee off in the golf course located just next door, charter a boat to island-hop through the nearby Riau Islands, or get your heart pumping with some water sports at the Cabana Club! You'll return to the resort's gorgeous azure pools, surrounded by swaying palm trees and a peaceful ambience.
Address: Jl. Hang Lekiu, Nongsa, Batam 29465, Indonesia
Price: From S$76 per night. Find out more about Nongsa Point Marina's rates here!
7. Batam View Beach Resort, Batam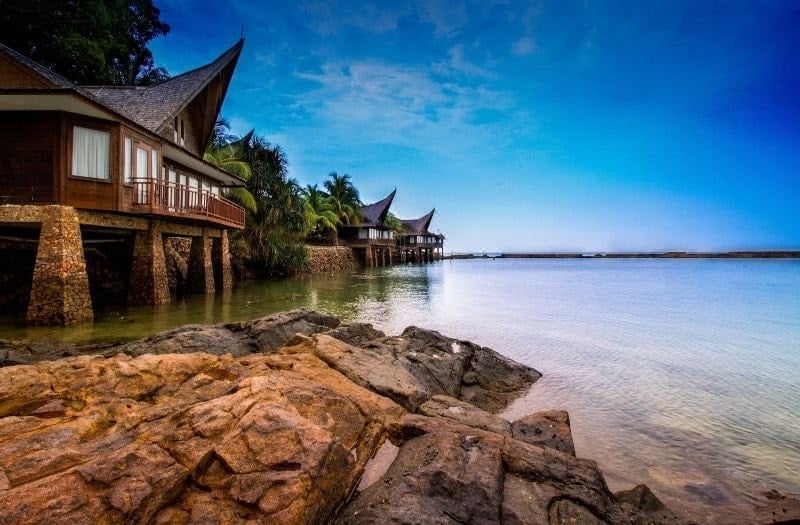 Batam View Beach Resort is a four-star resort with access to a private beach and an outdoor pool. The stunning villas have balconies that put you right on the seafront, where you can gaze out into the serene straits and wide blue sky. You'll fall asleep listening to the soothing sounds of the waves crashing against the rocks.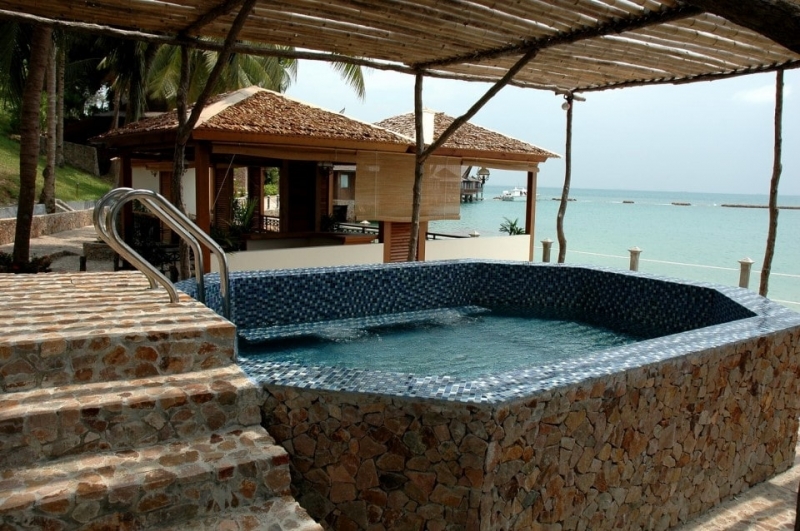 Unwind in the resort's bubbling jacuzzi, located on the beachfront and shaded by a bamboo roof. If you're feeling more energetic, go for a jet-skiing, banana boating or kayaking excursion!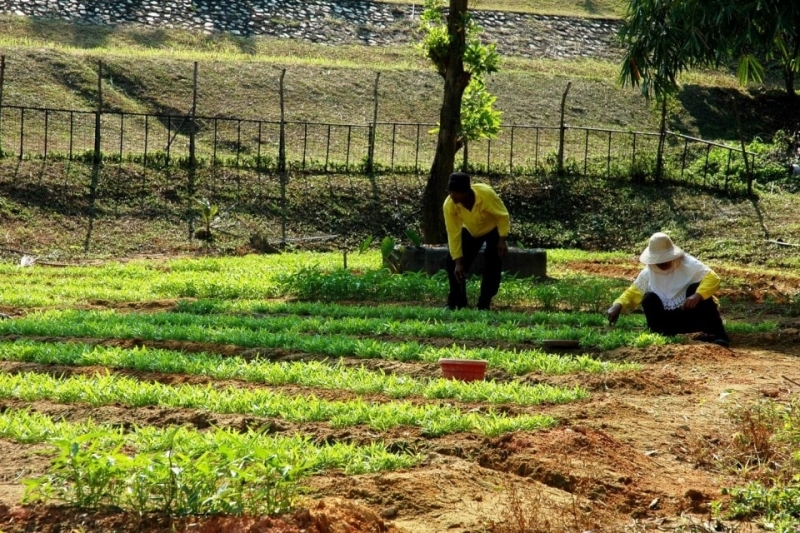 The resort has a small organic farm and a spice and herbs garden, where they cultivate fresh produce and seasonings for their specialised seafood restaurant, Kelong Restaurant. Visitors can learn about how organic vegetables are planted and maintained, and about different spice varieties here.
Address: Jl. Hang Lekir, Nongsa Batam 23234 Indonesia
Price: From S$68 per night. Find out more about Batam View Beach Resort's rates here!
8. Sheraton Mustika Yogyakarta Resort & Spa, Yogyakarta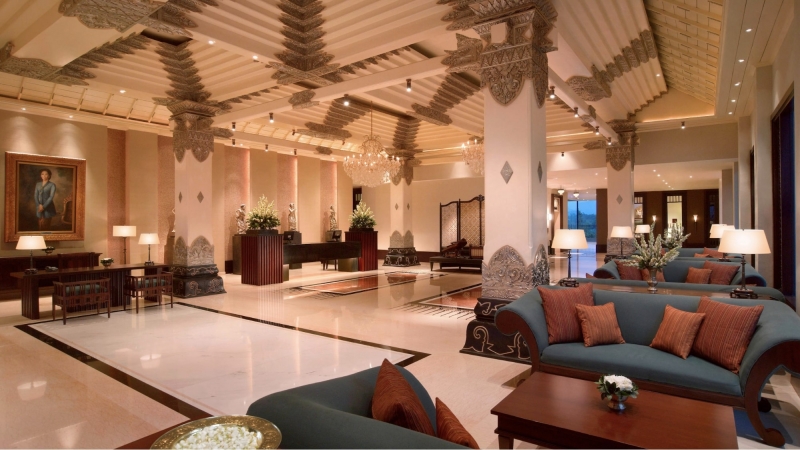 Located in the heart of Yogyakarta, Sheraton Mustika Yogyakarta Resort & Spa is within walking distance of many essential attractions, shopping plazas, and entertainment venues. You'll be impressed from the moment you step into the airy hotel lobby with its high ceilings, ornate columns, and plush furniture.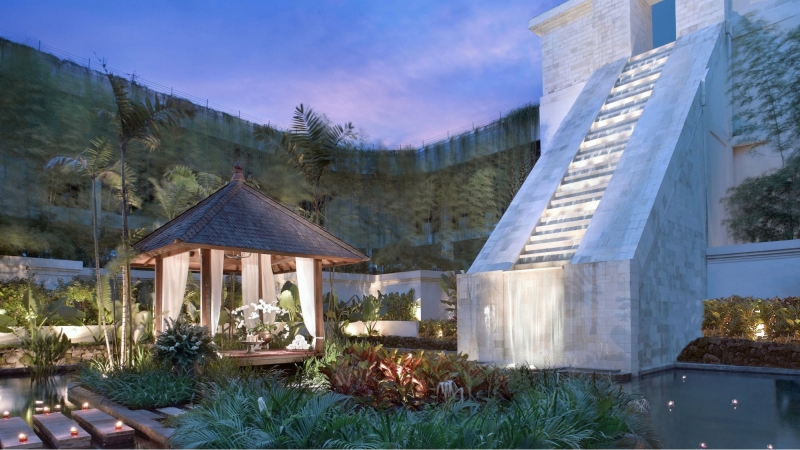 Each of the 246 Javanese-style rooms has a delightful balcony, surrounded by a tropical garden. In the evenings, take a stroll through the floral landscape of the candlelit Lily Pond Garden, serenaded by the gentle flow of a stepped waterfall.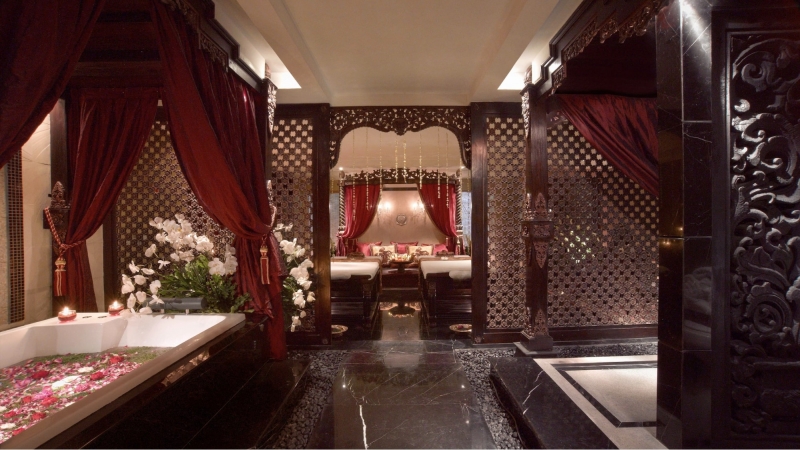 You can expect a royal spa treatment at the Taman Sari Royal Heritage Spa, which delivers spa treatments actually used in the Royal Palace, amongst authentic Javanese furnishings.
Address: Jalan Laksda Adisucipto KM. 8.7, Yogyakarta 55282, Indonesia
Price: From S$75 per night. Find out more about Sheraton Mustika Yogyakarta Resort & Spa's rates here!
9. Puri Pangeran Hotel, Yogyakarta
Puri Pangeran Hotel is a laid-back, peaceful garden abode located just 10 minutes from the city centre of Yogyakarta. Convenience is the ultimate allure of this four-star hotel, as you'll be just beside Yogyakarta Palace, Yogyakarta Fortress Museum and the Ramayana Ballet. You can even rent a car from the hotel to explore the city!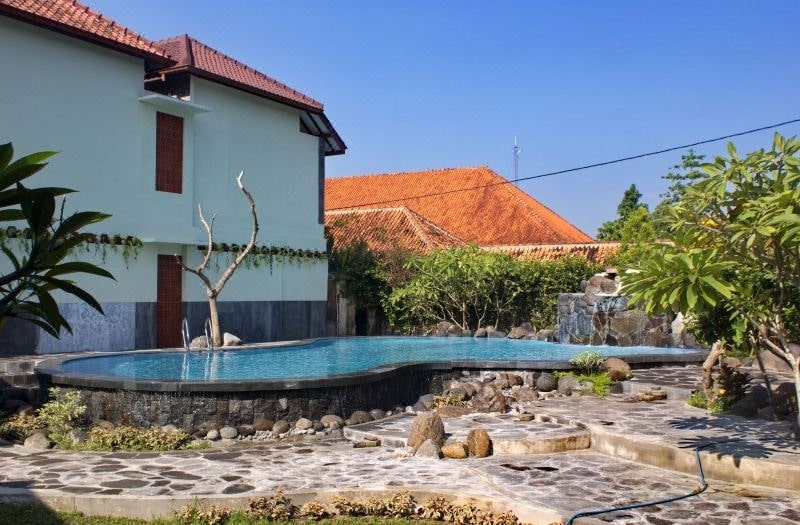 Leave the laundry, housekeeping and dry cleaning to the hotel staff – and put up your feet in the outdoor swimming pool or shared lounge instead!
Address: Jl. Masjid No. 7, Pakualaman, Yogyakarta 55122, Indonesia
Price: From S$22 per night. Find out more about Puri Pangeran Hotel's rates here!
10. Hyatt Regency Yogyakarta, Yogyakarta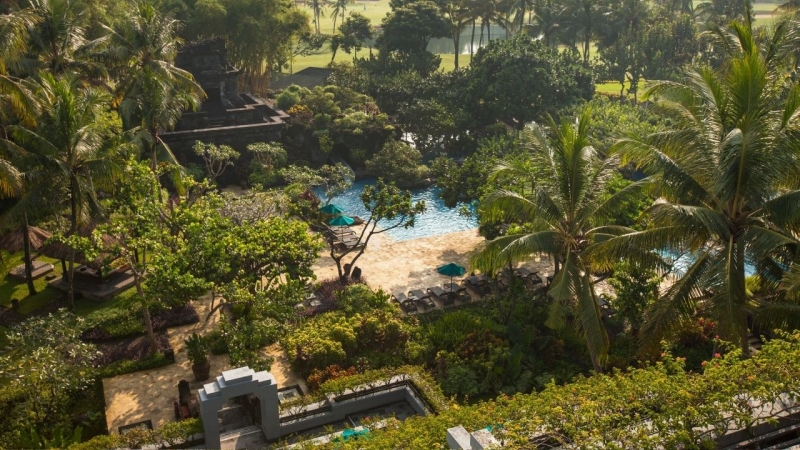 The 5-star Hyatt Regency Yogyakarta Hotel resides in the picturesque outskirts of north-western Yogyakarta, amongst gorgeous landscaped gardens and a 9-hole golf course. If you can pull yourself away from the peaceful River Pool, there's a complimentary shuttle service to downtown Yogyakarta!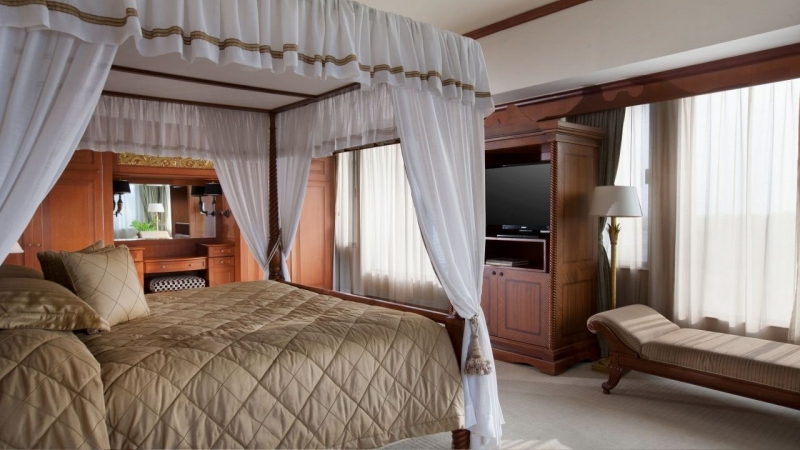 The grandiose guest rooms are complete with chic and cosy furnishings. Scenic views await you from the windows, of the verdant tropics surrounding the hotel and Mount Merapi in the background.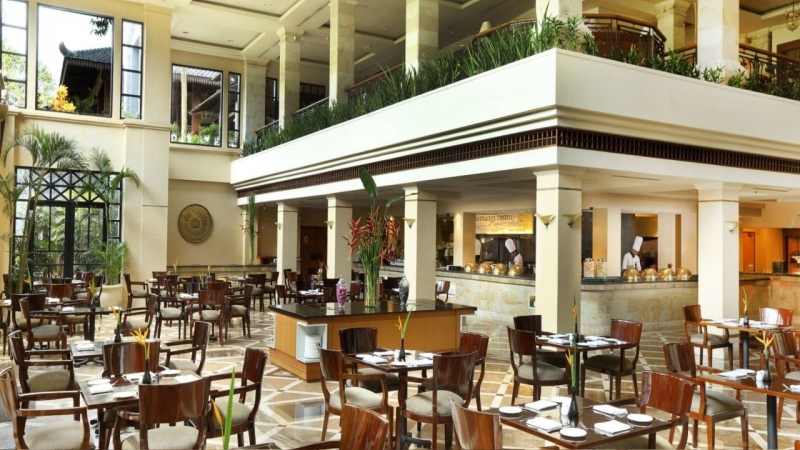 A number of in-house dining options are available. Watch your dinner being created at the Kemangi Bistro restaurant, which features an open show-kitchen and wood-burning pizza oven. The Bogey's Teras lounge brings in live performers and entertainers every weekend, for that upscale ambience as you sip on your favourite cocktail.
Address: Jl. Palagan Tentara Pelajar, Panggung Sari, Sariharjo, Ngaglik, Kabupaten Sleman, Daerah Istimewa Yogyakarta 55581, Indonesia.
Price: From S$66 per night. Find out more about Hyatt Regency Yogyakarta's rates here!
With so many beautiful resorts, it's hard to decide between a beachside villa, a mountainous retreat, or an opulent spa treatment. Whichever you choose, be sure to book fast – the promotion expires in less than 101 hours!
Trip.com's Indonesia 101 Promotion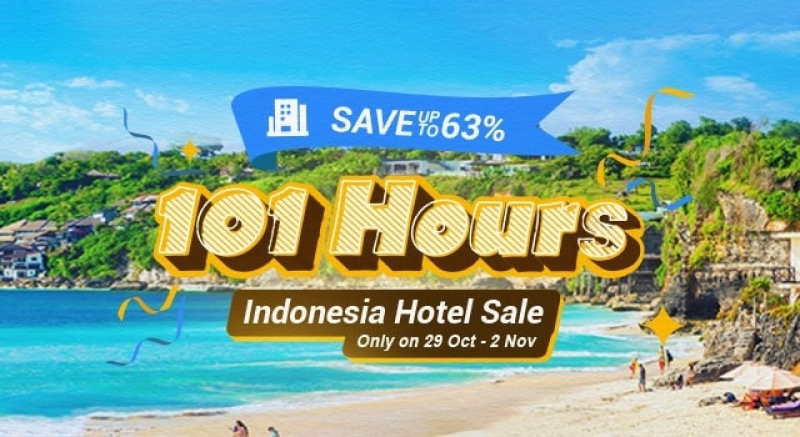 Live like royalty for a fraction of the price – save up to 63% off all the above luxury resorts and more, with Trip.com's sensational discounts for 101 hours only! Book from now till 2 Nov 2018.
All featured photos are from Trip.com and/or the individual resort's website.
---
Brought to you by Trip.com.