At-home workouts? Before the pandemic just a couple of months back, this would have crossed my mind less before. There was simply no worry, what with the plethora of outdoor options. It is said that we never appreciate what we have until we lose it. I, for one, knew that one thing I sorely missed was the weekly outdoor workout sessions with my friends.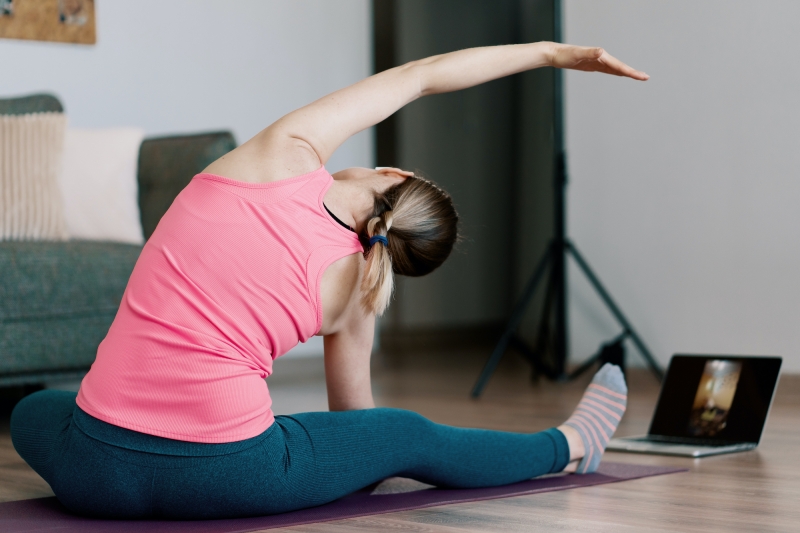 The constant battle
As I swing back and forth in the daily battle between attempting to be a productive human being against a couch potato, the latter has always triumphed without trying. Until I plugged into TV that fateful day and it was coincidentally broadcasting an exercise segment. It was reminiscent of the times when working out in the great outdoors with friends was the norm and not a privilege. It served as a poignant reminder of the Monday mornings, mirroring back in the days, when I did not have to wake up to a phone screen inundated with a flood of the latest COVID-19 news from The Straits Times. The sole reminder on my calendar for that day was to meet at Clementi Stadium for our morning workout. It was not a backlog of temperature-taking reminders to input into the school system.
Nevertheless, it awoke me to the reality that although we have all unwittingly become participants in this ultramarathon that no one volunteered for, this pandemic should not bar us from enjoying the simple things in life, including working out with friends.
Here is how I kickstarted my simple at-home workout routine, and feel free to grab a friend over Zoom for an extra dose of dopamine.
1. Chloe Ting's at-home Two Week Shred Challenge
Challenge accepted. 
Glo-up during this circuit breaker with Chloe Ting, whose at-home workouts have been reaffirmed by the masses. Many have flocked to Youtube amongst social media platforms to document uplifting pre, as well as post workout images of themselves. Needless to say, the before and after results were heavily contrasting. Nevertheless, countless numbers of individuals have taken to social media to share their milestones. Therefore, classifying this as a fluke would be hard to pass. 
Tired of planning and even so, being uncertain of which exercises would be the most effective? Fret not, as the Two Week Shred Challenge outlines the specific sets of circuits encouraged to complete daily. This serves to reduce your burden to filter through the sea of workout tutorials on Youtube. Nevertheless, feel free to customise it if that is what you wish. 
Besides the Two Week Shred Challenge, rest assured that there are a multitude of additional workout programs offered. These workouts serve to cater to a diverse set of expectations. It does not matter if you are seeking to work on leaner arms, or cutting down on some of those belly rolls (snacking endlessly during the circuit breaker, were you the cause of it?) this season. Feel free to switch up these workout programs to what suits you best. The best part of it all, though? It is free of charge, except that it would cost you a bout of self discipline. However, in the long run, this would pay off doubly and be well worth it.
2. Yoga at home
Meditation, as I had grown familiar to, was every 10.30am Python programming morning lesson. However, I have come to realise that the fault in my code pointed to one thing. And that was that the content did not personally serve as any intrinsic motivation whatsoever. Nevertheless, I choose to believe that a good workout instils feelings of achievement weaved with satisfaction, and desiring to feel good about oneself is an universal emotion.
Meditation reimagined
Meditation reimagined consists of the below yoga exercises, that entails health benefits. These encompass the soothing of bubbles of anxiety, prone to surface during this period of physical isolation. Get your zen on with a significant other this season. The simple exercise of yoga cultivates mindfulness along with introspection. This has been proven to sustain meaningful relationships. The ingredients for the recipe of lasting relationships are when we are at peace with not only ourselves, but those around us. 
Unwinding with a simple yoga exercise in the evening is a homemade remedy for the day's troubles. This is upon engaging in inner reflection during the exercise itself. May we find strength in vulnerability this season, along with your significant others. This simple at-home workout just might pave the road to achieving a long lasting relationship. Everything comes together, but only on one condition. This is when we keep in mind that our relationships are built upon the building blocks of mindfulness, as well as self awareness. 
Recommended yoga applications for your yoga journey
If you are looking for an integrated platform that curates effective yoga exercises for you and your friends, Down Dog is a friends friendly application. This application offers nothing shy of an immersive yoga experience. Fear not, as you do not have to necessarily be a yogini to engage in these exercises. Down Dog equips one with the freedom to engage in personalised yoga exercises, reflecting one's personal preferences. Tailor your exercises with relation to duration, level of expertise as well as type of music.
Tick off the various in-app exercises along with your fellow workout buddy. Furthermore, if you have been looking to switch up your workout routine with diverse exercises that you have not ventured into before, there is no better time than now to explore the intricacies of yoga. This is so especially since the comfort of your home is said to be the most conducive for such an introspective exercise.
3. Free online at-home workout sessions
Explore free online workout sessions with your friend to stick to the pact of working out together. Do not fear missing out on your daily workouts despite the temporary closure of your favourite go-to gyms. Places such as but not limited to Webarre, Ground Zero, Box Office Fitness offer workouts. These workouts are open to all on Instagram IGTV, as well as live streaming. Simply tune in with a friend for an extra dose of motivation.
You might be wondering, how do I liven up my home workouts with my friends from time to time? Besides switching up your routine to encompass diverse exercises, we propose an additional idea to foster commitment. Embarking on self issued challenges liven things up. Simply do ten repetitions of your selected exercise. After uploading, pass the baton to your friends by tagging them on Instagram. 
Moreover, if you are into TikTok, we recommend reinventing the planking challenge. This fuels one another to stick to our daily workouts. Feel free to incorporate your own personal workout touches into this trending planking challenge.
Also read: Home Workouts: Exercises You Can Do Using House Items As Equipment!
We live in extraordinary times. Although I have since conquered H2 Mathematics for the A Levels, there is a golden mathematical equation that life has retaught me. And it is that during these pressing times, physical distancing does not equate to socially disconnecting. 
Let's hope that we can all emerge not only mentally, but physically stronger as well from this season.