School's out and the June holidays are here! After a gruelling first half of the year, it's time to relax and catch a breather. Don't know where to bring your kids for a short getaway? Why not head on over to Malaysia to explore its creatively designed museums and thrilling adventure parks? We've got 10 amazing suggestions for you!
1. Made in Penang Interactive Museum
At this quaint museum, you can learn about the history of Penang through eye-catching 3D visual art pieces by local artists. Get a glimpse of how the Penang Port looked like in its early days, or take some quirky shots with the murals on the walls, which utilise shades and varying contours to trick your eyes. Both adults and kids alike will have fun interacting with the various exhibits in this museum. Don't forget to bring your cameras along for some wacky photos!
Address: No.3, Pengkalan Weld, 10300 George Town, Penang, Malaysia.
Buy-1-Free-1 Promo: Book your visit to Made in Penang Interactive Museum now!
2. Dark Mansion 3D Glow In The Dark Museum

Located in the centre of Georgetown, Penang, the Dark Mansion is the first and only 3D Glow in the Dark museum in Malaysia. One of the trendiest museums in town, it utilises 3D art painting techniques that transform 2-dimensional paintings into 3-dimensional images while incorporating a glow in the dark effect as well, mixing science and technology with the arts. A special light effect is used to create a day-to-night transition so visitors can enjoy the same painting in two different lighting conditions. You will surely be enthralled by these beautiful exhibits!
Address: 145, Lebuh Kimberley, 10100 George Town, Penang, Malaysia.
Buy-1-Free-1 Promo: Book your visit to the Dark Mansion now!
3. SkyTrex Adventure Langkawi

Swing or glide from tree to tree at SkyTrex Adventure Langkawi, located within the pristine enclosure of Burau Bay. With the dramatic landscape of Gunung Mat Cincang as your backdrop, you can fly, swing, glide or dangle on various aerial obstacles suspended over the lush tropical Malaysian rainforest. This adventure park is best suited for thrill-seekers or for those looking to get over their fear of heights!
Address: Skytrex Langkawi Adventure Park Sdn Bhd. PT 34 Kampung Kok, Mukim Padang Mat Sirat, 07900 Langkawi, Kedah, Malaysia.
Buy-1-Free-1 Promo: Book your visit to Skytrex Adventure Langkawi now!
4. Farm In The City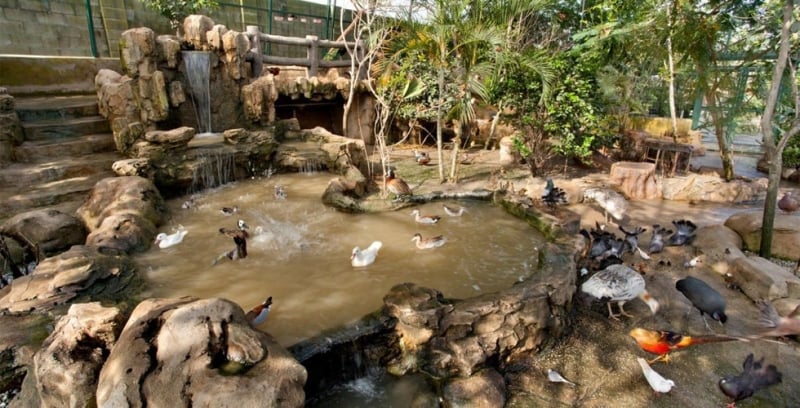 Get in touch with nature at Farm In The City, a petting zoo designed to resemble a traditional Malay "kampong". More than 100 species of exotic animals are allowed to roam freely in special enclosures that closely mimic their natural surroundings, and both kids and adults alike are welcome to interact with them. Visitors will also learn about various aspects of farm and animal life, as well as animal conservation efforts. Play with a spindly porcupine, or stroke a cuddly llama, and have conversations with parrots — the possibilities are endless! Kids will definitely love this place.
Address: Lot 40187-40188, Jalan Prima Tropika Barat, Bandar Putra Permai, Seri Kembangan. 43300 Selangor Darul Ehsan, Malaysia
Buy-1-Free-1 Promo: Book your visit to Farm in The City now!
5. Magic World Penang

Venture through this magic house filled with optical illusions and take fun shots that will leave your friends guessing: "How on earth did they do that?" See if you can get past the mirror maze without getting lost, and have a cup of hot chocolate after going through the cold exhibits on the top floor. An exhilarating time awaits the whole family here!
Address: 193, Lebuh Victoria, Penang, Malaysia.
Buy-1-Free-1 Promo: Book your visit to Magic World Penang now!
6. Aquaria KLCC

Get close to all kinds of marine life from Malaysia and around the world at Aquaria KLCC, a world-class aquarium located beneath Kuala Lumpur Convention Centre. With over 5,000 different exhibits of aquatic and land-bound creatures spread out over 60,000 square feet, there's just so many things to see and do. Walk through the transparent tunnel and marvel at the giant stingrays and marine turtles swimming above you, or attend an interactive feeding show scheduled throughout the day around the aquarium. For the more adventurous, you can even choose to dive in underwater cages and swim with the sharks as well!
Address: Kuala Lumpur Convention Centre, 50088 Kuala Lumpur, Malaysia.
Buy-1-Free-1 Promo: Book your visit to Aquaria KLCC now!
7. Angry Birds Activity Park

You've played the game, now you can try your hand at all sorts of Angry Birds-themed activities at this indoor park! Covering over 26,000 square feet at KOMTAR JBCC – Johor Bahru City Centre's newest premier shopping, dining and entertainment destination – this state of the art indoor activity park is easily accessible and offers a wide variety of games and attractions suitable for the entire family. If your kid is a huge fan of the Angry Birds characters, then this is a definite must-visit!
Address: Level 3, KOMTAR JBCC, Johor Bahru City Centre, 80000 Johor Bahru, Johor, Malaysia.
Buy-1-Free-1 Promo: Book your visit to Angry Birds Activity Park now!
8. Wet World Water Park Shah Alam

Cool down in the hot weather at this family-oriented waterpark! Your kids will surely enjoy splashing around in the lagoons, wandering through the pirate-themed cove, as well as gliding down the numerous slides in the park. Grab a two-seater float and scream your hearts out this June holidays!
Address: Persiaran Dato Menteri, Seksyen 14, 40000 Shah Alam, Selangor, Malaysia
Buy-1-Free-1 Promo: Book your visit to Wet World Water Park Shah Alam now!
9. Bukit Merah Laketown Theme Park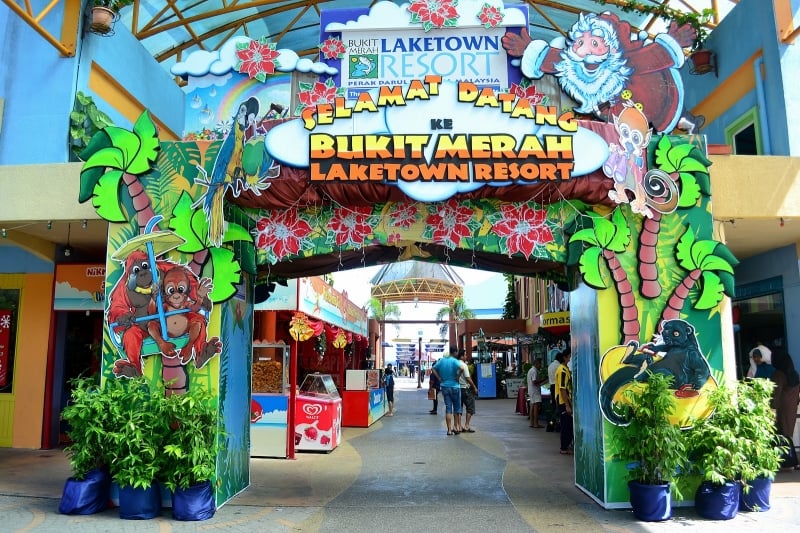 This theme park combines two different experiences for double the fun! At the Ecopark, you can admire the unspoilt greenery of the rainforest and interact with more than 30 species of birds, reptiles and mammals in an educational walk-in enclosure.
You can also enjoy many exciting attractions at the Waterpark, such as the first and only Boomerang fun-slide in Malaysia, the first and only Giant Wet Bubble in Malaysia and Southeast Asia, and the first "Sandy Beachfront" Wave Pool in Malaysia. Together with other specially designed children's attractions, you'll have a splashing good time with the family at Bukit Merah Laketown Theme Park!
Address: Jalan Bukit Merah Taiping 34400 Semanggol, PERAK Malaysia, Malaysia.
Buy-1-Free-1 Promo: Book your visit to Bukit Merah Laketown Theme Park now!
10. 5D Studio
Melaka
At this 5D art studio, pose for some hilarious shots with floor-to-ceiling optical illusion murals, spread out over five themed zones. Whether it's objects appearing to emerge from the wall or size-distorting images, you can use your creativity and the props provided to come up with the best shots!
Address: No.39, Lorong Bukit Cina Melaka City, Malaysia.
Buy-1-Free-1 Promo: Book your visit to 5D Studio in Melaka now!
Johor
The 5D Studio also has a Johor outlet, where you can act out various scenes against the backdrop of intricately painted murals. Have fun fooling your friends!
Address: 421-A, Jalan Kenanga 29/10, Bandar Indahpura, 81000 Kulai, Johor, Malaysia.
Buy-1-Free-1 Promo: Book your visit to 5D Studio in Johor now!
Now that you've seen these family-friendly attractions that Malaysia has to offer, did you know that Travelog.com is having their
Mid-Year School Holiday BUY 1 FREE 1 Special Promo
from 6 June 2018 to 12 June 2018? Visit
Travelog
today to check out these special deals and enjoy irresistible savings!*
*Terms and Conditions Apply.
Want to see similar deals for other places? Visit Travelog to book all kinds of travel deals and activities in countries such as Malaysia, Thailand, Singapore, Hong Kong, Japan, Vietnam and more. Your next vacation will be an absolute breeze, thanks to Travelog's wide variety of travel activities and promotional prices!
---
Brought to you by Travelog.