Revolutionise the way you travel at the Travel Revolution Fair 2019, happening from today till Sunday (31 March 2019), 11am to 9pm daily at Marina Bay Sands Convention Centre, Halls D & E. With over 30 exhibitors from renowned travel agencies, notable cruise operators, distinguished airlines and fantastic tourism organisations, there's something for every kind of traveller!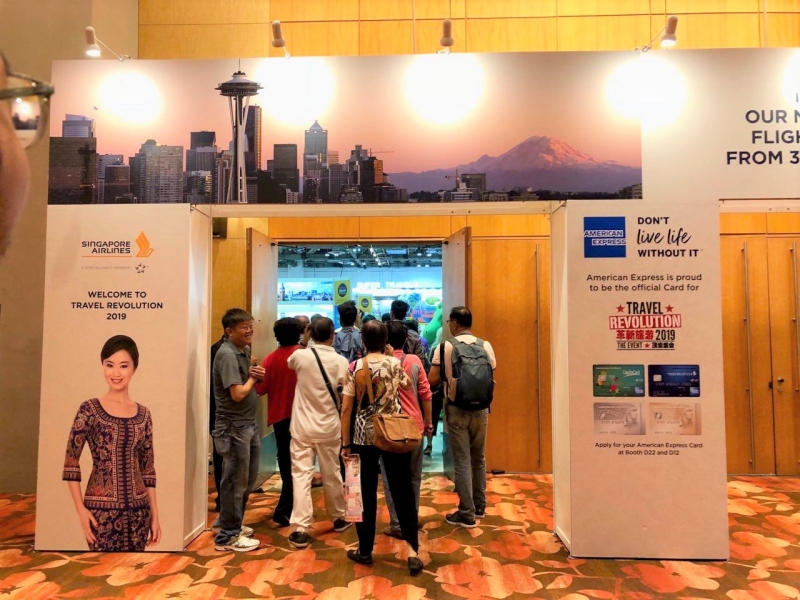 Other than being greeted by a beautiful Singapore Airlines stewardess, here are some things you can look forward to during the Travel Revolution Fair:
Larger-than-life booths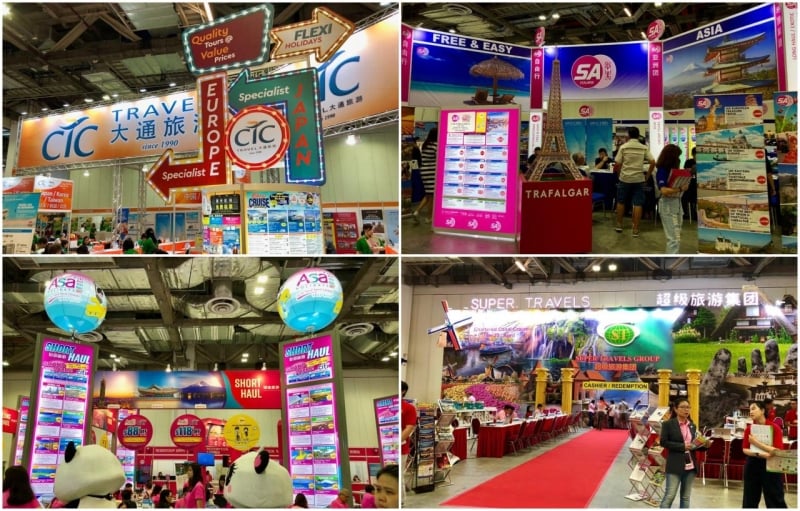 Once you enter the convention centre, you'll be greeted by a riot of brightly coloured travel agency booths, some that are even decked out in dazzling lights and three-dimensional landmarks, like the Eiffel Tower and Holland's windmill! And the travel deals that they have on offer are equally dazzling! Approach the friendly travel agents and find out more about the amazing travel deals they're offering.

The Singapore Airlines booth is one you cannot miss. Try out some of their plush and comfy economy and business class seats, while daydreaming about your next vacation!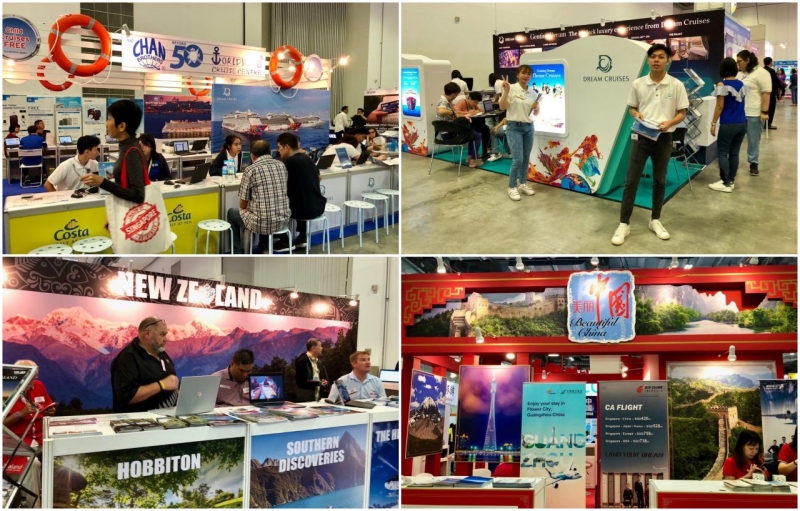 But it's not just amazing flight deals on offer. Head over to the cruise booths operated by some of the biggest names in the cruise industry, such as Dream Cruises, offering wondrous deals that'll inspire you to set sail!
Don't have a travel destination in mind yet? Gain some travel inspiration from the travel partner booths such as China National Tourist Office in Singapore and New Zealand. You can even get travel information and tips from locals!
Friendly travel agents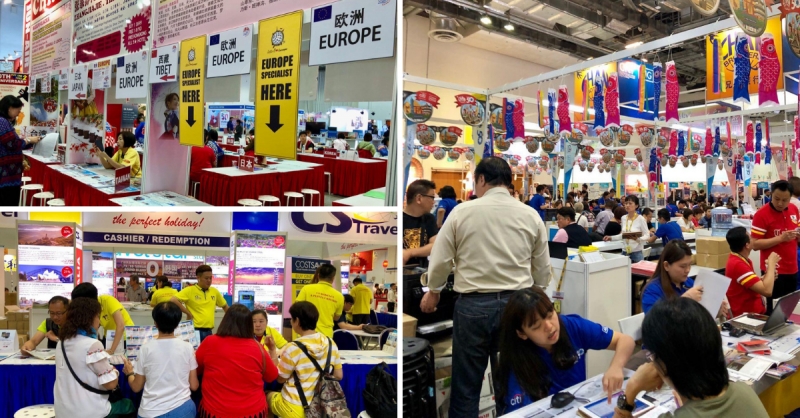 Whether you already have a destination in mind or have no idea where to head to, you might be overwhelmed by the sheer number of booths and deals on offer! Not to worry, simply grab a seat and consult with the friendly travel agents. Being walking travel encyclopedias, they can suggest or even customise travel plans that fit your budget, needs and desires.
Awesome photo ops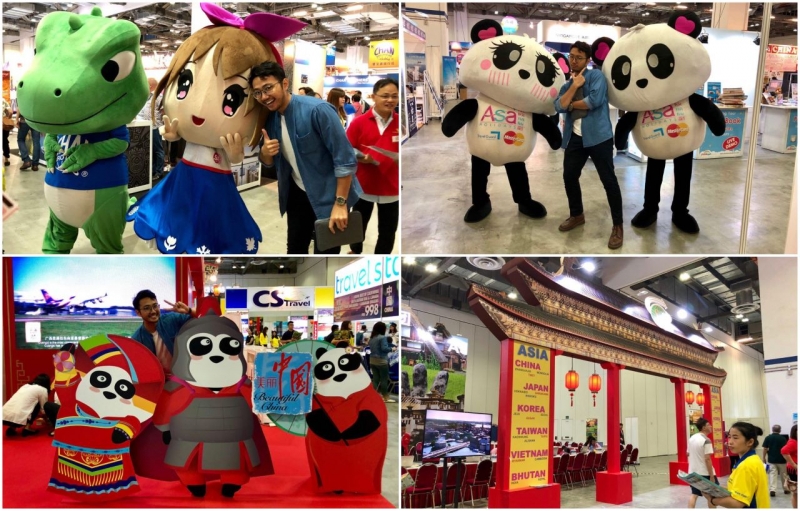 Whip out your cameras and strike a pose with the cute and cuddly mascots walking around the Travel Revolution Fair! From pandas and crocodiles to even kawaii anime girls, don't be shy to approach the mascots for a selfie! The adorable cut-out stands and life-size monuments will certainly be a treat for both the kids and the kids at heart!
Freebies galore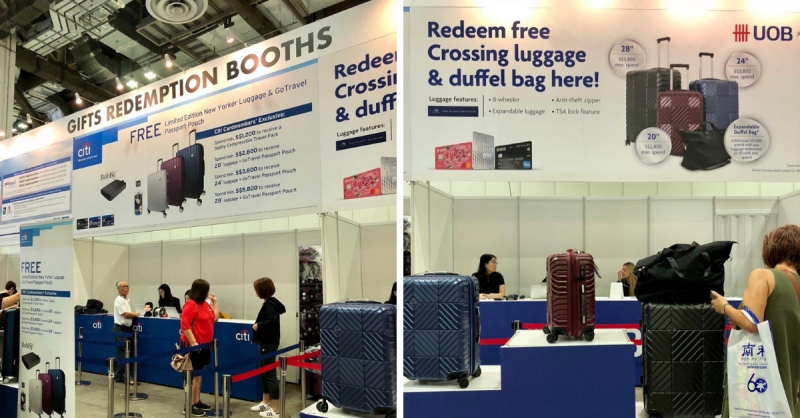 If you love freebies, you'll be happy to know that the more you spend, the more attractive sure-win freebies there are up for grabs! With every $2,800 / $3,800 / $5,800 spent on eligible United Overseas Bank Cards*, you can redeem a The Planet Traveller 20″ / 25″ / 28″ 8-wheeler, expandable luggage respectively. But don't feel left out if you don't have a UOB card, there are plenty of other freebies up for grabs from Citibank and American Express as well!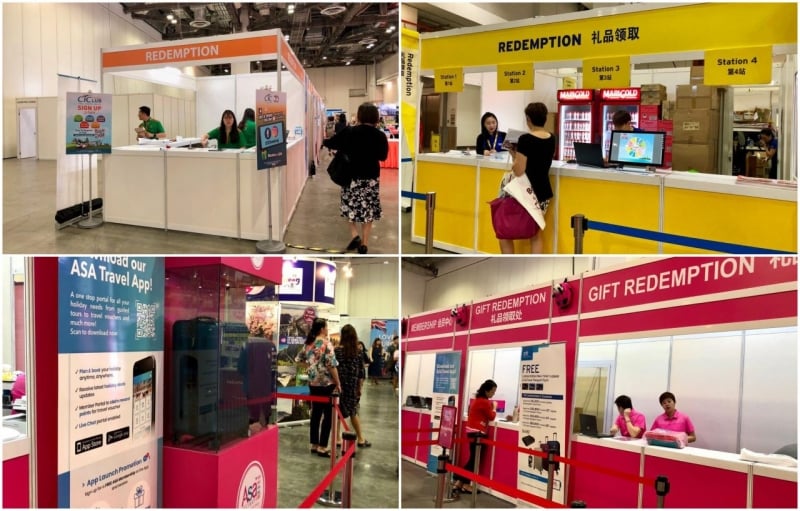 Selected travel agencies, such as ASA Holidays and CTC Travel, also have their own redemption booths! Tired from walking around and chatting with all the booths? You can redeem a refreshing Marigold drink or travel luggage, simply by purchasing a travel package from them. You can also redeem mystery gifts when you like or follow their social media platforms. It doesn't get any simpler than that!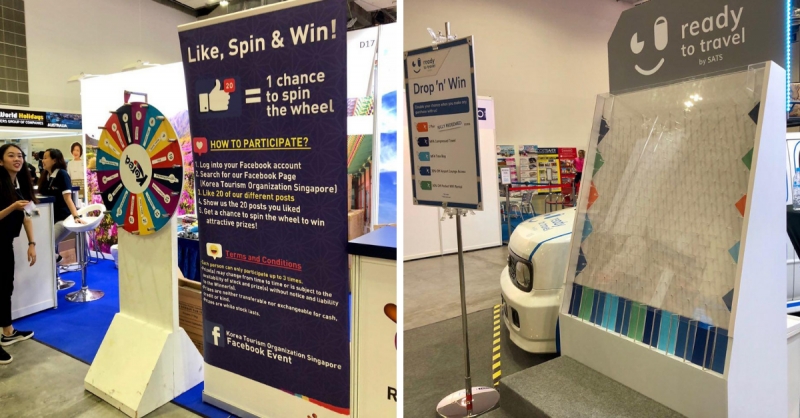 If you're feeling lucky, why not play some games and win more attractive freebies? When you like 20 posts on Korea Tourism Organization Singapore's Facebook page, you can stand the chance to get Korean-themed freebies, such as an EXO folder and fan. Another exciting game you cannot miss is Ready to Travel By SATS' Drop 'n' Win game! Simply download their app and you can get 30% off airport lounge access or 30% off pocket WiFi rental. Some freebies have already been fully redeemed, so be sure to come down soon before it all gets snagged up!
So what are you waiting for? Come on down to Marina Bay Sands Convention Centre, Halls D & E from now to 31 March 2019 with the whole family! If you're still unsure about heading down, check out all the deals and Travel Revolution Fair brochures before heading down. If you need more convincing, here are our picks of the most attractive travel deals to Asia and Europe waiting for you at the Travel Revolution Fair 2019. It's time to revolutionise the way you travel! See you there!