Looking for great deals on travel packages for your next holiday in Asia? Wait no longer, as the Travel Revolution Fair 2018 is back from 3-5 August 2018 at Marina Bay Sands Expo Halls 1 and 2. Head down to check out the latest travel packages from leading travel agencies for some irresistible deals!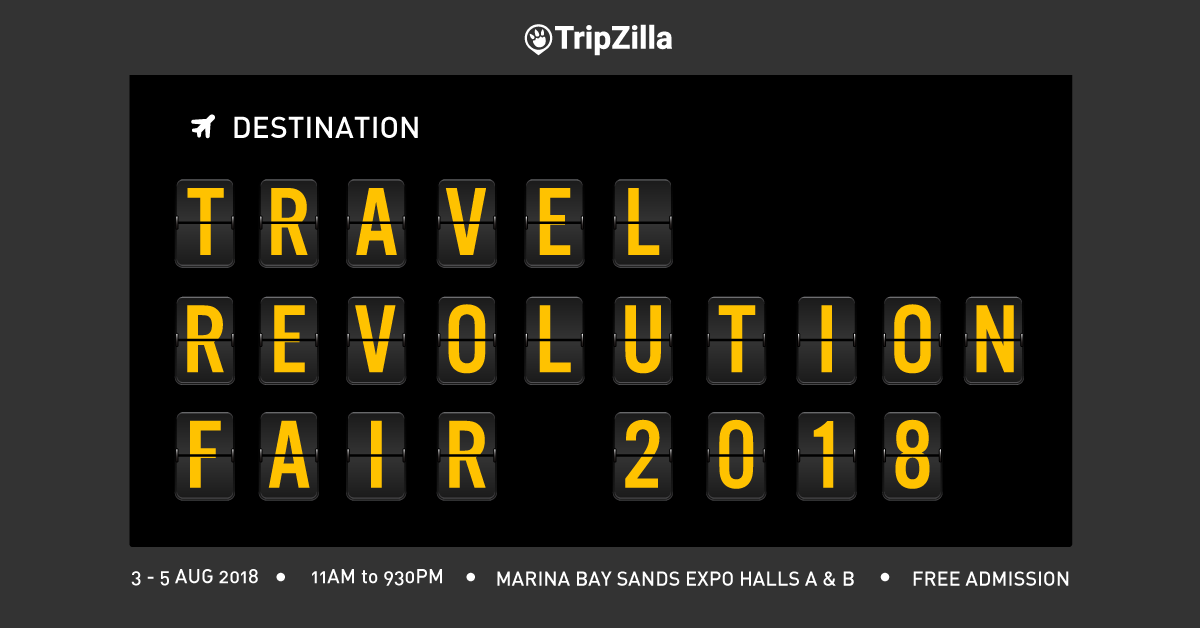 And to get you started, here are some of the best offers we've handpicked just for you:
1. 4D3N Japan Free & Easy 1-for-1
Offered By: H.I.S International Travel (Booth D28)
Package Name: 4D3N Japan Free & Easy 1-for-1
Departure Dates: Jul 2018 – 31 Mar 2019
Price: From S$1,358*
Deal highlights:
✓ 1-For-1
✓ Flights by ANA
✓ 3 nights hotel stay
✓ FREE 7D data sim card
✓ FREE Sanrio Puroland tickets
Want a fuss-free vacation to Japan? Get your flights and hotels all settled with this 4D3N Free & Easy package from H.I.S International Travel! What's more, they're currently offering an irresistible 1-for-1 deal, which means you enjoy savings of more than S$1K! Amazing or what? Plus, you get the freedom and flexibility to dictate your daily itinerary; all you have to do is choose your ideal hotel and book! With destinations such as Tokyo, Osaka, Hokkaido, Kyushu and Okinawa for you to choose from, you'll be thoroughly spoilt for choice.  
2. 8D6N Charming Shandong Value Tour   
Deal highlights:
✓ 1-For-1
✓ Qingdao Beer Factory
✓ Heilong (Black Dragon) Spring
✓ Mount Tai
For a blend of culture and modernity, Shandong is the province to visit when in China! Modern buildings coexist with historical cultural landmarks, such as Zhouchun Ancient Town. On this 8D6N Charming Shandong Value Tour, you'll get to visit the town as well as Mount Tai, the most revered mountain in Taoism; and the Qingdao Beer Factory, where you can learn how Qingdao beer is produced and enjoy freshly brewed beer on the spot. Don't miss out on their amazing 1-for-1 offer, which is only valid during this travel fair season!
3. 8D6N Dazzling Korea  
Offered By: Asia Global Vacation (Booth D36)
Package Name: 8D6N Dazzling Korea
Departure Dates: Now – November 2018
Price: From S$1198
Deal highlights:
✓ Visit Everland, Korea's largest theme park
✓ DIY Apple Wine
✓ DIY Cheese Making
✓ Gyeongbukgung Palace
✓ Bukchon Hanok Village
✓ Shopping at Dongdaemun Market
Annyeonghaseyo! Korea is a perennial favourite amongst travellers, so to experience the best of what Korea has to offer, why not opt for this 8D6N Dazzling Korea tour? Featuring different cities like Jeju Island, Busan, and Seoul, this tour will have something for everyone. Thrill-seekers will enjoy riding the roller-coasters at Everland, while adventurous folks can hike up to Seongsan Peak on Jeju Island. Foodies can make their own cheese at Daegwallyoung Wind Village, while shoppers can shop til' you drop at Dongdaemun Market, Korea's largest retail and wholesale shopping district. You'll also get to visit traditional cultural sites like Gyeongbukgung Palace and Bukchon Hanok Village, so book your slot on this tour before spaces run out!
4. 7D6N Jalan-Jalan Taiwan
Offered By: Chan's World Holidays (Booth D39)
Package Name: 7D6N Jalan-Jalan Taiwan
Departure Dates: Now – December 2018
Price: From S$1988
Deal highlights:
✓ Visit the Formosan Aboriginal Culture Village
✓ DIY activities at Taiyi Ecological Farm
✓ Jiufen Old Town
✓ Shihlin Night Market
✓ Taipei Grand Mosque
✓ Ximending Shopping Street

If you're a Muslim traveller, travelling to East Asia can be a bit daunting due to the lack of halal food, but thankfully, this 7D6N Jalan-Jalan Taiwan is specially designed for you! All meals on this tour will either be halal or Chinese vegetarian and seafood, so you can relax and enjoy the various attractions. There are also visits to two mosques, including the Taipei Grand Mosque, Taiwan's largest Islamic structure at 2,747 square metres. Whether it's learning about Taiwan's traditional hill-tribes at the Formosan Aboriginal Culture Village, munching on local snacks at Shihlin Night Market, or shopping up a storm at Ximending, you're guaranteed a great time on this tour!
If these offers have caught your eye, check out these great deals and more at the Travel Revolution Fair 2018, and kickstart your next holiday in Asia!