Here's one thing any other India travel article may have missed out: you can travel all around India by train, on a journey that's much more luxurious than you'd expect.
India has long mesmerised travellers with awe-inspiring architecture, a myriad of colourful cultures, and its vast, unhindered natural landscape. In a country so large, you wouldn't want to be restricted to exploring just one part. The best way to explore more of India is by train — but instead of the usual commuter trains, why not upgrade your rail journeys to something a little more comfortable, and a lot more memorable? Take a ride on one of India's luxury trains and experience the very best of what the country has to offer.
What exactly are India's luxury trains?
You're probably wondering, what makes these trains luxurious? Imagine taking in the most captivating scenery that India has to offer, all while enjoying five-star hospitality services and facilities on board the most distinguished trains in the world. You're more or less travelling across the country like royalty and the origins behind these trains will reveal why:
A Brief History of India's Luxury Trains
Indeed, the first luxury train in India was not run on the basis of tourism, but for the royalties themselves to travel between various parts of the country in times when there weren't any air routes connecting the various princely estates of India.
These luxury trains, started way back in 1852, were no less than luxury hotels, with air-conditioned coaches (fan would blow air over blocks of ice to produce an air-conditioned effect), private suites, salons and even billiard rooms! The coaches were adorned with intricately carved wooden furniture and upholstery created out of the finest fabrics. In short, these trains would be replicas of the palaces, where the royals were used to living.
After India regained independence from the British colonial powers in 1947, these luxury trains were seized by the government. It was only years later that the first luxury train was flagged off in 1982, initiating a new era for luxury tourism in India. Now, India has numerous heritage and royal trains running across its terrain, many of which are regarded as some of the best and most opulent in the world.
Swanky Suites, Heritage Restaurants and More
Warm hospitality on these elite trains is a given, but it also comes with a myriad of other amenities that would genuinely prompt you to ditch staying in hotels for once and try out India's heritage train tourism instead! Unlike the regular berths on sleeper trains in India, these trains come with grand suites which are equipped with plush baths and adorned with regal decor. 
Mingle with other guests in the speciality restaurants and bars in the train, or you can also fill your time by enjoying various games like billiards — it's said to have been a favourite among the Indian royalty!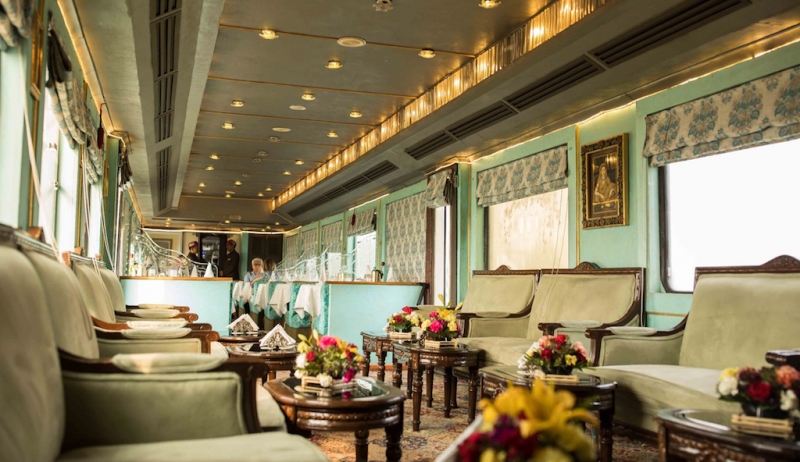 A comparatively new addition to some of these trains is that of a health spa, where guests can enjoy rejuvenating Ayurvedic body and skin treatments, as well as invigorating massages. And, these are only a handful of the innumerable features and amenities that these luxury trains house.
Where Can You Go on These Luxury Trains?
Initially started by the Ministry of Railways to boost tourism in Rajasthan, the luxury trains now ply between various Indian landmarks — of both spiritual and cultural importance — across the northern and southern territories of the country.
These trains promise guests a holistic experience of Indian culture, tradition and hospitality while taking them on a colourful journey across some of the country's most iconic landmarks. Expect an itinerary for all types of travelers — take trips across the former royal estates of Gujarat and Rajasthan, journey across the ruins of Hampi and Ajanta-Ellora, visit safaris and India's best national parks or forests, as well as embark on a spiritual journey across Buddhist and Hindu temples adorning the country. 
In fact, you would be impressed to know that there are more than fifteen tours currently programmed by the five most luxurious trains of India. Also, if you'd love to experience the luxury trains for just a day or two — most of these trips are a week long — Indian Railways offers this as well. All you need to do is contact the Indian Tourism and they'll get everything sorted for you. The tariff for these luxury trips range between USD 6,100 and USD 23,700 on single occupancy basis depending on the itinerary and train chosen. 
Also read: Exploring India By Train: 7 Breathtaking Routes with the Most Scenic Views
What are the most famous luxury trains currently run by the Indian Railways?
Indian Railways, in partnership with the Indian Railways Catering and Tourism Corporation (IRCTC), runs numerous luxury and heritage trains across the country. However, if we have to name the best luxury or royal trains that are currently running, they'd have to be the Maharajas' Express, Palace-on-Wheels, Deccan Odyssey, Royal Rajasthan on Wheels and Fairy Queen.
When is the right time to plan a luxury train escapade?
While planning a trip on the luxury trains, keep in mind that not all the trains run all year round, and perhaps hot summers and the wet monsoon season wouldn't be the best time to see some of India's famed attractions. Instead, you'll want to look into travelling any time between October and March. You can visit the IRCTC's website for more specific information and schedules for some of the trains.
So the next time you're feeling in the mood for a luxurious getaway, don't just settle for the usual resort and consider experiencing Indian luxury trains for an unforgettable voyage across the country. For more information on how you can enjoy Incredible India and its wonderful luxury trains, visit India Tourism's official website and Facebook page, or you can even email them at [email protected].
Also read: 10 Surprising Reasons Why You Should Travel to India Soon
---
Brought to you by India Tourism.