For a lot of people who can't drive, bus tours are a new method and great choice for them to travel around in Japan. Many travelers who went on bus tours have also commented on my posts on bus tours. They said that their trips were negatively impacted, due to communication problems or concerns over the tour capacity. They told me that they wanted a bus tour service that catered specifically to foreigners or small groups. So I tried a different type of local tour service this time: the H.I.S. Bus Cruising Japan Local Tour. H.I.S. focuses on foreign travelers and allows groups as small as four to depart. For this trip, we had a "Departure guaranteed for 4 people!◆Sledding experience◆Popular sledding experience in snow world! Picking strawberries & All you can eat! ~Luxurious lunch with crab and shrimp in buffet style~". A great choice for first-time travellers to Japan.
The website for H.I.S. Japan Local Tour is clear and easy to use. Trips leaving from Tokyo, Kyoto/Osaka, Nagoya, Fukuoka, or Sapporo are available. And for travelers who may not speak Japanese or are not familiar with locations in Japan, the meeting points/times are all very clearly marked, which is a great help. To use this particular trip as an example: the trip left from Tokyo, and the meeting point was the Shinjuku-Nishiguchi Station, where there is a very clear landmark, the Cocoon Tower. Once you exit from the Shinjuku-Nishiguchi Station you can see this very iconic building.
Once the travelers get on the bus, the tour guide will give each traveler a sticker and then remind them of a few matters: to stick the sticker in an easy-to-see location and to memorize the license plate number of the bus. Otherwise, the tour guide advises, you might get on the wrong bus. All the travelers on this trip spoke Chinese, so the company sent a tour guide who was able to speak Chinese. If there is a mix of nationalities on the tour, then English will be given preference for the tour guide language. But don't worry! The tour guide has a tablet that is enabled for real-time translation services. Everything ready? All set? Then, let's go!
At this point, it must be said that this H.I.S. Japan Local Tour arranged activities that Taiwanese people enjoy: seeing and playing in the snow, all-you-can-eat crab and prawn buffet lunch, and all-you-can-pick-and-eat strawberries. With such an itinerary, it is thus no surprise that all the travelers were Chinese. The first destination on the very first day was the Norn Minakami Ski Area. The ski area is about a two-hour drive from Tokyo, but the driver will stop at the halfway mark to let the travelers get out and stretch and use the restroom. After arriving at the ski area, the group will be taken to snowland, a sledding area appropriate for children of any age. I even saw some of the older people in our group sledding and having fun. The hour spent there is a good snowy experience for children born in warmer countries.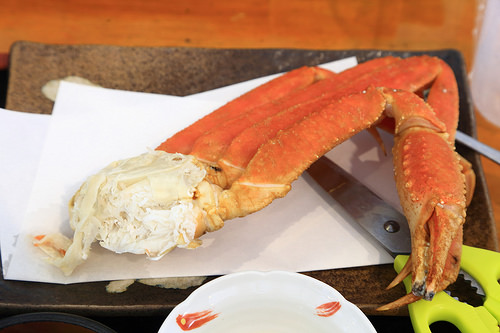 After having a good and exhausting playtime in the snow, it's time for a rest. The next challenge: an hour-long, all-you-can-eat lunch of crab and prawns, where everyone tries to eat as much as they can. It's very luxurious and filling. Throughout the lunch, waiters will roam around and ask anyone with an empty plate if they want to fill up on crabs or prawns. The prawns are very fresh, and very good, so good that they make you forget the consequences of eating too many of them. Anyway, eat now and worry later! I ate about 25 prawns! How many can you eat?
After an all-you-can-eat lunch, get ready for an all-you-can-eat strawberry-picking experience. This trip is almost as if they're trying to fatten us up like geese. After a short rest filling up on seafood, the group moves to a greenhouse to pick and eat as many strawberries as possible in 30 minutes or so. Don't hold back, eat as many as you can. But remember that the smaller, redder ones are sweeter than the large ones; their sweetness gets you to the very core. Seeing all those plump red strawberries hanging there, beckoning for you to pick them…How can one resist? Well, don't! Go right ahead!
After picking and eating all the strawberries you want, you'll be brought to the Harada Farm store to look through the local products you can buy. You'll see everyone holding bags big and small, full of local specialties. I once saw a mother-daughter couple holding a full crate of Japanese apples, exclaiming that they were very value-for-money. Apparently Japanese produce is a great buy! The departure time is 8:30 AM, and the group returns to Tokyo by about 5:00 PM. After that, the traveler is free to explore the city and shop on their own. The H.I.S. Japan Local Tour is a great arrangement for travelers who are just exploring Japan for the first time. It is highly recommended.
To find out more about the different tours available, visit the H.I.S. Japan Local Tour Official Site!
---
This article was translated from the writing & picture blog of aaa