Travelling to another country can be a tiring process. There are many ways to make your travel more comfortable but we are not sure if these travel accessories are going to help. Here is a countdown of the 13 most ridiculous travel accessories we've ever seen.
13. Slot Flop Sandals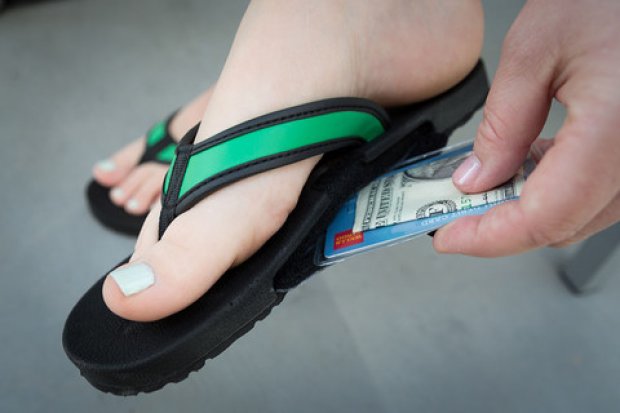 Image credit: Slot Flop Sandals 
When you are at the beach, the less you have on you, the better you look. You can keep the bag at home and stash your valuables in your sandals instead. The slot flop sandal created space in your footwear for your money, cards and hotel room key. Since your feet are firmly on your valuable, you don't have to worry about anyone taking them away. If you left your sandals aside for a moment, we doubt anyone would think of finding valuables in a sandal!
12. Motorised scooter suitcase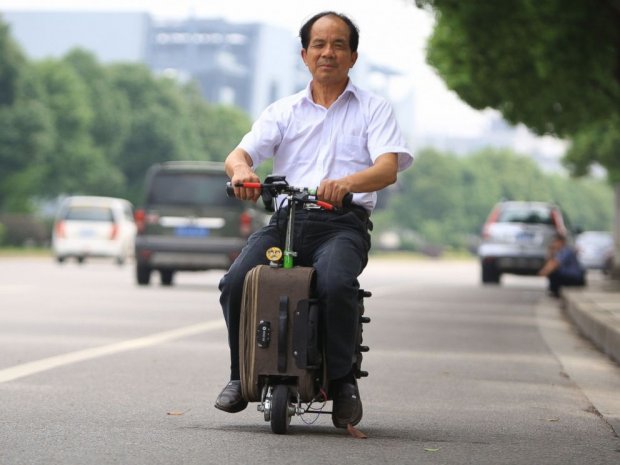 Image credit: Getty
You have to give an award to the inventor for being so creative. Travellers have long been slaves to their luggages, carrying the heavy weight object around the world. With this new invention, instead of you carrying the luggages, let them carry you! Not only does the suitcase transport your belongings to your next destination, it will also transport you on it. This invention looks fun!
11. Tugo Cup Holder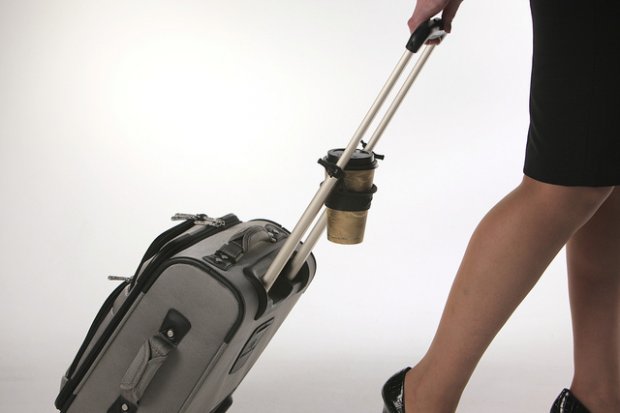 Image credit: Good Tugo
This accessory will keep your hot coffee suspended between the handles of your rolling bag and promise that the "unique design" will keep the cup level to prevent spillage. We are not sure how effective it will be when you are dashing about in a crowded airport. Also another gentle reminder, you will need to discard all liquid substances that are more than 100 ml before you board your plane! We suggest that you finish the drink before you start zipping around the airport.
10. Brief Safe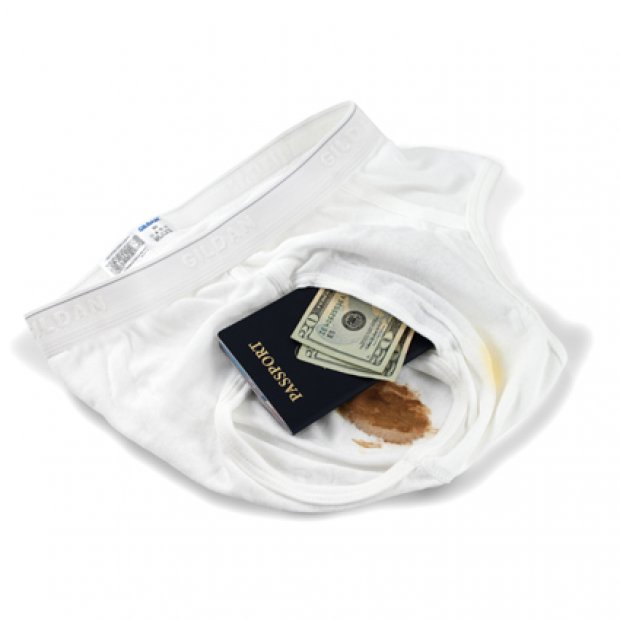 Image credit: Brief Safe
The plan here is to keep your most important valuables like your money in the most "disgusting" spot that you can find. In this case, a "soiled" brief with a secret pocket, it is so off putting that no one will touch it even when left on the floor. If you don't mind having something so disgusting looking in your luggage, this might actually be a good idea to keep your belongings.
9. The Cabin Pillow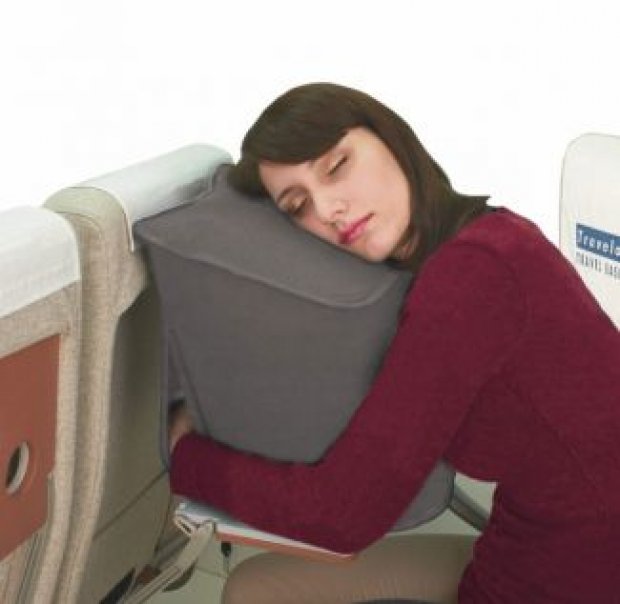 Image credit: Travel Products
It must be hard for you to contour yourself into a comfortable position to sleep on the plane. The cabin pillow will save the trouble as it allows you to comfortably rest your head. However, the cabin pillow looks nothing like a pillow, you end up looking like you are hugging a rubbish bin to sleep. If you are not afraid of the stares you might get and the amount of effort you will need to inflate it, this pillow might help you get a good nap on the plane.
8. The Ostrich Pillow
Image credit: Studio Banana Things
This pillow will give you a good rest anywhere, put it on and you will be transported to another planet, since you look like an alien to the others on earth. This pillow will engulf your head and leave only a tiny space for you to breathe. If your idea of a good rest is looking stylish like an alien while you take your nap, this is definitely for you!
7. The B-Tourist Strip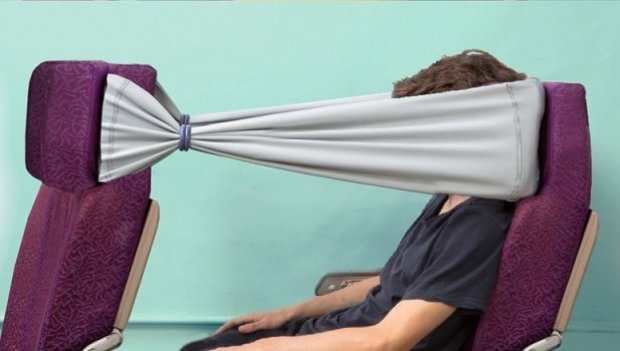 Image credit: Design Boom
If you need to avoid the others around you so much that you need the B-Tourist Strip, we are not sure why you are even out of the house. The B-Tourist Strip gives you privacy while travelling by putting up "curtains" around your head so that your seatmate cannot see your facial expression. We are not sure how the strip will work out with the other passengers, but it does look comfy for a good sleep.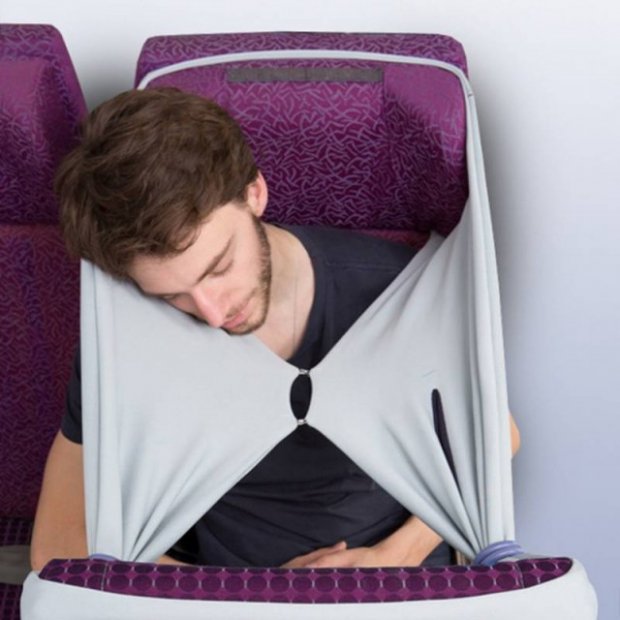 6. Portable Bidet in a Bottle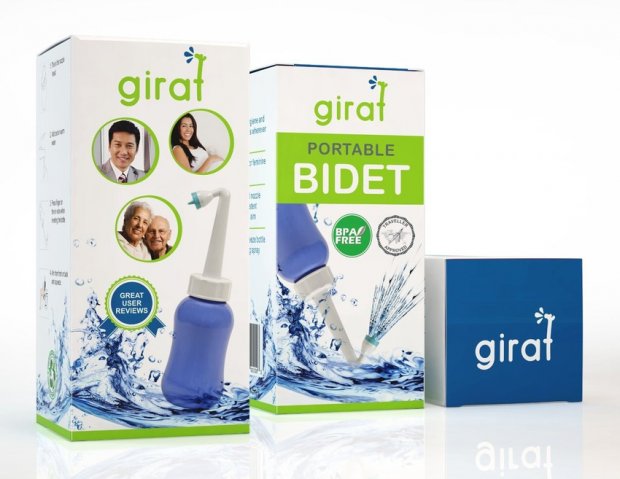 Image credit: Amazon
The device is a hand-held backside cleanser. Good for the times when you need a bidet in the middle of nowhere. All you have to do is attach the portable bidet to your water bottle. Now that sounds simple but gross too. We are not sure why you will need a fancy bidet while on the road?
5. The Rufus Roo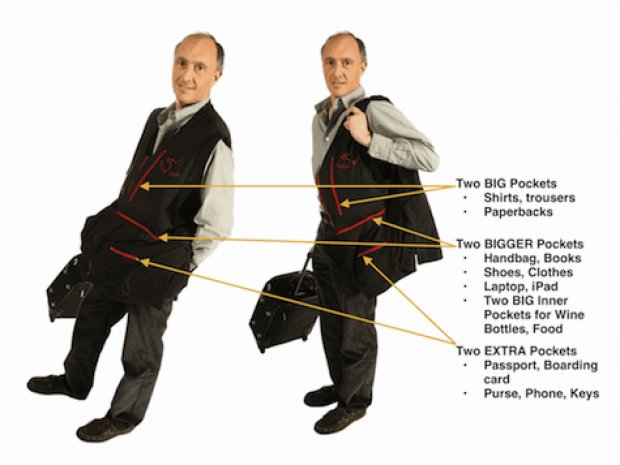 Image credit: The Rufus Roo
Since airlines start charging for baggage, travellers have to become more creative in avoiding the charges. The Rufus Roo (it is suppose to symbolise the kangaroo pockets), is a wearable luggage jacket. It is made from lightweight nylon and has six pockets of varying sizes for you to carry your belongings. The biggest pockets are big enough for your laptop or a few bottles of wine. We are not sure how airport security feels about you carrying such bulky items in a jacket.  It doesn't help that the rufus roo look like a ripoff of a dodgy salesman's jacket!
4. The Laptop Snood-Hood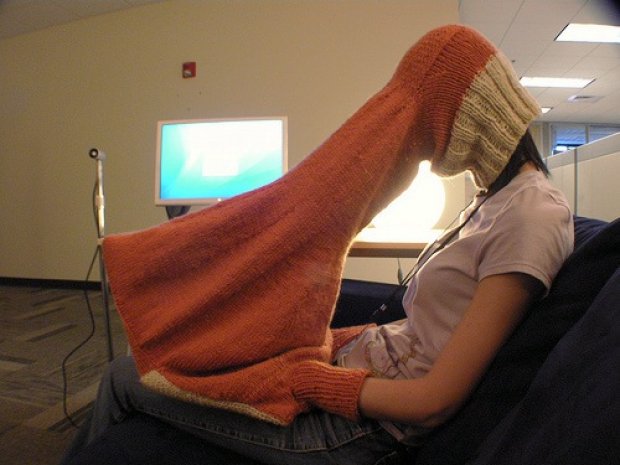 Image credit: Amazon
If you need some privacy while working on your computer, you can't get anything better than this. With the laptop snood-hood, you get your own private experience with your laptop. There is no way, anyone other than you can fit into that hood and so no one can see whatever top secret information you might be keeping in your laptop. The best part is that it even helps to block out all the weird stares you get from those around you!
3. Face-kini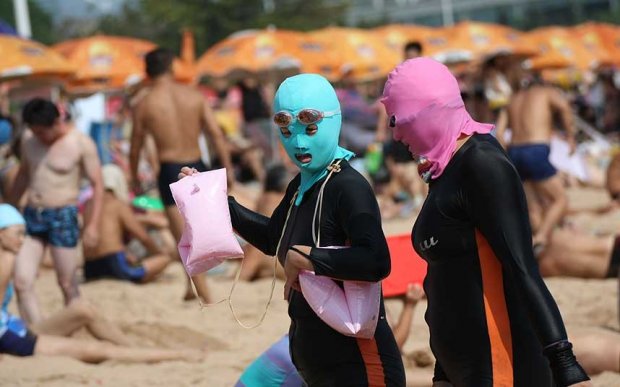 Image credit: Getty images
A beach holiday is usually associated with a good tan. You might be surprised that there are beach-goers who head to the beach but wants to escape the tan. On top of a covered up swimsuit, they also have the face-kini to shield their face. Luckily for the users, the face-kini covered your whole face so well that no one will ever know who you are behind that crazy thing.
2. Upright Sleeper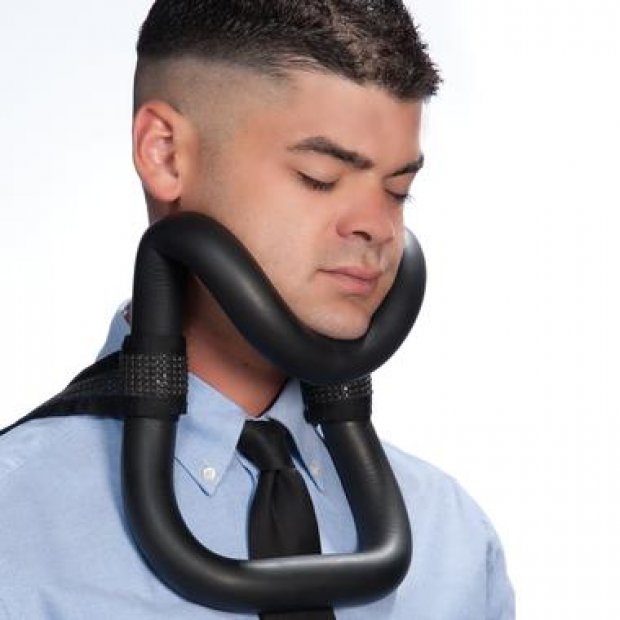 Image credit: Sky Mall
All the travel pillows in the world will not keep your head as upright as this aptly named Upright Sleeper. We are not sure if this device is even allowed to be used in public. It looks like a cross between a torture device or a very briefly done up neck brace. It will keep your head firmly in place but we are not sure where you are going to hide your face.
1. GoGirl Female Urination Device (FUD)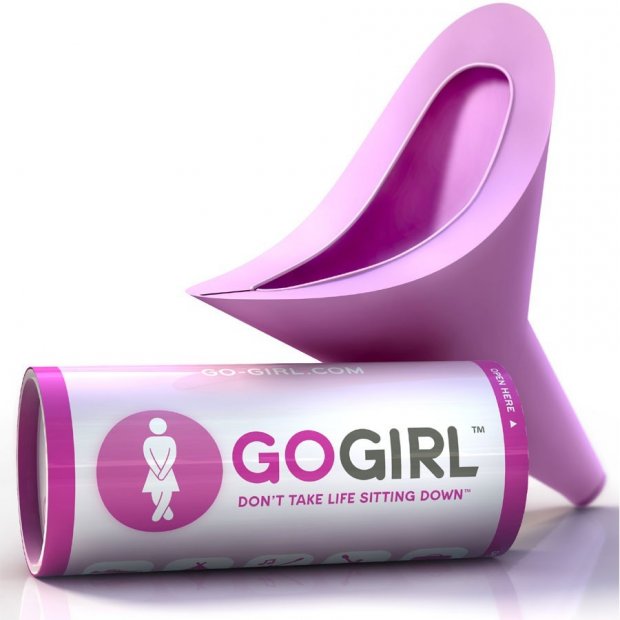 Image credit: Go Girl
With GoGirl, women can now pee standing up! If you ever need to pee like a man, GoGirl has it all figured out. The device comes in pink (of course you need it to be a ladies' colour). It is meant for the adventurous lady who might need to pee behind the bushes while camping or at music festivals. We also cannot understand the tagline "Don't take life sitting down". This is one invention that needs an extremely good reason for usage.
What other ridiculous travel accessories have you seen?