So you're in Tokyo, Japan, and the sun is setting on another day. But hold on – that doesn't mean the fun has to end just yet! For all you night owls out there, we've put together a Tokyo nightlife guide for you. We've found five areas around Tokyo with the best nightlife to go crazy on your night out, including an assortment of bars and clubs. Don't miss out on these amazing places!
Asakusa
Asakusa is known for several sightseeing attractions such as Sensoji Temple and the Tokyo Skytree among others, and now you can include cool bars into that list! 
Tokyo Knowledge
If this is your first time in Asakusa, be sure to check out Tokyo Knowledge! You may wonder the meaning behind the bar's unusual name; it's a reference to how they encourage its guests and patrons to 'acquire knowledge' by striking up conversations with one another, and yes with even the bar owner, Kyohei, himself! 
Address: 1 Chome-7-1 Asakusa, Taito City, Tokyo 111-0032, Japan
BAR DR
A hit with the locals, Bar DR offers innovative yet creative cocktails featuring fresh fruits. If you've got a craving for something a little more tropical in your drink, head on over to Bar DR! Bar DR also provides the drinks in shots for youngsters looking to get buzzed before a long night out, without sacrificing the quality of drinks.
Address: 3 Chome-12-1 Akasaka Minato-ku Tokyo-to
N
inja Bar
With guests and patrons encourage to play dress up with their costumes available there (yes, it's free!), Asakusa's Ninja Bar provides a kitschy All This is the place to go if you're a manga otaku!
Address: Japan, 〒111-0032 Tokyo, Asakusa, Taitou-ku, Asakusa basement mall B1 Exit 6 of Asakusa Station 1-1-12
Shinjuku
As the unofficial red light district in Tokyo, Shinjuku is a given when discussing amazing nightlife options. Here are three must-visits while you're in the area.
B
ar Benfiddich
This one's for those who can never decide on which drink to get. At Bar Benfiddich, the bartenders will concoct bespoke cocktails to your liking. The design of the bar features elements from the flora-based nature of ingredients used, with jars and bottles containing herbal infused liquids aesthetically placed around the premises.
Address: Japan, 〒160-0023 Tokyo, Shinjuku City, Nishishinjuku, 1 Chome−13−7 大和家ビル9F
8Bit Cafe
If you're looking for something a little more old-school, look no further! Alas, don't let the name fool you; this is no coffeehouse. Signature cocktails are named after specific video games characters, but a menu with regular drinks is also available. Don't forget to take a race down memory lane as you partake in a round of Mario Kart or two! Remember to savour the ride; it's the only place you can drink and drive.
Address: Japan, 〒160-0022 Tokyo, Shinjuku City, 8, 新宿3-8-9 新宿Qビル5F
DecaBar Z
At DecaBar Z, be prepared to meet a variety of characters and personalities, ranging from the occasional oddball to the full-on freaky! No matter how eccentric or unusual, this alternative bar welcomes all. Enjoy free entry and a large range of drinks, and lastly– don't be afraid to go a little wild!
Address: Japan, 〒160-0021 Tokyo, Shinjuku City, 歌舞伎町1 Chome−2−13 新光ビル
Shibuya
Shibuya is known for being a major social and entertainment hub within Tokyo, but its high youth population also makes it a popular haunt for the nocturnal soul.
The SG Club
New to the scene at only a year old is Japanese bartender Shingo Gokan's award-winning SG Club. The SG Club masterfully and respectfully combines Eastern and Western cultures, culminating in a Japanese concept bar that has a distinct '80s New York vibe to it (complete with a shoeshine corner in the back!) The club also features two special rooms; a "Guzzle" room on the ground floor selling coffee and non-alcoholic beverages, and a "Sip" room in the basement for cocktails, to cater to customers looking to drink, and those who just wish to unwind.
Address: 1 Chome-7-8 Jinnan, Shibuya City, Tokyo 150-0041, Japan
Hanbey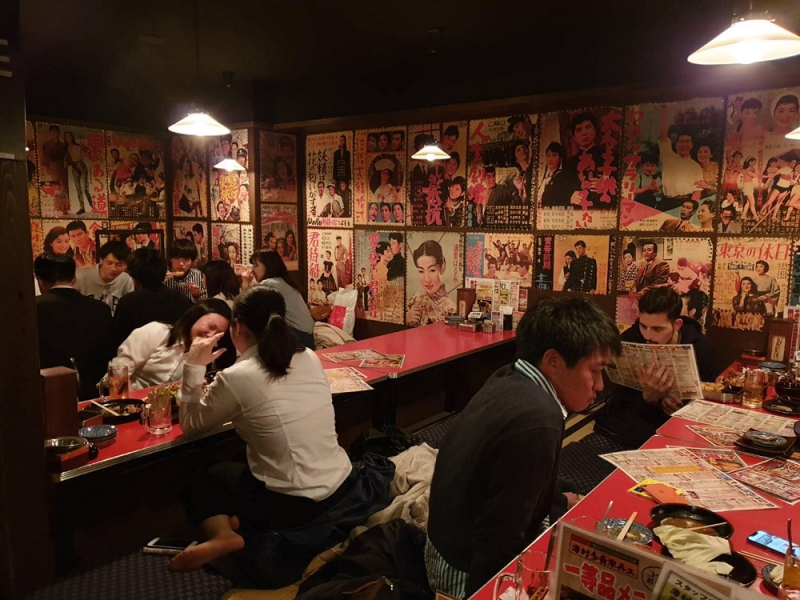 For those looking for something a little more affordable, Hanbey's got you covered, with prices ranging from as low to 90yen to 390yen. Those who enjoyed 8Bit Cafe's retro vibes, might enjoy the atmosphere of Hanbey as well; the walls are decorated with old-school pop culture posters, and atop shelves, old toys pose in all their vintage glory. Grab a friend and get drunk on nostalgia and drinks!
Address: Japan, 〒160-0021 Tokyo, Shinjuku City, Kabukicho, 1 Chome−23−14 第1メトロビル 5F
Nightfly
Boasting shiny vinyl records and a glitzy disco ball, Nightfly promises to transport you back into the swinging '70s. Guests and patrons still get to enjoy an intimate setting, with soft tunes and dim lighting to accompany their blast to the past. Perfect for all the old souls longing for the good ol' days of yore.
Address: 37-18 Udagawacho, Shibuya City, Tokyo 150-0042, Japan
E
bisu
Ebisu stands upon a plot of land where a beer factory once existed. It's only fitting then that it occupies a spot on our Tokyo Nightlife Guide!
Bar Trench
With its dark timbre walls, bartender dressed in a fitting shirt plus tweed vest combo, Bar Trench is a tribute to the modern European bar. Their menu features a list of curious and creative concoctions; such as the Artichoke Julep, or the Uplifted Morning Glory, both of which promise not to disappoint. If you're in the mood for some jazz, come down early at around 7pm from Mondays to Saturdays, and from 6pm on Sundays and let the band wash away your troubles with some soulful tunes.
Address: Japan, 〒150-0021 Tokyo, Shibuya City, Ebisunishi, 1 Chome−5−8 DISビル
The Public Stand
Just a 5-minute walk away from Ebisu Station is "The Public Stand". Although its name seems relatively unassuming, don't be fooled– for a flat rate, it offers all-you-can-drink all the way up till 4am the next morning! Visitors are free to enter and re-enter at any point as well. With over 100 types of drinks, from highballs to cocktails, this is the place to go if you want to get really buzzed cheaply. 
Address: Japan, 〒150-0022 Tokyo, Shibuya City, Ebisuminami, 1 Chome−8−10
Bar Urushi
Among the Japanese Whiskey bars in Ebisu, and dare I say Tokyo – Bar Urushi is the definitive place to go if you're an ardent whiskey fan. Finding it has been said to be a little tricky, so consider it a treasure hunt of sorts to find this gem of a whiskey bar.
Address: Japan, 〒150-0021 Tokyo, Shibuya City, Ebisunishi, 1 Chome−12−9 内田ビル
Roppongi
Last but not least is Roppongi, a popular nightlife spot for foreigners this time. It's more likely that the bartenders in this area speak English, so not to worry if you don't speak a word of Japanese! Roppongi also has its fair share of secret bars, so don your detective hat and put those sleuthing skills to the test!
Sonidos Bar
With a stellar reputation as one of the more fun and livelier clubs in Ebisu, Sonidos Bar is your go-to choice if you're looking for something a little wilder than a bar. The owner of the bar is said to give free shots or drinks on occasion, so may the odds be ever in your favour!
Address: 3-14-8 | Shimojo Bldg. B1F, Roppongi, Minato 106-0032, Tokyo Prefecture
R
oku Nana
Fair Warning: Getting to Roku Nana needs a bit of skill. This secret spot has no signs to guide visitors, and furthermore, is sandwiched between two buildings. You'll also have to go up three flights of stairs before finding yourself at the rooftop. But once you're there, you certainly won't be disappointed. 
Address: Japan, 〒106-0032 Tokyo, Minato City, Roppongi, 7 Chome−6−11 ヴェルデ六本木
Library Lounge THESE
With an atmosphere that can only be described as private yet intimate, Library Lounge THESE offers a safe space for introverts looking to chill out but have fun. With dim lighting, and seats along filled bookshelves, Library Lounge THESE is one of a kind, and a true haven for quieter souls.
Address: Japan, 〒106-0031 Tokyo, Minato City, Nishiazabu, 2 Chome−15−12 カルテットビル 1F