Calling all Harry Potter fans! If you thought that the Harry Potter World in Universal Studios Japan was everything your dreams are made of, wait till you see more of this magic IRL. Granted that we can't give you the power to cast your own spells or fly into the horizon atop a broomstick, but we can give you what might, perhaps, be the next best thing.
Located just two hours from Tokyo, a different travel experience awaits in the Tochigi Prefecture's Nikko and Kinugawa Onsen areas – one that involves trains, steam and amazing scenery. All aboard the Hogwarts Express, a.k.a. the Taiju steam locomotive train! And even if you aren't a Harry Potter fan, be rest assured that a ride on this train will be an absolute delight for any traveller – no matter the age.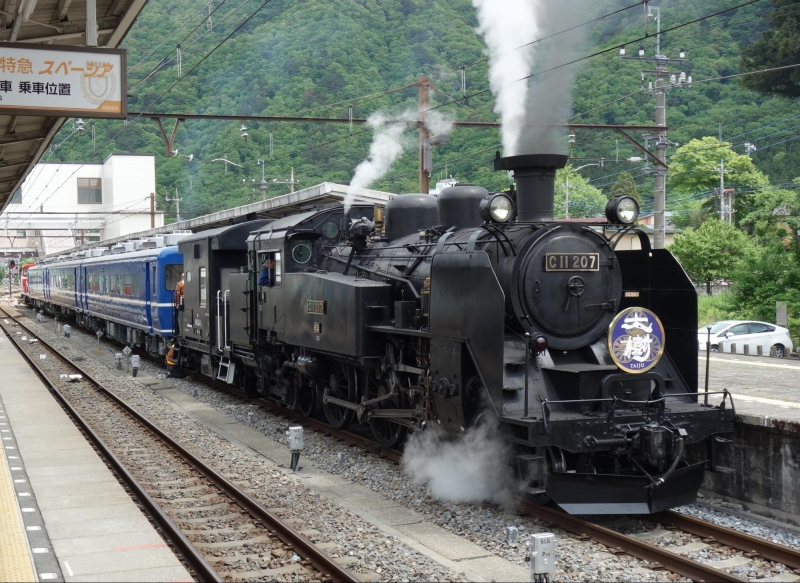 Recently opened in August this year, the Taiju steam locomotive train's opening marks the comeback of Tobu Railway Group's steam train service after 50 years. That's half a century! While steam locomotive trains were rather commonplace back in the olden days, they are unfortunately much rarer now in modern-day Japan. Besides its charming retro exterior, hitching a ride on one offers you the precious opportunity to travel back in time and, yes, imagine that you're well on your way to Hogwarts.
Feel a sense of nostalgia as you sit in one of the vintage train's carriages, and watch the steam billow out from the chimney. Feel the seats vibrate as the train trundles along the track, and watch as spectacular scenery passes by right before your very eyes. The train runs between Shimoimaichi Station and Kinugawa Onsen Station on Tobu Railway Group's Kinugawa Line, with each journey lasting for 35 minutes. This gives you plenty of time to enjoy the steam train in all its splendour!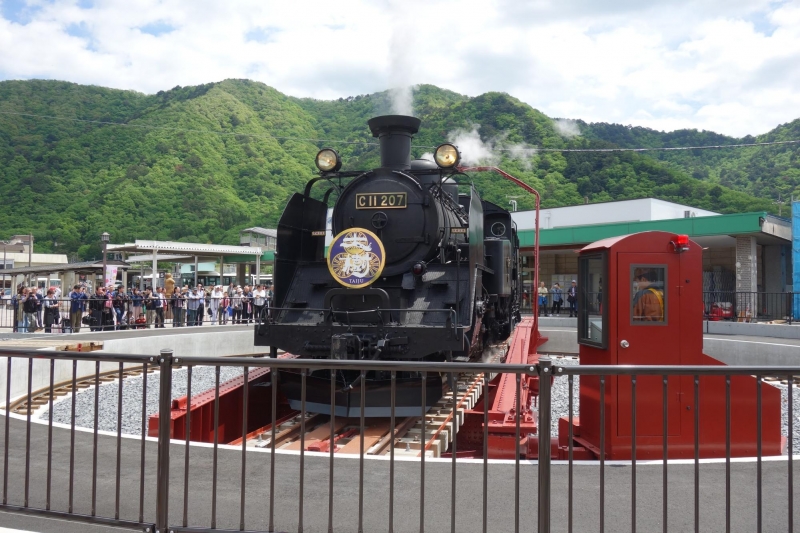 The Taiju steam locomotive train service is open primarily on weekends and national holidays. All seats on the train are reserved and can only be booked by purchasing a ticket – JPY700 (~SGD8) per adult ticket and JPY380 (~SGD4) per child ticket. All trains will depart from the Shimoimaichi station at different times of the day.
To add to the excitement, be sure to take a photo at the railway turntables located at the Kinugawa Onsen Station and Shimoimaichi Station. If you have plans to travel to Japan soon, this is one thing you definitely have to include in your itinerary! Besides, the Taiju steam locomotive ride is your gateway to a part of Japan you never even knew existed. For a completely different experience, here's what you can explore in the Nikko and Kinugawa Onsen areas with the Taiju steam locomotive train:
Travel around the world at Tobu World Square
Tobu World Square is a theme park that showcases world-famous buildings from around the world in a scaled-down size. These miniature sculptures are crafted with utmost precision, modelled to look exactly like the real thing – of which, 46 of them are fun-sized replicas of designated UNESCO world heritage sites. Tobu World Square can also be described as a museum of world architecture, complete with a Historium Theatre where you'll be able to learn more about the buildings on display.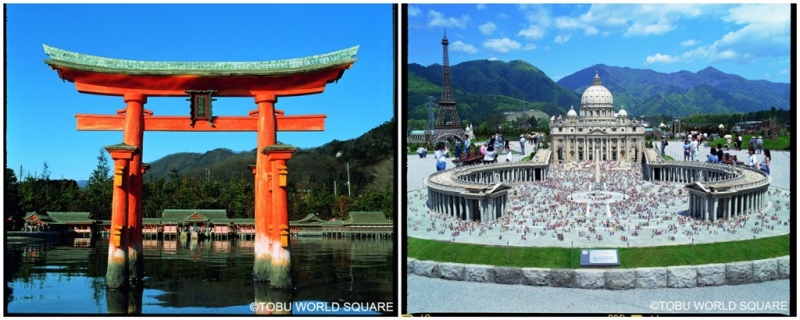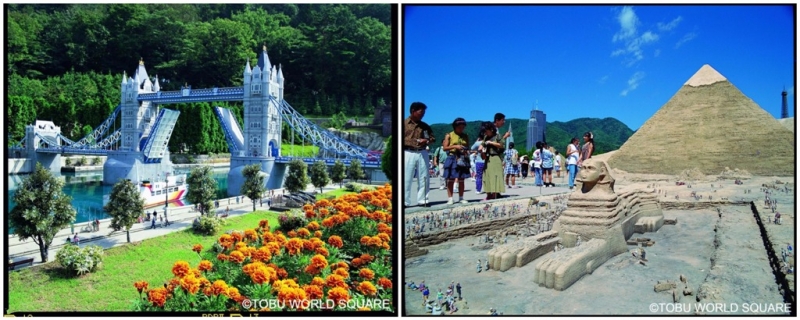 At Tobu World Square, you can fool your friends into thinking that you're travelling the world – all in one place. Just because you haven't been to these different countries or seen their iconic buildings doesn't mean you can't pretend, right? *winks*
Witness the alluring beauty of Lake Chuzenji
Found at the foot of the sacred volcano Mount Nantai is Lake Chuzenji, one of Nikko's natural landscapes. A true sight to feast your eyes on, you'll be able to get some of the finest views of the lake when you board the pleasure boat Nantai. The boat will take you on a tour around the lake, allowing you to get a 360° panorama of the surroundings. Be sure to go to the roof to enjoy an unobstructed view!
Pamper yourself at Kinugawa Onsen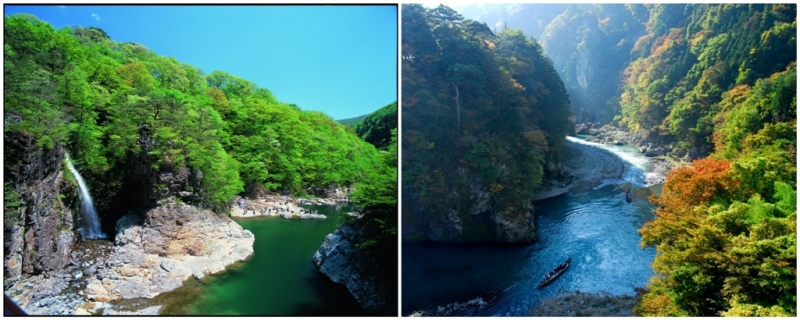 Imagine this: you're lying back in one of Kinugawa Onsen's hot spring pools amidst nature, feeling all the tensions in your muscles relax just by letting the natural spring water work its magic. Kinugawa Onsen is extremely popular among tourists, and is known for its healing properties – for burn injuries, frozen shoulder, recovery from illness and fatigue, among many others.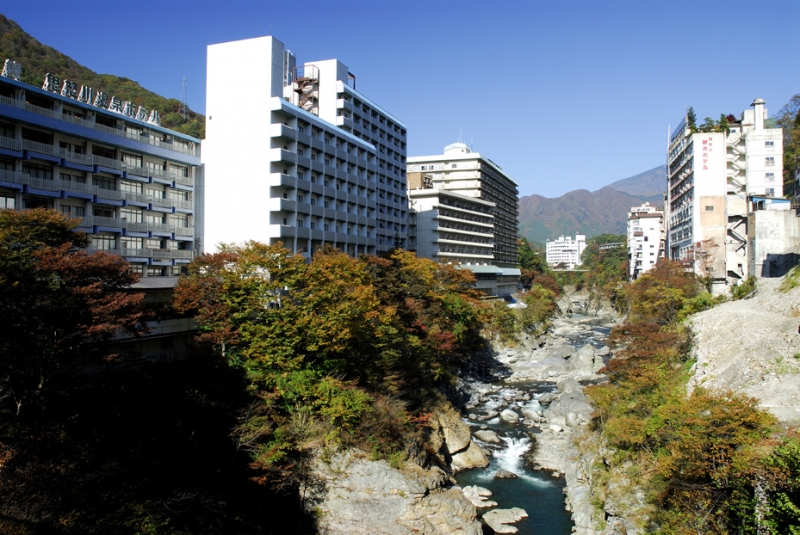 If you can't get enough of this rejuvenating heat therapy, you can also choose to stay a night (or for as long as you want) at the many hotels and ryokans here.
Marvel at the arrival of autumn
As summer departs and autumn rolls around, watch as the lush greenery changes to a blend of red and gold. As the time the leaves change colour is dependent on their altitude – beginning with those at the top of the mountain and ending with those at the foot of the mountain – you'll be greeted with a mesmerising sea of colour. Remember to take lots of photos as this only happens once every year!
Immerse yourself in Nikko's rich culture and history
The Shrines and Temples of Nikko is a UNESCO world heritage site comprising 103 structures and buildings in their natural surroundings. The site is a sacred place that is closely associated with the history of Japan's last feudal military government, the Tokugawa Shoguns. It is also another hotspot among tourists, well-known for its decorative and architectural structures.
Indeed, the Nikko and Kinugawa Onsen areas are two of Japan's hidden gems that are just waiting to be discovered. Even better, kickstart your exploration with a ride on Tobu Railway Group's Taiju steam locomotive train, and your trip will be nothing short of magical. For more information on Tobu Railway services, discount passes and other usual sightseeing information, check out their official website and Facebook page. Why settle for all the usual sightseeing gimmicks when you could be seeing, and experiencing, so much more? An alternative Japan experience awaits!
---
Brought to you by Tobu Railway Group.