Kuta is located on the southwest side of Bali and it is arguably the most vibrant and touristy part of the island. It is also home to the iconic Kuta Beach. If you decide to stay here, you'll be spoiled for choice. There are luxurious five-star hotels as well as value-for-money hostels that suit a range of travel budgets. In Kuta, you'll never feel bored as there are so many things to do. Here are the top five activities that you shouldn't miss out on:
1. Get wet at Waterbom Theme Park
Waterbom Bali is the biggest water theme park on the island and it's the best place you can go if you're travelling with children. In fact, Waterbom claims that they're the best water park in Asia. A single day pass to the park starts from IDR 315,000 and although it's pricey, it is truly worth every cent. The main attractions here include the Smashdown 2.0, which is a ride that drops you down a 25.9-metre chute when you enter a special capsule with a trap door at your feet. There are also the Climax, Fast N' Fierce, Twin Racers and Serpent which are all rides designed to get your adrenaline pumping.
2. Shop and dine at Beachwalk Shopping Centre
Beachwalk is located just opposite the entrance to Kuta Beach and is a great place to chill out after drying off from the beach. There are many shops offering branded clothing and electronics, as well as well-loved food chains like Burger King and Johnny Rockets. If you want more dining options, visit the food court on the top floor where you'll find local cuisine, western dishes and Asian delicacies. It's also a good spot for buying souvenirs such as carved handicrafts.
3. Surf at Kuta Beach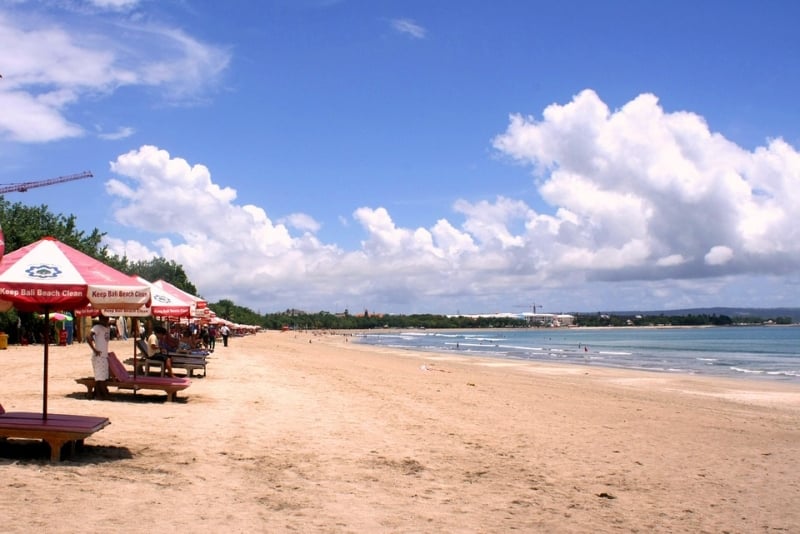 Kuta Beach is really popular with surfers. Along the beach, you'll find tons of shops where you can rent a surfboard or buy one. These shops also offer surfing lessons and coaching for beginners and intermediate level surfers. Even if you're not a surfer, you can still enjoy the beach by renting some beach chairs and sunbathing to your heart's content.
4. Hit the bars and clubs
Nightlife is most vibrant in the Legian district of Kuta, where bars and clubs line the streets. Apart from really great in-house bands, you can find affordable local beer like Bintang, which goes for about IDR 15,000 per bottle. Music, dancing and socialising can go on until the wee hours of the morning. Some of the bars you can try include the Bali Beach Shack, Bounty Night Club and Apache Reggae Bar. Even if you don't fancy the dance clubs and bars, Legian is still a good place to visit as it's filled with shops selling souvenirs, affordable clothes, bags and shoes, as well as surfing and swimming gear.
5. Get entertained at the Kuta Theatre
If you're looking for a deeply cultural experience, the Kuta Theatre is the place to go.  Here, traditional dance is interspersed with magic performances to tell one coherent story. You'll be able to watch Legong dances at ticket prices starting from IDR 120,000. This theatre combines entertainment that's suitable for the whole family, so you can bring your children along too.
Kuta is one place that will welcome you no matter where you come from. The locals are all smiles and you can be assured that you'll be warmly treated at every turn. So be sure to make space in your itinerary for these great activities in Kuta.