Tanzania — dubbed "The Soul of Africa". While I was searching for the rationale, no specific explanation seemed to appear. But you only need to read about Tanzania a little in order to understand that it's a country of superlatives.
As the largest country in East Africa, Tanzania is home to Africa's highest peak, Kilimanjaro, and its deepest point, Lake Tanganyika. Also hosting a portion of the continent's largest lake, Lake Victoria, and the annual wildebeest migration, Tanzania is indeed the go-to destination to see the best of Africa. So if you find yourself flying to this great country in the future, take note of these things to do in Tanzania, and you'll have the most fruitful African adventure yet!
1. Explore the Serengeti and other national parks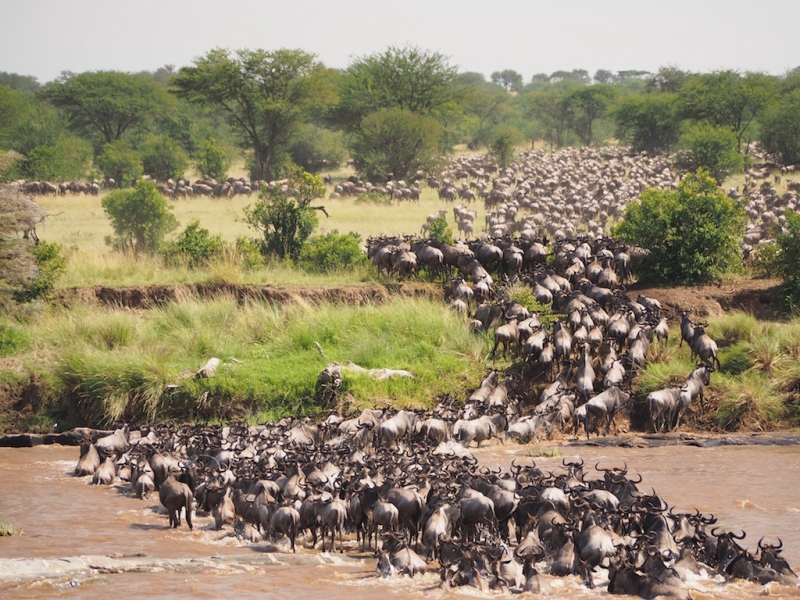 The Serengeti is known all over the world for its annual migration of over 1.5 million wildebeest, popularly called "The Great Migration". The migration in Tanzania goes through different stages from December all the way to June. During this time, a consistent watcher would be able to observe the herd's seasons, from birthing to mating. Zebras, gazelles, impalas, and various other mammals also join the great migration, but none more abundant than the wildebeest that represent the largest population of mammals to collectively walk the earth.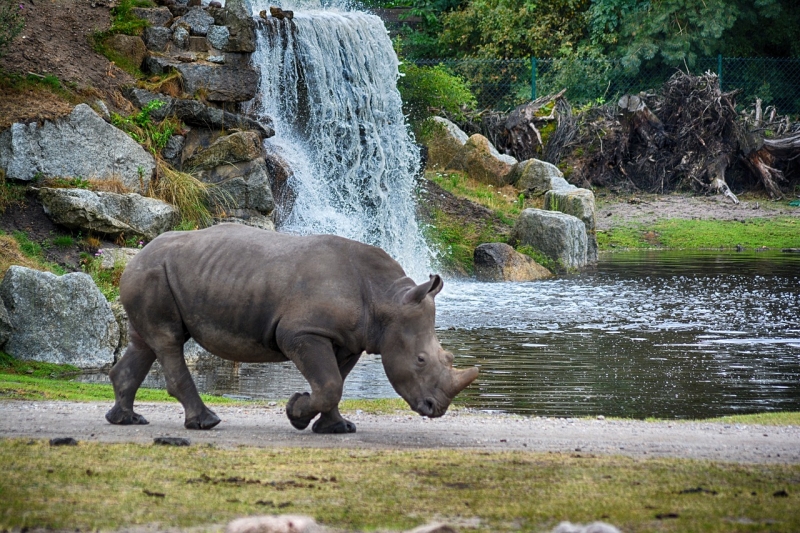 That said, the park has high biodiversity and wildlife. Therefore, when visiting the Serengeti, there's no better time to catch "The Big Five"; the lion, leopard, bush elephant, eastern black rhinoceros, and buffalo, are traditionally the strongest tourist attractions at the safari. If you can't get enough of Africa's rich biodiversity, try visiting The Ngorongoro Conservation Area and the Tarangire National Park, too!
Tip: You can get a bird's-eye view of Serengeti's plains and animals by hopping on a hot air balloon!
2. Conquer the summit of Kilimanjaro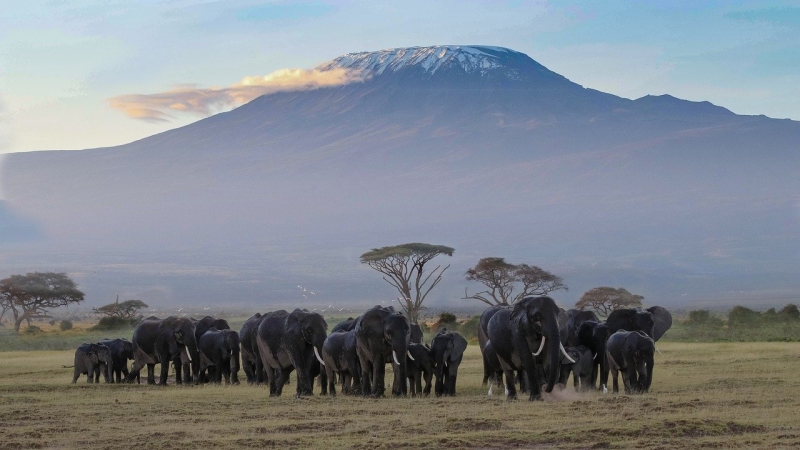 Since Kilimanjaro is Africa's tallest dormant volcano, hiking the mountain often makes it to an adrenaline-seeker's list of things to do in Tanzania. It stands at 5,895 metres above sea level, has five different climate zones, and is an occasional home to a couple of nomadic animals such as elephants, buffaloes, bushbucks, and warthogs.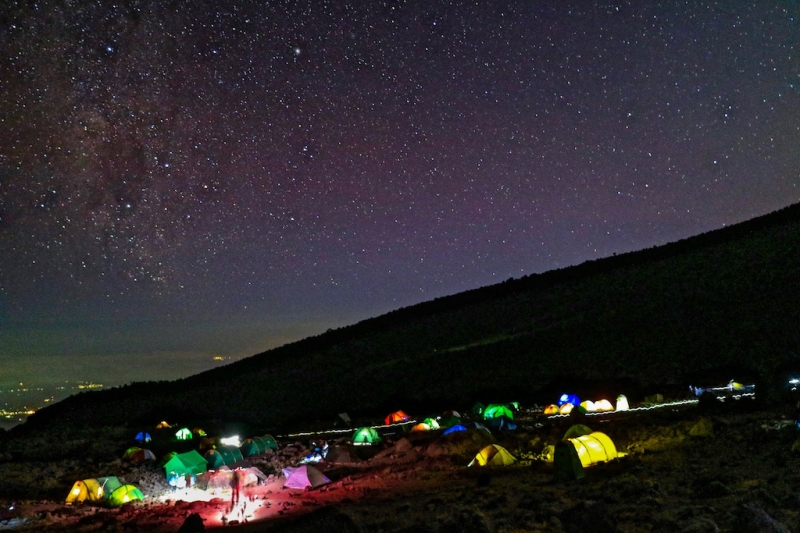 Experienced hikers say that this is naturally one of the hardest mountains to climb in our lifetime. Because of the volcano's high altitude and thin oxygen, aspiring hikers are advised to climb Kilimanjaro slowly, keep themselves hydrated, take altitude pills, and wear correct thermal gear. Don't worry, you're not allowed to climb the mountain without a certified guide who will tell you all you need to know.
Do note that if you plan to hike to the summit, it takes five to eight days. The silver lining in between these long journeys is the campsites, which offer magical views of the night sky!
3. Stay a few days at Lake Tanganyika
Aside from being the deepest lake in Africa, Lake Tanganyika in Tanzania is the longest freshwater lake in the world and the second-largest lake in East Africa (a country of superlatives indeed!). They say that the lake actually holds 18% of the world's freshwater. This explains the rich biodiversity surrounding the area, starting from the vegetation of rice and crops to the various breeds of birds, reptiles, and fish found in the lake. 
And when a lake has an abundance of fish, you know what that means! Lake Tanganyika, in fact, is a go-to fishing site, which provides 40 to 60 percent of animal protein for locals living in the region. This also allows tourists to go fishing in the lake, among other water sports activities such as kayaking, snorkelling, kiteboarding, and wakeboarding. The best part is, you can book nearby lodges for your accommodation. How convenient to be a stone's throw away from this beautiful lake and all the fun it has to offer!
4. Roam the streets of Zanzibar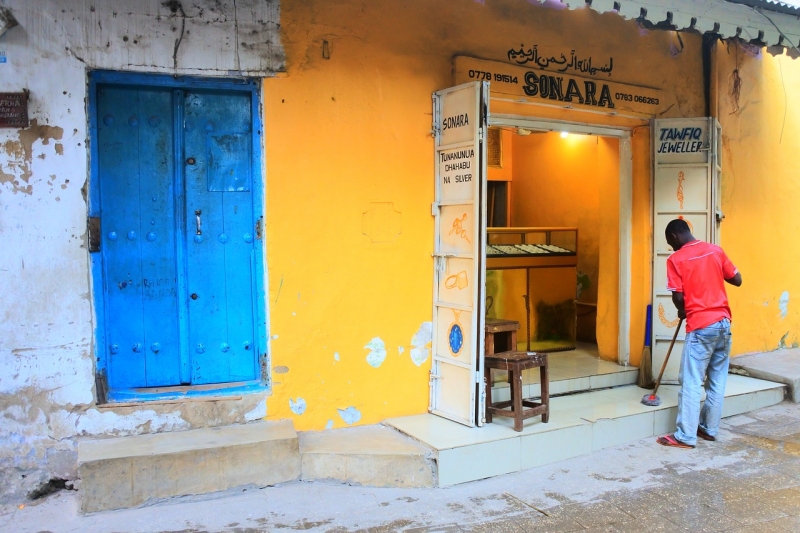 The only thing I used to know about Zanzibar was that it was the birthplace of Freddie Mercury, Queen's legendary lead singer. So I was flabbergasted to find out that Zanzibar is actually the heart of Swahili culture and tradition!
To start off your Zanzibar adventure, head to Stone Town, a UNESCO World Heritage site which features a beautiful blend of Omani and Indian architecture. Its safe streets are dotted with grand tea houses and verandas approaching the shore, making Stone Town the ideal getaway for a relaxing and charming vacation in Tanzania. Queen fans will also be stoked to know that they can visit Mr. Fahrenheit's childhood home here, too! 
Discovering Zanzibar also means inevitably experiencing their philosophy of pole-pole, which is Swahili for slow. In Zanzibar, life moves slowly, as do its people. Your simple coffee at a café, for instance, might be served after 30 minutes. You'll notice locals taking more time than what you're used to in fulfilling their daily tasks. Likewise, you are encouraged to journey slow and savour Zanzibar in all its wonder, from the tranquil islands of Bwejuu and Jambiani to its fusion food of Indian, Arab, Chinese, Portuguese, and African!
Also read: Beyond Tanzania's African Safaris: Discover Zanzibar's Sandy White Beaches
5. Spend a day or two at Mnemba Island
Experience a secluded beach getaway on Tanzania's Mnemba Island. This quaint island opposite of Muyuni Beach is a popular diving site to spot the country's vibrant coral reef and thriving marine life. Here, you can find humpback whales between July and September, witness whale sharks and dolphins from November to March, and catch sea turtles laying their eggs on the beach from February to September. 
As a privately owned beach resort, Mnemba Island will surely offer you an undisturbed paradise where you can quietly swim, kayak, and snorkel in the beach's clear blue waters. Considering this is an exclusive attraction, getting to the island is fairly easy. It only takes a 90-minute vehicle drive from Stone Town and a 20-minute boat ride to the island's dock!
6. Explore the natural beauty of Ngorongoro Crater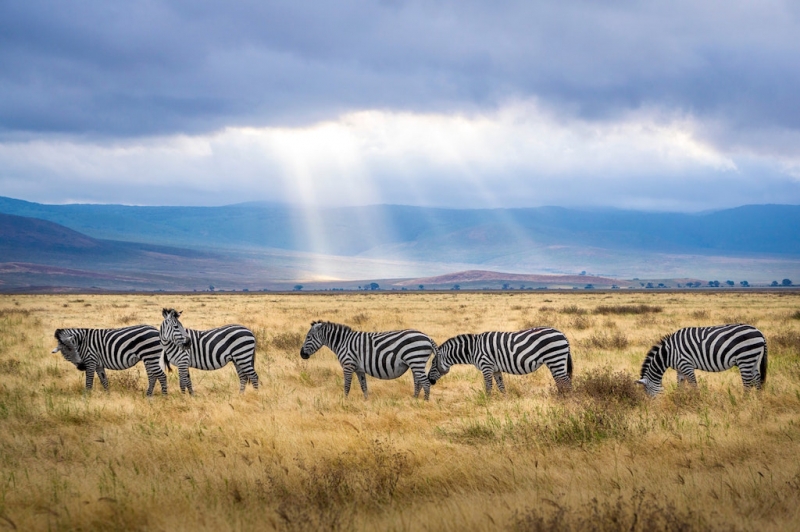 Now's your chance to see the world's largest unfilled volcanic crater! The Ngorongoro Crater is found at Tanzania's Ngorongoro Conservation Area, a UNESCO World Heritage Site. The crater, also called a caldera, is among many in Tanzania's Crater Highlands. But thanks to its size and history, this caldera is undoubtedly the most famous.
Imagine this — Ngorongoro Crater measures approximately 10 to 12 miles and has a forested rim that elevates until 7,500 feet. It is also ancient, dating back to more than two million years ago when its volcano erupted and collapsed inwards, thereby creating the crater we now see today.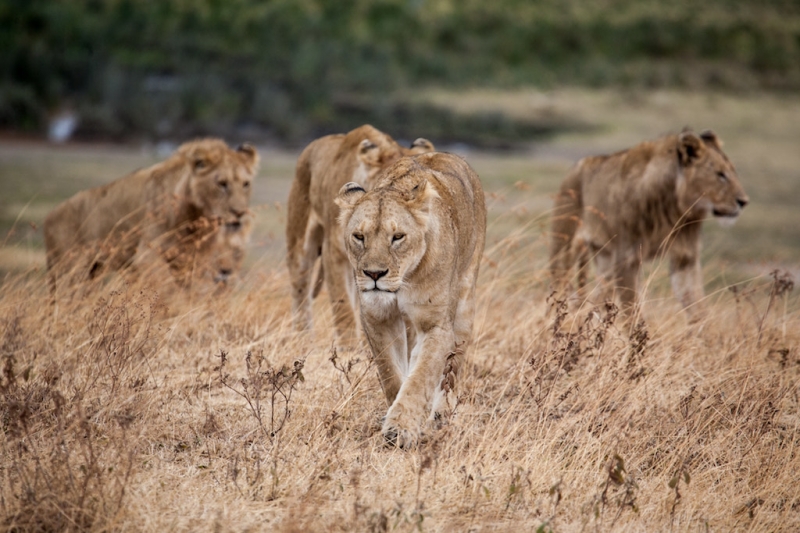 A UNESCO World Heritage Site by itself, Ngorongoro Crater is actually a flourishing grassland where a variety of mammals dwell. You might encounter a herd of wildebeest, gazelles, zebras — and of course — The Big Five. But more importantly, the crater hosts the densest population of lions in the world! And here's a bonus — if you have an affinity for pink flamingos, you can find flocks of them at the conservation area's Lake Magadi. Animal lovers definitely have no reason to skip this on their list of things to do in Tanzania!
7. Learn about Shanga and their products
I highly suggest you buy your souvenirs at Shanga if you're looking to support a good cause. But first, let's start from the beginning.
"Shanga", which is the Swahili word for bead, is aptly the name of a successful Tanzanian accessory store. It began when founder Saskia Rechsteiner created beaded necklaces to sell at a Christmas fair. Her accessories sold like hotcakes! Hence, she had an idea to recruit a deaf friend to her business, so she could help her gain extra income (how thoughtful!).
As the business rapidly grew, Saskia was able to expand her store and employ more than 60 locals who had a range of disabilities. Hence their motto, "ability over disability". Their advocacy didn't end there. Shanga also began utilising recycled and sustainable materials whenever possible. Now, locals and tourists can support the store's cause and projects by purchasing Shanga's handmade products, from jewellery to glassware and homeware. And here's a cool fact — Amal Clooney was also featured in international news wearing one of Shanga's necklaces!
You can find Shanga's workshop and store at Elewana Arusha Coffee Lodge. Here's where you can get your daily dose of Swahili caffeine and avail of a Swahili buffet in one location!
8. See Lake Natron with your own eyes
Have you heard of the African lake that petrifies animals due to its high alkaline level? That's none other than Lake Natron, a salty red lake with waters of hellish temperatures. Lake Natron gets its colour from salt-loving bacteria, called cyanobacteria, which thrives in salt lakes around the world. No other living creature is capable of dwelling in Lake Natron except bacteria, algae, and one fish species. Animals can't even drink from it!
However, you'll be surprised to know that lesser flamingos can endure Lake Natron's hot temperatures without difficulty. They even push their natural ability to the limit by breeding on the lake's shore and feasting on cyanobacteria. What's more astounding is that over 2.5 million lesser flamingos live around the lake. This makes Lake Natron the most important habitat in the world for this near-threatened species. Catch a sea of these pink-tinted and hard-scaled birds against the striking red backdrop of Lake Natron. The best time for walking tours is during the dry season until September!
Also read: 12 Most Colourful Attractions Around The World!
9. Discover human history in Olduvai Gorge
Say hello to the world's most important paleoanthropological site! If you didn't know by now, the first evidence of human existence was found in Tanzania's Olduvai Gorge by Mary Leakey. It was here where paleoanthropologists uncovered hundreds of fossilised human bones and stone tools which date back millions of years ago. Not only will you get to see the earliest remains of Homo sapiens at this attraction, but also an impressive dune of volcanic ash at the Shifting Sands. The interesting thing about this crescent-shaped dune is that it constantly moves and is dependent on the wind's direction.
Given this, the Shifting Sands always finds a way to fall back into a pile thanks to its magnetic property. In fact, if you throw a handful into the air, they'll settle back on the dune. Cross your fingers so you can actually catch it on your visit! Olduvai Gorge is located in the Great Rift Valley between the Serengeti and Ngorongoro Crater. You would be remiss if you skip this profound experience!
10. Walk through the ruins of Kilwa Kisiwani
A culturally rich journey awaits you at the UNESCO World Heritage site of Kilwa Kisiwani. These ruins used to be the centre of one of the greatest empires of East Africa. From the 9th until 16th century, it served as an affluent port where traders from Africa, China, Arabia, and India intermingled. Wildly sought-after goods such as gold, silver, porcelain, ivory, and pearls were exchanged. With these riches, the locals quickly established fortresses and sacred spaces in the area. 
Though the port was mostly demolished due to Portuguese invasion in the 16th century, thankfully, some storied buildings survived. The most notable ones you can still visit today are the Great Mosque, the Palace of Husuni Kubwa, and Husuni Ndogo. As you go through the community's ruins, you'll also bear witness to old Swahili architecture and preserved artefacts from the age of the great empire. It's surely going to be one for the books!
Tanzania is undoubtedly an action-packed destination that promises unique experiences. From its superlative facets to its natural beauty, the country is laden with eye-opening encounters that will definitely educate and thrill your adventure-loving soul. Now that you've read through this list of things to do in Tanzania, do you agree that it is The Soul Of Africa?