As a child, I've always dreamt of camping under the stars and finally, I get to live my dreams! Camping in a tent might not be the most comfortable thing but the amazing views make it worth the while! And there are camping items that will make your camping trip bearable and even enjoyable 🙂 So here are our 6 essential items for camping!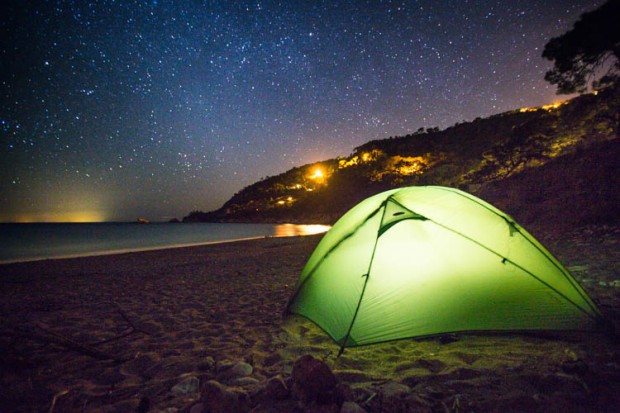 1. Portable fuel stove
This is among the most important items for camping in our opinion. Imagine after a whole day of arduous trekking, when all you want is a plate of hot savoury food for your growling stomach and you do not have anything to cook with! With a portable fuel stove, you will never be stuck in the scenario above. You can cook instant soups/noodles on your portable fuel stove. You can also boil water on your stove to make hot chocolate and coffee. We do not have the best culinary skills so we usually prefer to cook simple fuss free meals, but you can choose to cook anything that you want as long as it fits into the pot.
Where to buy a portable fuel stove: We got ours from Adventure Gear Post which specialises in equipment for the adventurous outdoor traveller. Adventure Gear Post has almost everything you need for a camping trip from sleeping bags, tents, camping stoves, climbing devices and harnesses to hiking shoes. Adventure Gear Post is located in Singapore and is 10 minutes walk from Tai Seng MRT, making it very convenient for campers to purchase their gear!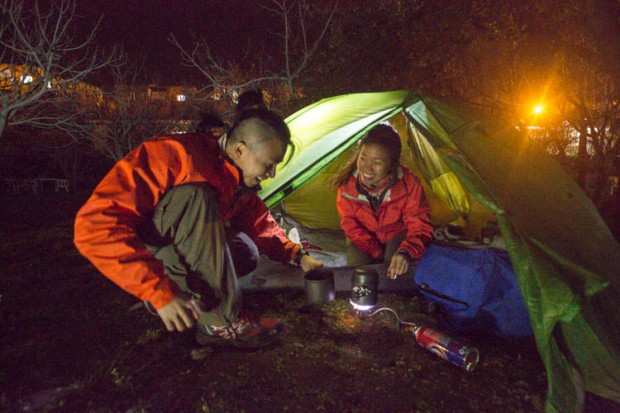 The only problem that we had with using a portable fuel stove was finding the fuel overseas as you can not bring fuel on the plane. That said, most outdoor shops will sell fuel for your stove although we had difficulty finding fuel in the rural parts of China. But once you're in the big cities, finding the fuel for your stove shouldn't be a problem. The fuel is also very cheap and 1 canister of fuel can last us for three to five separate camping trips.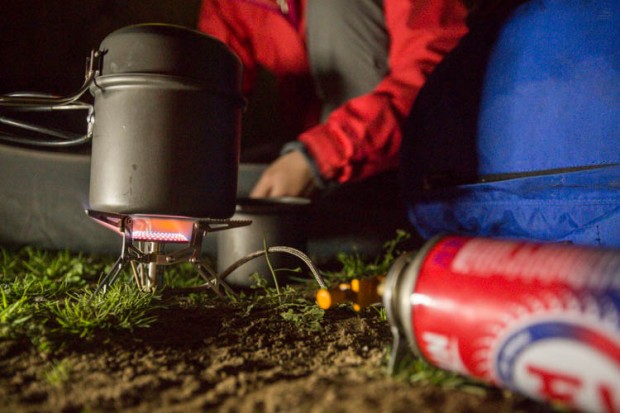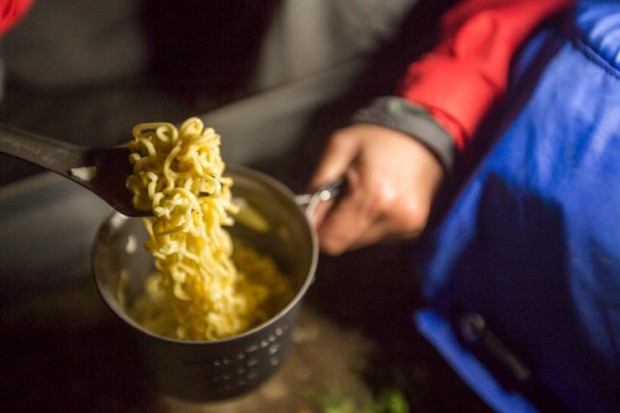 2. Lightweight 3 seasons tent
The Goondie tent from One Planet is really good because it is extremely lightweight! Our tent is a 2 men tent but there was sufficient space for the both of us (do note that both of us are smaller sized). Even better, the entire tent only weighs about 1kg! Also, this tent is suitable for 3 seasons: spring, summer and autumn. While we have tried using it during winter, we almost froze to death in the attempt. As such, we think that this tent can withstand an exterior temperature of zero degrees and above. That said, it does a pretty good job at keeping the cold wind out.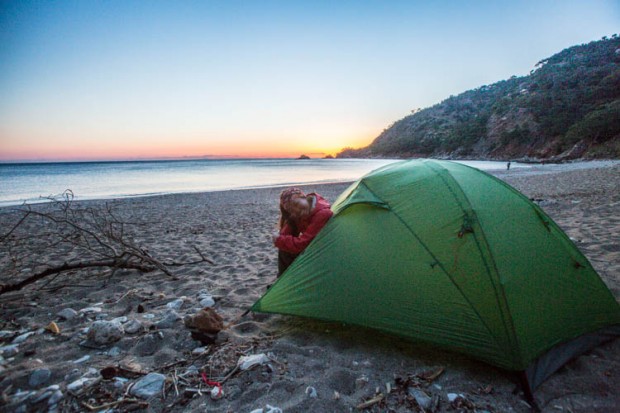 3. Headlight
A headlight is another vital piece of equipment for camping, especially if you're camping in more remote areas. These places usually do not have any street lights at all and you will not get any light unless there is a full moon at night. Of course you can use the built-in light from your phone, but nothing beats a headlight if you need your hands for some other activity. An example of this will be in the photo below when we climbed Mt Kinabalu. As you need both hands to hold the rope, a headlight would be the most practical light source for you in that situation.
Also read: 10 Mountains to Climb in Malaysia With the Most Incredible Views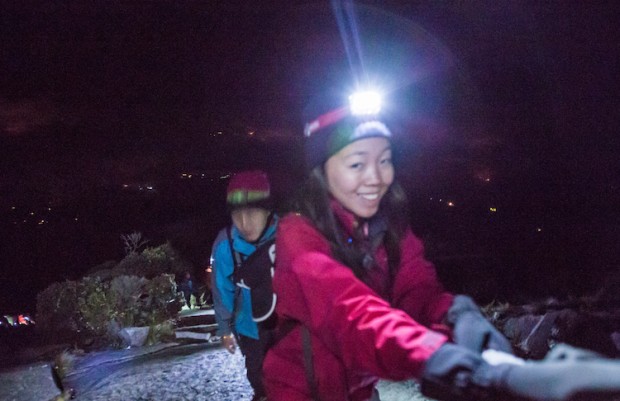 Climbing to the summit of Mount Kinabalu!
4. Sleeping bag
You definitely need a good sleeping bag if you're planning to camp outdoors (unless you have a preference for sleeping on the cold hard ground!). Each sleeping bag has a comfort rating and an extreme rating which shows the temperatures that the sleeping bag can comfortable keep you warm at and the temperature that the sleeping bag will keep you alive at respectively. Although our sleeping bag's comfort rating was at 0 degrees Celsius and the bag's extreme rating was at approximately -5 degrees Celsius, we used the sleeping bag at -2 degrees Celsius and it was almost unbearable for us. As such, we advice you to take the extreme ratings with a pinch of salt.
Tip: If you have a foam mat, you should bring it along, especially when you are going to be camping in a cold place. Those mats really help to keep your body warm as it separates your body from the ground.
5. Sufficient warm clothing
The photo below shows frost that actually formed on the outer layer of our tent. This was because during the night, the ambient temperatures dipped to below zero degrees Celsius! We were shivering throughout the entire night. Thankfully, we survived the night as we brought a sufficient amount of warm clothing.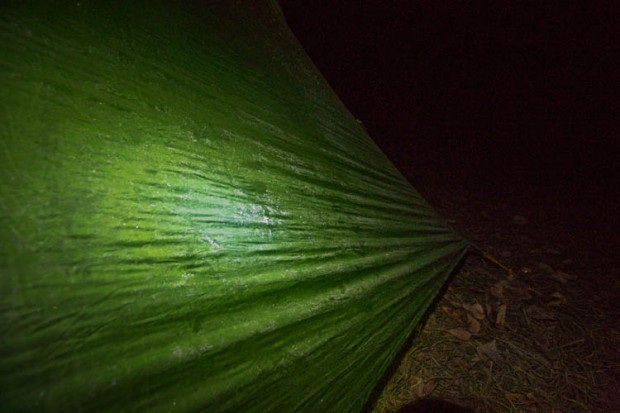 We had to wear a total of 4 layers of clothes to even be able to sleep that night! The first layer we wore is the TNF base thermal layers. The base thermal layer was followed by the TNF Thermal Ball, a puffy jacket which has pockets of air trapped inside. Above the TNF Thernal Ball, we had on the  TNF Triclimate jacket. The triclimate jacket consists of two layers- a warm fleece jacket and an outer waterproof shell. With all that gear on, we were able to stay warm (and alive) to catch some sleep.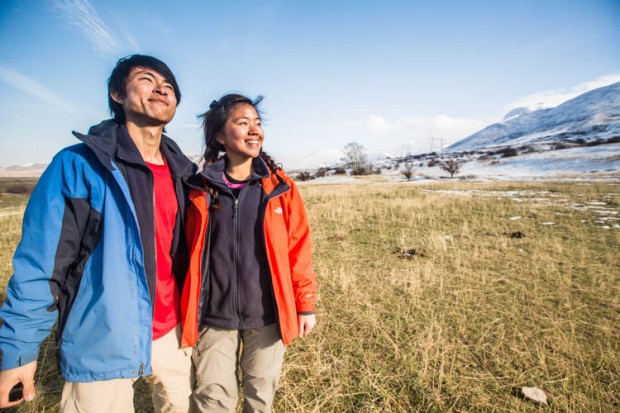 The TNF Tri Climate jacket consists of the orange (blue for Daniel) waterproof shell and a inner blue fleece jacket.
6. Solar portable charger
Are you planning to camp in the wilderness for 2 days or more? Then you will need a portable charger to charge your phone. As we use the GPS function on the phone while hiking, we get through the battery on our phone very quickly which makes a portable charger a must on our camping trips. The portable charger will also come up handy in case of an emergency, when you will need to have your phone ready to get help. A solar portable charger is practical to bring along on a camping trip as you can just hang it on your bag while you trek and it will be ready for use at night.
We will usually bring along our kindle as well for entertainment. This is because after the sun sets, there is not much left to do but it is also too early to sleep. During those times, we will spend some time reading books on our kindle before going to sleep. That said, the Kindle is an optional item and thus we omitted it out of the list above.
What are your must-haves for camping? Is your list the same as ours? Share your views with us by commenting below!
Also read: Top 5 Glamping Spots in Asia
Contributed by Sunrise Odyssey.